Motorcycles that start out as naked or standard models often inspire their manufacturers to build a complementary touring, sport-touring or sport-adventure version before very long. The Honda Gold Wing's lineage is probably the most familiar example, but I could cite countless others from the mid-1970s to the present day. Attracting more and new customers is the objective of every motorcycle design, so whether going the touring route with a standard bike is to aim a not-so-successful model in a potentially better direction, or it's to simply expand the fan base for a successful bike to include long-distance riders, the goal is the same.
Such is the case with the two motorcycles we're comparing here, the new BMW F 900 XR and recently updated Yamaha Tracer 900 GT. Both are based on naked bikes, one also new—the BMW F 900 R—and one that has been a top seller in Yamaha's lineup since 2013, the MT-09, formerly known as the FZ-09. Although BMW calls the F 900 XR a sport-adventure machine and Yamaha parks the Tracer 900 GT in its sport-touring category, their prices, displacements, semi-fairings, windscreens and mostly upright seating positions make these two bikes quite comparable. In fact, BMW considers the Tracer 900 base model a core competitor for its F 900 XR; we're pitting it against the fully equipped 2020 Tracer 900 GT because the Tracer 900 hasn't yet returned as a 2020 model.
You can find in-depth tech details on both the BMW and Yamaha in their individual road tests—the Tracer 900 GT was revamped for 2019, and the F 900 R and F 900 XR are new for 2020. Like their F 800 R predecessor, these new 900s fill the need for lower-cost twins in the BMW lineup, now with more power from a larger transverse, parallel cylinder 895cc engine and better feel and sound thanks to a new 90-degree offset crank, 270/450-degree firing interval and more effective counterbalancer. The $8,995 F 900 R is the naked/sport roadster, and for an additional $2,700 the F 900 XR adds a semi-fairing with a windscreen and lowers, a taller, wider handlebar, more suspension travel and ground clearance, and lower footpegs. It also has more fuel capacity than the R for sport-adventure riding. Traction control, ABS and two ride modes—Road and Rain—are standard, and you can plug in an optional Ride Modes Pro dongle that enables two more as well as cornering ABS, Dynamic Traction Control and more.
Introduced for 2015 as the FJ-09, the Yamaha Tracer brought sport-touring amenities to the bare-knuckled FZ-09, such as a more upright seating position, a more comfortable, adjustable seat, a semi-fairing with adjustable windscreen and hand guards. Its transverse, in-line 847cc Crossplane triple (CP3) has been a ripper from the start, with a 120-degree crank and counterbalancer that tames much of the vibes. As on the BMW, throttle-by-wire enables electronic features like three riding modes and dual-mode traction control, and the Yamaha's TBW has been refined several times over the years to smoothen throttle response. For an extra $2,300 over the $10,699 (2019) Tracer 900, the 2020 Tracer 900 GT adds hard locking saddlebags, cruise control, a quickshifter for upshifts, heated grips and a full-color TFT display. The GT received an extensive makeover for 2019, including new bodywork, upgraded suspension, a taller windscreen, comfier seats and a longer swingarm.
Aft of their functional semi-fairings and adjustable windscreens, the BMW twin and Yamaha triple also share 17-inch cast wheel and tire sizes, triple disc brakes with opposed 4-piston radial-mount calipers up front, chain final drive and 6-speed transmissions with slipper clutches (the Yamaha's also has an assist function). Both have full-color TFT instrument displays, and even though navigating the BMW's is harder to figure out, it's much larger and is like watching 4K TV compared to the Yamaha's small blocky screen. While the F 900 XR is priced substantially lower than the Tracer 900 GT, many of the Yamaha's standard features like saddlebags, cruise control, heated grips, centerstand and more are optional on the BMW.
Although both bikes have relatively upright seating positions that are comfortable for extended hours in the saddle, the BMW's wide handlebar is lower and its footpegs higher than the Yamaha's, cramping the rider a bit more, particularly if you're taller. The shape of the BMW's non-adjustable seat also locks you into one position rather than letting you move around, and therefore feels higher than the Yamaha's in its low position, despite their claimed seat heights. We installed the optional taller windscreen on the F 900 XR to even it up with the Tracer 900 GT, and as a result wind protection is pretty good on both due to their effective screens and fairing lowers. While the F 900 XR feels sportier and more aggressive, overall the Tracer 900 GT is the more comfortable of the two for sport touring, with roomier seating, a taller handlebar and more comfortable seat. Passengers also liked it better for two-up riding, since the seat is softer and roomier than the BMW's and its grab rails are an easier reach.
The BMW earns the adventure part of its sport-adventure description because it has nearly 7 inches of suspension travel front and rear and ample ground clearance, but with 17-inch wheels at each end I'd keep it well away from the dirt and just enjoy the extra travel on bumpy roads. Its additional ground clearance comes in handy when riding over ruts, low curbs and such, where we bashed the Yamaha's low-slung underbelly more than once. Good suspension calibration on both bikes matches them up quite closely in corners. The BMW's non-adjustable 43mm USD fork is stouter overall and more stiffly sprung compared to the Yamaha's 41mm unit, though the latter is fully adjustable and can be stiffened up for sport riding quite well if that's your preference. Remote spring preload and rebound damping adjustment are common to both in back, and aside from the BMW's remote knob being difficult to use, rear suspension is comparably good. Although the Yamaha's brakes are more than up to the task, its front brake lever needs more bite, while the BMW has good linear feel and a solid bite at the lever combined with an easily modulated pedal. Its stock Michelin Road 5 tires also offer better feel overall than the Dunlop Sportmax D222 OE rubber on the Tracer 900 GT, which we would replace right out of the gate with Dunlop's premium Roadsmart IIIs.
On the dynamometer the Tracer 900 GT's triple bests the F 900 XR's twin in horsepower output, and the XR's 20-pound weight advantage isn't enough to give it an edge in a top-speed contest. But the two bikes are pretty closely matched in the torque department where it really matters for day-in, day-out sport touring and commuting. Both offer impressive grunt for slicing through corners without much shifting, accelerating hard from a stop or picking off a slow-moving car or truck with a quick pass. The BMW twin-cylinder's rumble and the Yamaha triple's velvet growl give each plenty of character and great sound, though neither has completely tamed some high-frequency vibration that buzzes through the grips enough to be noticeable much of the time, particularly on the Yamaha. Both require premium fuel and return similar fuel economy, though the Yamaha has more range thanks to its larger 4.8-gallon tank versus the BMW's 4.1. Given their similarity elsewhere we'd pick the Yamaha's engine simply for its extra power and longer valve inspection intervals.
Once you start bolting accessories onto the BMW that are standard on the Yamaha, the F 900 XR's price and weight advantage quickly melts away, which leaves us with the Tracer 900 GT as the winner of this comparo. In addition to offering more power, comfort, fuel capacity and lower maintenance costs, with the exception of its tiny TFT display the Yamaha is the better bike and value for sport riding, touring and everything in between.
Jenny's Gear:
Helmet: Xlite X-803 Ultra Carbon
Jacket: AGV Sport Helen
Pants: Joe Rocket Alter Ego 2.0
Boots: Sidi Gavia Gore-Tex
Mark's Gear:
Helmet: HJC i70
Jacket: Scorpion Yosemite
Pants: Olympia X-Moto 2
Boots: Sidi Performer Gore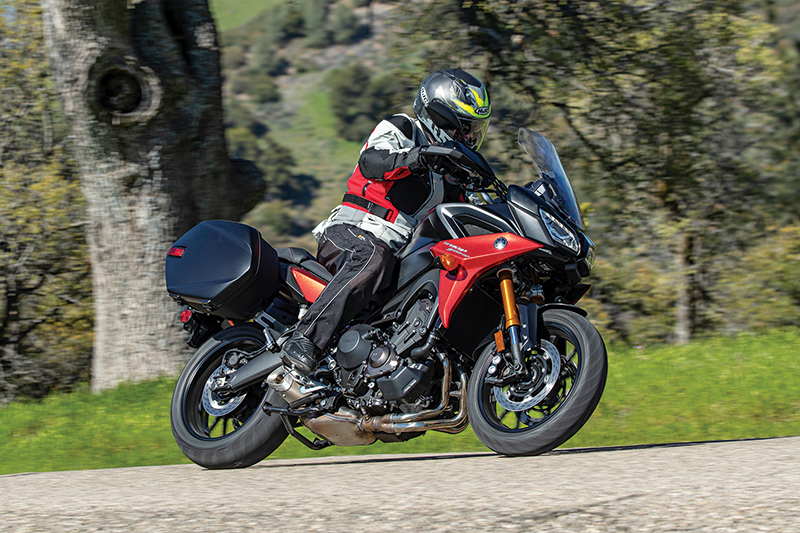 2020 BMW F 900 XR Specs:
Base Price: $11,695
Price as Tested: $11,945 (color)
Warranty: 3 yrs., 36,000 miles
Website: BMW Motorrad
Engine
Type: Liquid-cooled, transverse parallel twin
Displacement: 895cc
Bore x Stroke: 86.0 x 77.0mm
Compression Ratio: 13.1:1
Valve Train: DOHC, 4 valves per cyl.
Valve Adj. Interval: 12,000 miles
Fuel Delivery: BMS-M EFI
Lubrication System: Dry sump, 3.2-qt. cap.
Transmission: 6-speed, cable-actuated wet slipper clutch
Final Drive: O-ring chain
Electrical
Ignition: BMS-M
Charging Output: 416 watts max.
Battery: 12V 12AH
Chassis
Frame: Steel bridge monocoque, load-bearing engine, cast-aluminum swingarm
Wheelbase: 59.9
Rake/Trail: 29.5 degrees/4.1 in.
Seat Height: 32.5 in.
Suspension, Front: 43mm USD telescopic, no adj.,
6.7-in. travel
Rear: Single shock w/ adj. spring preload (remote) & rebound damping, 6.8-in. travel
Brakes, Front: Dual 320mm floating discs w/ opposed 4-piston radial calipers & ABS
Rear: Single 264mm disc w/ 1-piston floating caliper
& ABS
Wheels, Front: Cast, 3.50 x 17 in.
Rear: Cast, 5.50 x 17 in.
Tires, Front: 120/70-ZR17
Rear: 180/55-ZR17
Wet Weight: 486 lbs.
Load Capacity: 479 lbs.
GVWR: 965 lbs.
Performance
Fuel Capacity: 4.1 gals, last 1.0 gal. warning light on
MPG: 91 PON Min (low/avg/high) 43.1/45.2/48.7
Estimated Range: 185 miles
Indicated RPM at 60 MPH: 3,500
2020 Yamaha Tracer 900 GT Specs:
Base Price: $12,999
Warranty: 1 yr., unltd. miles
Website: Yamaha Motorsports
Engine
Type: Liquid-cooled, transverse in-line triple
Displacement: 847cc
Bore x Stroke: 78.0 x 59.1mm
Compression Ratio: 11.5:1
Valve Train: DOHC, 4 valves per cyl.
Valve Insp. Interval: 26,600 miles
Fuel Delivery: EFI w/ YCC-T & 41mm throttle bodies x 3
Lubrication System: Wet sump, 2.85-qt. cap.
Transmission: 6-speed, cable-actuated wet assist-and-slipper clutch
Final Drive: O-ring chain
Electrical
Ignition: TCI/32-bit ECU
Charging Output: 415 watts max.
Battery: 12V 8.6AH
Chassis
Frame: Aluminum controlled-fill die-cast perimeter w/ tubular-steel subframe & cast aluminum swingarm
Wheelbase: 59.1 in.
Rake/Trail: 24 degrees/3.9 in.
Seat Height: 33.5/34.1 in.
Suspension, Front: 41mm USD fork, fully adj., 5.4-in. travel
Rear: Linked shock, adj. for rebound damping & spring preload (remote), 5.6-in. travel
Brakes, Front: Dual 298mm discs w/ opposed 4-piston radial calipers & ABS
Rear: Single 245mm disc w/ 1-piston pin-slide
caliper & ABS
Wheels, Front: Cast, 3.50 x 17 in.
Rear: Cast, 5.50 x 17 in.
Tires, Front: 120/70-ZR17
Rear: 180/55-ZR17
Wet Weight: 506 lbs.
Load Capacity: 363 lbs.
GVWR: 869 lbs.
Performance
Fuel Capacity: 4.8 gals., last 0.7 gal. warning light on
MPG: 91 PON min. (low/avg/high) 41.8/44.0/46.3
Estimated Range: 211 miles
Indicated RPM at 60 MPH: 4,000
2020 BMW F 900 XR vs. Yamaha Tracer 900 GT Comparison Test Gallery: