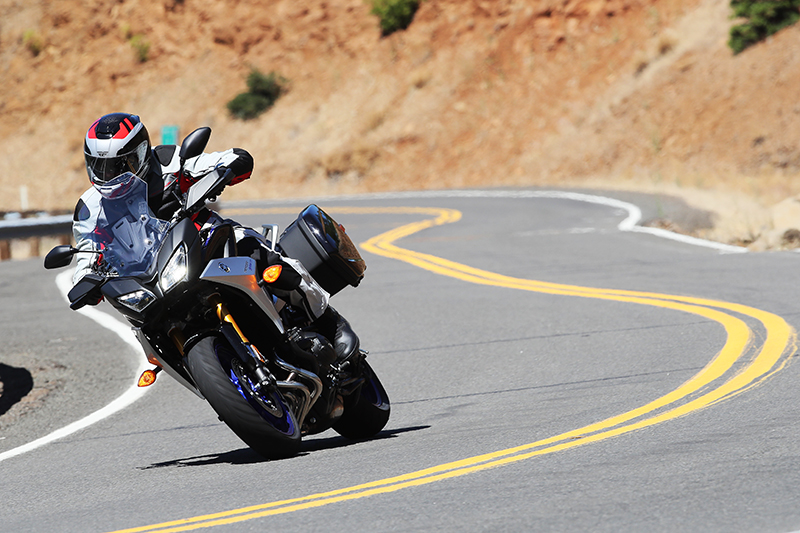 When Yamaha introduced its 847cc triple with a Crossplane Concept Crankshaft on the FZ-09 naked bike for 2014, it was revelatory–a powerful, audacious engine in a light, affordable package. The following year it was joined by the FJ-09, a more user-friendly and practical sport tourer built around the same feisty powerplant. Yamaha has decided to standardize its model names globally, so the FZ-09 is now known as the MT-09 and the FJ-09 is called the Tracer 900. Updated for 2019, the Tracer now comes in two versions, a standard model and a premium, touring-ready GT model.
Read our 2017 Yamaha FZ-09 first ride review
You'd be hard pressed to find a better place to showcase the Tracer 900 GT than the Columbia River Gorge National Scenic Area, which straddles the border between Washington and Oregon. Yamaha organized a 250-mile backroads test ride along the Columbia and Klickitat rivers and deep into the evergreens of Gifford Pinchot National Forest, a route highlighted by postcard vistas of snowcapped volcanic peaks. After that first ride, I took the long way home via the scenic byways of Oregon's Cascade Range and some of the most remote and convoluted roads in Northern California, grinding down the GT's improbably long peg feelers and making sure tire wear was even from shoulder to shoulder. On a bike as frisky, agile and comfortable as the Tracer 900 GT, consecutive 500-mile days were a delight, even during an oppressive heat wave.
Read our 2015 Yamaha FJ-09 long-term review
Since the first-generation FJ-09 won hearts and minds with its exhilarating engine, solid chassis and sensible design, updates to the Tracer 900 GT focused on refinement and increasing versatility. New suspension, with a fully adjustable fork and a linked shock that's adjustable for rebound and preload (with a new remote adjuster), delivers a suppler, compliant ride, eliminating the previous model's harshness over rough pavement. Extending the swingarm by 2.4 inches improves straight-line stability and drive out of corners without sacrificing the bike's light, intuitive steering. And regardless of mode (A, STD or B), response from the YCC-T throttle-by-wire is less abrupt, making on/off adjustments smooth and seamless. Together, revisions to the suspension, swingarm and throttle response–as well as clutchless upshifts thanks to a new standard quickshifter–make the Tracer 900 GT more enjoyable on curvy roads. With fewer variables to manage, it's easier to focus on the pleasure of taking graceful lines through corners and listening to the engine's soulful tune.
Read our review of the Tracer 900-based Niken Leaning Multi-Wheel Vehicle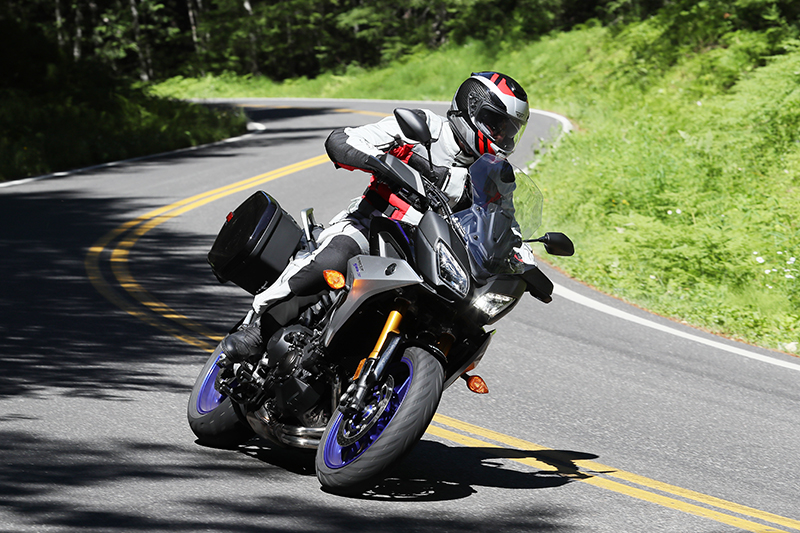 Greg's Gear
Helmet: Fly Sentinel
Jacket: Scorpion Yosemite XDR
Pants: Rev'It Cayenne Pro
Boots: Tourmaster Epic Air Touring
For more touring capability, the GT comes standard with cruise control and heated grips, its windscreen is larger and easily adjustable with one hand, and its tail section now has integrated mounts for standard 22-liter saddlebags. For more comfort, the handlebar is narrower, the rider and passenger seats have a new shape and thicker foam (height of the adjustable seat increased a bit, to 33.5/34.1 inches), and the passenger footpeg brackets and grab handles have been redesigned. It has the same upright seating position with plenty of legroom and a comfortable reach to the bars. Although it's rather small, a new full-color TFT display has bold, easy-to-read graphics and customizable features, and there's a new menu wheel on the right grip. To set it apart from its predecessor, the Tracer 900 has new bodywork, with a reshaped headlight assembly, slimmer hand guards and new "triangular pyramid" fairing panels that improve airflow.
The liquid-cooled, DOHC, 4-valves-per-cylinder in-line triple is as potent as ever, sending 105 horsepower and 60 lb-ft of torque to the rear wheel (based on our 2017 FZ-09 test on Jett Tuning's dyno) through a 6-speed transmission with an assist-and-slipper clutch and chain final drive. Keeping the revs up catapults the bike out of corners and produces an intoxicating wail from the low-slung exhaust. Some vibration creeps into the grips and pegs when hard on the gas, but at cruising speeds it hums along smoothly and quietly. Tipping our scales at 503 pounds, the GT is a lightweight among sport tourers, making it ideal for solo touring (I loaded the saddlebags and strapped a tail bag to the passenger seat for my three-day, 1,600-mile ride home). Obedient in the best possible way, only minimal effort is required to tip the bike in and carve surgical arcs around corner after corner, and tossing it from side to side is a real pleasure. The dual 4-piston radial front calipers are strong, but they could use more initial bite and better feel at the lever. Also, to avoid dragging my toes in tight corners I ride with the balls of my feet on the pegs, but limited space means that my heels must do battle with the passenger peg brackets.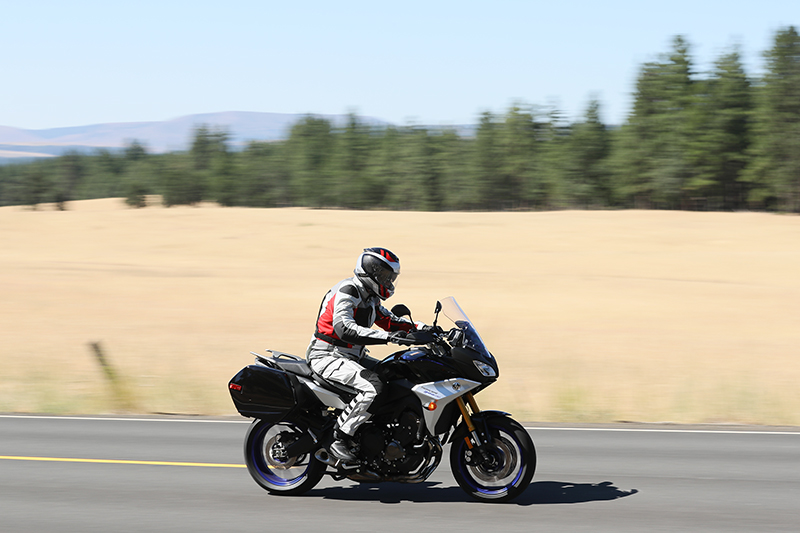 We liked the 2015 FJ-09 so much that we kept it in our long-term fleet for a year. We heaped praise on its engine but struggled with its herky-jerky throttle response and limitations imposed by its suspension and OE tires. The Tracer 900 GT rolls on the same Dunlop D222 tires, with the same middling grip and compliance. Upgrading to dual-compound Dunlop Roadsmart IIIs, which we tested on a high-powered sport tourer last year, would boost confidence and performance (we'd upgrade the brake pads too). Otherwise, the GT has been transformed by its new suspension and smoother throttle response, and the other changes make it more well-rounded.
What about the standard Tracer 900? It gets the same improvements in styling, wind protection, rider/passenger comfort and chassis geometry and has some of the same standard features such as ABS, traction control, a centerstand and a 12V outlet on the dash, but it lacks the GT's saddlebags, quickshifter and heated grips (they're available as accessories) and isn't available with the upgraded suspension, TFT display or cruise control. At $12,999, the GT costs $2,400 more than the standard model, but it's money well spent.
Like its predecessor, the renamed, revised and refined Tracer 900 GT has quickly established itself as a staff favorite. We just can't get enough of its rowdy triple, and it manages to be practical without being boring and sophisticated without being complicated–an all-purpose, high-performance bike that fits nearly any budget.
Check out Rider's Guide to New/Updated Street Motorcycles for 2019
(KEEP SCROLLING FOR COMPLETE SPECS, MORE PHOTOS & VIDEO)
2019 Yamaha Tracer 900 GT Specs
Base Price: $12,999
Warranty: 1 yr., unltd. miles
Website: yamahamotorsports.com
Engine
Type: Liquid-cooled, transverse in-line triple
Displacement: 847cc
Bore x Stroke: 78.0 x 59.1mm
Compression Ratio: 11.5:1
Valve Train: DOHC, 4 valves per cyl.
Valve Insp. Interval: 26,600 miles
Fuel Delivery: EFI w/ Y-CCT & 41mm throttle bodies x 3
Lubrication System: Wet sump, 2.85-qt. cap.
Transmission: 6-speed, cable-actuated wet assist-and-slipper clutch
Final Drive: O-ring chain
Luggage shown on bike in above photo:
Nelson-Rigg Hurricane Waterproof Backpack/Tail Pack
Electrical
Ignition: TCI/32-bit ECU
Charging Output: 415 watts max.
Battery: 12V 8.6AH
Chassis
Frame: Aluminum controlled-fill die-cast perimeter w/ tubular-steel subframe & cast aluminum swingarm
Wheelbase: 59.1 in.
Rake/Trail: 24 degrees/3.9 in.
Seat Height: 33.5/34.1 in.
Suspension, Front: 41mm USD fork, fully adj. w/ 5.4-in. travel
Rear: Linked shock, adj. for rebound damping & spring preload (remote) w/ 5.6-in. travel
Brakes, Front: Dual 298mm discs w/ opposed 4-piston radial calipers & ABS
Rear: Single 245mm disc w/ 1-piston pin-slide caliper & ABS
Wheels, Front: Cast, 3.50 x 17 in.
Rear: Cast, 5.50 x 17 in.
Tires, Front: 120/70-ZR17
Rear: 180/55-ZR17
Wet Weight: 503 lbs.
Load Capacity: 366 lbs.
GVWR: 869 lbs.
Performance
Fuel Capacity: 4.8 gals., last 0.7 gal. warning light on
MPG: 91 PON min. (low/avg/high) 39.8/45.2/52.3
Estimated Range: 217 miles
Indicated RPM at 60 MPH: 4,000
Click on the player below to watch our 2019 Yamaha Tracer 900 GT video review