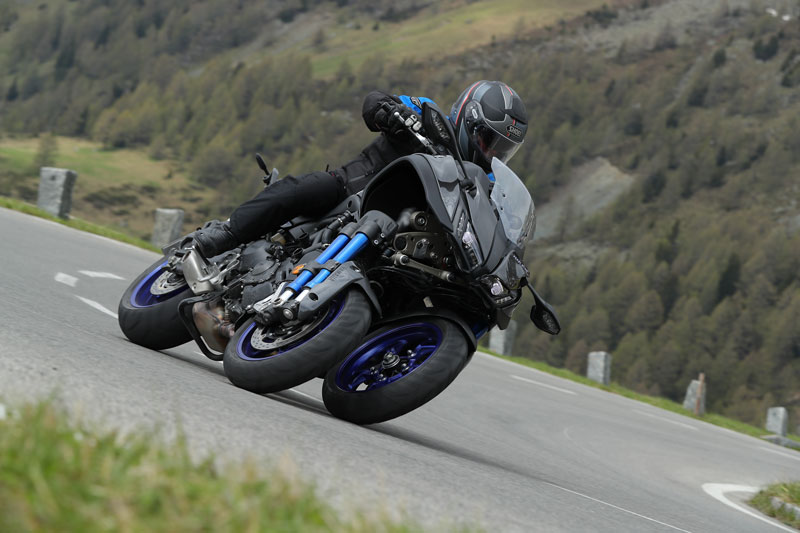 We don't often think about the total size of the two tire contact patches that are ultimately responsible for keeping our motorcycles on the road, upright and in control, despite it being just a few square inches of rubber, less than the average male footprint. That's probably because modern motorcycle tires provide remarkable amounts of traction on clean, dry pavement, enough to produce lean angles of up to 55 degrees on a road-going supersport bike. We don't worry much about our tires, in fact, until the road conditions are less than perfect, i.e. wet, dirty, icy, greasy or all of the above, and traction is scarce. While not daunting enough to keep the typical motorcyclist from riding (hopefully you just slow down), I doubt there are many who would complain if you could somehow double the area of tire contact and dramatically increase grip up front–where a loss of traction usually results in a 90-degree lean angle–without detracting from or changing the overall motorcycling experience, especially leaning into corners.
Someone from Yamaha must have had the same thought, because after building several Leaning Multi-Wheeled (LMW) concept machines like the 2007 Tesseract and 2014 TriCity and 01GEN, now the mind-blowing Niken will be coming to dealerships this fall. Based on the 2019 Yamaha Tracer 900–a soon-to-come cushier version of the popular MT-09 triple–the Niken turns heads and corners with two front wheels and leans just like a two-wheeled motorcycle, up to about 45 degrees before you start grinding off the footpeg feelers. A Yamaha MT-09 is said to be capable of 51 degrees of lean, but the Niken's mission to increase grip and stability for maximum cornering performance and confidence is not an attempt to out-corner sportbikes, but rather to reduce the risk of losing the front, particularly in the cold and wet and on rough roads. Not only is there roughly twice as much rubber in contact with the road, the Niken's 16.1-inch (410mm) track up front produces far greater stability than a single wheel, and its front suspension and anti-lock brakes only enhance that stability by working independently over bumps and differing surfaces.
Read our 2018 Yamaha MT-07 first ride review
Although the leaning two-in-front concept isn't new–Piaggio's MP3 scooter has a similar layout–Yamaha is the first to take it this far on a production motorcycle. Up front parallel quadrilateral arms support the cantilevered suspension, which is mounted outside the wheels to allow maximum lean and comprises two USD fork legs per side–a 43mm rear leg with fully adjustable preload and damping, and a 41mm front leg that holds the wheel/brake assembly in alignment. Steering is achieved with a separate group of tie rods and linkages that include offset steering knuckles (Ackermann steering geometry, as used on most cars), so that the inside wheel turns progressively more than the outside, solving the problem of the two wheels needing to trace different radii in a corner. Stub axles on each side carry cast aluminum wheels sized at 15 inches for agility with stability, and these are wrapped in 120/70-ZR15 Bridgestone Battlax Adventure A41 radials, a good combination of wet/dry performance and handling.
Supporting the whole shebang is a hybrid frame with a cast steel headstock, tubular-steel main frame and cast aluminum swingarm pivot support and swingarm, presumably a much stronger arrangement than the all-aluminum frame of the Tracer 900, yet the Niken's wheelbase is just 10mm longer. Several changes were also made to the liquid-cooled, transverse 847cc DOHC in-line triple, including stronger transmission gears, revised EFI settings, slightly lower final-drive gearing and 18 percent more crankshaft mass to make starting out on the heavier bike easier. Throttle-by-wire, three riding (D-Mode) and traction control (TCS) modes plus cruise control and a very functional Quickshifter (QSS) for upshifts are all standard.
The last Crossplane triple, or CP3, Yamaha engine we dyno tested was in our 2017 FZ-09 test bike, and it made 105 horsepower at 10,200 rpm at the rear wheel and 60.3 lb-ft of torque at 8,400 (Yamaha says the Niken's revised engine makes 64.5 lb-ft of torque at the crank but doesn't give out horsepower numbers). The CP3 mill provides a satisfying amount of power for the Niken, with great in-line triple sound, smooth fueling and little to no unpleasant vibes. The old A-STD-B riding mode settings have been replaced with a simple 1, 2 and 3, with 1 being most responsive, 2 like the former STD and 3 softer response for rain. I spent most of the riding day in the 2nd mode, which provides smooth response without any abruptness, but used the 1st for blitzing the curves and enjoyed it immensely.
Yamaha took us to the Austrian Alps for our first Niken experience, and I put about 140 miles on the machine over the course of the day on all kinds of roads, from the chic winter resort town of Kitzbuhel, over the twisty 8,500-foot Grossglocker High Alpine Road to the straight, flat river valleys near Lienz. As proof of concept the Niken is an eye-opener–I could push it harder into corners than anything I've ridden without a whit of concern, and other than at low speeds, when you can feel a small amount of feedback in the bars from the two front hoops, the steering is butter smooth, neutral and low effort, not unlike a typical larger motorcycle with a wide handlebar. We unfortunately didn't have any rain to dampen the roads for a real test of the setup, but I'd wager that it will be difficult to ruffle its feathers even under those conditions–there's simply a phenomenal amount of grip available for cornering and braking. The bike is so solid, secure and planted even when you're fully heeled over it almost feels as if you could take your hands off the bars, and over bumpy roads the Niken is very stable and confidence inspiring, like it simply can't get out of shape. The result is that many riders will find it more fun and less stressful to ride than a single-track motorcycle.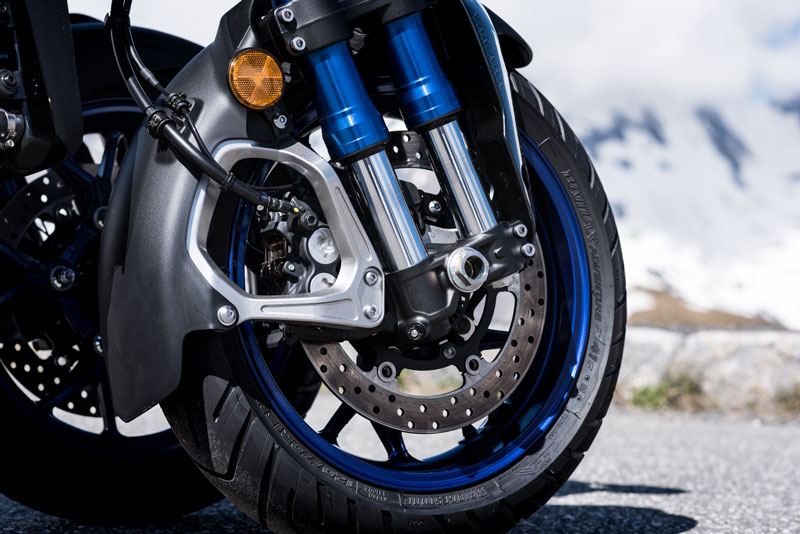 Suspension front and rear is firm without harshness, and the single rear shock offers adjustable rebound damping and convenient remote preload adjustment. Like other performance motorcycles the Niken has triple disc brakes–the fronts are just a bit farther apart–and they haul the big machine down quite well, though a bit more bite from the fronts would be welcome.
As part of Yamaha USA's Touring lineup, the Niken gets a fairly upright, relaxed seating position with a comfortable rider's seat, decent legroom and a wide handlebar, yet the rider still feels solidly in control during sport riding. Dual-axis steering linkage moves the handlebar and rider back about two inches to compensate for the heavier front end and maintain a 50/50 weight distribution, and this becomes quite obvious when you're tossing it around in the corners, though the 32.3-inch seat height had me on my tiptoes at stops. That small windscreen keeps wind blast off your chest and the cruise control is precise and easy-to-use–hopefully in fact Yamaha will eventually offer a taller screen and some luggage for the Niken, since it's comfortable enough for long distances. Useful features include an adjustable brake lever, comprehensive negative LCD meter and a small amount of storage under the locking passenger pillion. All LED lighting includes quad headlights and front turn signals integrated into the functional mirrors. Styling-wise the scorpion-based look is a love it or hate it proposition I suppose, though I don't believe Yamaha did itself any favors with that somber Graphite color choice….
Check out Rider's Guide to New/Updated Street Motorcycles for 2019
"Twinned" wheels less than 460mm apart are considered a single wheel in most countries, so the Niken remains firmly in motorcycle territory when it comes to licensing and helmets and such. It's 410mm front track is narrower than the handlebar, so it's also highly maneuverable at low speeds–sharing lanes on California freeways, for example, should be a snap. But at a claimed 580 pounds with 4.8 gallons of fuel, the Niken weighs 155 pounds more than the 425-pound MT-09 (a Tracer 900 wet weight isn't available yet), and with the exception of the Niken's cruise control and QSS the dual front wheel setup and its associated changes are responsible for all of it. It's also expected that the Niken will retail for around $16,000, so while it's definitely a step up in terms of traction and safety in imperfect conditions, many riders will find it hard to justify the extra weight and cost. But for someone who wants more stability, control and incredible grip up front, especially when the conditions are less than ideal, or just wants to own one of the most unusual and exciting machines Yamaha has ever built, the Niken is a triple treat in more ways than one.
Keep scrolling for specs and more photos!
2019 Yamaha Niken
Base Price: $15,999
Warranty: 1 yr., unltd. miles
Website: yamahamotorsports.com
Engine
Type: Liquid-cooled, transverse in-line triple
Displacement: 847cc
Bore x Stroke: 78.0 x 59.1mm
Compression Ratio: 11.5:1
Valve Train: DOHC, 4 valves per cyl.
Valve Insp. Interval: 26,000 miles
Fuel Delivery: EFI w/ YCC-T & 41mm throttle bodies
Lubrication System: Wet sump, 3.6-qt. cap.
Transmission: 6-speed, cable-actuated assist & slipper wet clutch
Final Drive: O-ring chain
Electrical
Ignition: TCI
Charging Output: 430 watts @ 5,000 rpm
Battery: 12V 9.1AH
Chassis
Frame: Hybrid cast/tubular steel & cast aluminum diamond, cast aluminum swingarm
Wheelbase: 59.4 in.
Rake/Trail: 20.0 degrees/2.9 in.
Seat Height: 32.3 in.
Suspension, Front: Double USD telescopic, 41mm front, 43mm rear fully adj., 4.3-in. travel
Rear: Single linked shock, fully adj. w/ remote preload, 4.9-in. travel
Brakes, Front: Dual 266mm discs w/ opposed 4-piston calipers & ABS
Rear: Single 298mm disc w/ 2-piston floating caliper & ABS
Wheels, Front: Cast, 3.50 x 15 in x 2
Rear: Cast, 6.00 x 17 in.
Tires, Front: 120/70-ZR15
Rear: 190/55-ZR17
Claimed Wet Weight: 580 lbs.
Load Capacity: 430 lbs.
GVWR: 1,010 lbs.
Performance
Fuel Capacity: 4.8 gals., last 1.06 gal. warning light on
MPG: 91 PON min. (low/avg/high) NA
Claimed Range: 186+ miles
Indicated RPM at 60 MPH: 4,000