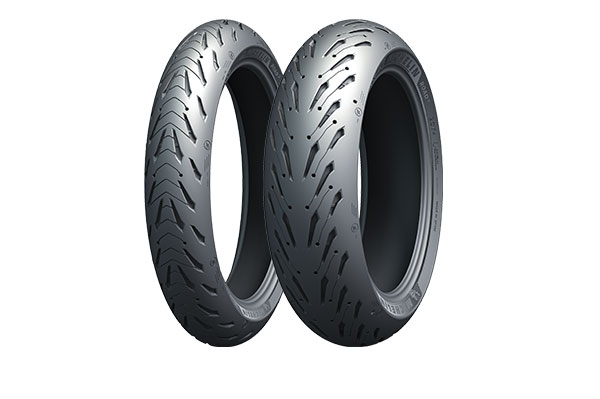 Almost 20 years ago I learned from two riders with extensive experience at Seattle and Portland raceways that one can go much faster in the pouring rain than one might think.
Following them across twisty and wet Monashee Pass in British Columbia was a real confidence booster and eye opener as well. Fast forward and a new revelation in wet weather pavement attack has arrived with the Michelin Road 5.
Maybe not really all that new, as the Road-series hoops have been the toast of the town among all-weather, long-distance riders for many years. Even those who ride with alacrity mostly in the dry have touted the Pilot Road 3 and 4 as excellent grippers with a long life span. The Road 5 ups the ante.
Building on all-new tread compounds and revolutionary adaptive casing technology called Michelin ACT+, recently debuted on the Power RS, the Road 5s boast the patented Michelin XST Evo water drop sipes which grow wider mile after mile. The design provides riders with enhanced grip, comfort, stability and performance that does not "fall off" as the tire wears, particularly in wet conditions.
I loved the smoothness and handling improvements in the cold and dry that I immediately felt on my Bandit 1250 once shod with the Road 5s. I finally had a chance here in Washington state to go for a wet ride with the temperature around 40 degrees; copious rain the night before had left standing puddles of water on cleaned pavement, and after a short mile of warm-up I found the first curves to attack.
Care was used across painted lines as always, but not a squiggle was felt. As my confidence increased I tried a couple of straight-line, ham-fisted applications of the big Suzuki's torque curve to see if the rubber wanted to break loose, but again, no loss of grip.
Knowing they were getting into the warm zone I hit another set of bends with bumps and puddles and could feel the spray wetting my shins during lean in, and still the Road 5s delivered excellent feedback and Red Sea-splitting performance.
After an hour of hooning around in the splishy-splash, I tried a few hard-braking maneuvers on this non-ABS model and each attempt felt controllable and stable. I could see riding in the rain all day on these Michelin Road 5 tires and not having to sacrifice more than 10 percent of the pace.
Available in all the popular sizes, a version with a higher load rating for the big GT machines will be available in 2019 (until then the Road 4 GTs are still a good choice). On scale of 1 to 5, these Michelins are a 5 in my book.
For more information, see your dealer or visit motorcycle.michelinman.com.