If you're a new rider, downsizing or just looking to add something small and fun to your fleet, times are good. Small bikes are no longer tragically un-hip, parts bin afterthoughts, and unlike the year 2000 when I bought my first brand new motorcycle, there's something out there for everyone. Even the Honda Rebel is cool. Good times, indeed.
And if what you're looking for is something easy to handle, lightweight and capable of cruising at 75 mph all day, with today's trendy neo-retro look and a sub-$5,000 price tag, make your way to your local Honda dealer (there are more than 1,200 nationwide) and ask to see the 2019 CB300R.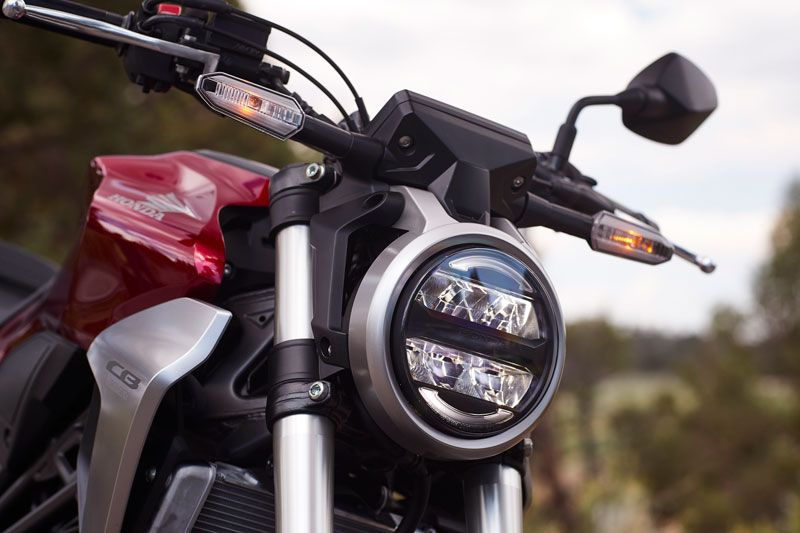 The CB300R replaces the CB300F for the 2019 model year, and as far as I can tell it's a better bike in every way. The F's sporty naked-bike styling was getting a little stale in my eyes, but the R's improvements go a long way past a restyle. The new bike is smaller, lighter and tighter, with a new chassis and suspension and available IMU-based 2-channel ABS.
Honda says its focus when recreating the CB300 was weight savings, so just about every change interacts with that goal in some way. The biggest is the chassis, a two-piece design with a tubular steel main frame and a separate, strengthened pivot plate to which the rear shock mounts. A new shorter swingarm with a gull-wing design on the right side allows the new muffler to be mounted as far inboard as possible for mass centralization.
Thanks largely to the chassis and exhaust changes, claimed wet weight on the standard CB300R is only 313 pounds. Our ABS-equipped test bike weighs 318 pounds wet, so that's a loss of 36 pounds vs. the outgoing CB300F ABS. That also makes it at least 32 pounds lighter than its closest competitor, BMW's G 310 R.
Handling has been improved with a 41mm non-adjustable Showa inverted fork replacing the old 37mm standard unit, a wider handlebar mounted for a more upright riding position, and a more horizontally-mounted rear shock with a larger piston valve and 7-position adjustable preload. Spring rates at both ends were tweaked for the lighter load, but at 135 pounds I still found it stiff enough for sporty riding.
Rake and trail have been tightened, which combined with the chassis and swingarm changes result in a 1-inch shorter wheelbase. Seat height did increase more than an inch, to 31.5 inches, but EIC Tuttle and his 29-inch inseam was able to easily get the balls of both feet solidly on the ground.
Speaking of the seat, it leaves a lot to be desired, especially after a 100-plus-mile press launch ride around Big Bear Lake followed by another 110 freeway miles home. It's hard and thin, and can dig uncomfortably into the rider's thighs at a stop. With feet on the pegs it's better, but my bum cried "uncle" after 40 numbing miles on I-210. Fortunately it was time for a gas stop, and 1.996 gallons of regular later I calculated I was on track to get almost 200 miles from my first 2.7-gallon tankful.
We're betting not many CB300R owners will be doing much touring though, and in its element–around town and on twisty roads–the little CB shines. The short wheelbase, comfortable, upright riding position and light weight combine to create an extremely agile, fun ride. Power delivery is smooth and controlled, and the tighter the twisties the better; keep the revs up and you'll have as much fun–if not more–as you would on a more powerful machine.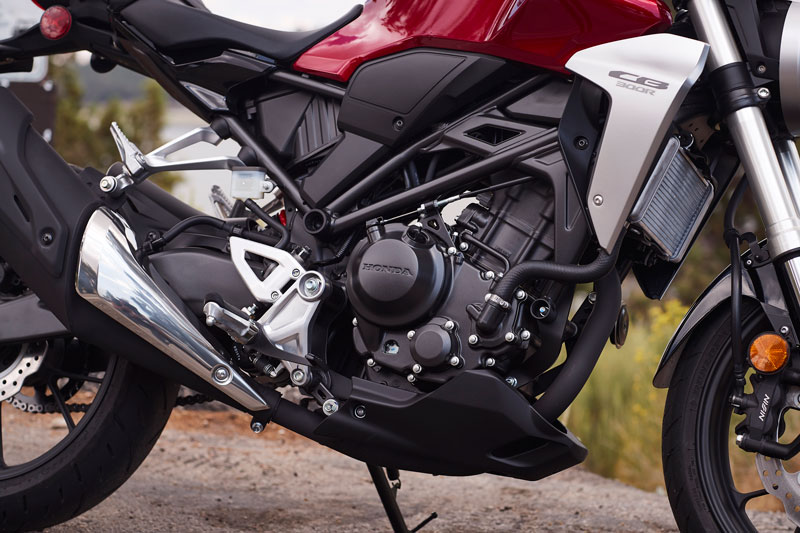 The 286cc DOHC single is mostly unchanged, although Honda says the intake was revised slightly for better airflow, resulting in improved acceleration performance. Although Honda doesn't provide claimed horsepower figures, a rep mentioned that it makes 28.5 at the crank, and in our last test of the CBR300R with the same engine (except the new intake), it made 27.6 at the rear wheel.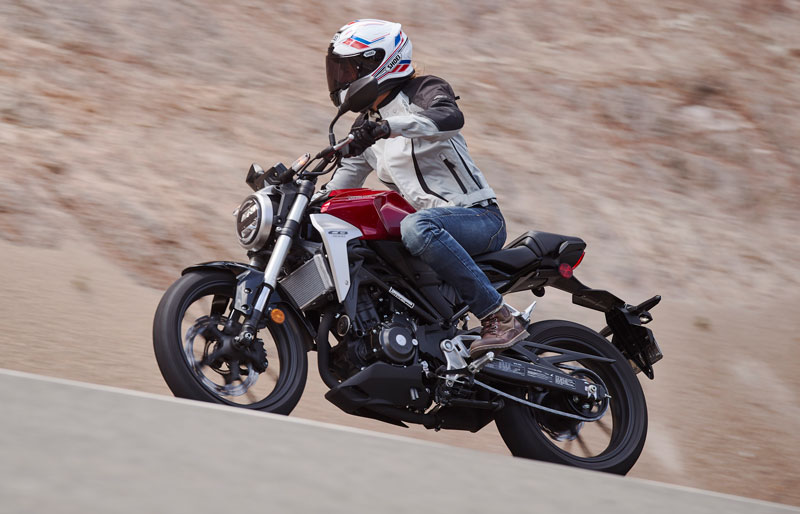 On the freeway, it works hard but will cruise at 75 to 80 mph (necessary to avoid being run over by SoCal drivers taking advantage of those rare occasions when they aren't crawling along in six lanes of traffic purgatory) for as long as your rear end can take it.
It's also worth noting that maintaining those speeds continuously will do a number on your fuel economy; mine dropped from an impressive 73.8 MPG on the mix of city and canyon riding of the press launch to 54.5 during my wide-open throttle freeway sprint home.
Reining in this ferocious 318-pound beast is a 296mm "hubless" floating front disc with radial-mount 4-piston Nissin caliper and a 220mm rear disc with single-piston Nissin caliper. My particular beast was also equipped with optional ABS ($300), which uses a pitch-sensitive IMU to reduce the chance of the rear wheel rising off the ground under hard braking–a trick feature on such an affordable machine.
We'll be putting more miles on our CB300R in the coming weeks, so look for a thorough road test review in Rider. But so far, we have to say the "neo-sports café" R is the step forward the CB300 needed and it should be on your short list if you're a new rider or simply want something small, light and fun.
Check out Rider's Guide to New/Updated Street Motorcycles for 2019
2019 Honda CB300R Specs
Base Price: $4,649
Price as Tested: $4,949 (ABS)
Website: powersports.honda.com
Engine Type: Liquid-cooled, DOHC single, 4 valves per cyl.
Displacement: 286cc
Bore x Stroke: 76.0 x 63.0mm
Transmission: 6-speed, wet multi-plate clutch
Final Drive: O-ring chain
Wheelbase: 53.3 in.
Rake/Trail: 24.7 degrees/3.7 in.
Seat Height: 31.5 in.
Wet Weight: 318 lbs.
Fuel Capacity: 2.7 gals.
MPG: 64.6 (avg.)