Updating a popular and successful motorcycle model can be tricky for any brand's design team. Mess with the components that enthusiasts consider off-limits, and the update takes a step backwards in the bike's evolution, not to mention the risk of losing customers.
Royal Enfield confronted that fork in the road when it set out to improve its Himalayan, a lightweight adventure-tourer launched in 2018. With an MSRP of just $4,499, the Himalayan, with its spunky 411cc air-cooled Single, offered what few other ADV bikes could – an affordable price tag.
Adding to the Himalayan's appeal was modest weight (439 pounds with its 4-gallon gas tank full), a low seat height (31.5 inches), and simplicity – anyone with basic mechanical skills could service it in their own garage or out in the field. Its curb appeal was unique, too, with a quasi-military-spec-meets-retro sensibility.
Read our Royal Enfield Himalayan vs BMW G 310 GS vs Kawasaki Versys-X 300 Comparison Review
The combined package added up to respectable global sales over the past few years. Linked by an enthusiastic following on social media, owners worldwide began sharing information about their Himalayan experiences, including road and trail tales, with many describing what they had learned about their Himalayan's mechanical nuances and strong points. Soon enough the Himalayan Owners Group, connecting enthusiasts from all points via social media, gained prominence on Facebook.
The folks at Royal Enfield paid attention. They added ABS in 2019. For 2022, updates include some modest functional/ergonomic changes and the addition of the company's exclusive Tripper Navigation system, which debuted earlier this year on the Meteor 350. Designed for the Google Maps platform, it's a simple, intuitive turn-by-turn navigation pod mounted on the instrument cluster that pairs with a smartphone via the Royal Enfield app.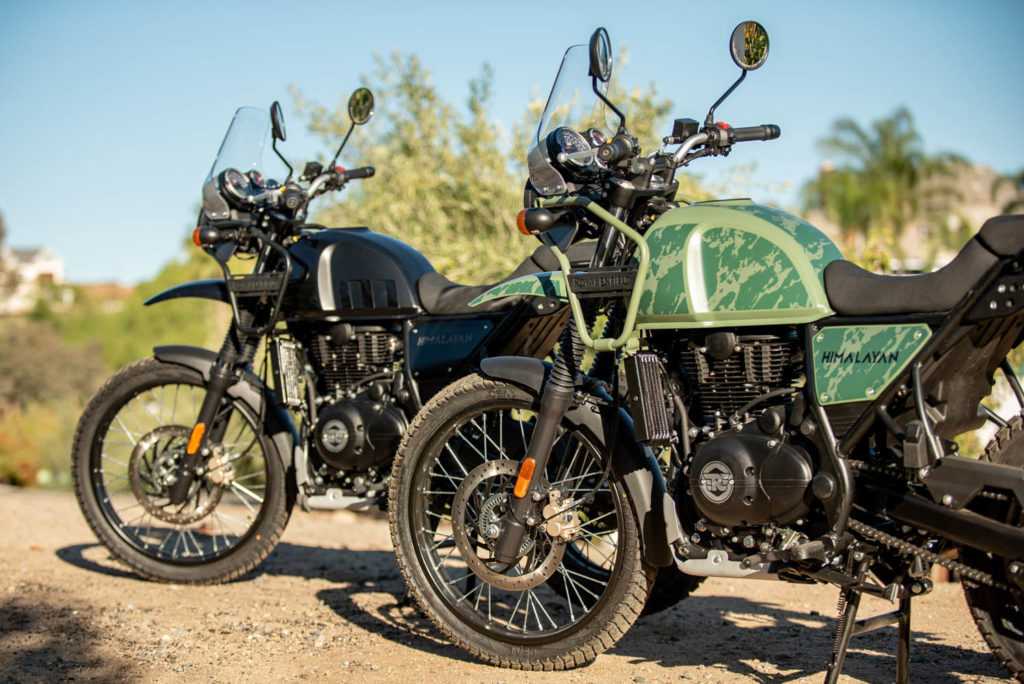 Royal Enfield hosted a press event for the new Himalayan in Temecula, a hot, dry area in Southern California known for its wineries. The surrounding countryside is laced with fine two-lane backroads and inviting two-track dirt byways – perfect conditions for a light adventure bike.
Besides the nav system, what else is new? The Himalayan's saddle, still at 31.5 inches high, gets upgraded foam padding and a new suede-like cover that minimizes slip between the seat's surface and the rider's pants. Its small windscreen is slightly taller and wider to block more air. The front racks that double as crash guards for the gas tank and mounting points for auxiliary jerrycans were shortened 3.5 inches and reconfigured to offer more leg room for taller riders. The tail carrier rack gains an additional plate to accept heavier loads, and it's slightly shorter to fit more flush with the seat's tail section and make it easier for the rider to swing a leg over the motorcycle.
Time to mount up for a test ride. With my 30-inch inseam, I have no problem clearing my right leg over the reconfigured rear carrier rack, and I can get both feet flat on the ground. Thumbing the starter button brings the long-stroke Single (78 x 86mm bore/stroke) to life. It plays a tune at idle reminiscent of those big British thumper engines that populated the motorcycle landscape back in the '50s and '60s. A stylish upswept muffler keeps the Himalayan's exhaust tone 21st-century friendly, yet still allows the cadence of the thumper to be enjoyed.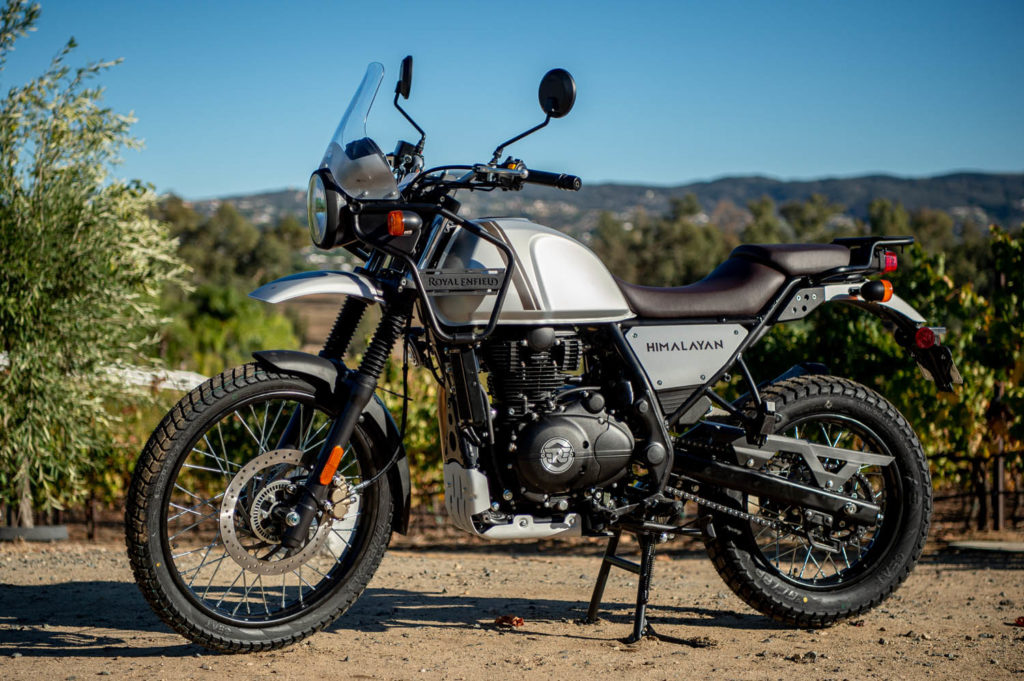 Find 1st gear and accelerate away smoothly. The upshift to 2nd could use some refinement, but shifting into higher gears feels trouble-free. The fuel-injected Single answers the call for more speed. Cruising along in top gear, the tachometer registers a mellow 4,000-4,500 rpm with the speedometer around 60-65 mph. Top speed is around 75 mph, and it doesn't get there quickly. Claimed output is modest: 24.3 horsepower at 6,500 rpm and 23.6 lb-ft of torque at the crank.
On the road, there's a gentle but welcome rush of air on my shoulders, arms, and helmet. The revised windscreen keeps enough wind off my torso to allow for a relaxed posture in the sculpted saddle. After about an hour or so the low saddle begins to feel a little confining, and the small cockpit puts an acute bend in my knees. The new seat cover minimizes slip, but it also makes it harder to adjust one's seating position. No problem, just stand up on the pegs for a quick stretch, which is good practice for the upcoming dirt tracks.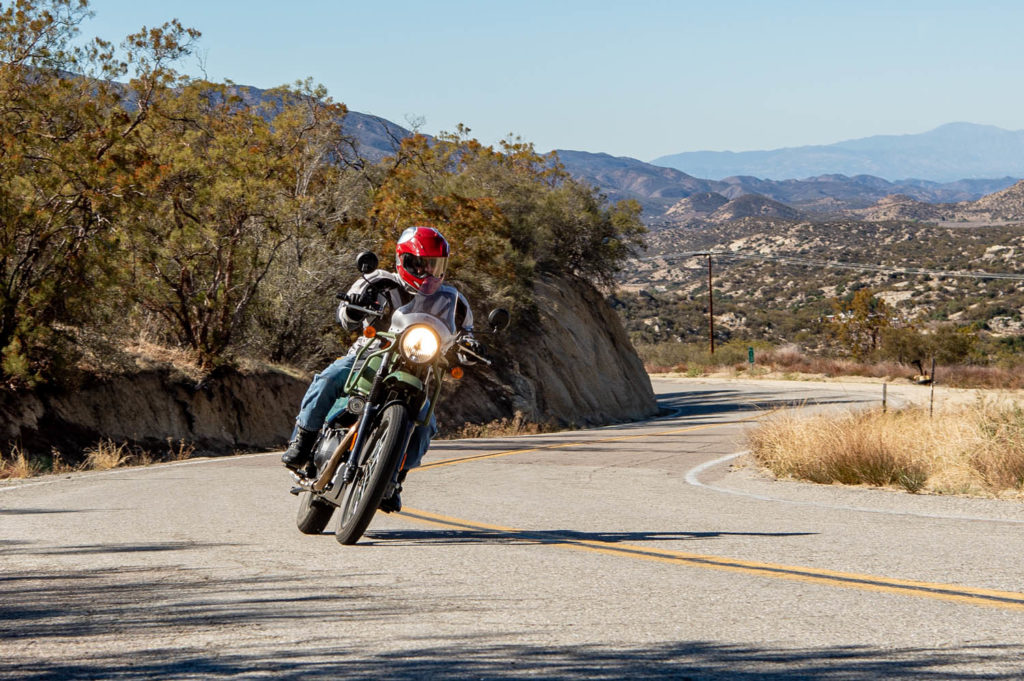 As we leave the pavement, our ride leader signals for us to stop so he can demonstrate the switchable ABS procedure. With the ignition on and the bike in neutral, press the tiny button directly below the dash-mounted ABS light. It requires a hard push and a slow five-second count to initiate deactivation. Done correctly, the ABS light blinks, signaling that you now have complete control of the rear brake (ABS remains on at the front wheel). Rear-wheel ABS resets anytime the bike is restarted.
Time to hit the trail, where the real fun begins. The bike's low center of gravity, coupled with responsive steering and the deep-tread Pirelli MT60 tires, makes the bike feel responsive to natural terrain. The 21-inch front wheel rolls over obstacles with ease; it's paired with a 17-inch rear, and the spoked rims require tubes. I skirt around rain gullies, power through stretches of deep sand, and maneuver over unfriendly rocks and ruts in the trail, thanks in part to 8.6 inches of ground clearance.
Braking power is modest, with a 2-piston front caliper squeezing a 300mm disc and a 1-piston rear caliper biting a 240mm disc. Suspension action is adequate. The fork offers no adjustability, the rear shock is adjustable for preload, and travel is 7.9 inches in front and 7.1 inches out back. The Himalayan feels rock solid, but also very much built to a price.
After long and delightful stretches of wandering over hill and dale, we resume our ride on pavement and try out the Tripper nav system. As I did to reset the ABS, I turn the bike's ignition off and back on. Having downloaded the app to my smartphone, I follow the prompts to switch on the turn-by-turn navigation pod that pairs the smartphone via the app. The small screen on the right side of the Himalayan's sparse instrument cluster reveals road and turn directions as I continue the ride. It's a handy feature on a bike that encourages exploration.
Royal Enfield has introduced several unique, attractively priced models over the past few years. Following the Himalayan's debut in 2018, it rolled out a handsome pair of British-style Twins – the Continental GT café racer and INT 650 standard – in 2019, and then the Meteor 350 cruiser in 2021. Now and in the years ahead, we'll see them evolve. The updates to the Himalayan have been incremental, but they make the small yet capable adventure-tourer even more practical. The price has increased along the way – MSRP is now $5,299 – but it remains a solid value and an appealing choice for a wide range of riders.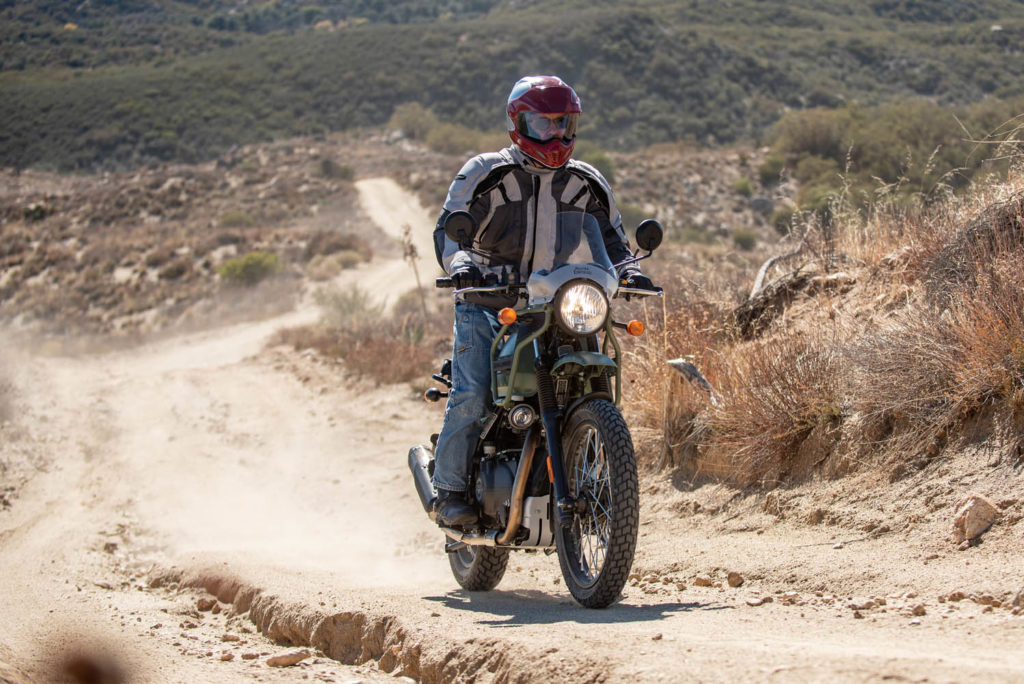 2022 Royal Enfield Himalayan Specs
Base Price: $5,299
Website: royalenfield.com
Engine Type: Air-cooled Single, SOHC w/ 2 valves
Displacement: 411cc
Bore x Stroke: 78.0 x 86.0mm
Horsepower: 24.3 hp @ 6,500 rpm (claimed, at the crank)
Torque: 23.6 lb-ft @ 4,250 rpm (claimed, at the crank)
Transmission: 5-speed, cable-actuated wet clutch
Final Drive: O-ring chain
Wheelbase: 58.0 in.
Rake/Trail: 26.5 degrees/4.3 in.
Seat Height: 31.5 in.
Wet Weight: 439 lbs. (claimed)
Fuel Capacity: 4.0 gals.