We just spent two days in the Sierra Nevada mountains and Mojave Desert of California testing the all-new 2021 Harley-Davidson Pan America 1250 Special. Over the course of two days, we rode about 350 miles on highways, twisting mountain roads and off-road trails that included gravel, sand, rocks and tricky climbs and descents. In one shot, Harley-Davidson not only built its first adventure bike, it also built its first sportbike and sport-touring bike. We'll have a full review soon, but for now we're sharing our top 10 highlights.
RELATED: 2021 Harley-Davidson Pan America 1250 Special | First Ride Review
1. Revolution Max 1250 V-twin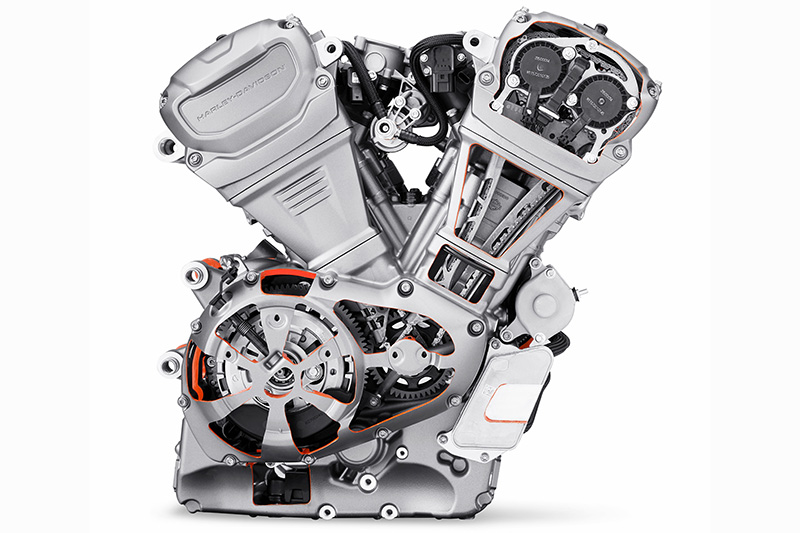 Harley-Davidson's base-model Pan America 1250 and up-spec Pan America 1250 Special (we only rode the latter) are powered by a brand-new engine called the Revolution Max 1250. It's a liquid-cooled 1,252cc 60-degree V-twin with DOHC, four valves per cylinder, variable valve timing, a 13.0:1 compression ratio and hydraulic valve lash adjusters. Harley-Davidson claims that it makes 150 horsepower at 9,000 rpm and 94 lb-ft of torque at 6,750 rpm and redlines at 9,500 rpm. It packs serious performance and sounds fantastic, delivering generous, tractable power throughout the rev range. And multiple riding modes adjust power output and throttle delivery.
2. Semi-active Suspension with Adaptive Ride Height
The Pan America 1250 Special is equipped with top-shelf Showa suspension — a 47mm USD Balance Free Fork (BFF) and a Balanced Free Rear Cushion-lite (BFRC) shock, with 7.5 inches of travel front and rear. The suspension offers semi-active electronic adjustment that adjusts damping based on the selected ride mode, and it automatically adjusts preload to provide 30% sag regardless of the load. But the real game-changer is Adaptive Ride Height (a $1,000 factory option), which automatically lowers ride height by 1 to 2 inches when the motorcycle comes to a stop (the amount of ride height adjustment depends on preload). The system works seamlessly and is virtually undetectably, and it makes a huge difference in effective seat height, which is one of the biggest obstacles for some riders to overcome when considering an adventure bike.
4. Ride Modes
Like nearly every high-spec adventure bike, the Pan America 1250 Special is outfitted with a full suite of electronic rider aids. It offers multiple ride modes — Sport, Road, Rain, Off-Road, Off-Road Plus, Custom Off-Road Plus, Custom A and Custom B — which automatically adjust the engine map (power output), throttle response, engine braking, traction control, ABS, suspension damping and, optionally, Adaptive Ride Height. IMU-enabled "cornering enhanced" linked ABS and traction control are available in most modes, but the cornering function and rear ABS are disabled in certain Off-Road modes. Drag-Torque Slip Control, which is like traction control for the engine to manage rear-wheel traction during aggressive riding, as well as cruise control and hill hold control are also part of the package. Everything works well and the different modes have a big impact on the riding character of the bike.
5. Brembo, Showa and Öhlins
Adventure riders who buy top-level motorcycles expect the best components and latest-and-greatest technology. On many Harley-Davidson motorcycles, component suppliers are not identified, and brake calipers may be branded with a bar-and-shield logo. But the manufacturer of certain components matters to discerning customers, so Harley-Davidson made a smart decision and spec'd the Pan America 1250 Special with Brembo brakes, Showa suspension and an Öhlins steering damper. And all of the components performed to a high level in a wide range of riding conditions.
3. Wheels and Tires
Standard equipment on both the Pan America 1250 and Pan America 1250 Special includes cast aluminum wheels with a 19-inch front and a 17-inch rear, and they're shod with specially designed Michelin Scorcher Adventure 90/10 tires. The larger front wheel is good for rolling over obstacles off-road but it does slow down steering somewhat relative to a 17-inch front wheel. The Scorcher Adventure tires offer good grip and handling on the street and they performed well for light off-road riding. We also tested the accessory side-laced tubeless wheels and accessory Michelin Anakee Wild tires, which give up some confidence and grip on pavement, but are excellent off-road tires, even at the higher "street" temperatures we were running. Harley-Davidson did its full range of development testing on both types of wheels and tires to ensure they met performance goals in a wide range of conditions.
6. Chain Final Drive
Harley-Davidson owners are accustomed to maintenance-free belt final drive, and in street-only riding conditions such a system works extremely well. But when off-road riding is involved, rocks and other debris can get wedged between the rear sprocket and the belt, causing damage that can lead to a belt failure. Although chain final drive requires some maintenance in terms of lubrication, adjustment and occasional replacement, it is the best solution in terms of weight, durability, minimal power loss and field repair. That's why everything from dirt bikes to race bikes use chain final drive.
7. Chassis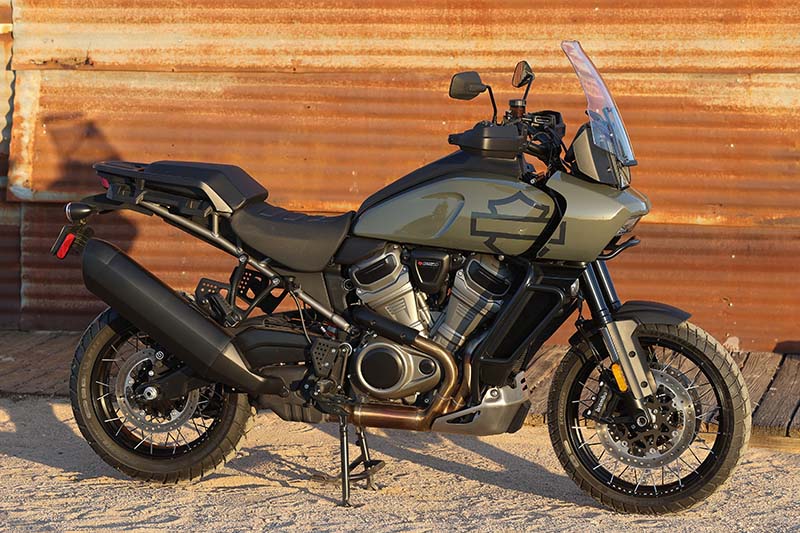 To save weight, the Revolution Max 1250 engine is a stressed member of the chassis. Attached to the engine is a front frame element to connect the steering head, an aluminum midframe element behind the engine that is the attachment point for the cast aluminum swingarm and rear shock, and a steel tail section (subframe) that supports the weight of the rider, passenger and luggage/cargo. Overall the chassis is very stiff and robust, which contributes to the Pan America 1250 Special's neutral, confident handling. Wheelbase is 62.2 inches, rake is 25 degrees and trail is 4.3 inches.
8. Adjustable Windscreen, Adjustable Seat Height and Adaptive Headlight
Adventure touring motorcycles are built to go long distances. They have upright seating positions with wide handlebars, and they have fuel capacities to go 200-plus miles between fill-ups (the Pan America has a 5.6-gallon fuel tank and an EPA-tested 46 mpg, which translates into 258 miles of range). The Pan America 1250 Special has a windscreen that is adjustable on the fly over a 1.8-inch range. Its rider seat has two positions — low (33.5 inches) and high (34.5) inches — and there are accessory low (32.5/33.5 inches) and high (34.5/35.5 inches) seats. As described above, Adaptive Ride Height can lower the rider's seat height by an additional 1 to 2 inches. And above the Daymaker Signature LED headlight, which uses 30 LED elements behind a diffuser lens, the Pan America 1250 Special has a Daymaker Adaptive LED headlight that illuminates a series of three lights as lean angle reaches 8, 15 and 23 degrees.
9. It Rips!
Harley-Davidson has done its homework. It knows it is entering a very competitive segment with highly evolved adventure bikes from BMW, Ducati, KTM, Triumph, Yamaha and others. The Pan America 1250 is a high-profile motorcycle, not just within the adventure segment, but within the motorcycle industry at large. Can Harley-Davidson, a company known for its cruisers and touring bikes, build a competitive adventure bike? The answer is yes. On the road and off the pavement, the Pan America 1250 delivered an exhilarating, confident riding experience.
10. It Can Fly!
Claimed wet weight for the Pan America 1250 Special is 559 pounds. The accessory side-laced wheels and beefier skid plate add more weight. But when we found a gully that had a tabletop hill on one side, we couldn't resist jumping the Pan America. We aired it out time and again, and the semi-active suspension provided a plush landing with no bottoming and no harsh rebound or kickback. Nothing broke. This is a solidly engineered motorcycle that has gone through extensive durability testing, about half of which was done off-road, and it took a licking and kept on ticking. No, most customers will not jump their Pan America 1250s, but if they wanted to, they certainly could!
Greg's Gear:
Helmet: Fly Racing Odyssey Adventure Modular
Jacket/Pants: Fly Racing Terra Trek
Gloves: Fly Racing Coolpro
Boots: Fly Racing FR5
Knee/Shin Guards: Fly Racing 5 Pivot
2021 Harley-Davidson Pan America 1250 Specs
Base Price: $19,999
Website: harley-davidson.com
Engine Type: Liquid-cooled, transverse 60-degree V-twin, DOHC w/ 4 valves per cyl.
Displacement: 1,252cc
Bore x Stroke: 105 x 72mm
Horsepower: 150 @ 9,000 rpm (claimed)
Torque: 94 lb-ft @ 6,750 rpm (claimed)
Transmission: 6-speed, hydraulically actuated assist-and-slipper clutch
Final Drive: O-ring chain
Wheelbase: 62.2 in.
Rake/Trail: 25 degrees/4.3 in.
Seat Height: 33.5/34.5 in.
Wet Weight: 559 lbs. (claimed, no accessories/options)
Fuel Capacity: 5.6 gals.
Fuel Consumption: 46 mpg (EPA)