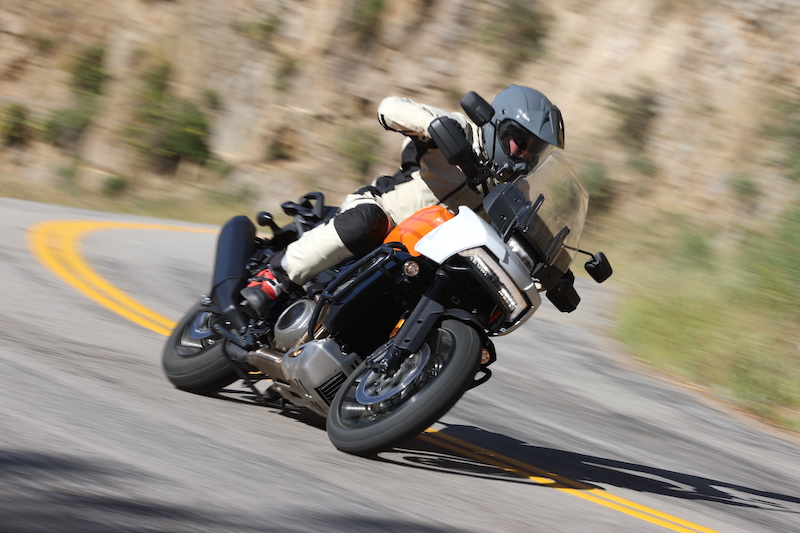 When you step up to the plate, when you're facing fierce competitors and all eyes are on you, sometimes you have to swing for the fences. That's what Harley-Davidson — a 118-year-old American motorcycle manufacturer known primarily for cruisers and baggers — has done with its new Pan America 1250 and Pan America 1250 Special adventure tourers.
Harley is a new player in the adventure touring segment, which has grown in breadth and depth over the past several decades. BMW recently introduced a 40th anniversary edition of its highly popular — and very capable — R 1250 GS. And there are big-league adventure bikes made by Ducati, Honda, KTM, Moto Guzzi, Suzuki, Triumph, and Yamaha, many of which are best-selling models with years of development and evolution under their belts.
During more than a decade of largely stagnant motorcycle sales since the Great Recession, large-displacement adventure and dual-sport models have been a rare source of growth. Harley wants a cut of that action. As it demonstrated with the release of the LiveWire electric motorcycle, Harley wants to expand its customer base. Two ways it can do that are to sell new models to its existing customers, and sell new models to new customers. Some existing customers own a variety of motorcycles, like Rider contributor Bruce Gillies, who owns a Road Glide Ultra, a Triumph Tiger 800XC and a KTM 690 Enduro R. Bruce is retired from the U.S. Navy and buys American-made products whenever he can. He's also a highly skilled rider who demands a lot from his motorcycles. He'd consider buying a Pan America, but only if it meets his high expectations.
Rest assured, Bruce. The Motor Company knocked this one out of the park.
[
Editor's Note: After this story was published, Bruce traded in his Triumph for a Pan America 1250 Special with ARH, and he loves it.
]
Harley designed and built an exciting, capable and innovative adventure bike in its first attempt. Given the high profile of the Pan America and the eagerness of naysayers to pounce on any weakness, Harley knew it couldn't release an odd-duck motorcycle. It learned that lesson with the Buell Ulysses. Belt drive is out, chain drive is in, not only because a chain is light, durable in off-road situations and can be repaired in the field, but also because that's what many adventure riders demand. A V-twin engine stays true to the brand, but it has to be liquid-cooled and offer the power and sophistication necessary to compete in this segment. The new Revolution Max 1250 V-twin makes a claimed 150 horsepower and 94 lb-ft of torque, and ride modes change output and throttle response at the touch of a button.
Harley also knew it needed a hook — a killer app, if you will. And that's Adaptive Ride Height (ARH), a $1,000 factory-installed option on the Pan America 1250 Special that automatically lowers ride height, and therefore the pilot's seat, by 1 to 2 inches as the bike comes to a stop. The Special's semi-active suspension automatically adjusts preload to 30% sag regardless of load, which is what accounts for the range of height adjustment. The system works seamlessly and virtually undetectably, and makes a huge difference in effective seat height. ARH is a real game-changer because seat height is one of the biggest obstacles for some riders to overcome when considering an adventure bike. Furthermore, it brings seat height within reach of more riders without compromising suspension travel or cornering clearance. (Click here to read our technical deep dive into the Pan America 1250's Revolution Max engine and ARH.)
After years of development and benchmarking, not to mention teasing at shows and speculation by the media, the first public test of the Pan America was at its press launch. I have to hand it to the folks who planned the event — this was no bunny slope test ride. Hosted at RawHyde Adventures' Zakar training facility a couple hours north of Los Angeles, we spent two full days flogging Pan America 1250 Specials on- and off-road in the Sierra Nevada mountains and Mojave Desert. We rode nearly 400 miles on highways, twisting mountain roads and off-road trails that included gravel, sand, rocks, tricky climbs and descents — even a few jumps.
Greg's Gear
Helmet: Fly Racing Odyssey Adventure Modular
Jacket: Fly Racing Terra Trek
Gloves: Fly Racing Coolpro Force
Pants: Fly Racing Terra Trek
Boots: Fly Racing FR5
As the saying goes, you never get a second chance to make a first impression. After tip-toeing down the sand-and-gravel access road from Zakar to the pavement and falling into formation on Route 58 with the dozen riders in our group, I began taking mental notes. As with many full-sized adventure bikes, the Pan America was comfortable and accommodating, with plenty of legroom, an upright seating position and a relaxed reach to a wide handlebar. Before the ride began, Harley's tech staff helped us adjust the dual-height stock seat (33.4/34.4 inches), install either the accessory low or high seat (which reduce or increase the dual heights by 1 inch, respectively) or install accessory 2-inch handlebar risers.
The whole business of seat heights becomes a little fuzzy because we were on Pan America 1250 Specials with ARH installed. At a stop, the unladen height of the stock seat in the low position is 32.7 inches rather than 33.4 inches without ARH. In its specs Harley also provides laden seat height with a 180-pound rider, which is 31.1 inches on the Special without ARH and 30.4 inches with ARH. Install the $249.95 Reach Solo Seat on an ARH-equipped Special and laden seat height can be as low as 29.4 inches. In other words, Harley went to great lengths to make sure seat height is not a barrier to owning a Pan America, though getting exactly what you want may require an investment.
After humming along the freeway for a half hour with the cruise control on and the on-the-fly adjustable windscreen parting the air smoothly, we turned onto Caliente-Bodfish Road, one of the gnarliest paved roads in the Sierra foothills, and began to wick it up. The Pan America offers eight ride modes — Sport, Road, Rain, Off-Road, Off-Road Plus and three custom modes — which adjust power output, throttle response, engine braking, traction control, ABS and suspension damping. The Revolution Max 1250 is ripper, with a sportbike-like sound, feel and responsiveness, and, thanks to variable valve timing, it delivers generous low-end torque as well as a screaming top end.
As has become increasingly common, rather than bolting the engine to the frame, the engine serves as the main structural element of the chassis. Attached directly to the engine are a front frame that incorporates the steering head, a forged aluminum mid frame that's the attachment point for the cast aluminum swingarm and a tubular-steel trellis subframe. Overall the chassis is stiff and robust, contributing to the Pan America 1250 Special's neutral, stable handling. And Harley used tried-and-trusted component suppliers, with a steering damper made by Öhlins, radial-mount monoblock 4-piston front calipers made by Brembo and suspension made by Showa — a 47mm USD Balance Free Fork and a Balanced Free Rear Cushion-lite shock, both with 7.5 inches of travel. Everything performed to a high level in a wide range of conditions.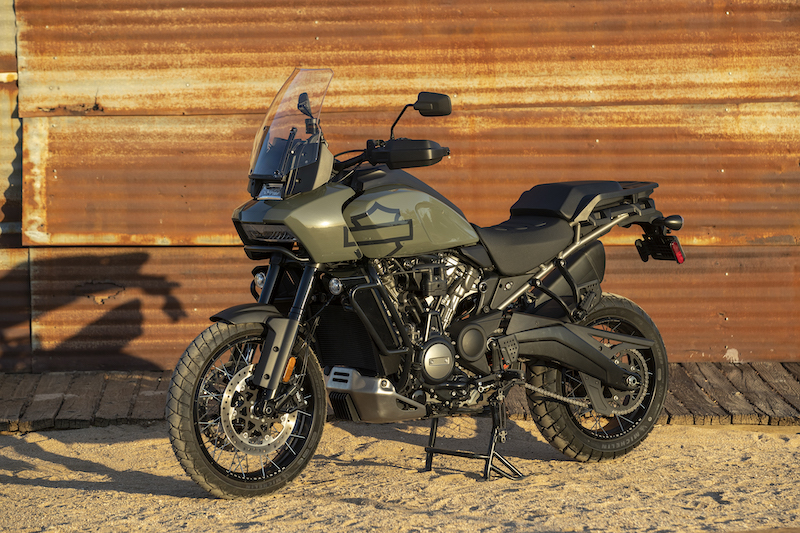 Standard on the Pan America are cast aluminum wheels (19-inch front, 17-inch rear) shod with specially designed Michelin Scorcher Adventure 90/10 tires, which offered good grip and handling on pavement and during light off-roading. Bikes we tested were equipped with the optional side-laced tubeless wheels (which cost $500 and weigh 14 pounds more than the cast wheels). On the second day, our bikes were fitted with accessory Michelin Anakee Wild 50/50 tires ($449.90), which give up some confidence and grip on pavement but are excellent off-road tires, even at the higher street temperatures we were running. Harley's RDRS Safety Enhancements package includes IMU-enabled "cornering enhanced" linked ABS and traction control, with settings determined by ride mode (the cornering function and rear ABS are disabled in certain off-road modes). Drag-Torque Slip Control, which is like traction control for the engine to manage rear-wheel traction during aggressive riding, as well as cruise control and hill hold control are also part of the package.
Reactions to the Pan America's styling have been mixed. Lacking the prominent beak or high front fender that is popular on many ADV bikes, it stands apart from the crowd, with a headlight design influenced by the Fat Bob and front bodywork inspired by the Road Glide's sharknose fairing. Above the Daymaker Signature LED headlight, which uses 30 LED elements behind a diffuser lens, the Special has a Daymaker Adaptive LED headlight that illuminates a series of three lights as lean angle reaches 8, 15 and 23 degrees.
Harley offers a standard version of the Pan America 1250 that starts at $17,319, but many buyers will probably opt for the Pan America 1250 Special we tested. Starting at $19,999, the Special adds semi-active suspension with automatic preload adjustment (and the availability of ARH as a factory option), the adaptive headlight, the steering damper, a tire-pressure monitoring system, a centerstand, an aluminum skid plate, engine protection bars, hand guards, heated grips and a dual-height rear brake pedal.
In one shot, Harley-Davidson not only built its first adventure bike, it also built its first sportbike and sport-touring bike. We hammered the Pan Americas for two days, and they never gave up or reacted in an unexpected way or felt out of their depth. Whatever the metric — power, performance, handling, durability, technology, weight, price — the Pan America 1250 Special can compete head-to-head with well-established players in the ADV segment. Is it the best overall, or in any particular category? Well, that remains to be seen — two days and 400 miles, none of which were ridden back-to-back with competitors in the class, is not enough to draw firm conclusions. But this is one rookie that shows great promise.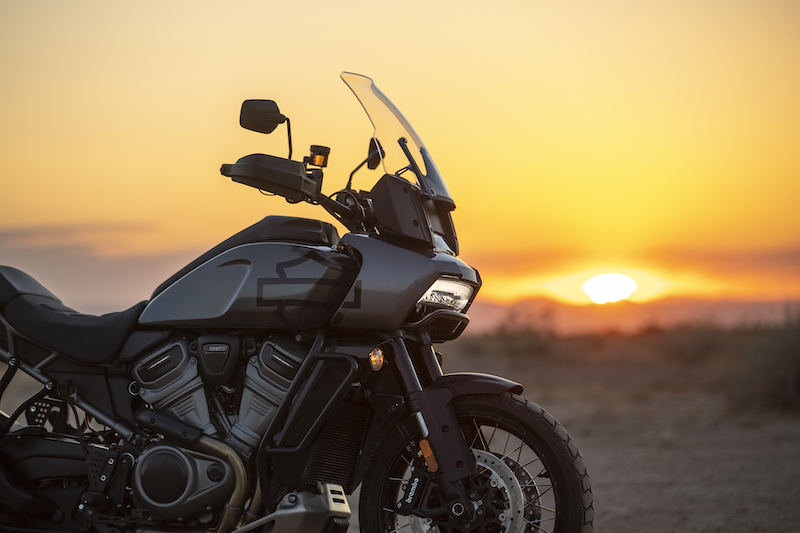 2021 Harley-Davidson Pan America 1250 Special Specs
Base Price: $19,999
Price as Tested: $22,299 (ARH, side-laced wheels, Anakee Wild tires, skid plate)
Website: harley-davidson.com
Engine Type: Liquid-cooled, transverse 60-degree V-twin, DOHC w/ 4 valves per cyl.
Displacement: 1,252cc
Bore x Stroke: 105 x 72mm
Horsepower: 150 @ 9,000 rpm (claimed, at the crank)
Torque: 94 lb-ft @ 6,750 rpm (claimed, at the crank)
Transmission: 6-speed, cable-actuated assist-and-slipper wet clutch
Final Drive: Chain
Wheelbase: 62.2 in.
Rake/Trail: 25 degrees/4.3 in.
Seat Height: 32.7/33.7 in. (unladen w/ ARH)
Wet Weight: 559 lbs. (claimed, stock)
Fuel Capacity: 5.6 gals.