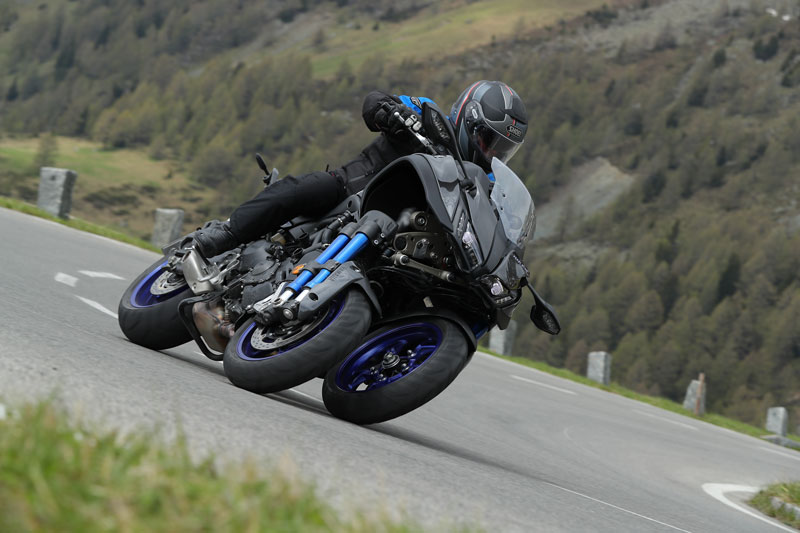 One of the most eye-catching and thought-provoking motorcycles unveiled at last fall's EICMA show in Milan was Yamaha's Niken Leaning Multi-Wheel (LMW), a two-wheels-in-front trike capable of a 45-degree lean angle thanks to the Ackermann dual-axle steering mechanism and a cantilevered suspension system mounted to the outside of the wheels. And it's based on the Tracer 900 sport tourer, which is powered by Yamaha's raucous 847cc Crossplane in-line triple.
Rider's Editor-in-Chief Mark Tuttle got a first ride on the Niken in the Austrian Alps last May, and he concluded, "for someone who wants more stability, control and incredible grip up front, especially when the conditions are less than ideal, or just wants to own one of the most unusual and exciting machines Yamaha has ever built, the Niken is a triple treat in more ways than one."
Read our full 2019 Yamaha Niken first ride review
Yamaha Motor Corporation, USA, has announced price and availability details for the Niken. It will only be available through Yamaha's online reservation system, and customers who reserve online will receive their motorcycles from authorized Yamaha dealers for the suggested retail price of $15,999 beginning in September.
Featuring a Granite Gray color scheme, Yamaha says the Niken will have very limited availability on a first come, first served basis. To reserve online, visit yamahamotorsports.com/nikenorder.