Today's luxury touring motorcycle market is a much different kettle of fish than it was in the 1980s and '90s, when sophisticated German and Japanese bikes with their smooth multi-cylinder engines defined the genre. Harley-Davidson's subsequent dominance of the heavyweight touring market and the modernization of its bikes has had a huge influence on luxury-touring preferences, to the point that today we're left with just the Honda Gold Wing and BMW K 1600 GTL carrying the multi-cylinder flag among a sea of V-twins. And as our Kings of Comfort comparison showed (Rider, August 2015), the latest Harley and Indian dressers have evolved to the point that a flat six or four-cylinder engine is no longer required for a motorcycle to excel as a flagship luxury touring machine.
So, what's the problem? Riders who want modern luxury still have the Wing and GTL, and the traditional/emotional crowd can choose among any number of well-equipped V-twins with retro styling. Well, Yamaha says these two approaches have left many riders confused and unable to choose between them.
The new Star Venture luxury touring bike you see before you aims to solve that dilemma, with a giant, smooth but rumbling V-twin wrapped in modern, muscular styling and most every convenience and comfort feature you can think of, as well as a few firsts. Yamaha's answer to the "modern or traditional" question was simply, "Why not have both?" This daring approach ignores the norms and taps into a new and potentially large customer base. To experience its capabilities, my wife Genie and I rode a Star Venture TC on a 3-day, 700-mile ride with the Yamaha team from Boise, Idaho to Coeur d' Alene via McCall, Lolo Pass and Missoula, Montana. The scenery was gorgeous, the weather warm and the roads twisty, and we got plenty of seat time with the new bike and a solid understanding of how it works for luxury touring.
Development of the Star Venture began about six years ago with a clean sheet of paper, though Yamaha's surveys and focus groups had already concluded that any new long-distance luxo had to have a V-twin at its core, and surprisingly an air-cooled one with visible pushrods at that. Much of the expensive R&D for a new engine goes into the basic architecture—bore and stroke, bottom end, etc.—so Yamaha repurposed the layout of its 1,854cc Raider 48-degree OHV V-twin, which has four valves per cylinder. The ample mill was redesigned with hydraulic valve lifters that never need adjustment, and camshaft and primary drive dampers to quell the shudder that often occurs at low rpm in big twins. Twin gear-driven counterbalancers eliminate shakes throughout the powerband without robbing the engine of its rumble, and instead of solid mounting the engine a' la Raider, the big twin is supported in the Venture's frame with special composite engine mounts that also absorb some vibes. An overdrive sixth gear was added to the gearbox, and a new assist-and-slipper clutch reduces lever effort.
It's been a long time since an all-new Japanese luxo has landed, so we couldn't wait to get the Venture on the Jett Tuning dyno to see what kind of low-end torque machine it might be. With 109.4 lb-ft at 2,750 rpm at the rear wheel, the Venture's peak torque equals or edges out all of its V-twin competition and the Gold Wing (but not the GTL), and more than 100 lb-ft are available from 2,000 to 4,000 rpm. Moreover, with the torque peak hitting at well below 3,000 rpm and the engine turning just 2,750 rpm at 75 mph, it's unnecessary to rev it anywhere near its redline of 4,750 rpm, though the rev limiter cuts in quite softly should you hit it. Yamaha spent a lot of time getting the feel and sound of the Venture's engine just right, and it paid off in genuinely smooth, brisk acceleration even two-up and loaded with a healthy bark from the exhaust and crisp, clean shifting. The engine loafs along pleasantly in its top fifth and sixth gears on the highway, handles twisting roads easily in third or fourth and whips the heavy motorcycle, you and your passenger around slower traffic with ease, often with a single downshift.
Perhaps the greatest concern about an air-cooled engine in this application is engine heat creating discomfort for the rider, and the Venture definitely generates plenty of warmth around the rider's lower legs. On hot days some heat from the oil tank, which is integrated into the frame just below the rider's left buttock, can seep through the seat, too. The engine has the usual oil jets under the pistons and an oil cooler, but otherwise no special effort was made to reduce its heat output. Yamaha's approach was to use airflow management instead, and it has succeeded quite well. As long as you're moving, adjustable vents in the fairing lowers and a pair of adjustable wings on the sides keep the air moving around your legs and lower body and prevent the engine heat from settling in behind the fairing…unless you want it on cooler days, of course. Wind protection for the rider is quite good when desired, in fact, with an electric windscreen that raises 3.5 inches to the point the rider is looking through it, and lowers below your line of sight. The mirrors and a pair of bolt-on deflectors on each side help deflect the wind as well. Passengers experience a bit more noise from the wind, even with the windscreen up, but are otherwise protected nearly as well as the rider.
In addition to the base model, the Venture's TC or Transcontinental package adds LED fog lights, a security alarm, rear speakers, passenger storage compartments and GPS navigation, CB radio and SiriusXM satellite radio to the infotainment system, bringing its wet weight up to a whopping 963 pounds. It's all supported by a robust steel double-cradle main frame, aluminum subframe and steel swingarm for the suspension, which is surprisingly basic for such a fully loaded bike. The non-adjustable 46mm fork and progressively linked single shock with remote reservoir do work quite well, though, and the rear shock has remote hydraulic preload adjustability under the left side cover. Rolling on radials with a huge 200-series tire in back, the Venture handles much better than you would expect for such a heavy bike, with neutral, low-effort steering, predictable cornering manners and good suspension control in bumpy corners without any harshness. It's easy to ride briskly two-up until you start scraping the floorboards, in fact, and quite fun to ride fast on winding roads.
Rider and passenger comfort reigns supreme on the Star Venture, with a low 27.4-inch seat height for the rider, wide, plush seats, floorboards, a 3-position rider lumbar support, adjustable levers and large, supportive passenger backrest. Extra long rider floorboards let the rider move his or her feet back and forth more than a foot, and the wide handlebar can be rotated in its clamps to move the grips up or down a few inches. Heated seats, backrests and grips that get seriously hot on "high" are standard, and heated grabrails for the passenger are included among the 24 accessories for the bike along with a trunk rack, heel-and-toe shifter and bag liners. You will be comfortable on this bike, even at the end of a long day.
To power the raft of accessories that touring riders like, the Venture's V-twin also gets twin 375-watt alternators, for a total of 750 watts of electrical juice, and its all-LED lighting with distinctive quad headlights uses very little. Y-CCT throttle-by-wire enabled the incorporation of D-Mode Touring and Sport engine modes (I preferred Sport for a crisper feel starting out from stops without any abruptness elsewhere), very precise cruise control and switchable traction control, and of course the bike has ABS for its super-strong, unified triple disc braking system, which dynamically proportions braking force front and rear depending upon conditions. Parking and maneuvering the bike is cake thanks to the Sure Park system, which engages a separate electric motor to move the bike forward and back when the transmission is in neutral and the engine is stopped or running. It's especially useful for backing into and out of parking spaces without starting the engine—sometime down the road Yamaha may even offer a backup camera!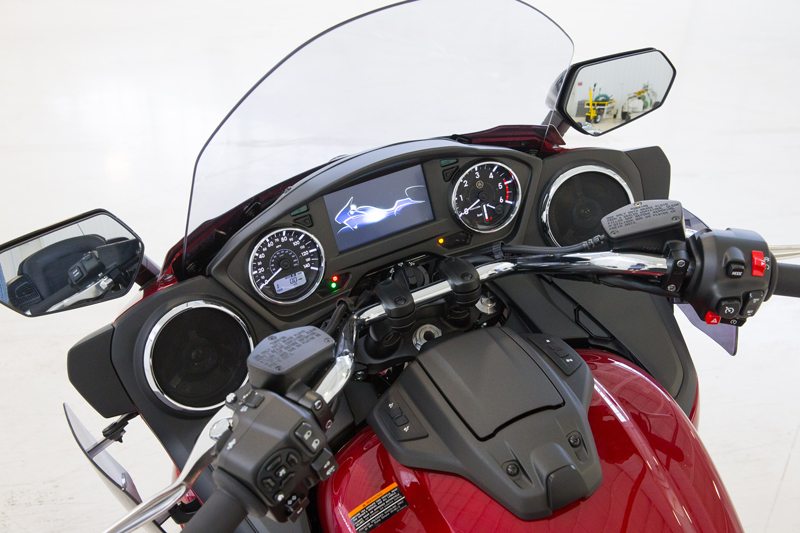 Besides its engine and R1-meets-1960s-Americana-muscle styling, a key focal point of the Star Venture is its high-output audio and infotainment system, which is so comprehensive that the manual is 116 pages long—allow yourself plenty of time to learn how to use it all. Music, navigation, communications and motorcycle systems monitoring (for things like the tire pressure, seat and grip heating and the electric windscreen) are controlled with an integrated button panel on the left handlebar. You can also use the clear, concise 7-inch LCD touchscreen display or even voice activation to control all of the features. Connect your phone via Bluetooth and optional J&M headsets via cable (Bluetooth headsets don't offer enough separate data channels) and you can make and receive calls, stream music from multiple sources, chat on the intercom or CB and ask the GPS for directions. Two-zone audio lets the passenger listen to a different audio source and control volume separately, though my wife found the 5-button control panel for the passenger a little difficult to use until she got the hang of it. Sound quality from the 28-watt per channel system's speakers is quite good, though I recommend the headsets for the best fidelity.
More convenience features include 144 liters—picture 38 gallons of milk—of luggage capacity in the cavernous trunk, top-loading saddlebags, three fairing pockets and two passenger compartments (on the TC version). The trunk easily swallows two XL full-face helmets, and the luggage and one fairing pocket can be locked or unlocked with a single button on the center console and Smart Key keyless ignition fob. USB ports front and back and an auxiliary jack and 12V outlet in front connect and charge devices. Though the test bikes had to go straight to the Star Days rally in Minnesota from Idaho, I was careful to monitor our bike's fuel economy with the trip computer, and it averaged 41.1 mpg on premium fuel, for a nice range of more than 270 miles from its large 6.6-gallon tank.
While many existing luxury bikes offer similar features, none to date has combined them into a single package quite as cleverly as Yamaha. The Star Venture raises the bar to the highest level yet in this category with unprecedented levels of comfort, convenience and performance. We'll have a comparison test with its chief competition quite soon.
2018 Yamaha Star Venture Specs
Base Price: $24,999
Price as Tested: $26,999 (TC package)
Warranty: 5 yrs., unltd. miles
Website: yamahamotorsports.com
Engine
Type: Air-cooled, transverse 48-degree V-twin
Displacement: 1,854cc
Bore x Stroke: 100.0 x 118.0mm
Compression Ratio: 9.5:1
Valve Train: OHV, 4 valves per cyl.
Valve Insp. Interval: NA
Fuel Delivery: EFI w/ 46mm throttle body
Lubrication System: Semi-dry sump, 6.7-qt. cap.
Transmission: 6-speed, hydraulically actuated wet clutch
Final Drive: Belt
Electrical
Ignition: TCI
Charging Output: 750 watts max.
Battery: 12V 18AH
Chassis
Frame: Tubular & forged steel double cradle w/ cast aluminum subframe & steel swingarm
Wheelbase: 67.6 in.
Rake/Trail: 31 degrees/5.7 in.
Seat Height: 27.4 in.
Suspension, Front: 46mm telescopic, no adj., 5.1-in. travel
Rear: Single linked shock w/ remote preload adj., 4.3-in. travel
Brakes, Front: Dual 298mm discs w/ 4-piston opposed calipers, UBS & ABS
Rear: Single 320mm disc w/ 2-piston floating caliper, UBS & ABS
Wheels, Front: Cast, 3.50 x 18 in.
Rear: Cast, 6.00 x 16 in.
Tires, Front: 130/70-HR18
Rear: 200/55-HR16
Claimed Wet Weight: 963 lbs. (as tested)
Load Capacity: 408 lbs.
GVWR: 1,371 lbs.
Performance
Fuel Capacity: 6.6 gals.
MPG: 91 PON min. (avg) 41.1
Estimated Range: 271 miles
Indicated RPM at 60 MPH: 2,450
SaveSave
SaveSave