After some lean years following the Great Recession, Suzuki has pinned the throttle. In our comprehensive guide to new/updated street motorcycles for 2017-2018, which includes 123 models from 16 manufacturers, Suzuki has launched nearly 10 percent of the total—12 new/updated models in all.
Read Rider's Guide to New/Updated Motorcycles for 2017-2018
Four of those models are members of Suzuki's popular V-Strom "sport adventure tourer" family, including standard and XT versions of the V-Strom 650 and V-Strom 1000. The entire lineup has been restyled, with a minor facelift for the 1000 and a more dramatic rework of the 650 to more closely resemble its big brother. Both have updated engines, new electronics and a unified line of accessories, and the XT versions offer tubeless spoked wheels and other adventure-ready components.
About a month before Suzuki hosted its U.S. press launch for the new V-Stroms, Managing Editor Jenny Smith spent a week test riding the new V-Strom 650 over in Europe during Adriatic Moto Tour's Adriatic Riviera Tour, and she filed a First Ride Review. Suzuki brought all four V-Strom models to the press launch held at Lake Arrowhead, in California's San Bernardino Mountains. Since Smith reviewed the 650 and the press launch ride was only 75 miles, I focused my attention on the standard V-Strom 1000 for this First Ride Review. (I rode home on a standard V-Strom 650, and we'll be conducting through evaluations of the 650 and 1000 in the weeks ahead.)
Read Our 2017 Suzuki V-Strom 650 First Ride Review
Suzuki's last major overhaul for the V-Strom 1000 was in 2014, which included all-new styling with a prominent ADV beak, a larger, more powerful engine, a new chassis, Suzuki's first-ever traction control system, revised ergonomics, less weight and other improvements, all while keeping the price at a reasonable level ($12,699). With the latest update (which has been designated a 2018 model due to production timing), Suzuki sharpened the DL1000's styling, gave it a reshaped, 1.9-inch-taller windscreen and added hand guards, heavier bar-end weights and a lower engine cowl. Refinements to the V-Strom's 1,037cc 90-degree V-twin made it Euro 4 compliant, and a new Bosch five-axis Inertial Measurement Unit (IMU) made it possible to add cornering ABS, which in Suzuki-speak is known as Motion Track Anti-lock and Combined Brake System. And, with the base price just $300 higher at $12,999, it's still a great value.
What has made V-Stroms so popular over the years is their versatility. They may not be the most powerful or the lightest or the most sophisticated bikes in the adventure touring segment, but V-Stroms are jacks-of-all-trades that deliver serious bang for the buck. Although the 2018 V-Strom 1000 lacks throttle-by-wire — and therefore doesn't have electronic cruise control or riding modes — the directness of its throttle response and the linearity of its power delivery are the result of years of refinement. When rolling on and off the throttle, there's none of the herky-jerkiness that's common on bikes with throttle-by-wire, and its single "mode" could be called Just Right.
Suzuki says the new DL1000 makes 99.2 horsepower at 8,000 rpm and 74.5 lb-ft of torque at 4,000 rpm at the crank, figures that are nearly identical to the 2014-2016 model (due to the production timing quirk, there was no 2017 model). In our last test of the 2014 Suzuki V-Strom 1000 ABS (a comparison with the Kawasaki Versys 1000 LT and Yamaha FZ-09), on Jett Tuning's dyno it made 93.8 horsepower at 8,300 rpm and 68.6 lb-ft of torque at 4,000 rpm, sent to the rear wheel via chain final drive. Horsepower climbs smoothly and steadily until about 7,000 rpm, where it begins to taper off. The torque curve is mostly flat, with more than 60 lb-ft available between 3,200 and 8,100 rpm. What those numbers mean in the real world is a meaty midrange that helps the V-Strom 1000 launch out of corners, make quick passes and pull strongly even when fully loaded, and a solid yet sensible top-end. Standard traction control (with two levels of intervention, or it can be turned off) keeps rear wheel spin under control, and an assist-and-slipper clutch makes shifting the 6-speed transmission effortless.
Read Our Suzuki V-Strom 1000 ABS vs Kawasaki Versys 1000 LT vs Yamaha FZ-09 Comparison Review
Wrapped around the V-Strom's V-twin is an aluminum twin-spar frame, which is suspended by a fully adjustable 43mm upside-down fork and a single shock that's adjustable for rebound and preload (the latter via a remote knob), both offering 6.3 inches of travel. The standard suspension settings are on the soft side, which provides a comfortable ride on rough roads but results in some fork dive and squatting under hard braking and acceleration. The radially mounted Tokico monoblock front brake calipers are sportbike-strong with good initial bite. Suzuki's Motion Track Anti-lock and Combined Brake System is not linked, so the rider controls the front and rear brakes independently. But the system can adjust front or rear brake pressure as needed to stabilize the chassis during cornering, which most riders won't notice except in extreme situations.
Weighing in at 511 pounds (claimed, a gain of 8 pounds), the V-Strom 1000 is on par with other bikes in its class. From the saddle, the weight feels nicely balanced, and with its wide handlebar, the Strom turns into corners easily and feels neutral during side-to-side transitions. It rolls on 19-inch front/17-inch rear cast wheels shod with Bridgestone Battlax 90/10 adventure-touring tires, which provide decent grip. Most of our test ride was on smooth pavement, and rarely did the pace exceed legal speeds. We rode a few miles down a dirt road covered in loose, silty soil, just enough to get a few photos and to remind me that riding a 500-plus pound motorcycle off-road with 90-percent street tires at street pressures is best done at a moderate pace. Although the V-Strom's off-road ability was improved with its major update in 2014, it has always been and remains primarily a street bike. It has limited suspension travel, only 6.5 inches of ground clearance and its ABS can't be turned off. But, truthfully, for the vast majority of riders, that isn't a deal breaker. Most V-Stroms are used for on-road touring, and in that regard it still excels and is better than ever.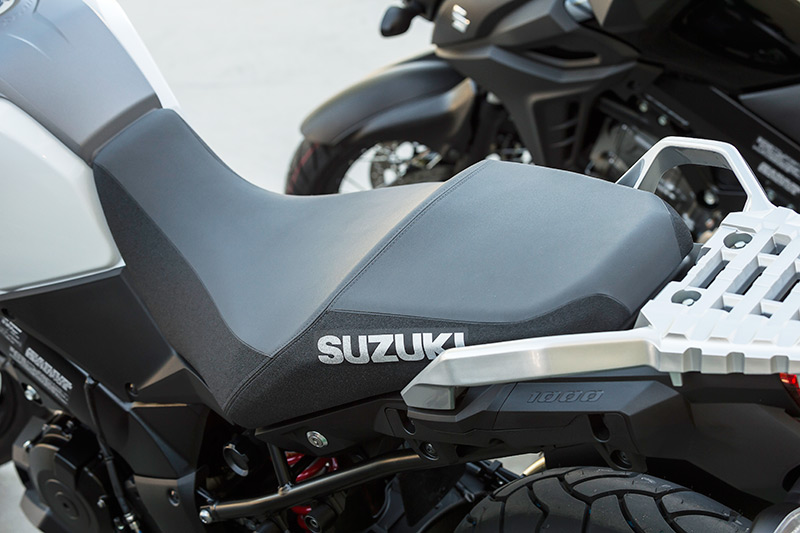 Suzuki left well enough alone when it comes to the V-Strom's ergonomic package. That means a wide, well-positioned handlebar, a broad, flat seat that's 33.5 inches tall and generous legroom. Sitting upright without any tightness in the back, shoulders or knees means the DL1000 is an ideal long-haul tourer. The taller windscreen and standard hand guards provide more wind protection, and the windscreen can be adjusted for angle in three positions (on the go) as well as height (with tools). And, since the passenger portion of the seat is at the same height as the standard luggage rack, it's easy to add a large tail bag, duffel bag or other cargo. Suzuki's accessory line includes hard and soft luggage, engine guards, low and high seats, heated grips, auxiliary lights and more. And if you step up to the XT model for just $300 more, you get tubeless spoked wheels and a large-diameter, tapered aluminum handlebar.
And so the Suzuki V-Strom 1000 soldiers on. It has all of the virtues of the original bike that won Rider's Motorcycle of the Year award in 2002—generous torque, confident handling, a 200-mile-plus range, good value, versatility and fun—yet it has been sensibly modernized with traction control and cornering ABS, as well as improved in terms of styling, comfort, wind protection and available accessories. The V-Strom 1000 was a great adventure touring bike before such bikes were trendy and the segment got so crowded, and it continues that tradition honorably.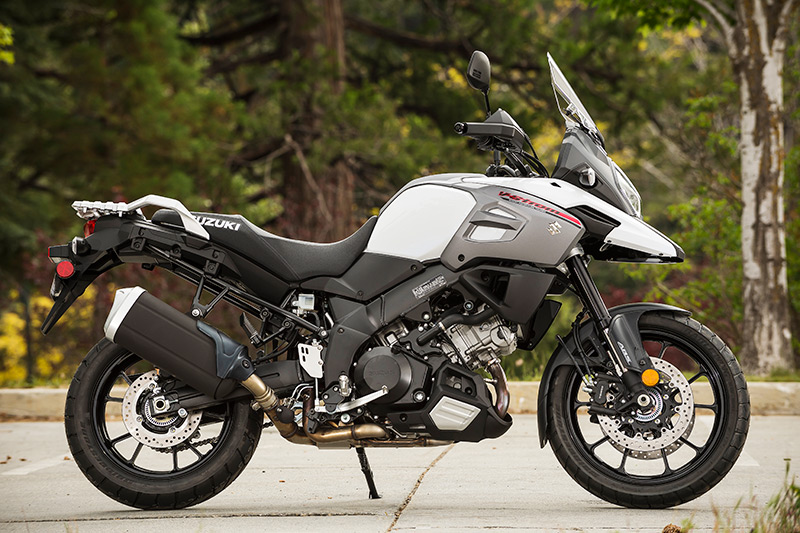 2018 Suzuki V-Strom 1000 Specs
Base Price: $12,999
Website: suzukicycles.com
Engine Type: Liquid-cooled, transverse 90-degree V-twin, DOHC w/ 4 valves per cyl.
Displacement: 1,037cc
Bore x Stroke: 100.0 x 66.0mm
Transmission: 6-speed, hydraulically actuated wet clutch
Final Drive: O-ring chain
Wheelbase: 61.2 in.
Rake/Trail: 25.3 degrees/4.3 in.
Seat Height: 33.5 in.
Claimed Wet Weight: 511 lbs.
Fuel Capacity: 5.3 gals.
MPG: 90 PON min. / NA
Greg's Gear
Helmet: Shoei Hornet X2
Jacket: Tour Master Transition 4.0
Pants: Aerostich AD1
Boots: Joe Rocket Meteor FX