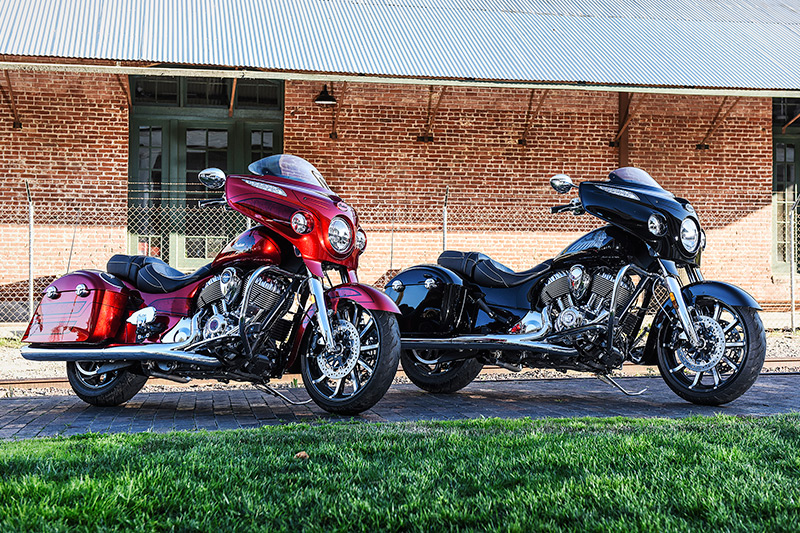 Indian has jumped into the new-for-2017 fray with several fresh models, including the Chieftain Limited and Chieftain Elite. These two bikes represent evolutionary advancement in the life of Indian's bagger line; most of the main nuts-and-bolts mechanicals have been carried over, but a number of stylistic changes add up to a broader choice of purchase options than ever before.
Read our review of the new-for-2017 Indian Roadmaster Classic
Reid Wilson, the company's Director of Marketing, told us, "Our goal was to evolve the award-winning Chieftain platform with new models that elevated the overall style of this bike significantly, while still staying true to the signature design qualities that Indian Motorcycles is known for."
If you're familiar with the Chieftain, it's easy to spot two of the biggest changes added to these brand-new models: a 10-spoke, 19-inch front wheel on prominent display courtesy of an airy looking "sawed-off" front fender. Now that the dual four-piston front brake calipers, which clamp down on 300mm floating rotors, sit out in the open rather than being covered, they've been adorned with the Indian script logo. It's a fresh look, and with a tire that's slightly narrower than the 16-inch front used on previous Chieftains, steering now feels a touch lighter and a bit more linear in steering action. According to Indian's specs, steering geometry figures remain unchanged. A color-matched headlight bezel and restyled, contrast-stitched leather saddle comprise the other main design accents added to the Limited version. In addition, the Limited comes showroom-ready with the 100-watt premium audio system, and you can add rear 100-watt speakers that fit into the saddlebag lids from Indian's vast selection of factory accessories.
In addition to all of these features on the Limited, the new top-of-the line Chieftain Elite boasts a custom paint treatment: Fireglow Red Candy with Marble Accents. This is a genuine, hand-painted finish applied in 12 layers, a process that take a specialized team at Indian's Spearfish, South Dakota, custom paint facility more than 25 hours to apply. Since this is a true custom paint job, no two Chieftain Elites will look exactly alike, and production will be held to only 350 units for sale globally. The Elite also comes with other premium touches including a Pathfinder LED headlight and driving lights, a new windscreen with a flared top lip, billet rider and passenger floorboards, 200-watt premium audio system with the saddlebag speakers included, and unique tank console, horn, airbox, primary and cam covers, and other accents.
Read our Indian Roadmaster vs Harley-Davidson Ultra Limited vs Honda Gold Wing comparison review
"With Chieftain Elite, we wanted to design the most-premium, feature-packed Chieftain that we could possibly imagine," said Wilson. "In the end, I think the bike exceeded even our own high expectations. It's an absolute show stopper."
We spent a day in San Diego aboard the 2017 Indian Chieftain Limited and Chieftain Elite, riding in cool weather with on-and-off rain showers. To further broaden the riding experience, the press launch team brought along a few more new Chieftains that had other Indian accessories mounted. Most notable was a performance package that combined Indian Stage 1 Slip-On Exhaust, Thunder Stroke High Flow Air Cleaner and new-for-2017 Stage 2 Performance Cams. This setup is reportedly emissions compliant in all 50 states, and Indian claims a 13 percent boost in horsepower and more than 7 percent gain in torque. Although we were told the ECU reflash on the sample bike we rode was still a work in progress, we found no glitches in fuel metering, and a welcome increase in power was readily perceived all though the rev range—a very nice boost to the stock motor, already rated at an impressive 119 foot-pounds of grunt at a low 3,000 rpm. Our take: Every Thunder Stroke 111 cubic inch engine should come already equipped with this upgrade! Other highlights common to all Chieftain models include a 7-inch Ride Command infotainment system with new touchscreen programming and options, ABS, tire pressure monitoring system, keyless ignition system and a power adjustable windscreen.
MSRP for the Chieftain Limited is $24,499, only a slight uptick from the standard Chieftain's price tag of $23,999; the Chieftain Elite lists at $31,499. For riders in search of those special extra touches that will set your bike apart from the crowd, the 2017 Indian Chieftain Limited and Chieftain Elite will get you well on the way toward a custom ride.