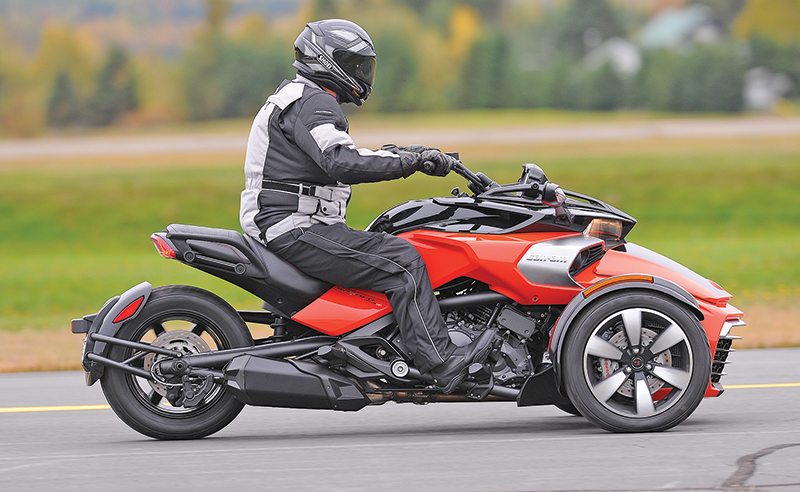 Can-Am recently invited a group of journalists to sample its latest Spyder roadster on a two-day ride through rolling countryside ablaze in fall colors, in the Eastern Township outside of Montreal in Quebec, Canada. Visits to the Bombardier Recreational Products design center and factory filled out the agenda.
With sport, sport-touring and touring riders already targeted with the Spyder RS, ST and RT, Can-Am created the new-generation 2015 Spyder F3 with cruiser riders in mind. A new Y-frame chassis features two frame members added to each side to increase torsional rigidity, a trellis-style rear swingarm, standard Fox Podium aluminum-body front shocks, Sachs rear monoshock (a remote-reservoir Fox shock is optional), Brembo front brakes, electronic cruise control and more. The styling is quite aggressive; think muscle-cruiser here. Along with the standard F3, Can-Am offers the F3-S featuring special cosmetic touches and premium fenders with LED running lights. Three more accessory packages are offered for either model.
This new chassis places the rider farther aft, behind the fuel tank and much lower for feet-forward, arms-forward positioning. A huge range of adjustability comes courtesy of Can-Am's innovative UFit system. The lower frame tubes mount non-folding footpegs with five positioning holes for a whopping 10 inches of adjustment. Now the rider's knees can nestle in tightly to let leg strength brace body position in turns, not arms and shoulders. The wide, stock handlebar reaches back with bar ends high, setting forearms in a pronounced upward slope. Can-Am also offers three optional handlebars: one with more rearward reach, and two with more forward reach.
The seat rests only 26.6 inches high and it's spacious and comfortable, albeit wide at the saddle/tank junction. The rear portion has a good supportive lip that holds the rider in place, serving as a mini backrest. This low seat height works with the new frame to lower the total center of gravity—man and machine.
This lowered CG, along with the stiffened frame and taut suspension components, aid handling and produce a confidence-inspiring feel. Charge into a corner and there's minimal body roll. The ride is surprisingly firm; manhole covers, patches and frost heaves relay a strong thump. It's not harsh, just a firm ride that stays controlled in corners, as I found over 250 miles on two-lane country roads. Can-Am claims a range of up to 252 miles with the 7.1-gallon tank.
The engine was developed specifically for Spyder application, and performance is great. Built by BRP subsidiary Rotax, the liquid-cooled, transverse, in-line 1,330cc three-cylinder powerplant makes a claimed 115 horsepower at 7,250 rpm. A 6-speed transmission is available in manual and semi-automatic versions, both with a handy push-button reverse. A claimed time of 4.8 seconds from 0 to 60 mph seems right, at least from my seat-of-the-pants impressions during acceleration tests on a closed airport taxiway. The F3 feels quick and fun, and it's easy to light up the rear tire with a hard launch. Power builds quickly, smoothly and in a linear fashion, with lots of torque on tap. The EFI system provides fine fuel metering with no gaps or hesitation. A rowdy song issues forth from the standard Akrapovič silencer, and the snap, crackle and pop on trailing throttle makes you grin.
Perfect primary balance in a triple with a 120-degree crankshaft plus a gear-driven counterbalancer let the engine run exceptionally smoothly. At an indicated 62 mph in sixth gear, the engine just loafs along, showing 3,600 rpm. Wick up the throttle and the F3 leaps forward, while one downshift helps make passing all the quicker. A transient patch of roughness comes intermittently through the handlebar from about 3,850 rpm to 4,200 rpm, usually when you ease off the throttle. It's not from the engine; it's an artifact from the belt-driven drivetrain. This rumbling vibration never feels bothersome and does not persist.
The manual version of the transmission shifts cleanly, has good feel, no clunkiness and the gears are well spaced. Clutch pull, feel and actuation are all fine, too. The abundance of torque gives multiple options, usually a choice of at least three different gears depending on how lazy or aggressive you're feeling with the throttle.
The semiautomatic transmission is equally satisfying, and obviously much more accommodating to riders with no previous motorcycle experience. Punch the paddle-shifter and upshifts kick in swiftly. Downshifts come automatically while slowing down, kicking in at appropriate speeds. Come to a stop, and you're already in first gear, all set to take off.
Whereas the steering of earlier-model Spyders could feel a bit darty at times, the new-generation F3 feels benign and glitch-free in comparison. At highway speeds, it's responsive and accurate without feeling nervous, while the power steering ramps up its assist at parking lot speeds for easy maneuvering. At one point during our travels, to dodge a dead skunk, I instinctively twitched the handlebar to skirt the smelly mess. No fuss, no drama, just solid, responsive handling.
A short 4-mile ride on a dirt farm road allowed a test of the Vehicle Stability System, which combines traction control, stability control and anti-lock brakes. Upon fanning the clutch and goosing the throttle to purposely get the rear end hacked out in a turn, I could feel the traction control modulate power and the stability control snub down the front brakes to get things realigned, automatically and seamlessly. A nice safety net to have when that first rain of the season makes paved roads oily and slick.
Can-Am claims that with the Spyder F3, riding has evolved. We concur. Starting at a base MSRP of $19,499, the F3 is at least a whole generation ahead of previous versions in overall function. It's a great alternative for riders who otherwise would not, or could not, climb aboard two wheels, or even those just looking for something different. Moreover, one-third of all Spyder buyers are people with no motorcycling experience, and 25 percent of buyers are females. Those stats mean that Can-Am is growing the sport with the Spyder. For that alone, they deserve enthusiastic praise.
2015 Can-Am Spyder F3
Website: can-am.brp.com
Base Price: $19,499
Engine Type: Liquid-cooled, transverse in-line triple, DOHC, 4 valves per cyl.
Bore x Stroke: 84.0 x 80.0mm
Displacement: 1,330cc
Transmission: 6-speed manual w/ reverse or semi-automatic w/ reverse
Final Drive: Belt
Wheelbase: 67.3 in.
Seat Height: 26.6 in.
Claimed Dry Weight: 850 lbs.
Fuel Capacity: 7.1 gals. incl. 1.2-gal. res.
Claimed MPG: 35.5
The standard Akrapovic silencer gives a fun,
aggressive sound that's still socially acceptable.

Trellis-type swingarm actuates a monoshock for rear suspension action. An optional Fox rear shock with remote reservoir is available from Can-Am.