photography by Rich Cox
[This 2010 Kawasaki Concours 14 Road Test was originally published in the February 2010 issue of Rider magazine]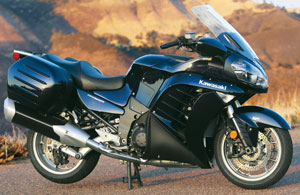 Comparing a fast motorcycle to a rocket ship is a common metaphor. Rockets conjure images of the eyeball-flattening acceleration and yahoo excitement that riders feel when twisting an open-classer's throttle to its stop. Hence the term crotch rocket. But rockets also shake violently and are uncomfortable. They're more akin to top-fuel drag bikes than a sportbike in tourer's clothing like the 2010 Kawasaki Concours 14. No, the Connie is more of a kissing cousin to the Starship Enterprise, with Capt. James T. Kirk sitting comfortably on the bridge during evasive maneuvers and no one spilling their Tang when warp drive is engaged.
To boldly ride to places where one hasn't ridden before, performance shouldn't come at the expense of comfort. We can go farther faster and keep ourselves and our passengers happier aboard a motorcycle that churns out power like butter, offers reassuring accommodations and carries plenty of stuff. With riders so intimately connected to the machine and the elements, a sport-touring motorcycle should feel more like an escape pod that swiftly delivers Starfleet members to safety rather than the bow of a ship in a storm. The Concours 14 is such a machine.
Based on the 186-mph Kawasaki Ninja ZX-14 sportbike and sharing only a name with its beloved, long-in-the-tooth predecessor, the 2008 Concours 14 put Kawasaki in contention with large-displacement sport tourers from BMW, Honda and Yamaha. Though it was our 2008 Motorcycle of the Year, in a head-to-head comparison, its engine heat, poor wind protection and bulkiness ranked it below the Honda ST1300 and Yamaha FJR1300 (but ahead of the BMW K1200GT; see Rider, December 2007). Like wine and annuities, motorcycles benefit from maturity.
When updating the Concours 14, Kawasaki focused on improving comfort and touring potential. Considering issues that lowered the Connie in our comparison rankings, a redesigned, more aggressive-looking fairing better dissipates engine heat and a new midexhaust heat guard protects the rider. And the bigger windscreen—available previously as an accessory—is now 70mm taller and is wider with a slight kick-up at the top for less turbulence, aided by new fairing vents near the instrument panel. As before, the windscreen's height is push-button adjustable, but now you can choose from four preset levels to which it will return when the ignition is turned on. Not once was heat an issue for us, and the new 'screen is an improvement.
Kawasaki didn't just listen to our complaints; they also addressed their customers' most pressing concerns. For greater range, a new rider-activated fuel economy assistance mode switches to a leaner map. It works in any gear as long as engine speed is below 6,000 rpm, throttle opening is less than 30 percent and speed is below 80 mph. Our Concours averaged 35 mpg during this test, but in economy mode it easily surpassed 40 mpg and got as high as 46.7 mpg in real-world conditions, extending range by 30-60 miles. There is also a passive "eco" indicator on the LCD display, which gives you a green star for being judicious with the throttle.
Safety got a boost with the addition of traction control—a first for Kawasaki—on ABS models. Dubbed KTRC, it is the flip-side of anti-lock braking since it uses the same ECU and wheel-speed sensors (and therefore, no weight is added) to manage rear-wheel spin. When the rear tire begins to slip, airflow, ignition timing and fuel delivery are retarded to regain traction. A bright-orange button on the left handlebar allows KTRC to be turned off. No reason to do that really, unless you've got a thing for burnouts or wheelies. K-ACT (Kawasaki Advanced Coactive-braking Technology) ABS, adapted from the Voyager, is smaller and lighter with a faster ECU. K-ACT is always on, but another bright-orange button on the left handlebar toggles between two modes. The modes differ in the onset of linkage between the rear brake pedal and the front calipers (front and rear brakes were not linked before); the front brake lever actuation of the front and rear brakes and ABS performance are unaffected. Standard Mode prioritizes rider control, reducing the linked-brake effect at initial pedal stroke so you can dab the rear brake lightly to set up for a turn without engaging the front brakes. High Combined Mode actuates the front brake at the beginning of the rear pedal stroke for more immediate stopping power when carrying gear or a passenger. In actuality, though I appreciate linked brakes, the benefit of the two-mode option was never apparent to me. K-ACT also has a low-battery mode that maintains ABS timing and pressure relief functions to preserve anti-lock braking effectiveness.
Other changes enhance the riding experience. A mode selector has been added to the left switchgear that allows the rider to easily toggle through functions on the LCD display, such as fuel economy, range, front/rear tire pressure, battery voltage and—new for 2010—ambient temperature. When the digits drop or yours get cold, a stepless dial on the left fairing panel heats up standard grip warmers to the rider's preference. Wearing leather gloves of average thickness, the low setting was just slightly warm while high was just shy of too hot. To better accommodate a tankbag, the small glove box has been moved from the top of the tank to the left fairing panel; it locks electromagnetically when the engine is turned off or if speed exceeds 25 mph. Magnetic or nonmagnetic tankbags now rest on a large flat perch, and hooks have been added to easily secure tankbag straps. For more visibility and better hand protection from the wind, the wide, folding mirrors are 40mm higher than before. They provide a generous view that is always clear thanks to minimal felt vibration from the engine. And Kawasaki's Intelligent Proximity Activation Start System (KIPASS) now comes with two fobs. The primary fob, which includes a transmitter, immobilizer and a spare key, is carried by the rider and disables the bike when it is more than 5 feet away. A secondary transmitter-less fob can be stored on the bike as a back up.
What hasn't changed didn't need to be. Warplike propulsion is generated by the Concours 14's 1,352cc, DOHC in-line four with Variable Valve Timing (VVT), which alters camshaft profiles according to engine speed for a seamless blend of low- to-midrange torque and prodigious top-end power. Jett Tuning's Dynojet dyno topped out at 137.8 horsepower and 92.8 lb-ft of torque at the rear wheel, which gets an extra jolt from ram-air induction. Power climbs linearly with nary a hiccup until it starts to plateau at 8,000 rpm, and torque is there when you need it: over 80 lb-ft between 4,000 and 9,000 rpm. With the in-line configuration providing primary balance, dual secondary balancers eliminate any remaining vibration. Digital EFI with a 32-bit ECU and dual throttle valves feeds in fuel precisely, for right-now throttle response with only the slightest bit of roll-on hesitation. This powerplant is a velvet hammer that pulls strongly everywhere and doesn't balk if you're a gear high.
The lightweight monocoque frame, constructed of hollow aluminum box sections arched over the engine from the steering head to the swingarm pivot, uses the engine as a stressed member. With the engine placed forward and low, the Concours 14's handling belies its 690-pound wet weight (down 3 pounds from last year) and generous 59.8-inch wheelbase. Steering was sharpened by adding more oil in the 43mm male-slider fork and running next-generation Bridgestone BT021 tires. Kawasaki's four-link Tetra-Lever shaft drive eliminates jacking and easily handles the engine's big power. Chassis geometry—26.1 degrees of rake, 4.4 inches of trail and a 32.1-inch seat height—and adjustable suspension are unchanged. The Concours 14 turns in easily but requires some effort to hold a line through tight curves. With only minor suspension and tire changes, handling is marginally improved from the previous model. On long sweepers or straights, the Concours 14 is cool, calm and collected, exactly as a sport tourer should be.
Complementing the civilized, commanding engine are a slick-shifting transmission and powerful brakes. The clutch and front brake master cylinders both have radial-pump designs for precise engagement and feel, and both levers are adjustable. Dual floating 310mm petal rotors in front are squeezed by radial-mounted Nissin four-piston calipers with separate brake pads for each piston for optimum cooling and consistent feel under heavy use. The rear gets a smaller 270mm petal rotor and a two-piston caliper. The K-ACT linked, anti-lock brakes stop quickly and confidently in dry, wet and dirty conditions. Light or hard braking is easy with two well-placed fingers and moderate foot pressure, though pulsing and kick-back are common when the ABS engages. With recent advances in ABS it doesn't have to feel this way, and it's unsettling even though I know the system is doing its job.
The Connie's color-matched hard bags are some of the easiest I've ever used. Turn the KIPASS key to the FSS (Fuel-Seat-Saddlebags) position to remove it, insert into either saddlebag lock and make a quarter turn. One handle opens the bags, the other unlocks them for quick removal. Each water-resistant hard bag holds a full-face helmet, and they seal and close effortlessly. The only down side is that they scratch easily, which is true of most painted hard bags; urethane guards can be added for $79.95. A rear rack with passenger grab handles is standard, and it accommodates an accessory top case. Other accessories include engine guards, tankbag, saddlebag and top case liners, GPS bracket, gel low seat, side spoilers and a cover.
With Kawasaki having addressed most of our and its customers' concerns, there's very little to complain about on the new Concours 14. We'd like to set the fuel economy assistance mode and have it stay on until we turn it off rather than having to activate it each time we start the bike. Further refinement of the anti-lock braking system to eliminate pulsing would also be appreciated, as would about an inch less reach to the handlebars. Editor Tuttle, who has a long torso and short legs, felt that the seat was too sharp-edged and that the windscreen didn't go high enough or low enough. But I loved the firm, flat seat (my keister was happy after several all-day rides) and liked the windscreen. Either can be adapted to personal preference with accessory or aftermarket items.
The 2010 Kawasaki Concours 14 is a fine example of how sensible design, performance and safety can be combined into a well-rounded, exciting package. Everything worked well and our few complaints are minor. How I feel about the new Concours 14 is perhaps best summarized with an anecdote: On a recent Sunday I took my notebook along during a solo ride up to the southern Sierras and back via the Mojave Desert. My plan was to stop occasionally and record my impressions about the Concours. But I returned home 400 miles later with an empty notebook, having stopped only for gas. I enjoyed the ride so much—my mind was so absorbed with soaking up the scenery, sensations and experience—that I didn't want to sit around writing about it, I just wanted to do it. For an entire day I got lost in my own private space-time continuum. What more could you ask of a motorcycle?

2010 Kawasaki Concours 14
Base Price: $14,599
Price as Tested: $15,299 (ABS)
Warranty: 3 yrs., unltd. miles
Website: www.kawasaki.com
ENGINE
Type: Liquid-cooled, transverse in-line four
Displacement: 1,352cc
Bore x Stroke: 84.0 x 61.0mm
Compression Ratio: 10.7:1
Valve Train: DOHC, 4 valves per cyl. w/ Variable Valve Timing
Valve Adj. Interval: 24,000 miles
Fuel Delivery: Digital EFI w/ ram air & 40mm throttle bodies x 4
Lubrication System: Wet sump, 5.0-qt. cap.
Transmission: 6-speed, hydraulically actuated wet clutch
Final Drive: Shaft, 2.036:1
ELECTRICAL
Ignition: TCBI w/ digital advance
Charging Output: 581 watts @ 5,000 rpm
Battery: 12V 14AH
CHASSIS
Frame: Aluminum monocoque w/ engine as stressed member & cast aluminum Tetra-Lever swingarm
Wheelbase: 59.8 in.
Rake/Trail: 26.1 degrees/4.4 in.
Seat Height: 32.1 in.
Suspension, Front: 43mm male slider, adj. for spring preload & rebound damping, 4.4-in. travel
Rear: Single shock, adj. for spring preload (remote) & rebound damping, 5.4-in. travel
Brakes, Front: Dual floating petal 310mm discs w/ radial-mounted opposed 4-piston calipers & K-ACT linked ABS (as tested)
Rear: Single petal 270mm disc w/ opposed 2-piston caliper & K-ACT linked ABS (as tested)
Wheels, Front: Cast, 3.50 x 17 in.
Rear: Cast, 6.00 x 17 in.
Tires, Front: 120/70-ZR17
Rear: 190/50-ZR17
Wet Weight: 690 lbs.
Load Capacity: 482 lbs.
GVWR: 1,172 lbs.
PERFORMANCE
Fuel Capacity: 5.8 gals., last 1.1 gal. warning light on
MPG: 90 octane min (high/avg/low) 46.7/35.0/27.3
Estimated Range: 203 miles
Indicated rpm at 60 mph: 2,750