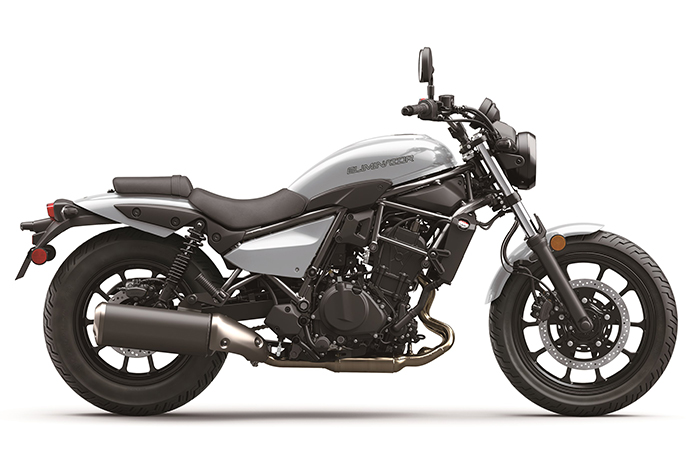 Kawasaki as announced the all-new 2024 Kawasaki Eliminator, a bike the company says was "built with a timeless design, bringing a sleek and low element to the forefront and making an extremely welcoming motorcycle that can be enjoyed by a wide range of riders."
Although the motorcycle is new, the name is not. In 1985, Kawasaki introduced the ZL900 Eliminator, a cruiser powered by the liquid-cooled inline-Four from the ZX900 Ninja. Inspired by Z1 dragbikes, the original Eliminator had a drag-style straight handlebar, a bobbed rear fender, a short-travel fork, a fat rear tire, big chrome mufflers, and shaft drive.
Various versions of the Eliminator were produced in the '80s and '90s, ranging from the ZL400 to the ZL1000. From the late '90s to the mid-2000s, the Eliminator became an entry-level model in displacements ranging from 125cc to 250cc.
The 2024 Kawasaki Eliminator returns to its sportbike-powered roots. It has a liquid-cooled 451cc parallel-Twin DOHC engine adapted from the Ninja 400 sportbike. A 6.8mm longer stroke bumps displacement from 399cc to 451cc and helps create strong low-end torque. The engine is mated to a 6-speed gearbox, with the final gear ratio selected for a similar feel to some of its Ninja counterparts, and a slip/assist clutch.
Related: 2018 Kawasaki Ninja 400 ABS | First Ride Review
Large 32mm throttle valves provide abundant air flow while the oval-shaped valves allow their closed position to sit at an angle, contributing to quicker throttle response. Fine-atomizing injectors aid in overall combustion efficiency and were closely placed near the intake ports to add to a smooth, linear throttle response.
A 5.8-liter airbox provides optimum intake efficiency and more engine power, and the design helps riders hear the engine's intake noise during acceleration. Intake funnels are set at unequal heights to help tune out torque valleys for a smoother throttle response, and the downdraft intake tract helps contribute to the engine's overall performance at higher rpms and eliminates space under the seat for easier ground reach.
Stopping power comes from a 2-piston caliper clamping down on a 310mm semi-floating front brake disc, and a rigid front brake master cylinder helps to eliminate idle stroke. In the rear is 2-piston caliper and 220mm disc. ABS is available on select models. 
The Eliminator rides on 18-inch front and 16-inch rear 10-spoke wheels, shod in 130/70-18 tires up front and 150/80-16 in the rear.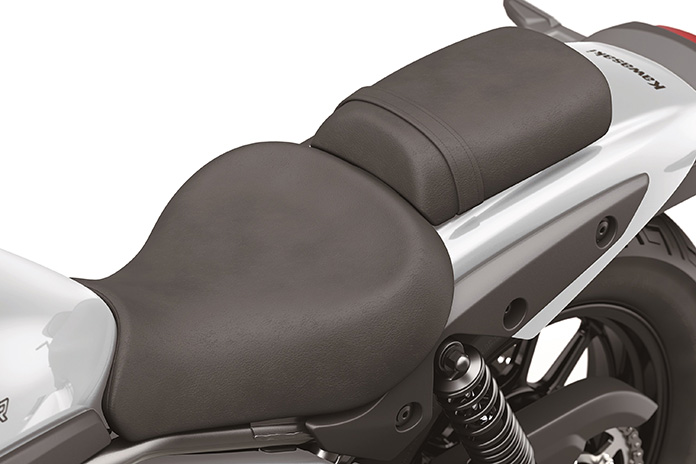 The bike has a 41mm telescopic front fork and dual rear shocks, providing 4.7/3.5 inches of travel front/rear. It features a trellis frame designed with a geometry that Kawasaki says was intended to provide "light, natural handling to boost rider confidence to give a relaxed feel while riding." It also has a square-tube swingarm with a die-cast aluminum swingarm mount plate that bolts to the back of the engine, both of which provide ample rigidity without additional structural weight. The Eliminator has a 3.7-gal fuel tank and comes in at a curb weight of approximately 386 lb for the non-ABS version and 388 lb with ABS.
Related: Kawasaki Announces More New and Updated 2023 Models
From an ergonomic standpoint, the Eliminator has a relaxed riding position with footpegs in a central position. The pegs have hollow centers with hidden counterweights and are covered in hard rubber to reduce vibration. The 28.9-inch seat height and scooped design provide moderate hip support, and wide, flat handlebars contribute to easier bike control.
Several aspects of the 2024 Eliminator's styling pay homage to its namesake. The tail cowl stays true to the original Eliminator design but creates its own unique statement with a slim design that complements the long and low styling and a slash-cut lower line that Kawasaki says hints at the motorcycle's performance potential and sleek appeal. 
A round headlight is another nod to the overall heritage design but features a modern LED lamp with dual high/low beam chambers and position lamps so that the entire headlight appears lit like a traditional incandescent bulb. The taillight is also reminiscent of early Eliminator models with its slim, wide design. 
A round LCD instrument panel was chosen to adorn the front of the motorcycle, and display functions include a digital speedometer, a digital bar-style tachometer, a gear position indicator, a clock, an odometer, dual trip meters, a fuel gauge and remaining fuel range, current and average fuel consumption, coolant temperature, maintenance reminder, smartphone mail and call notices, and a Bluetooth indicator. Riders can connect to their motorcycle wirelessly using Ridelogy the App.
2024 Kawasaki Eliminator SE
Complementing the Eliminator for 2024 is the addition of the all-new Eliminator SE, which adds several features to the standard model. The Eliminator SE comes in an orange color adorned with special graphics. The headlight cowl is reminiscent of those found on the original Eliminator SE motorcycles, with a mounting method intended to help add to the compact, stylish design.
A USB-C outlet with a waterproof design is mounted on the right handlebar, and while the Eliminator SE's seat keeps the same overall shape as the standard Eliminator, it features a two-pattern seat leather and stitching along the top edge. 
The 2024 Kawasaki Eliminator comes in Pearl Robotic White or Pearl Storm Gray for $6,649, while the Eliminator ABS comes in Pearl Robotic White or Metallic Flat Spark Black for $6,949 and the Eliminator SE ABS comes in Candy Steel Furnace Orange/Ebony for $7,249.
For more information, visit the Kawasaki website.
See all of Rider's Kawasaki coverage here.