In January of this year, EIC Greg Drevenstedt asked me what was on my list of "riding resolutions" for 2023. I had heard about the Yamaha Champions Riding School from content we had published, and even though I have no false pretenses about my future as a professional racer, I told him I would love to attend one of the YCRS classes – even better on a bike like the Yamaha MT-09 SP.
The reason for the latter is that I knew my normal cruiser was clearly not going to be the optimal bike for the two-day ChampSchool class I would attend at the end of January at the Las Vegas Motor Speedway. Since the program has "Yamaha" in the name, we opted for one of their bikes.
Related: A Cruiser Guy Goes to Yamaha ChampSchool
Yamaha MT-09 SP: Take a Ride on the Dark Side
The Yamaha MT-09 naked bike was introduced in 2014 and was a crowd pleaser from the jump. In 2021, the bike received a major overhaul, and the up-spec MT-09 SP was introduced. Displacement on the MT-09's CP3 inline-Triple was bumped from 847cc to 890cc, and claimed output increased to 117 hp and 69 lb-ft of torque. Yamaha also updated the throttle-by-wire and slip/assist clutch and added a quickshifter.
Related: 2021 Yamaha MT-09 | First Ride Review
A 6-axis IMU derived from the YZF-R1 manages the bike's traction control, slide control, and front-wheel lift control systems. The IMU was designed to be smaller and lighter, and along with other weight-shaving measures, including spin-forged aluminum wheels and an aluminum swingarm, the MT-09 comes in at a trim 417 lb, with the up-spec SP at 419 lb. Both bikes also have two levels of ABS intervention and four D-Mode engine maps that regulate engine response and output.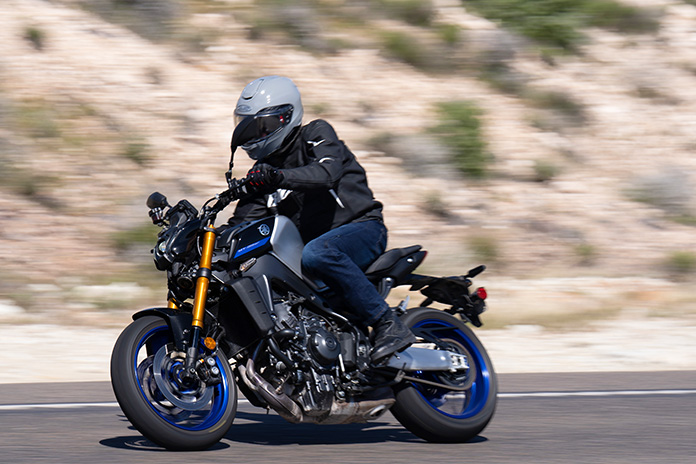 GEAR UP
To create the MT-09 SP, which retails for $11,499 (a $1,700 premium over the standard MT-09), Yamaha added high- and low-speed compression adjustability and sportier damping to the KYB 41mm inverted fork and swapped the KYB rear shock for a premium Öhlins unit that is fully adjustable and includes a remote preload adjuster. The SP also has standard cruise control and styling inspired by the YZF-R1M.
Southern California to Southern Utah
I picked up the MT-09 SP from Cypress, California, the weekend before ChampSchool. The first thing I noticed when I fired up the bike was the sound. It's not the low rumble I'm used to from my V-Twin, but it emits a nice throaty bellow from the symmetrical muffler with dual outlets mounted under the bike. The pleasing tones continue into the mid- and upper-range thanks to the three variable-length intake ducts that also came along with the 2021 upgrade.
With the suspension and other settings dialed in, I set off for the 450-mile ride back to my home in southern Utah. On the unfamiliar California highway system, I was glad to be on the MT-09 SP. Its throttle-by-wire provides smooth, crisp response. Even in D-Mode 2 (moderate engine response), overtaking was a breeze when I needed to, and when a quick stop was required, the radial-mounted Nissin master cylinder, 4-piston calipers, and dual 298mm floating discs up front worked in concert nicely.
My mid-January ride started in beautiful weather, but right around San Bernadino, I hit a 20-mph headwind that stuck around for almost the entire 200 miles to Las Vegas. Enter cruise control.
I've never ridden a bike with cruise control – and I was okay with that fact. It seemed like there was something inherently unnatural about cruise control on a motorcycle, and on a bike like the MT-09 SP, it felt akin to taking your hands off the steering wheel of a rocket (and yes, I'm aware it's actually called a "reaction wheel," but you get the idea). However, with those kinds of winds on the naked bike, I felt more like I was just fighting to hold on as opposed to controlling the motorcycle, and cruise control became my new best friend.
However, I think the cruise control could use some improvement. Once it's turned on and engaged, cruise control can be disengaged by applying the brakes, throttle, or clutch, but the on/off, set, and resume buttons are a stretch from the left grip, and they're small. With my winter gloves on, when I had disengaged the cruise control and then attempted to reach my thumb across to hit resume, several times I inadvertently ended up hitting the on/off button by mistake, which resulted in deceleration when I didn't want to slow down. Then I had to start the process over, turning it back on and re-setting my speed. The placement and size (or style) of the cruise control buttons could be made more user-friendly.
Related: 2023 Yamaha MT-10 | Tour Test Review
To the Track…and Beyond!
One place I certainly wasn't using the cruise control was at the Las Vegas Speedway, and this is where the MT-09 SP really shined.
The quickshifter was a thing of beauty for getting up to speed (at the behest of my instructor to practice blipping the engine on downshifts, I didn't use the quickshifter there, but it was smooth when I tried it elsewhere). The quickshifter has up/down arrows that light up on the 3.5-inch color TFT display when it's possible to use the feature in each gear, which is handy. However, despite the manual's recommended speeds for shifting, I found the transition from 1st to 2nd kind of clunky at the recommended 12 mph. It was definitely smoother if I accelerated a little more before using the quickshifter.
The MT-09 SP combines traction control, slide control, and wheelie control into four TCS settings: 1 (minimal intervention), 2 (moderate intervention), Manual (settings can be customized), and Off. At the track, at my instructor's recommendation, I had TCS mode set at level 2, which is moderate intervention across the board. There was one particular turn where I felt the rear end slip out a little on multiple passes, but the traction control did its job with subtle intervention.
For someone who had never been on a track, I felt surprisingly comfortable on the MT-09 SP – several instructors said, "Oh yeah, that's a good one." I was able to trust in its abilities while practicing the finer details of track riding. And when it came to riding the MT-09 SP in a favorite canyon closer to my home, all the thought-out details that went into the 2021 upgrade – from the lighter curb weight, stiffer chassis, and throttle-by-wire to the up-spec suspension of the SP – worked together for some nice carving, as well as quick evasive maneuvering around a couple corners where heavy precipitation had loosened some rocks from the roadside cliffs and dropped them in my unsuspecting path.
As I mentioned in my report on the YCRS ChampSchool, I've always been more of a cruiser guy than a sportbike guy, but after more than 1,300 miles on the 2023 Yamaha MT-09 SP, including track, interstate, around town, and canyon riding, I'd gladly take more rides on the dark side.
Read all of Rider's Yamaha coverage here.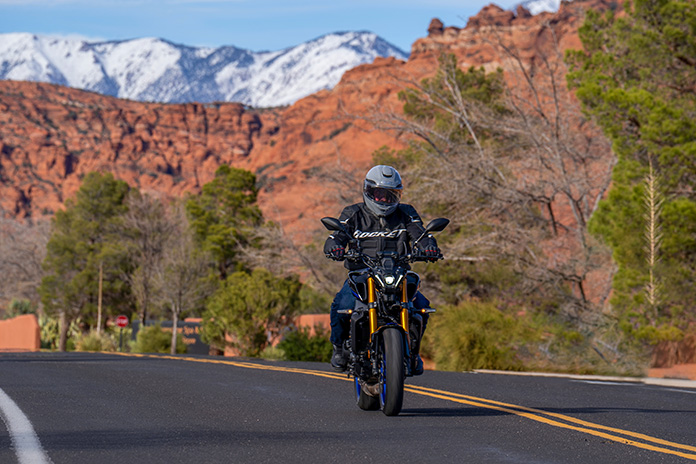 2023 Yamaha MT-09 SP Specs
Base Price: $11,499
Website: YamahaMotorSports.com
Warranty: 1 yr., unltd. miles
Engine Type: Liquid-cooled transverse inline-Triple, DOHC w/ 4 valves per cyl.
Displacement: 890cc
Bore x Stroke: 78.0 x 62.1mm
Horsepower: 117 hp @ 10,000 rpm (factory claim)
Torque: 69 lb-ft @ 7,000 rpm (factory claim)
Transmission: 6-speed, cable-actuated slip/assist wet clutch
Final Drive: O-ring chain
Wheelbase: 56.3 in.
Rake/Trail: 25 degrees/4.3 in.
Seat Height: 32.5 in.
Wet Weight: 419 lb
Fuel Capacity: 3.7 gal.
Fuel Consumption: 48.3 mpg