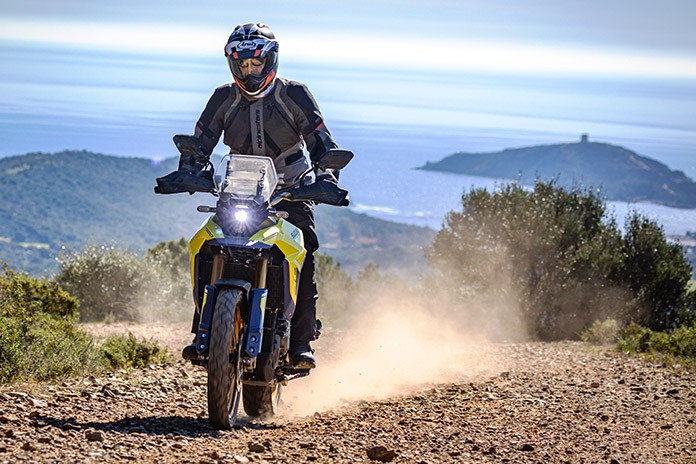 The new Suzuki V-Strom 800DE casts aside the model's V-twin engine heritage, replacing it with an all-new 776cc parallel-Twin. The new bike's styling, however, emphasizes Suzuki's adventure bike lineage by drawing from its late '80s Paris-Dakar-inspired DR 750S Big. Hats off to Suzuki for nailing the aesthetics, but does the bike's performance match its adventurous good looks?
Having spent two days riding the new V-Strom in both on- and off-road environments, it's easy to shrug off the fact that the engine architecture strays from the model's namesake because the new parallel-Twin is the business. It has a 270-degree crank, which gives it power characteristics similar to the 90-degree V-Twins in the V-Strom 650 and V-Strom 1050. Claimed output is 83 hp at 8,500 rpm and 57.5 lb-ft of torque at 6,800 rpm. (The same engine is also found in the new 2023 Suzuki GSX-8S.)
Related: 2023 Suzuki V-Strom 1050 and V-Strom 1050DE | First Look Review
When a twist of the throttle requests more power, the engine responds with a torquey forward rush, and the Suzuki Cross Balancer system does a great job of quelling any excessive engine vibration. Also helping keep engine vibes to a minimum is the fact that revving the engine to redline is unnecessary due to all the fun available in the midrange.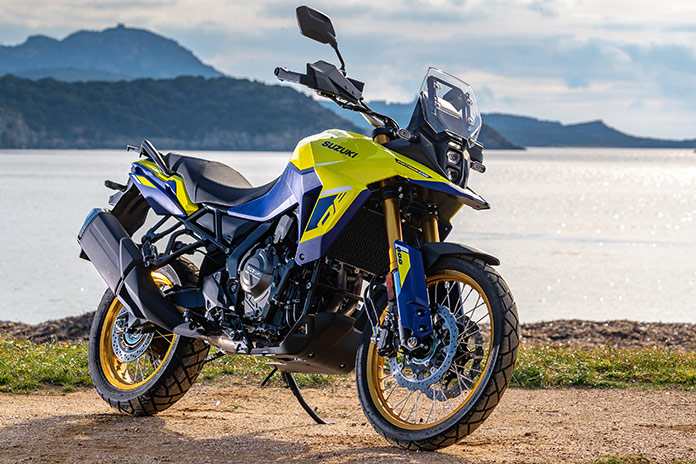 Engine snappiness is selected via the left handlebar-mounted switchgear with a choice of three throttle-response modes: "A" is most aggressive, "B" is less so, and "C" is the mildest (best for rainy conditions). In almost all on-road circumstances, I preferred the middle-ground B mode with its slightly smoother throttle application. In the dirt, it was a 50/50 toss-up between A and B modes. And this is where Suzuki's traction control offerings get interesting.
There are three levels of on-road traction control intervention plus an off-road G (gravel) mode, or TC can be turned off. For an intermediate dirt rider such as myself, G mode made me feel more skilled than I am because it did the work of metering rear-wheel spin before things got out of control, providing a nice balance between hero-like drifting and forward thrust. With the most aggressive throttle setting (A) and TC in G mode, I could ride to my limit without fear of over-spinning the rear wheel. Or, to work on throttle control, I turned TC off, selected the milder B mode throttle setting, and practiced spinning the rear wheel without intervention.
Another rider aid outfitted to the V-Strom 800DE is a bi-directional quickshifter – always a welcome feature in my book. I tested the system on two different test bikes to make sure what I was experiencing wasn't an adjustment issue, and both bikes responded similarly. In essence, upshifting was akin to some sportbikes I've tested, wherein the faster you are accelerating and the higher the engine speed, the smoother the quickshifter functions. Not to say it was bad at lesser speeds, just not quite as smooth.
Downshifts, no matter what the situation, were a bit clunky. When standing up during off-road riding, the weight of my body hovering over the shift lever made the operation a bit easier. The quickshifter can also be turned off.
Related: 2022 Motorcycle of the Year – Suzuki GSX-S1000GT+
The V-Strom's claimed curb weight of 507 lb didn't seem to correspond with how light the bike felt while riding it. The bike's handling manners both on- and off-road were very nimble. Being the professional that I am, I threw myself into this test by falling over in a marbly, rutted downhill hairpin directly in front of the camera crew. Embarrassing, yes, but I learned that riding an adventure bike like the V-Strom 800DE in the outback is a little less scary knowing you can pick it up by yourself after a tip-over – something that can't be said about many of the heavier open-class ADVs.
Helping the V-Strom navigate off-road obstacles is its 21-inch front wheel, an impressive 8.7 inches of front and rear suspension travel, and 8.75 inches of ground clearance. Spoked wheels are of the tubed variety, while the Dunlop Trailmax Mixtour 90/10 tires favor on-road handling over aggressive off-road riding. The Showa inverted fork and link-type shock are fully adjustable, allowing riders to fine tune the suspension to personal preference, and there's a remote preload adjuster for the rear.
The seating position has a natural feel with plenty of legroom and a short reach to the bars. Seat foam density is spot-on with absolutely no complaints after two days of riding. At 33.7 inches, the seat height isn't as daunting as some other adventure bikes, especially considering the V-Strom's suspension travel and ground clearance. While seated, the height of the wide, tapered handlebar was just right, but since I'm taller than average (5-foot-11), I was a little hunched over when standing up on the pegs. I'd prefer the handlebar to be a bit more elevated, but I suspect it would be a good fit for riders of average height.
GEAR UP:
Braking performance of the dual 2-piston Nissin front calipers pinching 310mm discs was more than adequate in the dirt, though the street-biased Mixtour tires offered limited off-road grip. On the pavement, especially at higher speeds, there were times when more stopping power was needed but not available. At the lever, I could almost feel the rubber brake lines expanding when maximum pressure was applied. Steel braided brake lines and more aggressive pads would probably help, but 4-piston front calipers be even better. ABS is standard and offers two levels of intervention, and it can be turned off at the rear wheel.
The 5-inch color TFT instrument panel delivers information to the rider in an uncluttered, easy-to-read layout. From ABS, TC, and ride mode settings to speed, gear position, and fuel level, the information is intuitive and well-organized. The brightness of the display is adjustable, and the day/night mode background can be set to switch automatically or manually. On the left side of the display is a handy USB port for charging a phone or other electronic device.
Above the instrument panel resides an adjustable windscreen. There are three heights to choose from in 0.6-inch increments, for a total of 1.8 inches of adjustment. However, a hex key is required to remove four bolts to reposition the windscreen – a cost-saving design that cuts a little too deep for my taste. Other attempts to control costs include flimsy plastic handguards and a minimalist plastic bash plate under the engine.
Related: Suzuki Announces More Returning 2023 Models
The pace set by our lead rider on the morning of the first day was posted-speed-limit slow. Great for taking in the scenery of Sardinia, Italy, but as limiting as a conga-line demo ride when it comes to assessing the V-Strom 800DE's capabilities. It was surprising that, when set free to ride at a spirited pace, I quickly found the limit of the bike's cornering clearance when the footpeg feeler gouged its way through the pavement in the first corner of a photo pass. Rather than a criticism, however, this was a virtue. Right out of the gate, I felt comfortable pushing an unfamiliar motorcycle to its street-riding limits. And this was before making any adjustments to suspension settings. From there, I grew even more fond of the V-Strom 800DE during the next day and a half of testing.
Considering the V-Strom's $11,349 MSRP, the technologies with which it is outfitted, and its performance in the dirt and on the pavement, Suzuki clearly did its homework and developed a great overall package for a reasonable price. The middleweight adventure segment is highly competitive, with a range of offerings from Aprilia, BMW, Husqvarna, KTM, Triumph, and Yamaha.
See all of Rider's Suzuki coverage here.
For those looking for a more well-endowed traveling companion, Suzuki also offers an Adventure version of the V-Strom 800DE for a $1,650 premium. The extra money gets you a pair of quick-release black-anodized 37-liter aluminum panniers, an accessory bar for mounting other accessories and protecting the side of the motorcycle (something I could have used), and an aluminum skid pan. Fuel capacity for either model remains the same 5.3 gallons.
The 2023 Suzuki V-Strom 800DE strikes a happy medium between the more diminutive V-Strom 650XT ($9,599) and the V-Strom 1050DE ($15,999). You get more of what you want – engine and chassis performance – compared to the 650 and less of what you don't want – weight and cost – compared to the 1050. That's a win/win.
2023 Suzuki V-Strom 800DE Specs
Base Price: $11,349
Website: SuzukiCycles.com
Warranty: 1 yr., unltd. miles
Engine Type: Liquid-cooled, transverse parallel-Twin, DOHC w/ 4 valves per cyl.
Displacement: 776cc
Bore x Stroke: 84.0 x 70mm
Horsepower: 83 hp @ 8,500 rpm (factory claim)
Torque: 57.5 lb-ft @ 6,800 rpm (factory claim)
Transmission: 6-speed, cable-actuated slip/assist wet clutch
Final Drive: Chain
Wheelbase: 61.8 in.
Rake/Trail: 28.0 degrees/4.5 in.
Seat Height: 33.7 in.
Wet Weight: 507 lb
Fuel Capacity: 5.3 gal.
Fuel Consumption: 53.4 mpg (factory claim)