The 2023 Triumph Tiger 1200 lineup, which includes five variants – three aimed at street riders and two at those who like to get dirty – represents the high-water mark of Triumph's 30 years of experience building adventure bikes. When John Bloor, the deep-pocketed real estate developer who bought Triumph after it went bankrupt in 1983, resurrected the iconic British brand, he wanted to compete on the world stage. That meant a broad range of contemporary models, not just rehashed Bonnevilles.
Back to the Future
In the early '90s, modern-era Triumphs that rolled out of the new factory in Hinckley, England, included Trophy sport-tourers, Daytona sportbikes, Trident roadsters, and Adventurer cruisers powered by inline three- and four-cylinder engines rather than the parallel-Twins Triumph had been known for. In 1993, Triumph introduced the Tiger 900, an adventure bike powered by an 84-hp 885cc inline-Triple designed to compete with the BMW R 100 GS, Honda Africa Twin, and Yamaha Super Ténéré.
The "Tiger" name first showed up on Triumphs in 1936 when company director and chief engineer Edward Turner renamed the 250cc, 350cc, and 500cc OHV Singles the Tiger 70, Tiger 80, and Tiger 90, respectively. Three years later, the Tiger T100 was introduced as a high-performance version of the 5T Speed Twin 500.
Other roadgoing Tigers came and went over the years, but it wasn't until the early '80s that the name was used on dual-sport models like the TR65T Tiger Trail and TR7T Tiger Trail.
By the turn of the millennium, the adventure segment had grown in popularity. Manufacturers were broadening their lineups of big "dualies" to make them even better at long-distance touring. In 2001, Triumph introduced the Tiger 955i, which had a 955cc Triple boasting 104 hp, a small fairing with a windscreen, a 6.25-gallon tank, and hardshell saddlebags.
Other models followed, including the Tiger 1050 sport-tourer in 2007, the middleweight Tiger 800 and Tiger 800XC in 2011 (co-winners of Rider's Motorcycle of the Year), and the big daddy: the 571-lb 1,215cc Tiger Explorer in 2012.
Over the past decade, Triumph's Tiger lineup has evolved and expanded, and the company now offers 11 different models: the Tiger Sport 660, the Tiger Sport 850, the Tiger 900 range (GT, GT Pro, Rally, and Rally Pro), and the Tiger 1200 range (GT, GT Pro, GT Explorer, Rally Pro, and Rally Explorer).
See all of Rider's Triumph coverage here.
Triumph Tiger 1200 2.0
Triumph gave its range-topping Tiger a major reboot for the 2023 model year, starting with the engine. Replacing the 1,215cc Triple on the previous-gen Tiger Explorer is the 1,160cc Triple from the 2022 Speed Triple 1200 RS. Despite losing 55cc of displacement, the Tiger gained grunt. On Jett Tuning's dyno, the 2023 Tiger 1200 GT Pro sent 130.2 hp at 9,100 rpm and 81.8 lb-ft of torque at 7,000 rpm to the rear wheel through its shaft final drive – an increase of 12.4 hp and 7.4 lb-ft over the last Tiger Explorer we dyno'd in 2016.
Engine character is also decidedly different thanks to the Triple's "T-Plane" crankshaft with a 1-3-2 firing order. After cylinder 1 fires, the crank turns 180 degrees, and cylinder 3 fires. It turns another 270 degrees, and cylinder 2 fires. It turns another 270 degrees, cylinder 1 fires again, and so on. The irregular firing sequence gives the engine the feel and tractable response of a Twin down low and the sporty character of a Triple from the midrange to redline.
Not only is the Tiger 1200 more powerful than its predecessor, it's also significantly lighter. Its tubular steel main frame with forged aluminum lower sections saves 12 lb, and it's connected to a lightweight bolt-on aluminum subframe with removeable passenger peg brackets. A new "Tri-Link" cast aluminum conventional swingarm saves another 3.3 lb over the previous single-sided unit. Overall, at 540 lb ready to ride, the Tiger 1200 is 55 lb lighter than the previous model.
Triumph hosted a global launch for the 2023 Tiger 1200 in Portugal earlier this year, and our First Ride review includes details about the five variants. Like other road-oriented GT models, the Pro model tested here has a 5.3-gallon tank, cast aluminum wheels in 19-/18-inch sizes with Metzeler Tourance tires, and 7.9 inches of suspension travel front and rear. It also has an adjustable rider's seat (33.5/34.3 inches), handguards, a small skid plate, LED auxiliary lights, a centerstand, heated grips, a 12-volt socket in the cockpit, a USB charger under the seat, and keyless ignition, steering lock, and fuel filler lock.
As expected for a top-of-the-line adventure-touring machine, the GT Pro is equipped with throttle-by-wire, an IMU, and a full menu of electronic rider aids. It has five ride modes (Sport, Road, Rain, Off-Road, and a customizable Rider mode) that adjust throttle response, cornering ABS, cornering traction control, and suspension damping. The Showa semi-active suspension system has On-Road and Off-Road damping modes, with nine settings ranging from Sport to Comfort within each mode, as well as automatic rear preload adjustment. The GT Pro also has cornering lights, a quickshifter, cruise control, hill-hold brake control, and a 7-inch color TFT display with Bluetooth connectivity that includes multimedia, navigation, and GoPro control.
A Tiger – in Africa?
No, no, we didn't test the Tiger 1200 GT Pro in Africa. We wish. That's just one of my favorite lines from Monty Python's Meaning of Life, a British comedy from 1983, which happens to be the same year the old "Meridien" Triumph went belly up. But I digress. Let's start again…
A Tiger in California
There's something about testing a motorcycle on familiar soil, on roads we've ridden so many times that we know exactly where a particularly nasty pavement crack is around a blind corner or where to expect rockfall from dynamited road cuts towering above the pavement. It's not quite the same as turning dozens of laps on a track, but you know where you can get on the gas, where to proceed with caution, and where certain bikes seem to unlock a hidden "hero" mode.
One of those roads is East Camino Cielo ("Road of the Sky" in Spanish), which follows a high ridgeline in the Santa Ynez Mountains above Santa Barbara, California. Running roughly parallel to the Pacific Coast, on a clear day it provides incomparable views of the ocean and the Channel Islands on one side and the Santa Ynez Valley and San Rafael Mountains on the other. After climbing the steep, twisting grade of Gibraltar Road, East Camino Cielo unfurls an obstacle course of undulating gradients, convoluted corners, and pavement of varying quality with plenty of dirt and debris to keep riders on their toes. In other words, an ideal road for an adventure bike.
Having tested several variations of the Tiger Explorer in the past, some of which weighed more than 600 lb, the Tiger 1200's newfound lightness is immediately apparent. It looks svelte when perched on its centerstand, and it feels slender between the knees, especially when standing up on the footpegs. The Tiger 1200 employs a new twin-radiator design that allows the engine to be mounted farther forward for better weight distribution while also reducing the amount of engine heat felt by the rider. Just ahead of the rider's knees are vents with plastic shrouds that pull heat out and away from the cockpit.
The Tiger's seat is narrow in front to make it easier to get feet on the ground and wide at the back to provide a broad base of support. Except for full-dress touring bikes, the Tiger's seat is one of the most comfortable stock seats we've tested in a long time. Being long of arm and leg, the seating position is nearly ideal for me – not too much bend in my achy knees and a just-right reach to the wide handlebar that allows me to sit up straight.
Like most adventure bikes, wind protection is sufficient but leaves the rider's lower legs and upper body partially exposed. Handguards keep wind off the mitts, and the adjustable windscreen does a decent job of deflecting wind blast around the rider. For maximum visibility and airflow into the cockpit, I preferred the lowest position and wasn't bothered by buffeting, even with an ADV helmet with a peak visor. A light pull on the bar above the TFT display ratchets the windscreen up in small increments over a 2.4-inch range.
The Tiger 1200 exhibited poise and balance on East Camino Cielo, responding quickly to steering inputs and maintaining confident contact with the road. The Skyhook algorithm for the semi-active suspension minimizes unwanted chassis pitch under hard braking or acceleration, and the various damping modes delivered a softer or firmer ride as desired. When taking sharp corners at speed, however, the pegs dragged earlier than expected, especially for such a tall bike. Rear preload is adjusted automatically based on the weight of the rider and, if applicable, that of a passenger and luggage. I would have liked to crank up the rear preload a bit to increase cornering clearance, but there is no provision for doing so.
Attacking technical backroads and rowing through the gearbox is made easier with Triumph's Shift Assist up/down quickshifter. And scrubbing off speed is handled by strong and precise brakes that are top of the line – a pair of Brembo Stylema monoblock radial front calipers pinching 320mm discs, a Magura HC-1 radial front master cylinder (a second one is used on the hydraulic slip/assist clutch), a Brembo rear caliper, and cornering ABS.
Equally impressive is the rumbling character and right-now response from the T-Plane Triple. As the dyno chart on the previous page shows, power builds linearly with no dips or hiccups, and more than 60 lb-ft of torque is available from 2,600 rpm to redline. The tuned exhaust emits a delightful growl, but as we noted in our First Ride review, engine vibration creeps in above 6,000 rpm and can be felt through the pegs and grips. At 70 mph in 6th gear, the engine spins smoothly at 4,000 rpm, which makes for relaxed highway riding. The only glitch is some driveline lash in the lower gears that makes it difficult to smoothly transition on and off the throttle.
The Tiger's 7-inch TFT display has bright, vivid graphics. The mode button and small joystick on the left switchgear, along with the home button on the right switchgear, make it easy – with a little practice – to navigate modes, menus, and settings. There are a few idiosyncrasies, however. When the tripmeter is displayed, it is shown in a large, easy-to-read font, but it also shows average speed and trip duration – two pieces of info that I don't find important.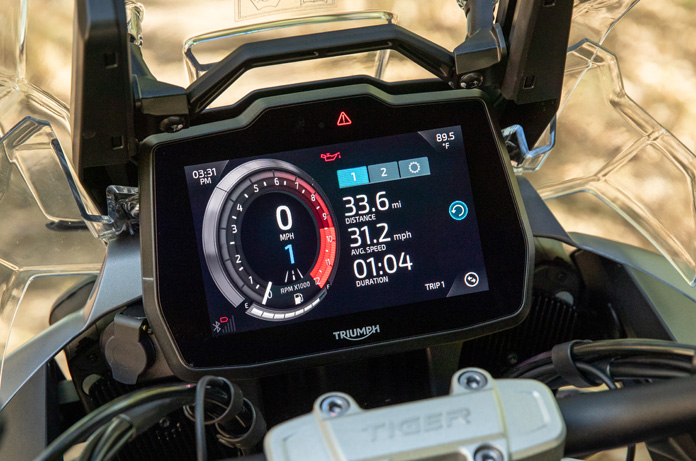 And in the tripmeter mode, the digital tach/speedo is cocked to the side, which irks my desire for symmetry. The joystick must be toggled and pushed three times to bring up the fuel status display, and in that mode, the tach/speedo is displayed normally. Where's the odometer? It's buried in the service menu. While I certainly appreciate the desire to create a clean, uncluttered display, offering some customization options would satisfy riders with different preferences.
GEAR UP:
Modern Times
Years ago, the sportbike segment was the competitive equivalent of Fight Club. Model updates rolled out every two to three years, and because they duked it out on racetracks, differences in power, weight, and handling were parsed to the most minute degree. Nowadays, the adventure bike segment is the main event. The market is crowded, and bikes are specialized to fill specific niches. The Tiger 1200 alone is available in five different configurations to meet different price points and needs. But the sophistication of today's open-class adventure bikes means that even the base GT model rings in at $19,100.
Next up the ladder at $21,400, the GT Pro we tested has most of the features that road-biased adventure riders want. For those who want to go all-in, the GT Explorer ($23,100) adds blind-spot radar, tire-pressure monitoring, engine-protection bars, and heated rider and passenger seats. Triumph also makes more than 50 dedicated accessories for the Tiger 1200 range, including luggage, lower seats, and much more.
The lighter, more powerful, and more advanced 2023 Tiger 1200 lineup shows how committed Triumph is to refining its motorcycles and making them as exciting, capable, and well-appointed as they can be.
2023 Triumph Tiger 1200 GT Pro Specs
Base Price: $21,400 (Snowdonia White)
Price as Tested: $21,600 (Lucerne Blue)
Warranty: 3 yrs., unltd. miles
Website: TriumphMotorcycles.com
ENGINE
Engine Type: Liquid-cooled, transverse inline-Triple, DOHC w/ 4 valves per cyl.
Displacement: 1,160cc
Bore x Stroke: 90.0 x 60.8mm
Compression Ratio: 13.2:1
Valve Insp. Interval: 20,000 miles
Fuel Delivery: Multipoint sequential EFI w/ throttle-by-wire
Lubrication System: Wet sump, 3.5 qt. cap.
Transmission: 6-speed, hydraulically actuated slip/assist wet clutch w/ quickshifter
Final Drive: Shaft
CHASSIS
Frame: Tubular steel mainframe w/ forged aluminum lower sections, bolt-on cast aluminum subframe, & Tri-Link cast aluminum swingarm
Wheelbase: 61.4 in.
Rake/Trail: 24.1 degrees/4.7 in.
Seat Height: 33.5/34.3 in.
Suspension, Front: 49mm inverted fork, electronic adj. w/ 7.9 in. travel
Rear: Single shock, electronic adj. w/ automatic preload adj. & 7.9 in. travel
Brakes, Front: Dual 320mm floating discs w/ 4-piston monoblock radial calipers & ABS
Rear: Single 282mm disc w/ 1-piston caliper & ABS
Wheels, Front: Cast aluminum, 3.00 x 19 in.
Rear: Cast aluminum, 4.25 x 18 in.
Tires, Front: Tubeless, 120/70-R19
Rear: Tubeless, 150/70-R18
Wet Weight: 540 lb
Load Capacity: 489 lb
GVWR: 1,029 lb
PERFORMANCE
Horsepower: 130.2 @ 9,100 rpm (rear-wheel dyno)
Torque: 81.8 lb-ft @ 7,000 rpm (rear-wheel dyno)
Fuel Capacity: 5.3 gals.
Fuel Consumption: 38 mpg
Estimated Range: 203 miles
For more information, visit the Triumph Motorcycles website.