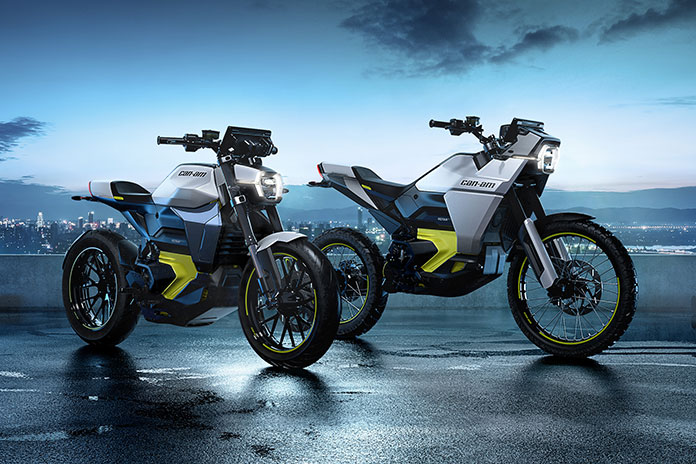 Teased back in March, Can-Am finally unveiled two all-electric motorcycles during a global product reveal on August 7 at the annual Club BRP event. The models include the Can-Am Origin dual-sport and Can-Am Pulse streetbike, both slated to launch in mid-2024.
Detailed specs for the Origin and Pulse will not be released until August 2023, but BRP provided images of the futuristic-looking machines and company reps did a walk-around of the two prototypes during a virtual media briefing.
Related Story: 2022 Can-Am Spyder RT | Road Test Review
"Today, our story of innovation reaches new heights," said José Boisjoli, President and CEO of BRP, at Club BRP 2023. "We have set out to reclaim our motorcycle heritage and are very proud to re-enter the market with the introduction of the first two models of our all-electric Can-Am motorcycle family. Half a century ago, Can-Am roared to victory on the track and the trail, and today, a legacy is reborn. In true BRP fashion, we are bringing our very own electric powerpack to our motorcycles, and crafting thrilling riding experiences for a whole new generation."
Both street-legal models will be powered by BRP's all-new, proprietary Rotax E-Power technology, said to provide "highway-worthy speeds with plenty of horsepower and torque."
They also share key design elements such as their distinctive LED headlights, large TFT displays, edgy white and gray bodywork, a bright yellow panel covering their battery packs, inverted forks, single-sided swingarms, single-disc brakes front and rear (with rather small front rotors), and solo seats. Rear cowls may cover pillion seats; passenger footpegs are not visible on either machine, but production versions will likely have passenger accommodations.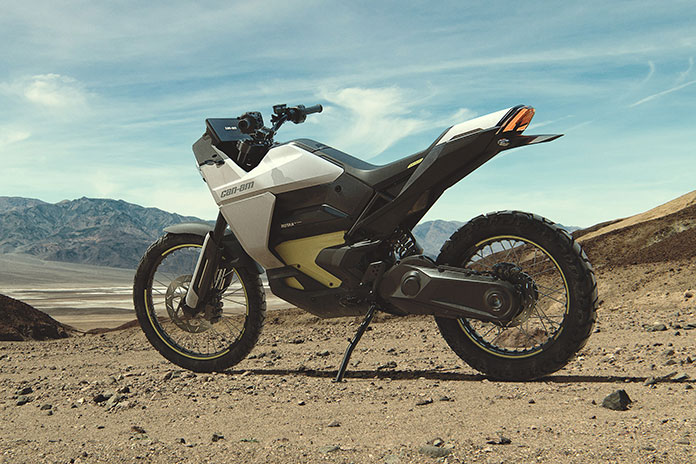 Setting the Can-Am Origin dual-sport apart from its streetbike sibling is rally-style bodywork, fork guards, and spoked wheels, in diameters that appear to be 21 inches in front and 18 inches out back, common sizes for off-road tires. The final drive is enclosed, and Can-Am reps would not reveal whether power is sent to the rear wheel via chain (used on nearly all dual-sports) or belt (used on many production electric bikes).
The Can-Am Pulse has the muscular stance of a streetfighter, with racy-looking cast wheels shod with sportbike rubber and a sculpted "tank" that keeps the bike's profile in line with conventional gas-powered motorcycles.
According to BRP, both models will "showcase state-of-the art technology" and "offer a truly connected experience for riders." The Origin and Pulse will be equipped with an on-board charger said to offer rapid charging times and easy charging at home or at automotive standard Level 2 charging stations.
BRP says the Rotax E-Power technology will "be at the heart of all BRP electric models, across all product lines – from water to snow, to dirt and asphalt."
Full details about the Origin and Pulse will be revealed in August 2023 to coincide with Can-Am's 50th anniversary. For more information, visit CanAmMotorcycle.com.
---
Rider Motorcycle Buying Program. Get up front prices on local inventory. View Inventory