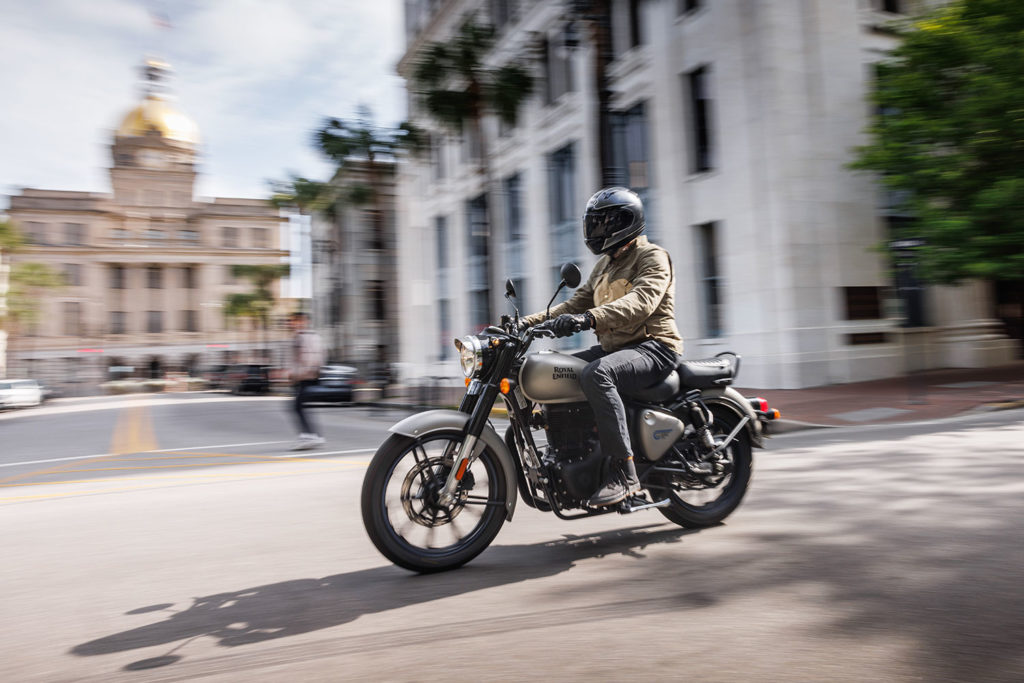 Few motorcycle manufacturers can hold claim to the word "classic" with as much legitimacy as Royal Enfield. Having launched its first motorcycle at the Stanley Cycle Show in London in 1901, it's the oldest motorcycle brand in continuous production. Now, 121 years later, we have the 2022 Royal Enfield Classic 350.
Check out Rider's 2022 Motorcycle Buyers Guide
One of Royal Enfield's best-known models – the Bullet – was produced from 1931 until 2020, and it was available with either a 346cc or 499cc air-cooled Single. In 2021, Royal Enfield introduced the Meteor 350, a cruiser powered by a 349ccc air-/oil-cooled, SOHC, 2-valve, fuel-injected Single with a 5-speed gearbox. The Classic 350, which brings back the styling that made the Bullet such an iconic bike, is built around the same engine.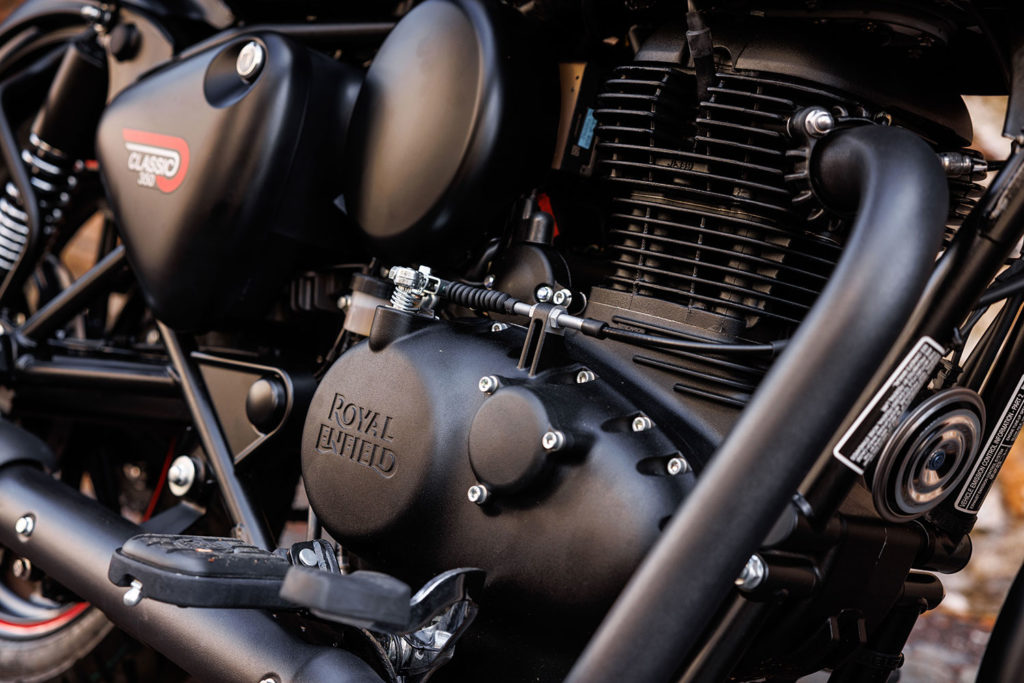 Built in Chennai, India, since 1955, Royal Enfields are designed for an enormous segment of the global market – those who want reliable, affordable small to mid-sized motorcycles. Over a 12-year production run, from 2008 to 2020, Royal Enfield produced and sold three million examples of the Classic 500, known here in the U.S. as the Bullet C5 Classic.
Gear Up:
Helmet: Arai Defiant-X
Jacket: Highway 21 Winchester
Gloves: Highway 21 Trigger
Pants: Highway 21 Blockhouse Jeans
Boots: Highway 21 Axle Shoes
Royal Enfield North America hosted the press launch of the Classic 350 in Savannah, Georgia, a classic Southern city established in 1733 on the banks of the Savannah River. On hand were two variants of the Classic 350, both retailing for $4,599: Dark models, available in Gunmetal Gray or Stealth Black, with a blacked-out powertrain and 10-spoke cast wheels with tubeless tires; and Signals models, available in Desert Sand or Marsh Grey, with 1950s military-style graphics and spoked wheels with tube-type tires. The Signals models are inspired by Royal Enfield's long association with India's armed forces.
RELATED: 2022 Royal Enfield Scram 411 | First Look Review
Later this year, Royal Enfield will release the Halcyon collection inspired by 1950s-era British roadsters. Halcyon Forest Green, Halcyon Black, and Halcyon Blue will retail for $4,499, while the Chrome Red and Chrome Brown models with a mirror tank finish and special badging are priced at $4,699.
Like the Meteor, the Classic 350 was a collaborative effort by Royal Enfield's design teams in the U.K. and India. They endeavored to create a motorcycle that seamlessly blends authentic styling and ride character with modern necessities like electronic fuel injection, disc brakes, and dual-channel ABS. All Royal Enfields are built in a state-of-the-art, ISO-9001-certified manufacturing facility and backed by a three-year, unlimited-mileage warranty with roadside assistance.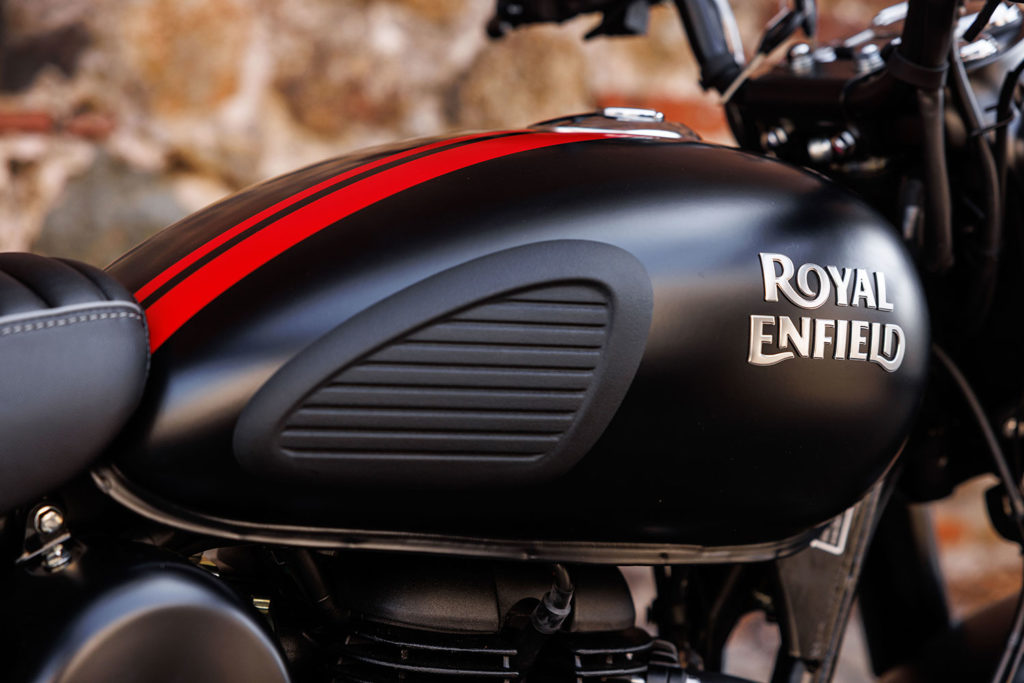 As pleasing as the Classic 350 is to look at while parked on one of Savannah's brick-paved streets, it's even more enjoyable to ride. Its relaxed, neutral seating position accommodates riders of all shapes and sizes, and its engine abides riders of all skill levels. Hit the starter and the Single burbles to life, delivering a pleasant, visceral pulse feel and a heartwarming exhaust note that your grandmother would love.
RELATED: 2022 Royal Enfield Himalayan | First Ride Review
Royal Enfield claims 20 hp and 20 lb-ft of torque at the crank. When we tested a Meteor 350, it sent 18 hp at 6,200 rpm and 18 lb-ft of torque at 3,500 rpm to its chain-driven rear wheel. Built around a heavy steel frame and weighing 430 lbs ready to ride, the Classic 350 isn't exactly a featherweight. Add in a full-grown adult male compressing the 31.7-inch seat's foam, and the result is a languid, unhurried experience. The engine revs at a relaxed pace, and acceleration lacks urgency. Top speed is about 75 mph.
Horsepower and speed, however, are not the appropriate measuring sticks for the Classic 350. It's the sort of motorcycle that embraces the slower pace of life that comes with molasses-thick humidity and lazy afternoons. What's the rush?
Classic 350s will pound the pavement of rough, neglected roads the world over, and its suspension and brakes are designed to take abuse. The 41mm non-adjustable fork with 5.1 inches of travel and twin emulsion rear shocks with adjustable preload and 3.5 inches of travel were chosen for their durability and affordability. Ride quality is good but not great, right in line with expectations. Likewise, the ByBre disc brakes, with a 2-piston front caliper squeezing a 300mm rotor and a 1-piston rear caliper squeezing a 270mm disc, provide modest but predictable stopping power.
With a 19-inch front wheel and an 18-inch rear, the Classic 350 rolls over road imperfections with ease. Its Ceat Zoom Plus tires, which are also made in India, are narrow – 100/90-19 front, 120/80-18 rear – and contribute to the bike's quick steering.
It's hard not to love a motorcycle like the Classic 350. It's a time capsule, an attention-getter, and – like that 1960s ad campaign for Tab diet cola – a "mindsticker." Riding around the streets of Savannah, every time our get-along gang of journos stopped at a red light or a crosswalk, locals and tourists alike stopped in their tracks and asked, "Hey, what kind of bike is that?"
Ride a Royal Enfield Classic 350 and you'll make new friends, and that never gets old.
2022 Royal Enfield Classic 350 Specs
Base Price: $4,599
Warranty: 3 yrs., unltd. miles w/ roadside assistance
Website: royalenfield.com
Engine Type: Air-cooled Single, SOHC w/ 2 valves
Horsepower: 20 hp @ 6,100 rpm (claimed)
Torque: 20 lb-ft @ 4,000 rpm (claimed)
Displacement: 349cc
Bore x Stroke: 72.0 x 85.8mm
Transmission: 5-speed, cable-actuated wet clutch
Final Drive: O-ring chain
Wheelbase: 54.7 in.
Rake/Trail: 26 degrees/4.4 in.
Seat Height: 31.7 in.
Wet Weight: 430 lbs (90% fuel)
Fuel Capacity: 3.4 gals.