photography by Rich Cox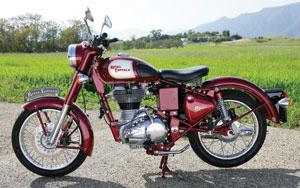 All of these bikes are contemporary classics, but only the Royal Enfield gives the impression of having been cryogenically preserved 50 years ago and thawed out last week. This Bullet C5 Classic is a modern bike in antique clothing, with new styling based on the earliest post-World War II Enfields blended with technology that meets today's reliability, safety and emissions standards. It looks like a meticulously restored vintage machine, but upon inspection you'll find a unit construction engine, electronic fuel injection by Keihin and a disc front brake by Brembo.

Not being the kind of guy who diddles carbs or keeps a rag in my back pocket to dutifully wipe up dripping oil, I appreciate Royal Enfield's new-found modernity. Riding the new Bullet C5 provides a sufficiently authentic vintage experience without the worry of getting stranded among howling coyotes in the boonies. It's quirky without being cranky. Designed in the U.K., reliability tested and EFI mapped in Japan, chassis engineered and handling tested in Italy, and built in India, the Bullet C5 embodies successful globalization.
Turn the key, thumb the starter button and the 499cc air-cooled, long-stroke, pushrod single chugs to life. Though an overhead cam would have been cheaper and easier to build, Royal Enfield stayed true to its traditional thumper roots. The catalytic-converter-equipped C5 meets Euro 3 and California emissions standards. Twist the throttle and the solidly mounted engine shakes everything on the bike, but it runs smoothly without belching or gasping. At stoplights, idle occasionally dropped to a whisper above cutting out completely, though it never did.
A new, larger-diameter clutch has seven plates instead of the previous five, reducing effort while handling more torque, and pull on the nonadjustable lever is light. Dropping the shift lever into first is accompanied by a loud, old-school clunk. Occasionally I missed shifts between higher gears; with a long throw, deliberate shifting helps. The upright seating position is a tad cramped for my 200-pound, 6-foot-plus frame, and there is an awkward bend to the handlebars that, if gripped as intended, puts my elbows firmly into my love handles. There is a long reach to the nonadjustable front brake lever, but a firm pull squeezed the two-piston front caliper well enough. The rear drum is ponderous, its large pedal of the automotive variety.
With 27 horses (claimed) pulling 418 soaking-wet pounds, power is just right. And so is the EFI, as might be expected for mapping that can handle an 18,000-foot pass in the Himalayas. Claims of comfortable cruising at 70 mph and a top speed of 82 mph proved to be accurate, at least as indicated by the analog speedo. At speed, the plush, dual-spring saddle quells the worst of the quivering, and the rubber- covered pegs and bar-end weights do an admirable, if limited, job in lieu of a counterbalancer. The Bullet C5 is a gas on curvy roads, its engine-as-lower-frame keeping mass low and handling light. Cornering clearance is limited, especially on the right side where the long arm of the brake pedal scrapes first, but it's adequate for the moderate pace this bike prefers. Modern Avon RoadRider tires (tubeless with tubes) provide plenty of grip, though the softly damped suspension (with rear preload adjustment only) and the springy seat make for a somewhat bouncy ride.
Rough around the edges in all the right places, the Bullet C5 is a classy bike adorned with grace notes: die-cast headlight casing, knee pads on the tank, "RE" embossed engine cases and a vintage "Royal Enfield" placard atop the front fender. Back to the future or forward to the past—you make the call. Either way, old is new again for only $6,395.
2010 Royal Enfield Bullet C5 Classic RoadSpecifications
Base Price: $6,395
Website: royalenfield.com
Engine Type: Air-cooled single, OHV, 2 valves per cyl.
Bore x Stroke: 84.0 x 90.0mm
Displacement: 499cc
Transmission: 5 speed, cable-actuated wet clutch
Final Drive: O-ring chain
Wheelbase: 54 in.
Rake/Trail: 25.0 degrees/2.83 in.
Seat Height: 31.5 in.
Wet Weight: 418 lbs.
Fuel Capacity: 3.8 gals., warning light on last 0.8 gal.
Enfield Motorcycle MPG: 84 PON recommended (avg) 45