Once the head of a successful medical equipment fabrication business, Seattle area native Bob Mighell (pronounced mile) knows his way around marrying together and making all sorts of materials and components, both in solid form and in written program codes. An avid motorcyclist, Mighell wanted to find a way to maintain the wonderful feeling of freedom and performance that carving through curves on a two-wheeler provides, but eliminate the negative consequences of losing traction with a single front tire contact patch.
Using 3D CAD programs and even one of my personal favorite design tools, Legos, Mighell modeled and then assembled his first two-in-front, three-wheeler conversion prototype in 2005, and Tilting Motor Works (TMW) was born. He describes the bike as something of a steampunk collection of parts borrowed from motorcycles and based on a Honda 250 Rebel. Chop, grind, weld, ride, repeat—it proved to be the perfect path to a proof of concept without breaking the bank.
Bob's continuous-improvement approach to his design, now dubbed the "TRiO," helped to solve issues of linkage geometries/locations and offset rim issues that had kept earlier attempts from working well…or at all. Mighell also developed a unique way of separating shock absorption from the tilting action of the wheels, which dramatically improves feel and handling at speed. This work has yielded three patents on his designs. After Mighell felt confident he leaped into version 2.0, a larger version installed onto a first-gen Yamaha V-Max. Subsequent trips to a certain salty flat in Utah have established land speed records in this triple-tired class.
The TRiO's patent-pending TiltLock system uses leveling sensors and dual hydraulic pistons that can detect the slightest degree of chassis movement and compensate, continuously maintaining an upright, stable position for stops and parking. Once activated, the system turns off instantaneously under acceleration or at more than seven mph and normal lean-and-go countersteering resumes.
Local partners up and down the west coast make major components for the TRiO—wheels, steering components and hydraulic units for the TiltLock systems are all of top-notch design and beautifully executed with only high-end materials. Loss of lean angle is not a real issue since the conversion is aimed at bikes that don't have much to start with. Stock wheelbase stays the same, overall width is only 43 inches, and the track at 36 inches is narrower than many bikes equipped with hard bags. The TRiO with TiltLock adds about 125 pounds to what are already heavy bikes, but now dropping them in your driveway is not an issue.
TMW's Snohomish headquarters is in a lovely part of northwest Washington state, where after three rights and a left out of the Costco parking lot, one finds themself rolling alongside freshly cut hay fields, farms and herds of cattle. Narrow roads wind alongside the many rivers and streams, providing ample tight corners and sweepers for putting these machines through their paces.
As a rider who is very fond of the entire leaning aspect of motorcycling, I was eager to see what riding the TRiO would be like. Mighell suggests that able two-legged riders should start out with the TiltLock deactivated, and I could feel a bit of extra heft lifting the Gold Wing off its sidestand. Once underway the feeling readily diminished, and following Mighell's advice to loosen up on the grips helped. Venturing through a series of downtown streets and then out to a bucolic country setting, I traveled through several 15-25 mph corners and a few stop signs. Each successive corner had me feeling the desire to push the speed and lean farther, since confidence in the system came quickly and the extra hardware and weight disappeared in sight and feel as the ride advanced. For me the only time it came back readily to mind that I was on a 3-wheeled machine was cornering over rough, uneven pavement where the outboard contact patches shuddered, but then I would laugh that the bike was not even close to falling over or losing traction.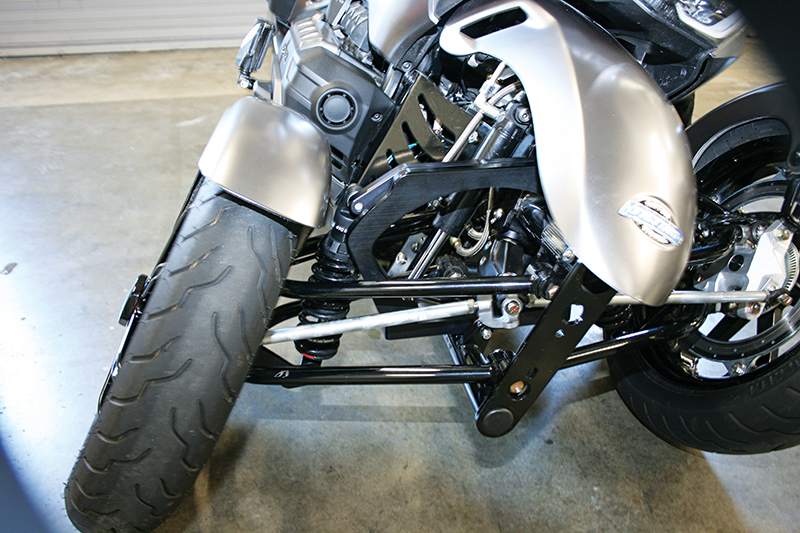 Although this technology does make riding more accessible to those with age- or injury-related limitations and the very inseam challenged, the target customers are those who want to ride their bigger bikes with improved stability and braking without losing the enjoyment of leaning through the corners. TMW has certified technician bolt-on units ready for all Harley big twins, all Honda GL1800 Gold Wings and now the larger Indian twins, an ownership demographic of enthusiasts who often like to ride in three or all four seasons and on less than perfect pavement, something for which the TRiO was made. Pricing is right there with some of the more popular trike conversions, but the ride experience far surpasses them.
Right before the world went on a TiltLock-Down of its own, TMW was seeing a strong expansion of its dealer/installation network, with providers across the U.S., France, Canada, Turkey, China, New Zealand and Peru. TMW is still producing and shipping in reduced numbers—the FAQ section on the Tilting Motor Works website can address every conceivable question, and a test ride will address every misconception one may have about the addition of a third wheel.
Call (360) 364-5963 or visit tiltingmotorworks.com.
Tilting Motor Works Photo Gallery: