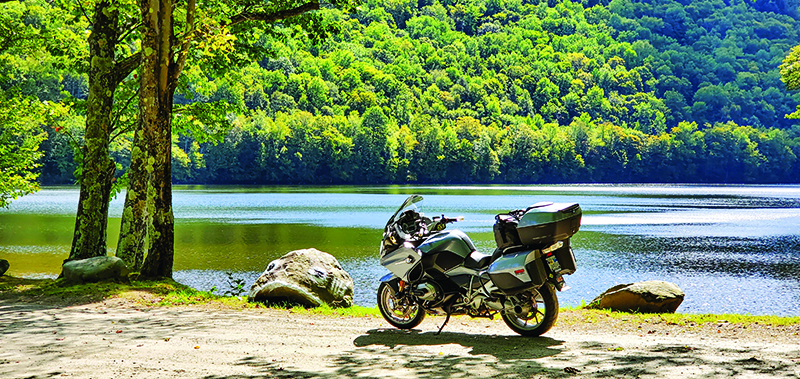 Roads that curve along a river are among my favorites to explore on two wheels, and western New England has them in abundance. The hilly terrain and seasonal climate promote the formation of rivers, and for millennia people have used rivers and land along their banks to get from place to place. River roads, particularly the smaller and less traveled ones, often follow the same basic path they did before motorized travel, and the best ones are a roller-coaster ride for motorcyclists.
If you like to move right along and keep stops brief, this 300-mile route through western Massachusetts and southern Vermont delivers a full day of curvy two-lane entertainment. If you prefer a moderate pace and relaxing along the way, there are ample opportunities to enjoy views, savor local cuisine and visit small New England towns. One of southern Vermont's ski towns will have amenities you need for an enjoyable night on the road.
This route begins and ends in South Deerfield, Massachusetts. I roll north onto State Route 116, one of the Bay State's official scenic byways, and within a couple miles it curves to follow the Mill River and then the South River. The tar is fresh so my grin stretches even wider than the last time I motored through here. Just as my mirrors reveal the sun peeking above the hills, I come upon a pasture of Holstein cows whose interest is piqued by the approaching pulse of my BMW's boxer twin. I pull over briefly to bid the bovine ladies good morning.
Not eager to meet early-rising constabulary, I roll off the throttle coming down the hill into the center of Conway. These days this quaint village is known for the annual Festival of the Hills, but once it was a thriving mill town. In 1767, Caleb Sharp's Gristmill was Conway's first waterpowered mill. A series of dams managed water from the South River to power mills that ground corn and flax, sawed lumber, spun cotton and fulled wool. The unreliable nature of waterpower was compounded by cycles of drought and flood, so mill owners gradually upgraded from waterpower to coal-fueled steam power as the 1800s progressed.
After another snaking stretch of Route 116 to Ashfield, a right on Baptist Corner Road leads me to a pair of grazing horses that catch my attention for their brightly colored fly masks. I don't want to spook them so I slow down. The curious chestnut mare nickers my way and shakes. Farther along I pass a hillside farm where row upon row of neatly shaped evergreens await a Christmas yet-to-come.
It adds a few miles, but it's fun crossing the Deerfield River on Bardwell's Ferry Bridge, just to hear the clomp of rubber tires on the wooden deck. At Shelburne Falls I point north on State Route 112 and follow the North River, then at Adamsville Road I turn left to follow the North River's West Branch. Many rivers in these parts break into two or even three branches that converge again downstream. At State Route 8A, I hang a left and savor another great winding road. It soon parallels Mill Brook and carries me across the Bissel Covered Bridge to the village of Charlemont.
Heading west, the Mohawk Trail (State Route 2) follows the Deerfield River and then the Cold River. Originally, the Mohawk Trail was a Native American footpath that connected the Connecticut and Hudson River Valleys. This section through the Mohawk Trail State Forest to the town of Florida includes some of the state's most beautiful river scenery. The road gains elevation as it carves along the cliffside, but a right turn on Whitcomb Hill Road quickly gives it all back, heading steeply down toward the Deerfield River.
The route turns left onto River Road and hugs the Deerfield. Just upstream, this river once was a source of cooling water for the Yankee Rowe Atomic Electricity Company. The nuclear plant, hidden from view in the woods, closed in 1992 and was decommissioned. Now on warm weather weekends, the river is frequently packed with tubers, canoeists and rafters enjoying the current, which is helped along by scheduled dam releases upstream.
River Road becomes Readsboro Road and at the Vermont border it becomes Tunnel Street. Such renaming of a continuing stretch of asphalt is not uncommon in New England, especially on back roads. In Readsboro, I go left on Vermont State Route 100 South, which, in this stretch, actually points northwest. This heading keeps me on the Deerfield River's West Branch to the junction with State Route 8, where a right puts me on another curvy gem to Searsburg.
Turning right on State Route 9 offers sweepers to Wilmington where I reconnect with Route 100. Here 100 is sign-posted north and actually goes that way. It's one of Vermont's best-known scenic roads, curving with the Deerfield River's North Branch to Dover and then Blue Brook, past the Mount Snow ski resort and through the Green Mountains National Forest. This road can get crowded in summer and during fall foliage season, but today, in early September, it's practically empty. At a lay-by along slow-flowing Blue Brook, I enjoy the sandwich I packed.
Route 100 winds its way north through Jamaica and Rawsonville to South Londonderry. There I turn sharply right onto Main Street, then left on Thompsonburg Road along a stream, up toward Magic Mountain ski area. A right on State Route 11 takes me over to State Route 121, which meanders with the Saxtons River. In Grafton I turn right onto Townshend Road, which becomes Grafton Road in Townshend. This asphalt ribbon runs along the Saxtons River's South Branch.
Now a right onto State Route 35 has me running south. The tree cover is so dense I can't see the Mill Brook that my GPS assures me is flowing just to my left. At Townshend I make my way to State Route 30. Scores of cars, pickups and SUVs parked on the shoulders are evidence of the West River's popularity as a warm weather recreation destination.
Beyond Townshend Dam I stop for a break in the quintessential Vermont village of Newfane, which has opportunities to experience Vermont's interesting history and often-curious culture.
On West Street I roll up to the celebrated Four Columns Inn, where a classic car is frequently displayed on the front lawn. Today it's a 1955 Nash Rambler Greenbrier two-door station wagon in two-tone green. Nash was arguably the first American manufacturer of the post-war era to make compact cars, bucking the bigger-is-better trend, so this beautifully preserved albeit humble antique is a significant automobile.
Only a few steps to the south, and continuing Vermont's characteristic white-clapboard architecture, are the First Congregational Church and the Union Hall. Originally built as a church in 1832, the Union Hall in 1872 became a site for community events including plays, dances, movies and that time-honored method of democratic local government, the town meeting.
After this brief and worthwhile respite, I continue south on 30. Just before Williamsville, I lean west toward Dover along the Rock River down to Route 100 south and all the way to Jacksonville. There, I bear left onto State Route 112, which runs south along the North River back into Massachusetts, through Colrain and Shattuckville to the Mohawk Trail.
Again, I find myself heading west along Massachusetts Route 2 and the Deerfield River, back to Charlemont. This time I turn south on 8A, cross the Deerfield River, and then follow the Chickley River through Hawley to State Route 116. There I turn right (north) and in a few miles cut hard left onto River Road, which parallels the Westfield River along the edge of Windsor State Forest.
At State Route 9, I turn right and then left onto Worthington Road, which becomes Cole Street and then East Windsor Road. By cutting right onto State Route 143, another River Road soon emerges, this one curving with the Westfield River's Middle Branch all the way to Skyline Trail in Chester. Continuing to Huntington, a left onto State Route 112 north follows the Westfield River then the Little River to Worthington. A ways on Route 112 makes a hard right turn at an intersection with Trouble Road. (I haven't been looking for trouble, but I find it anyway.)
In Cummington, 112 overlaps 9, the Berkshire Trail, which closely follows Meadow Brook and the Swift River, then past Goshen and the Mill River's West Branch. I roll off approaching the village of Williamsburg. In the center, I turn left onto North Road, which becomes Ashfield Williamsburg Valley Road, then Ashfield Road, then South Ashfield Road, and then Williamsburg Road (because…New England) along the Mill River's East Branch. South of Ashfield, this pleasantly winding road with so many names ends at Route 116. This is the same stretch of 116 that started my ride. Bonus—it's a hoot in both directions!
Of course there are other New England river roads that aren't part of this route but definitely worth your time (see sidebar). Wherever you find such roads, take a ride along the riverside.
More favorite river roads in New England:
VT 102 curves with the Connecticut River from Canaan to Guild Hall, Vermont.
NH 16 follows the Androscoggin River and then Bear Brook from Berlin to Errol, New Hampshire.
NH 13 snakes along the Piscataquoag River's South Branch from Goffstown to New Boston, New Hampshire.
U.S. 5 gently winds along scenic stretches of the Connecticut River, especially between Barnet and Norwich, Vermont, and again between Ascutney and Rockingham, Vermont.
MA 8 twists alongside the Farmington River's West Branch from New Boston to West Becket, Massachusetts.
U.S. 7 hugs the banks of the Housatonic River between Falls Village and New Milford, Connecticut.