When it comes to Indians built on the Chief platform, with its big, heavily chromed, air-cooled Thunder Stroke 111 V-twin and cavernous saddlebags, the Roadmaster is at the top of the heap. Re-introduced for 2015, the Roadmaster made its debut in 1947, the same year the illuminated Indian head "war bonnet" was first seen on front fenders. Like the original, the new Roadmaster was designed for luxurious, two-up touring, and the modern version has a stylish upper fairing equipped with an electric windscreen, wind-blocking fairing lowers, a large trunk with passenger backrest and a long list of touring amenities.
Read our 2015 Indian Roadmaster review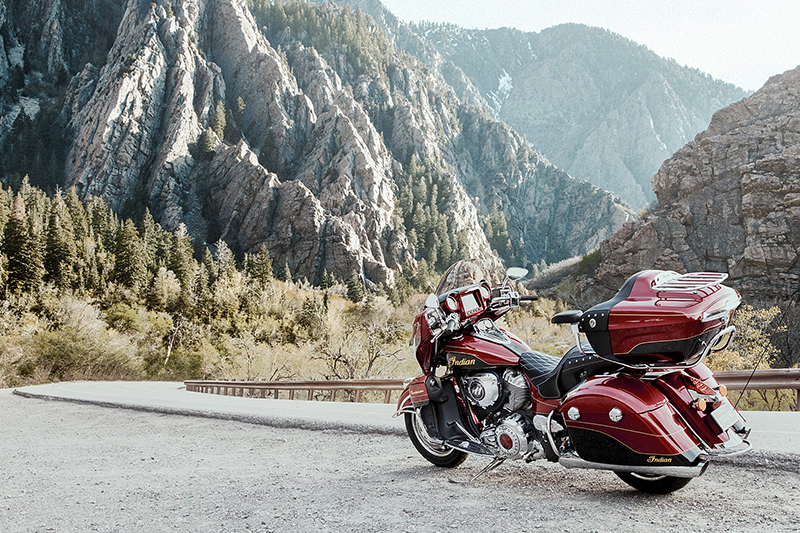 For 2019, Indian is rolling out the Roadmaster Elite, an ultra-premium, limited-edition model–only 200 will be available–that brings together modern touring features and classic styling, with an exclusive Wildfire Red Candy over Black Crystal paint job with 24-karat gold leaf badging. The pain-staking paint process takes nearly 30 hours to complete and is finished by hand.
Read our 2018 Indian Roadmaster vs Harley-Davidson Road Glide Ultra vs
Yamaha Star Venture TC comparison review
The Roadmaster Elite gets an upgraded 600-watt PowerBand Audio Plus system, with high-output fairing, trunk and saddlebag speakers that are 50 percent louder than the stock system on the 2019 Roadmaster. PowerBand Audio Plus has an enhanced nine-band dynamic equalizer that auto-adjusts at different vehicle speeds to compensate for road, wind and engine noise to deliver clear sound quality regardless of riding condition.
Other premium features include leather passenger armrests, billet aluminum rider and passenger floorboards, a premium touring console, billet aluminum pinnacle mirrors and chrome bumpers.
Several technological features are designed to enhancing the riding experience:
Selectable Ride Modes: Tour, Standard and Sport modes allow the rider to adjust the bike's throttle response to fit their riding preferences.
Rear Cylinder Deactivation: When the engine reaches operating temperature and the ambient temperature exceeds 59 degrees, the rear cylinder will automatically deactivate when the bike is at a standstill, resulting in less engine heat for improved rider comfort in slow-moving or stopped traffic. The rear cylinder instantly reactivates when throttle is applied for a seamless transition to full power. Redesigned fairing lowers provide optimal airflow for improved comfort.
Ride Command: Indian's Ride Command system is said to be the largest, fastest, most customizable infotainment system on two wheels. The 7-inch, glove-compatible touchscreen features turn-by-turn navigation, customizable rider information screens, Bluetooth compatibility and pairing with the Indian Motorcycle Ride Command mobile app for remote accessibility to key vehicle information. Riders can also plan a ride route with up to 100 points on the Ride Command website and wirelessly transfer it to the bike via Bluetooth.
Standard Roadmaster features are also found on the Elite, including full LED lighting, a leather two-up touring seat with individual seat heaters, ABS, heated grips, keyless ignition, an electric windscreen, central locks for the luggage and more than 37 gallons of storage space, including a trunk that holds two full-face helmets.
Pricing for the 2019 Indian Roadmaster Elite starts at $36,999 and it's available now.
Check out Rider's Guide to New/Updated Street Motorcycles for 2019