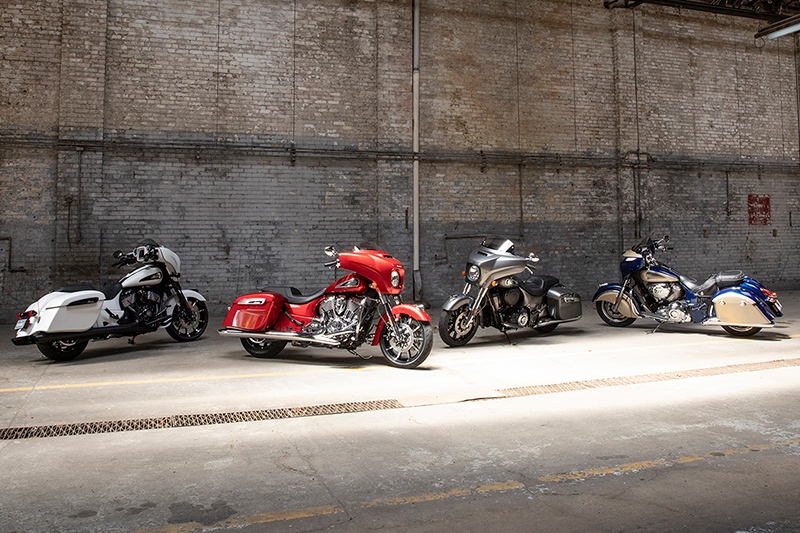 Following announcements about 2019 updates to its Scout middleweight cruiser lineup and its Chief, Springfield and Roadmaster heavyweight cruiser and touring lineup, Indian has pulled the covers off the latest versions of the Chieftain family. The Indian Chieftain, Chieftain Dark Horse and Chieftain Limited have been restyled with a more sleek look, while the Chieftain Classic retains traditional styling.
Read our 2017 Indian Chieftain Elite and Limited first ride review
"As we continue to evolve the Indian Motorcycle brand, we want to expand our lineup with more aggressive style options, while still maintaining the availability of our more classic style options," said Reid Wilson, Senior Director for Indian Motorcycle. "What's most important to us is developing motorcycles that meet a wide variety of customer style preferences, and Chieftain's new look does just that."
The restyled Chieftain models get a slimmer fairing, full LED lighting, new fork guards and an open fender for a more streamlined front end, and new slammed saddlebags with color-matched fender closeouts and the new Rogue gunfighter seat provide a custom-inspired look. New badging on the tank and saddlebags—as well as the iconic lighted Indian headdress on the front fender—round out the styling refresh.
Also new for 2019 are three ride modes—Tour, Standard or Sport—with unique throttle maps, as well as rear cylinder deactivation to reduce engine heat when the bike is stationary.
The Chieftain Dark Horse gets new paint options, including White Smoke, Bronze Smoke and Thunder Black Smoke. It also features premium black ceramic exhaust and gloss black finishes on the primary cover, valve covers, push-rod tubes, cam cover and saddlebag hinges for a custom, blacked-out look.
Enhancements have also been made to the stock, 100-watt audio system to improve sound quality. The tweeters have been separated from the mid-range speakers to optimize sound output and clarity, and a customizable dynamic equalizer now adjusts specific frequencies at different vehicle speeds to provide peak system performance at all times. As speed increases, the equalizer automatically adjusts each frequency to the optimal level to compensate for road, wind and engine noise.
Read our 2018 Indian Roadmaster vs Harley-Davidson Road Glide Ultra vs
Yamaha Star Venture TC comparison review
Optionally, the new PowerBand Audio system allows riders to choose different configurations that are up to 50 percent louder than stock audio. The system is engineered with an integrated amp on speaker and does not require additional amps. Three kits are available: PowerBand Audio (fairing upgrade), PowerBand Audio Plus (fairing and saddlebag upgrade) and PowerBand Audio Plus with accessory trunk (fairing, saddlebag and accessory trunk upgrade).
Chieftains can be further customized with a variety of accessories, including performance packages from Stage 1, 2 and 3 featuring exhaust, air intakes, cams and the 116 ci big bore kit. Custom fit options like extended and reduced reach seats, mid-rise handlebars and reduced reach handlebars are also available. Color-matched accessories such as hard lower fairings, saddlebag audio lids, a quick release trunk, and for the Chieftain Classic, a 10-spoke 19-inch contrast-cut front wheel with an open fender, can be added for a custom look.
Base prices for the 2019 Indian Chieftain models:
Chieftain – $21,999
Chieftain Classic – $24,999
Chieftain Dark Horse – $25,999
Chieftain Limited – $25,999