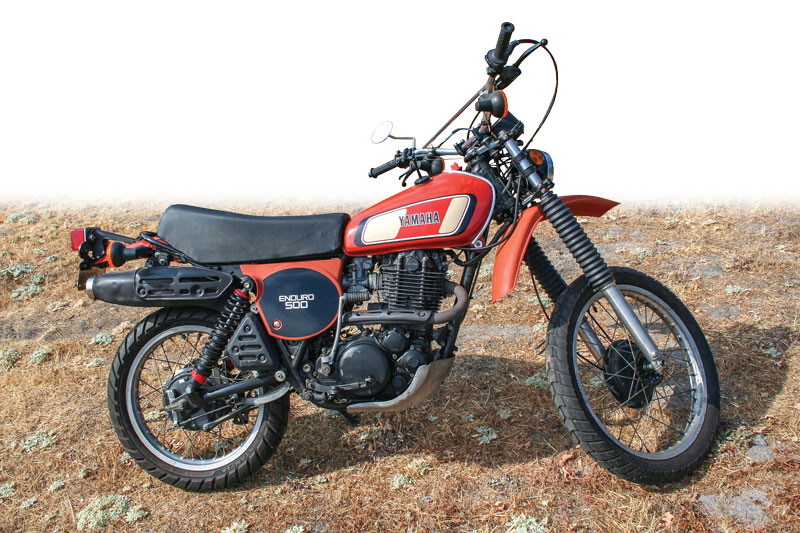 With this model the Yamaha boys at Hamamatsu took a good long look at the trail-riding concept, which had become a profitable piece of the motorcycling pie. This new type of motorcycle, often called an enduro, was adequate on the pavement, OK on a dirt road—a play bike that extended one's horizons.
The current description would be dual-purpose, as these were not full-on competition machines by any stretch of a rider's imagination. Yamaha had actually broken new ground in this essentially untapped market back in 1968 when it introduced its bestselling DT-1 250cc two-stroke single…but two-strokes were on their way out.
In 1974 Honda came out with its four-valve, OHC XL350 single, and that was attracting buyers among riders who wanted a fun bike that could happily go along the highways and byways until the turnoff onto the million or more miles of dirt roads the country had to offer. Yamaha America told Japan it wanted in on that market, and the engineers back in Japan had to decide whether to go forward with impressive technical advancement, or stay with good, understated design. Decisions!
Basic won out! The single cylinder used a two-valve head and a chain-driven overhead camshaft, letting the engine run up to 7,500 rpm—although maximum power, some 28 rear-wheel horses, was found around 6,000 rpm. The engine design was almost square, with a bore of 87mm, stroke, 84mm; 499cc in all. In a successful effort to make the engine as compact as possible, smaller flywheels were used, providing quicker revs when accelerating but still a bit of that big-single torque.
Using a dry sump reduced the engine height, with lots of oil (2.6 quarts) moving around to make sure all the moving bits got properly lubricated. Oil circulation was done via two pumps, the larger of which brought the oil up from the sump and into the backbone reservoir, the smaller making sure oil got to all pertinent places, like the crankshaft and camshaft. Lots of ball bearings were used rather than having plain surfaces, with metal moving on metal; the bearings eased the lubricating problems, as less pressure was required.
Considering the tipovers such a bike was sure to experience, to keep the oil supply safe the engineers built a frame that would house the oil in a big backbone. This allowed the rubber-mounted engine to sit lower in the cradle frame, with a major skid plate warding off the rocks and such. The engine cases were split vertically, just as the English had done, but the castings were made extremely well and leakage was non-existent.
XT ownership demonstrated a certain virility, which was always pleasing to the masculine mind, as it used a kickstarter. Kickstarting a big single, like the infamous BSA Gold Star, was never an easy task—except Yamaha made it as simple as possible. Intelligent gearing had reduced the amount of effort needed to kick the engine over, with a compression release fitted to the left handlebar. Even a newcomer could fire up the beast in two or three kicks, hot or cold. To ease matters even more, on the '77 model a tiny little window on the cylinder head told the rider when the piston was at top dead center.
An air cleaner with a washable foam filter sat high and under the seat, while the mixing of air and gas took place in a 32mm Mikuni carburetor. In the cylinder head this mixture was compressed nine times, then fired by a spark from the flywheel magneto. Exhaust went out a single header pipe…although some misguided engineer had a low pipe going to a high muffler on the original '76 model, which inevitably got a bit crushed after a few laydowns. The next year the header pipe was raised considerably to diminish this problem.
Straight-cut gears ran the power a bit noisily back to a wet clutch with 15 large plates that was designed to absorb a lot hard use. Granted, most buyers were not expected to go plowing through deep sand, but there would be some. The tough transmission had five speeds, and the overall ratio of 5.49 in top gear allowed, theoretically, a maximum speed of 100 mph…although having a little downhill helped.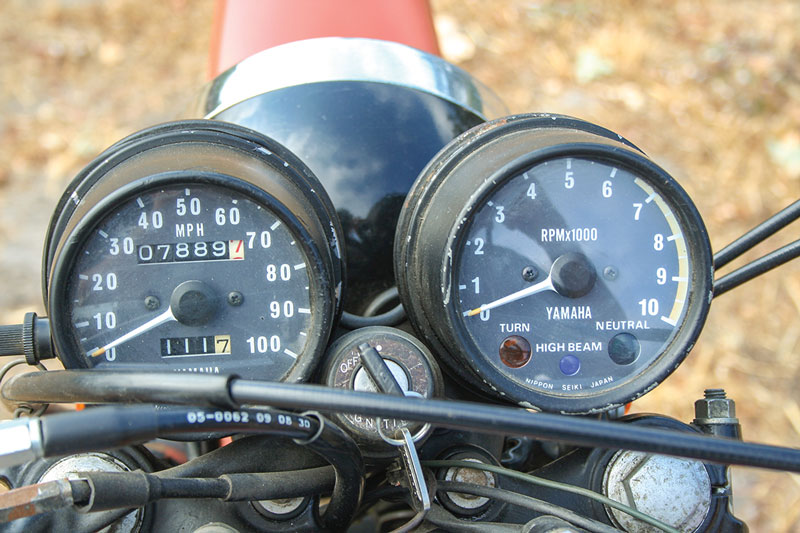 Chassis was good, with a nod toward trail riding, but more attention focused on getting to the trails. The 36mm fork had 7.6 inches of travel, with a 30.5-degree rake, 5.3 inches of trail. The Kayaba air/oil shock absorbers at the rear had preload adjustability, and were long and inclined forward nearly 45 degrees, offering more suspension travel, about 5.5 inches. (The photo bike uses Progressive shocks.) Complaints about them being too stiff were addressed early on. Wheels were 21 inches at the front, with a 3.00 tire, 18/4.00 at the back, with somewhat adequate brake drums fore and aft. They were OK when used delicately on unpaved surfaces, but a bit weak at highway speeds. Distance between the axles was 55.7 inches.
The long, flat saddle was capable of carrying two people, but for any fun on the dirt roads, one-up was preferable. Up front the six-volt system used a sealed-beam headlight, in case you got caught out after dark. The gas tank held 2.3 gallons, good for about 100 miles on the street, somewhat less in the dirt. Dry weight was just about 300 pounds.
Good fun! Sold well at $1,400—even better in Europe than in the States. In 1979 a much-modified XT500 with a French rider won the Paris-Dakar race. Yamaha couldn't resist futzing, and delivered the bored-out XT550 to the U.S. late in 1982, with a four-valve head and other complications.