In the year or so that we've had it, we've asked a lot of our Africa Twin: commuting, off-the-bike camping, ADV shootouts, grocery-getting, long distance touring and schlepping our photographer and all his gear on numerous photo shoots—often incorporating off-road riding (including our "Pint-Sized Adventure" test). It takes everything we throw at it in stride and asks for more. It even survived an encounter with a rather large dog that had gotten loose and ran headlong into the big front wheel, knocking the bike and me to the ground at about 15 mph. Damage was cosmetic only—a scuffed up fairing and hand guard—and the dog was fine too.
Read our first Long-Term Review on the Africa Twin here.
While it was back at Honda HQ getting new plastic, after enjoying several thousand, mostly street miles on them, we had the highly effective but worn-out Continental TKC80 knobbies replaced with the stock Dunlop Trailmax 90/10 tires, slightly improving gas mileage (we're averaging 40-50 mpg) and making for a quieter, smoother ride. Once back in the Rider garage, we also added a Helibars Tour Performance bar riser ($129) for easier stand-up riding off-road and more relaxed ergos when seated. The Tour Performance riser positions the handlebar 1.25-inch higher and 0.625-inch closer to the rider and is powdercoated to match the AT's stock components. It's also fairly easy to install with only a minor relocation of cables—it took me about 30 minutes—and makes a big difference in comfort both on- and off-road.
Check out our Road Test Review of the 2018 Africa Twin Adventure Sports DCT.
While we love our Shad SH58X Top Case and the Honda accessory side cases, we also wanted a smaller option for carrying just the essentials—camera, wallet, sunglasses, etc. Strap-mount tank bags can be unwieldy though, and a magnetic bag won't work on the AT's tank, so we opted for a Givi XS320 Expandable Tank Bag ($190) with its Tanklock system. The tank ring ($21) screws onto the gas cap (longer screws are provided with the kit), then the bag snaps on and off easily, making gas stops a breeze. A safety tether, rain cover and extra strap-on clear map/tablet compartment are included.
How did the Africa Twin stack up against the KTM 1090 Adventure R? Find out here.
We did discover, however, that with the Helibars riser installed, the fixed position of the large Givi tank bag (due to the tank ring mount) interferes with the handlebar at full lock. Both accessories work well separately, however.
Lastly, we've found the AT's brakes to be a bit on the wimpy side (common on dirt-oriented dual-sports), so we installed a set of DP Brakes sintered pads (DP559 front and DP121 rear). There is now much better feel at the levers, a bit more bite (though not abrupt at all) and much more linear response with no fade. Street riding and touring AT owners should consider this an essential upgrade.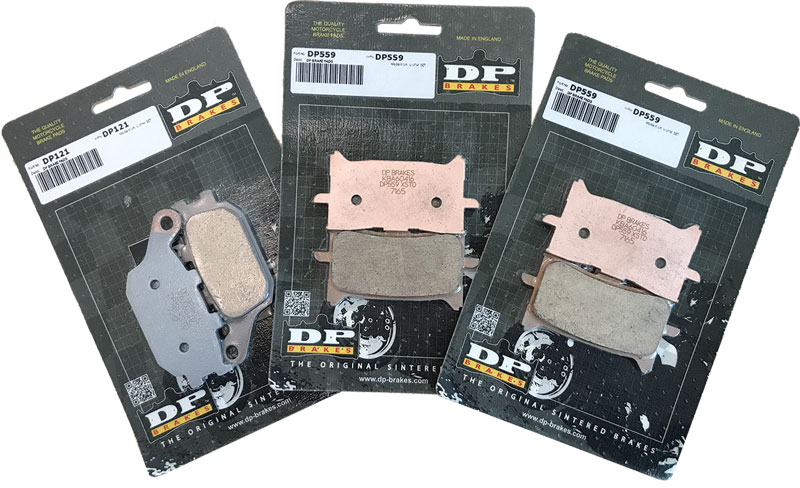 We haven't experienced any more hesitation issues as noted in our first report, but our Africa Twin did start exhibiting some occasional hard starting recently. We drained the airbox oil overflow hose again, and once again that seems to have solved the problem. Overall, however, the AT has been a steadfast and reliable companion, and we'll admit, we're quite sad to see it go! 
For more information, visit:
continental-tires.com/motorcycle
dunlopmotorcycle.com
helibars.com
giviusa.com
dp-brakes.com