Most of today's adventure bikes, despite their extra-large dimensions and scale-straining weights, are quite capable off-road. Many feature traction control, off-road-optimized ABS and electronically adjustable suspension that help compensate for their hulking bulk. But, most of the time, adventure tourers do their adventuring on pavement. With their powerful engines, street-friendly tires and cast wheels, high-tech electronics, comfortable ergonomics, big gas tanks and high load capacities, adventure bikes have become two-wheeled multi-tools—do-it-all "everybikes" that serve as commuters, sport tourers, luggage-laden luxury travelers and even boulevard cruisers (insert Starbucks joke here).
On the outer fringe of the adventure bike crowd, standing tall and looking tough, is a small group of "big dualies"—dual-sports on a high-protein diet, bikes that are equally adept at pounding pavement as kicking up dust. They have multi-cylinder engines that dole out an ample supply of smooth power (sorry, Kawasaki KLR650 fans), 21-inch front wheels that roll over obstacles, spoked wheels that absorb hard impacts and chain final drive that saves weight. In the middleweight leagues, there's BMW's F 800 GS, which won Rider's Motorcycle of the Year award when it debuted for 2008 but hasn't changed much since, and Triumph's Tiger 800 XCx, which was last updated for 2015.
Read our 2017 Honda Africa Twin DCT touring review
For serious off-road performance in a full-sized bike, look no further than the newest liter-class members of the ADV club—the Honda CRF1000L Africa Twin and the KTM 1090 Adventure R—which are both descendants of Dakar Rally winners. Honda's original XRV650 Africa Twin, introduced in 1988, was based on the prototype racer that won the Dakar from 1986-1989. It was produced for 15 years and became a dual-sport legend but was never sold in the U.S. When the Africa Twin was re-introduced for 2016 as the CRF1000L (and finally brought stateside), it took design cues from Honda's CRF450R Rally, including a steel semi-double cradle frame, 21-inch front/18-inch rear spoked rims shod with tube-type tires, extra-long suspension travel and generous ground clearance. Honda abandoned the previous Africa Twin's V-twin configuration in favor of a more space-efficient parallel twin. Tucking the battery and ABS unit behind the forward-canted cylinders freed up space under the seat, allowing it be at a reasonable height. The liquid-cooled, 998cc twin also has a compact, four-valve SOHC Unicam head, a 270-degree crank with irregular firing intervals and dual balance shafts to quell vibration. Conventional throttle cables mean there are no riding modes or electronic cruise control, but the CRF1000L has traction control that can be adjusted on the fly (three levels or off) using a trigger on the left handlebar.
KTM's 950 Adventure, introduced for 2003, was powered by a liquid-cooled, 75-degree, 942cc LC8 V-twin held in a tubular-steel space frame, and 90 percent of its engine and chassis components were shared with the 950 Rally that won the 2002 Dakar in the hands of Fabrizio Meoni (he also won in 2001, kicking off KTM's dominance of the Dakar for the past 16 years). KTM's Adventure series grew more powerful and refined over time, from the 950 to the 990 to the 1190 and 1290. For 2017, the lineup includes two 1290 Super Adventures (the touring-oriented 'T' and the off-road-ready 'R') and the new 1090 Adventure R. With less power, simplified electronics and other cost-saving measures, the 1090-R is intended to be more accessible and affordable than the 1190-R it replaces, which makes it a perfect match-up for the Africa Twin. The 1090's liquid-cooled, 1,050cc LC8 V-twin has DOHC with four valves per cylinder, throttle-by-wire and four riding modes. Full power is available in Sport and Street modes, but power is reduced in Off-road and Rain modes, with throttle response and traction control adjusted accordingly in each mode. Compared to the 1190 Adventure R, the 1090-R has revised fuel mapping for smoother response and a heavier crankshaft for more tractability.
Read our 2017 KTM 1090 Adventure R first ride review
We rode our 1090 Adventure R test bike home from the press launch, a two-day, 250-mile romp through the mountains and desert, about half of which was off-road. The 1090-R comes standard with Continental TKC80 knobby tires, but KTM further prepped it for sandy, dusty, technical conditions by adding some useful factory accessories: a skid plate ($299.99) to protect the underbelly; wide, cleated rally footpegs ($149.99) for stand-up riding; a plug-n-play dongle ($109.99) that allows ABS Off-road mode or deactivation to remain selected even after key off; a dust protection kit for the air intake system ($64.79); and a special air filter ($124.99). All together, these accessories add $749.75 to the bottom line, raising the as-tested price from $14,699 to $15,449. Our 2017 Honda Africa Twin—which looks fantastic in the white/red/blue paint scheme with gold rims that was inspired by the original XRV650—arrived bone stock, with a base price of $13,299. Standard equipment includes a metal skidplate and cleated pegs with removable rubber inserts, though they're much smaller than KTM's accessory pegs. To level the playing field we replaced the Honda's 90/10 Dunlop Trailmax D610 tires with a fresh set of TKC80s ($317, plus installation), for an as-tested price of $13,616.
For this comparison test, in addition to hundreds of miles of commuting and back road blasting, we took them off-road on a mix of dirt, sand, gravel and mud. Springtime after an usually wet winter in California brought an explosion of color to the normally dull brown valleys and mountains of the Los Padres National Forest and the Carrizo Plain National Monument. As we explored unpaved two-track in the Carrizo Plain, we savored views of the "superbloom" of wildflowers—with delightful names like goldenbrush, desert candle, tidy tips, blazing star and sky lupine—that carpeted areas of the park in yellow, white, orange and purple. The Africa Twin and 1090 Adventure R allowed us to venture into more remote areas of the Temblor Range while look-ee-loo Instagram-ers in their Priuses stuck to the main roads (or, in the case of one Range Rover, got stuck in the mud!).
Parked side-by-side, the Africa Twin and 1090 Adventure R look like fierce competitors. They're tall and narrow, with rally styling, wide, upright handlebars equipped with hand guards and small windscreens (the KTM's is adjustable) that provide a modicum of wind protection. The Honda looks compact, and it feels that way from the saddle. Both have 21-inch front/18-inch spoked wheels that are compatible with a wide range of off-road tires, but the Honda requires tubes while the KTM can run tubeless, greatly simplifying flat repairs. They have nearly 10 inches of ground clearance and some of the longest suspension travel this side of a full-on dirt bike: 8.7 inches front/rear on the KTM and 9.1/8.7 inches front/rear on the Honda. Such big-wheeled, long-legged bikes mean that their seat heights are tall, but there's a significant difference between the two that will make or break the decision for many people. The Honda's two-position seat can be set at 33.5 or 34.3 inches (and the accessory low seat drops the height to 32.3/33.1 inches), while the KTM's non-adjustable seat is 35 inches high—no ifs, ands or buts (KTM's accessory Ergo seat is actually 0.8-inch taller). Being 6 feet tall with a 34-inch inseam, there aren't many bikes that require me to stand on my tiptoes at a stop but the 1090-R is one of them; every Rider staffer struggled with the KTM's nosebleed seat height.
For motorcycles designed to spend as much time as possible off-road, you'd expect them to be light, but that isn't the case. Fully fueled, both tip the Rider scales in excess of 500 pounds—513 for the Honda and 537 for the KTM. Part of the KTM's extra weight can be attributed to its additional gallon of fuel (capacity is 6.1 gallons vs. 4.97 on the Honda), its standard tubular-steel crash bars and its beefy accessory skid plate. They feel much lighter from the saddle and while standing on the pegs; in fact, both feel well balanced and agile, especially when navigating tricky, uneven terrain. Their twin-cylinder engines allow them to be narrow at the hips, and both have the generous legroom, flat saddles and upright seating positions that make adventure bikes so popular for touring.
In terms of handling and braking performance, the Honda and KTM are fairly evenly matched. Their big, 21-inch front wheels resist initial turn-in at road speeds, but otherwise they have neutral, stable steering. Off-road, where line selection is more critical, they're easy to maneuver with precision by pressing the handlebars or weighting the pegs. Both have large, dual front discs squeezed by 4-piston radial calipers that are powerful when needed but easy to modulate when sensitivity is required, but their rear brakes feel mushy at the pedal and provide little feedback. Brake and clutch levers are adjustable, and both have light clutch pulls and good feel at the lever for fanning the clutch. Their off-road-optimized ABS works very well, applying anti-lock braking to the front wheel to prevent gravity-testing skids on loose surfaces while allowing the rear wheel to be locked up as desired. Likewise, their fully adjustable suspensions are calibrated to take a lot of abuse without complaint and excel in a wide range of conditions on- and off-road. Their beefy forks and, at the rear, the Honda's Pro-Link setup and the KTM's Progressive Damping System, withstand big hits and g-outs without bottoming and keep the chassis under control, and their remote rear preload adjusters are handy.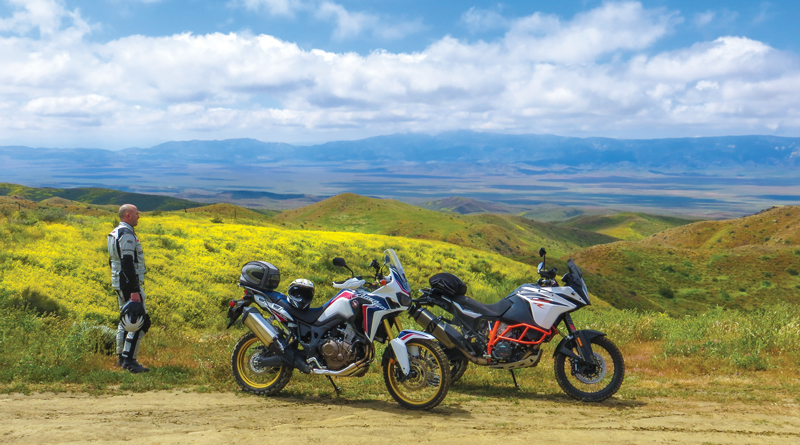 Apart from their seat heights, the other great dividing line between the Honda and the KTM is engine performance. The KTM's LC8 V-twin is a highly evolved descendant of the engine that helped Meoni win the Dakar in 2002, and versions of it power five models in KTM's lineup, including the 177-horsepower 1290 Super Duke R. It's an exciting, free-revving engine that delivers solid performance, but where it excels most is from 6,000 rpm to the 10,000-rpm redline. The Honda's parallel twin, on the other hand, was purpose-built for the Africa Twin, and it delivers not only rich character and smooth power delivery but very strong midrange—power and torque right where you need it most. We had Jett Tuning run both bikes on its Dynojet dynamometer, but due to the limited grip of their TKC80 knobbies on the dyno's rear-wheel drum, the figures reported here are down by 5-6 percent (which is why we haven't included charts). Although the numbers are low, because both bikes were dynoed under the same conditions, they are valid when compared to each other. With the KTM in Sport mode, both bikes run neck-and-neck from 3,000 to 6,000 rpm, at which point the KTM pulls ahead to make 103 horsepower at 9,500 rpm vs. 79 horsepower at 7,300 rpm for the Honda (redline is 8,000 rpm). Putting the KTM in Off-road mode drops its peak figures to 81 horsepower at 8,200 rpm and 56 lb-ft at 6,700 rpm, and gives the Honda a big advantage below 7,000 rpm. At 3,200 rpm, the Honda makes 32 percent more horsepower and 30 percent more torque than the KTM, an advantage that steadily decreases to 5-6 percent at 7,000 rpm.
After 3,000 miles of combined testing, we're impressed by the Honda Africa Twin and the KTM 1090 Adventure R. Both are highly capable dual-sports that perform well on and off the pavement, but they appeal to different riders. The KTM is the ideal bike for performance-oriented riders who are willing to pay more for its additional horsepower for the street, versatile riding modes, higher fuel capacity and tubeless tires, and—above all—who can handle its 35-inch seat height. The Honda, on the other hand, is lighter, less expensive, more user-friendly and has a seat height that's within reach for more riders. You can't go wrong with either bike; both will take you just about anywhere its possible to go on two wheels.
2017 Honda Africa Twin Specs
Base Price: $13,299
Price as Tested: $13,616 (tires)
Warranty: 1 yr., unltd. miles
Website: powersports.honda.com
ENGINE
Type: Liquid-cooled, transverse parallel twin
Displacement: 998cc
Bore x Stroke: 92.0 x 75.1mm
Compression Ratio: 10.0:1
Valve Train: SOHC, 4 valves per cyl.
Valve Insp. Interval: 16,000 miles
Fuel Delivery: PGM-FI
Lubrication System: Semi-dry sump, 4.3-qt. cap.
Transmission: 6-speed, cable-actuated wet slipper clutch
Final Drive: O-ring chain
ELECTRICAL
Ignition: Fully transistorized
Charging Output: 490 watts max.
Battery: 12V 11.2AH
CHASSIS
Frame: Steel semi-double cradle w/ cast aluminum swingarm
Wheelbase: 62.0 in.
Rake/Trail: 27.5 degrees/4.4 in.
Seat Height: 33.5/34.3 in.
Suspension, Front: 45mm USD fork, fully adj., 9.1-in. travel
Rear: Single reservoir shock w/ Pro-Link, fully adj., 8.7-in. travel
Brakes, Front: Dual 310mm floating discs w/ 4-piston opposed radial calipers & ABS
Rear: Single 256mm disc w/ 1-piston floating caliper & ABS
Wheels, Front: Spoked aluminum, 2.15 x 21 in.
Rear: Spoked aluminum, 4.00 x 18 in.
Tires, Front: 90/90-21, tube-type
Rear: 150/70-18, tube-type
Wet Weight: 513 lbs. (as tested)
Load Capacity: 391 lbs. (as tested)
GVWR: 904 lbs.
PERFORMANCE
Fuel Capacity: 4.97 gals., last 0.8 gal. warning light on
MPG: 86 PON min. (low/avg/high) 40.2/46.7/51.1
Estimated Range: 232 miles
Indicated RPM at 60 MPH: 3,500
2017 KTM 1090 Adventure R Specs
Base Price: $14,699
Price As Tested: $15,449 (off-road accessories)
Warranty: 2 yrs., 24,000 miles
Website: ktm.com
ENGINE
Engine Type: Liquid-cooled, transverse 75-degree V-twin
Displacement: 1,050cc
Bore x Stroke: 103.0 x 63.0mm
Compression Ratio: 13.0:1
Valve Train: DOHC, 4 valves per cyl.
Valve Insp. Interval: 18,600 miles
Fuel Delivery: Keihin EFI w/ 52mm throttle bodies x 2
Lubrication System: Dry sump, 3.8-qt. cap.
Transmission: 6-speed, hydraulically actuated wet clutch
Final Drive: X-ring chain
ELECTRICAL
Ignition: Fully electronic w/ digital adj.
Charging Output: 450 watts max.
Battery: 12V 11.2AH
CHASSIS
Frame: Chrome-moly steel trellis w/ engine as stressed member & aluminum subframe; cast aluminum swingarm
Wheelbase: 62.2 in.
Rake/Trail: 26 degrees/4.3 in.
Seat Height: 35.0 in.
Suspension, Front: 48mm USD fork, fully adj., 8.7-in. travel
Rear: Single reservoir shock w/ PDS, fully adj., 8.7-in. travel
Brakes, Front: Dual 320mm floating discs w/ 4-piston opposed radial calipers & ABS
Rear: Single 267mm floating disc w/ 2-piston floating caliper & ABS
Wheels, Front: Spoked aluminum, 2.50 x 21 in.
Rear: Spoked aluminum, 4.50 x 18 in.
Tires, Front: 90/90-21
Rear: 150/70-18
Wet Weight: 537 lbs. (as tested)
Load Capacity: 455 lbs. (as tested)
GVWR: 992 lbs.
PERFORMANCE
Fuel Capacity: 6.1 gals., last 0.9 gal. warning light on
MPG: 91 PON min. (low/avg/high) 38.2/41.3/47.1
Estimated Range: 252 miles
Indicated RPM at 60 MPH: 3,600
SaveSave
SaveSave
SaveSave
SaveSave