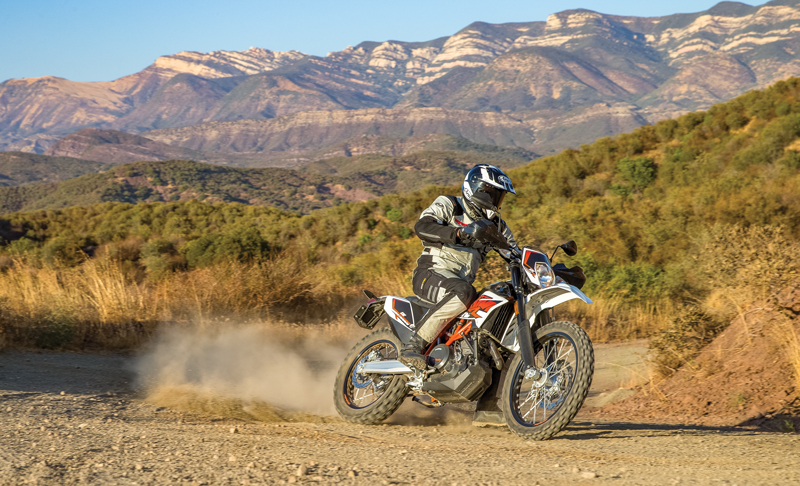 With more buzz than a hive of angry bees and a tall, narrow seat carved from granite, KTM's 690 Enduro R leaves a lot to be desired as a street bike. Don't get me wrong, with a feisty, 67-claimed-horsepower thumper and weighing just 340 pounds, the 690 is a fast, flickable bike on any twisty road, the tighter the better. But on the dual-sport continuum, it definitely leans more toward the off-road end of the spectrum.
Slotted between the street-legal, 240-pound 500 EXC-F enduro and 1090 Adventure R in KTM's lineup, the 690 is heavier and more roadworthy than the 500 but is nearly 200 pounds lighter and $3,900 cheaper than the more plush, powerful and technology-laden 1090. Therein lies the dilemma. What's more important to you, lightness, agility and off-road-worthiness, or comfort, power and sophistication?
Greg's Gear
Helmet: Arai XD4
Jacket: Held Carese II
Pants: Held Torno II
Boots: Alpinestars
For street riding, light-duty off-roading or multi-day touring, a full-on adventure bike makes the most sense. But given my street-biased skill set, whenever I'm on an adventure bike and the off-roading gets technical, prudence leads me to slow way down and take it easy. I don't want to break the bike or me. The off-road riding I do most often—daylong, 300-plus-mile dual-sport rides with a 2-to-1 ratio of pavement to dirt—usually involves challenging terrain: deep sand, single track, tricky hill climbs and descents. Riding the 690 Enduro R for 200 miles on the street makes my hands numb and my butt sore, but the trade-off is worth it given how the KTM performs as soon as its knobbies leave the pavement: it's like riding the orange-and-black offspring of a gazelle and a mountain goat.
Compared to a larger adventure bike, off-road the 690 is more fun and exciting yet also more relaxing. By virtue of its light weight, it's easier to toss around and control, giving me the confidence to back it into tight corners, power slide around bends and take trickier lines. And its state-of-the-art chassis and components help keep me out of trouble and avoid pucker moments. Perhaps most telling was my most recent dual-sport ride on the 690, which included a long stretch of riding through a deep, meandering sand wash. I. Hate. Sand. "Gas on, brain off" is the usual advice, but the out-of-control feeling I get riding through sand makes me want to roll off and tense up. But on that particular day, I was in the zone. Chasing our ride leader, I kept my speed up and floated over the sand with ease, fear giving way to exhilaration. Feeling pumped, later on I even popped a few wheelies and sailed over some jumps, taking me back to the carefree days of launching my BMX bike off homemade ramps as a kid.
That's magic. That's why I ride.
Part of what makes the 690 so capable is, instead of being old-tech or dumbed-down, it features plenty of KTM's championship-winning know-how. Its liquid-cooled, fuel-injected, throttle-by-wire LC4 single has been steadily improved over the years, displacing a full 690cc and delivering power and torque that put the competition to shame, and its 6-speed transmission shifts easily thanks to an APTC hydraulic slipper clutch and Magura master cylinder and lever. Its tubular-steel trellis frame and cast aluminum swingarm are strong and light, and its WP suspension—an upside-down fork with separate damping circuits in each leg and a single rear shock with Pro-Lever linkage—is fully adjustable (including high- and low-speed compression damping), offers 9.8 inches of front/rear travel and is amazingly compliant and forgiving. Lightweight, spoked D.I.D. DirtStar rims, in roll-over-anything 21-inch front and 18-inch rear sizes, are shod with aggressive Pirelli RallyCross knobbies that do surprisingly well on the street. Brembo brakes, with 2-piston front and 1-piston rear floating calipers squeezing petal-style discs, are powerful and provide excellent feedback at the lever. Bosch 9M+ ABS, which can be turned off at the rear wheel (and will stay off thanks to an optional $109.99 plug-n-play dongle), works very well on- and off-road.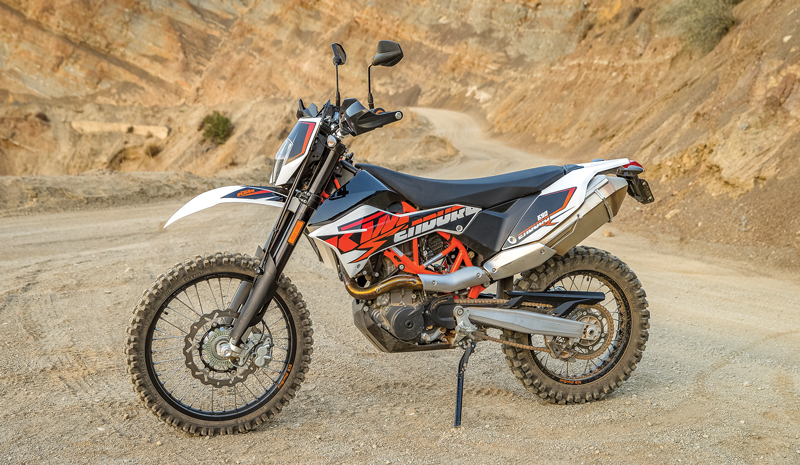 With more than 900 miles on the 690, we've averaged 42.3 mpg from the 3.2-gallon, underseat gas tank, yielding 134 miles of range. But during aggressive riding, fuel economy dropped to 34.7 mpg and just 111 miles of range. We've decided to keep the Enduro R in our long-term fleet and see if we can address some of its vibration, comfort and range issues. And because it's so darn fun to ride!
Read our 2017 KTM 690 Enduro R long-term review
2017 KTM 690 Enduro R Specs
Base Price: $10,799
Price as Tested: $10,909 (ABS dongle)
Website: ktm.com
Engine Type: Liquid-cooled single, OHC w/ 4 valves
Displacement: 690cc
Bore x Stroke: 102.0 x 84.5mm
Transmission: 6-speed, hydraulically actuated wet slipper clutch
Final Drive: X-ring chain
Wheelbase: 59.2 in.
Rake/Trail: 27 degrees/NA
Seat Height: 35.8 in.
Wet Weight: 340 lbs.
Fuel Capacity: 3.2 gals., last 0.7 gal. warning light on
MPG: 91 PON min. (low/avg/high) 34.7/42.3/49.5