Where vintage bikes have the advantage.
For the past two decades the historic Willow Springs International Motorsports Park, located about 85 miles north of downtown Los Angeles, California, has hosted the annual Corsa Motoclassica, attracting a wide spectrum of motorcycles rumbling and burbling around its 2.5-mile roadrace track, one of its seven courses catering to cars, bikes, sidecars and go-karts, all spread out across some 600 acres. The AHRMA-sanctioned event includes a Honda CB160 race with a classic "LeMans" running start, Pre-1940 Grand Prix, Formula 125, Sidecar Formula 1 and 2, Sound of Thunder, Open Two-Stroke, Sportsman 350, 200 & 350 Grand Prix, Formula 250 & 750, Vintage Superbike, Classic C Footshift and Handshift, Thruxton Cup Challenge, 500 Premier, BEARS, Classic 60s 650, and even a class for the new wave of electric bikes.
It all started back in 1995 when Yoshi Kosaka, now well-known worldwide for his Garage Company emporium of vintage motorcycles in Inglewood, wanted to bring AHRMA racing to the Southern California area, and it came to pass in conjunction with the annual Corsa Motoclassica.
Yoshi, an avid racer, won an AHRMA Formula 250 national title in '93 piloting a water-cooled Bultaco TSS. He was pleased to see that Juan Bulto of the Bultaco family of Barcelona, Spain, was taking part in this year's competition. Juan took the win in the 350 Grand Prix events on both Saturday and Sunday.
The three-day weekend is low-key but attracts large numbers of serious enthusiasts who literally put it all on the line preparing their own machines and bring a spirit of camaraderie to the event, always ready to offer a helping wrench hand.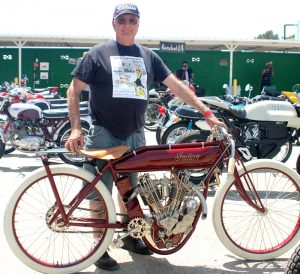 In addition to many race heats, spectators were treated to a bike show, swap meet area and even a barbecue. Other highlights included demonstration laps of an awesome Britten V1000, one of 10 ever made. Also racing to the top of the list was Dave Roper, the first Yank to win the Isle of Man Senior TT Mountain Course as well as more than 20 AHRMA national championships. Another blast from the past was the appearance of former AMA Superbike champion Wes Cooley, who had plenty of takers when he began signing Corsa souvenir posters.
All in all, it was another successful and much appreciated Corsa Motoclassica, with plans in play for the 23rd running in 2018.
Dream Fulfilled: John Britten's V1000
We all know of motorcycle milestones like the Vincent Black Shadow, Triumph Bonneville, Ducati 750SS and so many more. Among that pantheon no doubt belongs the Britten V1000, a fusion of mind and passion built by hand by an individual with a laser focus that nothing could stop in the pursuit of perfection. John Britten of Christchurch, New Zealand, broke the mold in more ways than one, including crafting his engine by sand casting, then going on to beat the best the big guys could throw at him. Back in the early '90s, the Britten utilized advanced and innovative design and materials like carbon fiber, weighed just 304 pounds wet and was capable of 150 mph wheelies and 188 mph top speeds, winning the Battle of the Twins at Daytona and setting a ton of records. Only 10 were made, actually nine before Britten passed away much too early. This was the tenth bike. The fairing bears the name Jason McEwen, who had previously won the 1994 NZ Championship on another Britten. The bike seen here was never raced but was ridden by McEwen in a memorial event celebrating its visionary builder. Here at the Corsa event, Jeff Elings of the Solvang Vintage Motorcycle Museum, where it is on display, took it on several demonstration laps. At Corsa, the Britten was voted Best of Show.