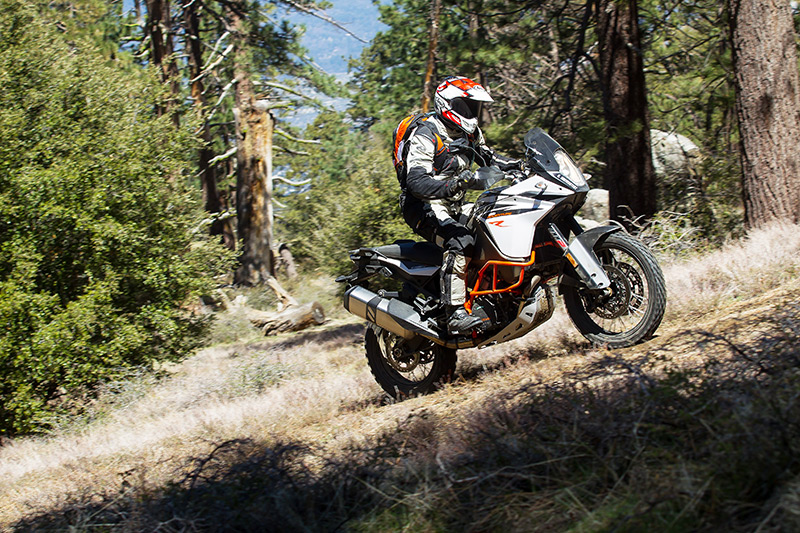 With their rally-racer styling, 21-inch front wheels, 35-inch seat heights and right-now throttle response, KTM's V-twin-powered 950/990 Adventure models were popular among performance-oriented adventure riders. Despite weighing 500 pounds and sending 90-plus horsepower to the rear wheel, 950/990 Adventures were remarkably capable off-road, but for on-road touring they were rough around the edges. During their 10-year model run (2003-2013), the big Katooms were niche players, overshadowed by the more versatile BMW R 1200 GS and more affordable, street-oriented bikes like the Suzuki V-Strom 1000.
All that changed when KTM introduced the 1190 Adventure for 2014. The 1,195cc LC8 V-twin from KTM's RC8 superbike was adapted for adventure-touring duty, making a claimed 150 horsepower and boasting throttle-by-wire; multiple ride modes that adjust engine output, throttle response and traction control; electronically adjustable suspension; and—a first on a production motorcycle—multi-mode cornering ABS. With a smoother engine, 19-/17-inch wheel sizes, less polarizing styling and other refinements, the 1190 Adventure had wider appeal and was more balanced on- and off-road, making it a strong competitor against big ADV bikes from BMW, Ducati, Suzuki, Triumph and Yamaha.
Read our 2014 KTM 1190 Adventure review
KTM quickly expanded its revamped Adventure lineup. First came the off-road-focused 1190 Adventure R (also for 2014), which returned to its 950/990 roots with a 21-inch front wheel, manually adjustable suspension with extra travel and tubular-steel engine guards powdercoated in KTM orange. Next came the 1290 Super Adventure for 2015, with more power, more comprehensive electronics (including semi-active suspension and cruise control) and touring features such as cornering lights, saddlebags and improvements in wind protection, comfort and range.
Read our 2014 KTM 1190 Adventure R review
Read our 2014 KTM 1190 Adventure/R long-term review
Read our 2015 KTM 1290 Super Adventure review
For 2017, KTM has reconfigured its Adventure family. The 1190 Adventure and 1190 Adventure R are gone, and there are now two versions of the 1290 Super Adventure to choose from—an all-new off-road-ready R model and the returning touring-oriented model, now called the 1290 Super Adventure T. A second off-road focused model is also new for 2017—the 1090 Adventure R.
Why is there both a 1290 Super Adventure R and a 1090 Adventure R? Since the 1290-R makes 160 horsepower and costs $17,999, it's too powerful and too expensive for some people—more bike than they want or need. The 1090-R, on the other hand, which is rated at 125 horsepower and costs $14,699 (down from $16,999 for the 1190 Adventure R), is more accessible but is by no means dumbed-down. KTM is known for performance, and the 1090-R delivers.
To achieve a lower displacement than the 1190 Adventure's 1,195cc, the 1090-R's 75-degree LC8 V-twin has a smaller bore (103mm, down 2mm) and a shorter stroke (63mm, down 6mm), for 1,050cc. All 125 horsepower (claimed, at the crank) are available in Sport and Street modes, but power is cut to 100 horsepower in Off-road and Rain modes, with throttle response and traction control adjusted accordingly. Fuel mapping has been revised for smoother response and the crankshaft is heavier for more tractability, both of which make 1090-R easier to ride in a wide range of conditions.
Compared to the 1190-R, claimed dry weight is down just 6.6 pounds—from 478.4 to 471.8 pounds—much of which can be attributed to the lack of a centerstand on the 1090. To keep the price down, the 1090-R also foregoes the cornering ABS, tire-pressure monitoring system, heated grips and 12V socket found on the 1190 and 1290 models, but standard equipment still includes anti-lock braking and traction control systems that offer Street and Off-road modes or can be turned off.
To launch the 1090 Adventure R, KTM invited the media to its U.S. headquarters in Murrieta, California. Since the 1090-R comes standard with Continental TKC80 knobby tires, 8.7 inches of front/rear suspension travel and tubeless, spoked wheels in 21- and 18-inch sizes, KTM hosted a proper adventure ride that spanned two days and covered 250 miles, about half of which was off-road. That the ride route was planned by four-time Baja 1000 champion Cody Quinn (who now works in R&D for KTM) should tell you that it wasn't a cruise down the bunny slope. Within a few hundred yards of KTM's driveway we were in the dirt, and we spent the first day on a mix of pavement, gravel, sand, mud and technical two-track.
To prep our 1090-R test bikes for two days of dusty, sandy, technical off-road riding, KTM equipped them with some useful PowerParts factory accessories: a skid plate ($299.99) to protect the underbelly; wide, cleated rally footpegs ($149.99) for stand-up riding; a plug-n-play dongle ($109.99) that allows ABS deactivation or Off-road mode to remain selected even after key off; a dust protection kit for the air intake system ($64.79); and a special air filter ($124.99). All together, these accessories add $749.75 to the bottom line, raising the as-tested price to $15,449.
From a rider's perspective, one of the 1090-R's most distinguishing features is its 35-inch seat height. Being 6 feet tall with a 34-inch inseam, there aren't many bikes that require me to stand on my tiptoes at a stop but the 1090-R is one of them. With large-diameter wheels, 9.8 inches of ground clearance and generous suspension travel, there's really no way around the tall seat height. If you can clear that hurdle, what awaits you is one of the most nimble and well-balanced liter-class adventure bikes available today.
Transitioning back and forth from seated on-road to standing off-road, the 1090-R's 3D-foam-padded seat is well-shaped and comfortable, with a suede-like cover on the rider's portion that provides good grip for my back side and knees. With large cut-outs on the sides of the 6-gallon fuel tank, the 1090-R feels very natural while standing, though after a while my lower back ached from bending over; given my height, if the 1090-R were mine I'd install a set of bar risers (I had the same complaint about the 1190-R).
Full of gas and fluids, the 1090 Adventure R tipped Rider's scales at 537 pounds (as tested with the accessories listed above), which is just 2 pounds shy of the wet weight for the last BMW R 1200 GS we tested. Since the 1090-R's composite fuel tank wraps around the engine and holds some of the fuel low on both sides, the bike carries its weight well and doesn't feel top-heavy. The gyroscopic effect of the 21-inch front wheel resists initial turn-in at road speeds, but handling feels neutral and stable, made easy with the wide, upright handlebar. Off-road, it's easy to steer the 1090-R by weighting the pegs while standing, even through miles of soft sand. Still, there's a lot of mass to deal with off-road, so the proper mix of skill and restraint is required.
On the street in Sport mode, the 1090-R is snappy, and when revved up there's a lot of vibration felt through the pegs and seat. But in high gears at midrange rpm, it hums right along for relaxed open-road cruising. In the dirt in Off-road mode, power and throttle response are tamed, making the bike very manageable, and traction control allows enough rear wheel slip for fun-yet-safe power slides. And thanks to the heavier crankshaft, through technical sections and up tricky climbs the KTM chugs along at low rpm like a tractor. Also, a light pull and good feel at the lever make it easy to fan the clutch as needed, and the Brembo brakes strike an ideal balance between initial bite, strength and sensitivity, especially when traction is limited.
The 1090-R's most noteworthy asset is its fully adjustable WP suspension, which exhibits excellent damping for both on- and off-road riding. The 48mm upside-down fork has a stiffer spring than the 1190-R's, and the shock incorporates the PDS (Progressive Damping System) from KTM's XC-W enduro bikes for more resistance to bottoming. Fully geared up, I put about 220 pounds in the saddle, and despite hammering rough roads and trails at a good pace, the 1090-R smoothed out the most rutted and rocky parts of the route and always had damping in reserve. The standard settings are a tad soft for sport riding on the street—the shock compresses and the bike's tail wags when driving hard out of corners—but both ends can be firmed up as desired.
At the end of the two-day, 250-mile press ride, KTM staffers popped a set of accessory saddlebags ($1,199.99, 36L of capacity on the left, 30L on the right) onto the standard brackets, I loaded up my gear and blasted another 170 miles on the freeway to get home. We've racked up hundreds of more miles since, and we'll soon publish a comparison test with the Honda Africa Twin.
With the new-for-2017 1090 Adventure R, KTM has taken a small step back from the "bigger is better" trend in adventure bikes. Compared to the 1190 Adventure R it replaces, the 1090-R isn't much lighter but it's much more user-friendly, especially in terms of power, throttle response and suspension compliance, and $2,300 has been knocked off the sticker price. If you're an adventure enthusiast who rides off-road much of the time, this could be the bike you've been waiting for.
2017 KTM 1090 Adventure R Specs
Base Price: $14,699
Price As Tested: $15,449 (off-road accessories)
Website: ktm.com
Engine Type: Liquid-cooled, transverse 75-degree V-twin, DOHC, 4 valves per cyl.
Displacement: 1,050cc
Bore x Stroke: 103.0 x 63.0mm
Transmission: 6-speed, hydraulically actuated wet clutch
Final Drive: X-ring chain
Wheelbase: 62.2 in.
Rake/Trail: 26 degrees/4.3 in.
Seat Height: 35.0 in.
Wet Weight: 537 lbs.
Fuel Capacity: 6.1 gals., last 0.9 gal. warning light on
MPG: 91 PON min. (low/avg/high) 38.2/39.3/42.3