Motorcycle enthusiasts tend to be good people. Generous with their time, always ready to help out for a good cause, and in general we look out for one another, too. Few events I have attended better exemplify this spirit than the annual Riding Into History Concours d'Elegance held at the World Golf Village near historic St. Augustine, Florida, the nation's oldest city. The bucolic grounds of the WGV are stunning, and instead of just lining them up on a golf course, the vintage bikes in the Concours are parked every few feet on the tree-shaded, 1.2-mile Walk of Champions that encircles Kelly Lake in the center of the complex. The setting and moderate May weather make for a lovely walk around the lake back into motorcycling's history, and with 270 motorcycles in more than 20 judging classes this year, you could spend several enjoyable hours strolling from bike to bike.
But it is really the all-volunteer aspect of Riding Into History that sets it apart. All of the event's profits from the $10 spectator entrance fee and other functions go to charity, and because there are no paid staff, Riding Into History has been able to donate close to $500,000 to charitable organizations since its inception in 2000. K9s for Warriors, an outfit that trains rescue dogs for returning veterans with PTSD, has been the beneficiary for several years now, and last year alone RIH raised $40,000 for the charity.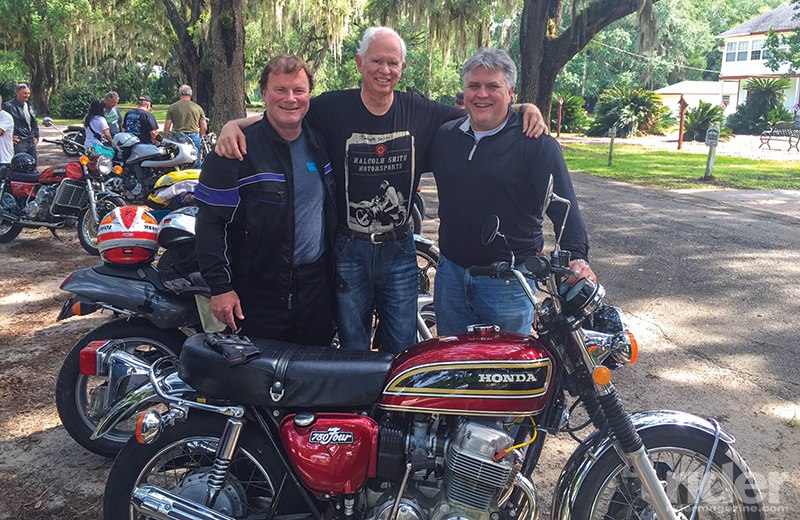 The 17th RIH weekend began on Friday with a $20 vintage-bike lunch ride with the Grand Marshal, silent auction and fundraising dinner for the K9s, all sold-out. Yours truly had the opportunity to interview friend and motojournalist Mitch Boehm for the dinner crowd about off-road racing champ and AMA Hall of Famer Malcolm Smith's new autobiography, Malcolm!, written with Boehm's considerable assistance. Malcolm was the event's Grand Marshal this year but unfortunately illness kept him from attending, so Boehm stood in for him in a repeat of his RIH Grand Marshal stint in 2012.
The other notable but happier absence was the major thunderstorm that threatened to put a damper on the rain-or-shine Concours on Saturday. Instead we had a beautiful day kicking tires and ogling the marvelous machines. For 2016 the theme was Viva Moto Europa, the centerpiece of which was an exquisite display of Ducati, Moto Morini and Laverda European road bikes and racers, but virtually every important Euro and Japanese bike from the last century was represented. Spectro and Sargent sold oil and seats, Mitch signed copies of Malcolm! and the tireless volunteers kept everything organized and on schedule during the 10 a.m. to 4 p.m. show. Rather than a stuffy, highly competitive, pinkies-out type of event, as Chairman of the Advisory Committee Bill Robinson pointed out, this is a "grassroots show where a guy can show up with one bike or a collector can show up with 100 bikes." The participants are in effect volunteers themselves, since they bring their bikes to the Concours not so much for the swag bag or a shot at winning an award in the judging, but primarily out of generosity—to make a contribution to Riding Into History and its charitable cause.
While the bikes ranged from gorgeous restorations to everyday riders, a common theme of specialness among them prevailed. At the end of the extensive awards ceremony, after more than 80 trophies had been passed out for Best in Class, Awards of Merit and various honorary awards, the coveted Best in Show award went to Joel Edward Greene for his gorgeous 1967 Velocette Thruxton, which he brought down from Cairo, Georgia.
Next year's May 20, 2017, Riding Into History will honor Japanese motorcycles, and the organizers are expecting upwards of 300 entries. There's a lot to see and do in St. Augustine, and if you're a golfer, the World Golf Village is home to two championship courses, restaurants, accommodations and the World Golf Hall of Fame. I plan to go early next year! You can check it out at ridingintohistory.org.