Even if you enjoy repairing and maintaining older motorcycles, certain jobs can be too involved or intimidating to tackle yourself. Other times, the bike has so many little problems that it's simply overwhelming to figure out how to deal with all of them, get parts and break out the wrenches. The latter was the case with a Honda CB750 Four that I recently acquired. The former owner had taken good care of it, but then let it sit for a while, and after I bought the bike it sat some more. Then a vintage ride came up that I wanted to take it on, so I set aside some time to work on the CB750. But as the list of problems that needed attention grew to several pages, I feared I was opening Pandora's box.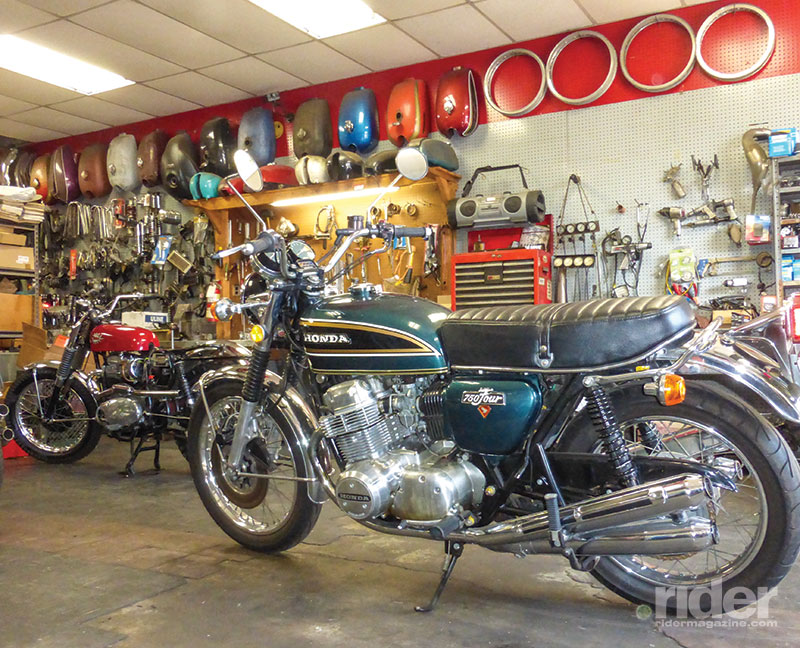 Besides the usual balky carburetion from sitting, the CB's petcock was not shutting off completely and the No. 3 carb had a leaky float valve, creating some highly volatile incontinence when the bike sat for more than a few days. It ran satisfactorily at low speeds, but wouldn't pull 5th gear or even a steep hill. The clutch rattled at idle when engaged (lever out, transmission in neutral) and the front brake was more like a speed adjuster than a stopper. The previous owner had wisely fitted an O-ring chain and replaced the stock rear "shocks" (as in shockingly bad) with some Progressive Suspension units that worked great, but the combination caused the chain to rub on the chain guard. The head gasket was weeping (as in weeping, seeping, leaking) oil, and while the steering head bearings were in surprisingly good shape, the swingarm was pivoting a bit east to west as well as north and south. Finally, the dry-sump engine was overdue for an oil and filter change and the bike needed a valve adjustment and tune-up (points, plugs, timing, etc.).
Not having owned a CB750 before, but knowing that older motorcycles—even Japanese ones—often have mechanical peculiarities that can catch out an amateur mechanic like yours truly, I figured that if I started researching how to do everything properly that day in March, got the parts and set to work on the weekends, I'd have a nicely running bike by, er, Christmas. Not good. No vintage ride this year.
The alternative was opening my wallet, but finding a shop that would work on a bike more than 10-15 years old—and do the job right—is often more difficult than fixing the motorcycle. Then I remembered meeting Kurt Winter at the SCNOC Hansen Dam Ride the year before. Kurt's been wrenching on motorcycles since well before he opened Valley Cycles (valleycycles.net) in Van Nuys, California, in 1978. It's now located in Chatsworth behind a motorcycle dealership—one-stop shopping. Although Kurt will service just about any classic bike, he specializes in older Triumphs and Hondas, CB750s particular. His personal 1970 CB750 restoration sat in the Petersen Museum in Los Angeles for many years, and another was included in the "Art of the Motorcycle" exhibits in New York, Chicago, Bilbao and Las Vegas. Far from being a stuffed shirt in an overly tidy service center, however, Kurt is a meat-and-potatoes kind of mechanic with a no-nonsense shop, in which every inch of wall and floor space is hung or stacked with parts, posters and tools, except the center where he does the work. Without a lift, I might add.
Kurt got my CB750 squared away in short order, fixing the stuff that needed it but quite bluntly telling me that things like the rattling clutch and weeping head gasket are normal for this bike and that I should ignore them (unless I wanted to spend a lot more). I had considered removing the valve cover to adjust the valves, but Kurt warned that the engine has to be removed from the frame to get the cover completely off—meaning once I had loosened it and realized my mistake, I would have had to pull the engine to fit a new cover gasket. Dodged that bullet! He replaced the petcock with New Old Stock (NOS), moved the shock over with a spacer, rebuilt and synched the carbs, cleaned and bled the front disc brake, replaced the pads and so on. When all was said and done a few days later, I got a pretty hefty bill, of course, but Kurt treated me more than fairly and the bike ran beautifully. Still does, in fact, and I had a grand time on that 250-mile vintage ride the following week, relishing the sweet song from those four mufflers.
Although older Japanese machines are generally pretty easy to work on, sometimes it pays to, well, pay. If you have had a good experience with a local independent mechanic, please send a note to
rider@ridermagazine.com.