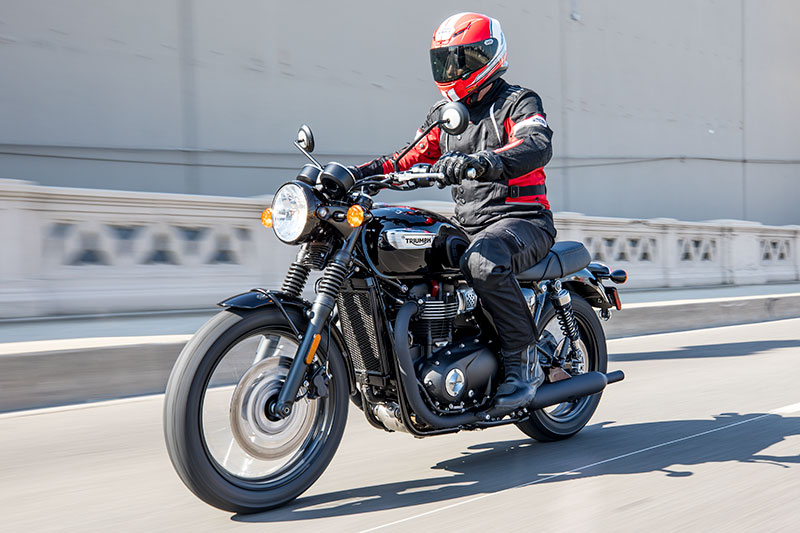 Paul Newman, Steve McQueen, Clint Eastwood, Bob Dylan, Keith Richards. Cool, cooler, badass, rebel, rock 'n' roller. And they all rode Triumph Bonnevilles.
Whether these icons boosted the Bonneville's street cred or the Bonneville—a British hot rod introduced in 1959 and named in honor of Johnny Allen's 214-mph land speed record on the Bonneville Salt Flats in the Triumph-powered, methanol-fueled Texas Ceegar streamliner—boosted theirs is hard to say. For average souls like you and me, it's almost certainly the latter.
After five years of painstaking development—said to be the largest engineering project in the company's Hinckley-era history—Triumph launched an all-new Bonneville platform for 2016, a family of five models powered by three variations of the venerable parallel twin, all of which are now Euro 4-compliant, liquid-cooled and bristling with modern technology on the inside while maintaining a vintage look on the outside. They also share a 270-degree crank that produces a strong power pulse feel and a hot rod sound.
The Street Twin is the entry-level model, a modern interpretation of the Bonneville powered by a 900cc "high torque" parallel twin. The Bonneville café racers, the Thruxton and Thruxton R, share a 1,200cc "high power" version of the parallel twin, while the classic models, the Bonneville T120 and T120 Black, get the same 1,200cc mill but with a "high torque" tune.
Read our 2016 Triumph Street Twin review
Read our 2016 Triumph Thruxton R review
Read our 2016 Triumph Bonneville T120 Black review
All five Bonneville models have impressive styling, performance, technology and fit/finish, but the two that most faithfully channel the spirit of the original Bonneville are the T120 and T120 Black. More so than any of the Hinckley-era Bonnevilles produced since the model was reintroduced for 2001, the 2016 Bonneville T120 honors the past with more classic lines, shapes and details as well as performance befitting its land-speed record heritage. Which is why we picked the Bonneville T120/Black as Rider's 2016 Motorcycle of the Year.
Read about 2016 contenders and Rider's Motorcycle of the Year
Given Triumph's major investment of time and money in the new Bonneville platform (not to mention booming Bonnie sales—up 68 percent, says Triumph), it's no surprise that 2017 will bring more offspring to the family, with the 900cc Street Cup café racer, 1,200cc Bonneville Bobber and 900cc Bonneville T100 and T100 Black coming soon to a dealership near you.
See and read about the 2017 Triumph Street Cup
See and read about the 2017 Triumph Bonneville Bobber
During Triumph's annual dealer meeting, held recently in downtown Los Angeles, I had a chance to take a short test ride on the new Bonneville T100, a more affordable and accessible version of the T120. It costs about $1,200 less, weighs about 24 pounds less (470 pounds dry, claimed) and makes less horsepower and torque. Since the T100 and T120 have the same engine cases and chassis, most of the weight savings is due to the deletion of certain features found on the T120, such as the centerstand, the passenger grab rail and the second front brake disc and caliper. Foregoing these items, as well as the T120's heated grips and riding modes, helped keep the price down.
Throwing a leg over the bone-stock T100 Black, which has a blacked-out drivetrain, exhaust and other bits to distinguish it from the chromed and polished standard T100, it felt a lot like the T120 test bike we had a few months ago. (From a distance, seat color is the easiest way to tell the T120 Black, which has a brown seat, apart from the T100 Black, which has a black seat.) The bench saddle is wide, flat and reasonably plush, and its low, 31.1-inch height makes it easy to plant both feet securely on the ground at stops.
Triumph has a knack for building user-friendly bikes—they're easy to ride, offer nimble, reassuring handling and deliver power in a predictable manner but are never boring. The Bonneville T100 is docile without being dull, a bike that's ideal for newer/younger/smaller riders but will keep gray-haired veterans entertained until the cows come home. Even though my test ride was barely 40 miles, I explored some of the most challenging, traffic-choked streets in and around downtown L.A. with childlike ease. Pulling away from stops and changing gears were effortless thanks to the feather-light torque-assist clutch, and the narrow handlebar, neutral riding position and compact chassis geometry bestow the T100 with light, intuitive handling.
My default desire is for more power and torque rather than less, but, if I'm honest, the T100's 55 horsepower and 59 lb-ft of torque (down from 80 horsepower and 77.4 lb-ft of torque on the T120) are plenty. With its "high torque" tune, the T100 has a broad spread of grunt down low (torque peaks at 3,230 rpm), always at the ready for squirting through traffic or darting out of corners. There's no vagueness or snatchiness from the throttle-by-wire, just smooth, linear feel, and the twin peashooters emit a pleasing bark.
A classic tubular-steel, double-cradle frame and steel swingarm hold the T100 together, and it's suspended on a 41mm non-adjustable fork and twin preload-adjustable shocks, both by KYB and allowing 4.7 inches of travel. Though a tad soft for my 200 pounds of ballast, the suspension delivers a comfortable, responsive ride. Single front and rear discs squeezed by Nissin 2-piston floating calipers provide decent stopping power, backed up by standard ABS and switchable traction control. The T100 rolls on spoked wheels (18-inch front, 17-inch rear) with Pirelli Phantom Sportcomp tube-type tires that add to the classic look but provide modern levels of grip and have a nice, round profile.
The T100's retro styling includes fork gaiters, steel fenders and dual analog gauges with chrome bezels and white-on-black faces. They have inset digital displays with readouts for gear position, odometer, dual tripmeters, service indicator, range-to-empty, average/current fuel consumption, fuel level, clock and traction control. Under the seat is a USB socket for charging your smartphone or other devices, but there's very little storage space under there so you'll need a long cord and a handlebar mount to charge while on-the-go. And more than 150 accessories are available for the T100, including cruise control, heated grips, luggage and stylish bolt-ons.
Even though my ride was short, I didn't want it to end. Without excessive power, weight or size, riding around L.A.'s confusing maze of ramps, bridges, tunnels, railroad crossings, one-way roads and steep hills on the T100 was playful rather than stressful. I ran several laps around the narrow, twisty roads of Elysian Park, enjoying sweeping views of the downtown skyline. While sitting at an outside table munching on fish tacos at my favorite taqueria in the trendy neighborhood of Silver Lake, I watched hipsters strut past the T100 parked near the sidewalk. Some stopped to admire the all-black, old-school-is-cool Bonneville, oblivious to the fact that it was brand new. Curb appeal isn't always high on my list of priorities, but when it's wrapped around such a fun machine, I'm all for it. Steve McQueen would be proud.
2017 Triumph Bonneville T120 Black Specs
Base Price: $10,300
Website: triumphmotorcycles.com
Engine Type: Liquid-cooled, transverse parallel twin, SOHC, 4 valves per cyl.
Displacement: 900cc
Bore x Stroke: 84.6 x 80mm
Transmission: 5-speed, cable-actuated wet torque-assist clutch
Final Drive: X-ring chain
Wheelbase: 57.1 in.
Rake/Trail: 25.5 degrees/4.1 in.
Seat Height: 31.1 in.
Claimed Dry Weight: 470 lbs.
Fuel Capacity: 3.8 gals.
MPG: NA