Photography by Kevin Wing
Thirty-five years ago, BMW created the adventure-touring segment when it introduced the R80G/S (Gelände/Strasse is German for "terrain/road"). Today there are six GS models in BMW's lineup, everything from the single-cylinder G 650 GS to the do-it-all R 1200 GS Adventure. Which begs the question: Why would BMW introduce yet another adventure bike, the S 1000 XR?
The Ducati Multistrada 1200, that's why.
No one disputes the all-around capability of the R 1200 GS, but its air/liquid-cooled boxer twin's claimed 125 crankshaft horsepower falls well short of the 160 horsepower claimed for the latest DVT version of the Multistrada (and the 150 horsepower of the KTM 1190 Adventure, for that matter). Derived from the formidable 1198 sportbike, the Multistrada is a street-biased adventure bike with 17-inch wheels, and its combination of performance, comfort and versatility has helped it become one of Ducati's best-selling models.
BMW based the S 1000 XR on its in-line four-cylinder sportbike platform, in particular the naked S 1000 R, which makes a claimed 160 horsepower and 83 lb-ft of torque. The XR's drivetrain is unchanged from the R, which won our naked sportbike comparison against the Aprilia Tuono V4 R APRC and KTM 1290 Super Duke R (Rider, July 2015). On Jett Tuning's dyno, the S 1000 R made 156.1 horsepower at 11,000 rpm and 80.5 lb-ft of torque at 9,500 rpm at the rear wheel. That BMW designated this bike with an "XR" rather folding it into the GS family is significant. With 17-inch wheels shod with Bridgestone Battlax T30 sport-touring tires, off-road is of minor importance. The press kit includes a handy pie chart of the XR's attributes that assigns just 5 percent to "enduro" and the remaining 95 percent to mixed street riding: sport, roadster, touring and urban.
BMW hosted a press launch for the S 1000 XR in Muskoka, Ontario, an area two hours north of Toronto that's home to 1,600 lakes. Our 160-mile test loop wound its way around some of those lakes, through wooded and wetland areas and small towns, on undulating pavement ranging from smooth to rough and even some hard-packed gravel. Good fortune smiled upon us, avoiding the rain that fell on the days before and after our ride and seeing none of the deer, moose or turtles that signs warned us about.
Thumbing the starter button set the S 1000 XR's liquid-cooled, 999cc in-line four alight, with a throatier-than-normal bark from the accessory Akrapovič exhaust. (My particular test bike had been dragged through BMW's accessory catalog, farkled with everything from color-matched saddlebags, engine guards and a Navigator V GPS to a tinted windscreen, carbon fiber goodies, trick HP levers, a sport seat embroidered with the "XR" logo and more.) To ward off the morning cool, I turned on the heated grips and raised the manually adjustable windscreen.
The XR's riding position will feel familiar to anyone who has ridden a modern-day adventure tourer. There's plenty of legroom between the tall, 33.1-inch seat and the centrally mounted footpegs. A wide, motocross-style handlebar mounted on risers reaches back to the rider, allowing modestly bent elbows and an upright posture. This chin-up, straight-back riding position is one of the great virtues of an adventure bike. Comfortable enough for long hours in the saddle, it allows a commanding view and a state of readiness, making it easy to stand up and move around. To accommodate shorter riders, BMW offers an optional 32.3-inch low seat, as well as a low-suspension option that, when combined with Dynamic ESA, lowers the saddle to 31.1 inches.
Comfort is part of the XR's appeal, but what really sets the hook is its liquid-cooled 999cc in-line four, a quick-revving engine that delivers a broad spread of torque and an exhilarating top-end rush. Because our test bikes were fresh out of the crate, the rev limit was capped at 9,500 rpm rather than the 11,000-rpm redline (the lower rev limit must be unlocked by a dealer during the break-in service). Nevertheless, we had as much as 145 rear-wheel horsepower and 80 lb-ft of torque on tap, which made for a lively experience on a bike that weighs just over 500 pounds. BMW's E-gas throttle-by-wire system is one of the best there is, with precise response and no vagueness or on/off throttle lurching. One downside of this engine, however, is vibration. At 4,500 rpm or higher, vibration sets the grips, seat and pegs abuzz, and it's particularly pronounced in the right grip, where at times the bones in my hands felt like tuning forks. I don't recall as much vibration on the S 1000 R, so the difference could be attributable to the new handlebar.
The base model XR is equipped with two riding modes, Road and Rain, which adjusts throttle response, ABS and ASC (Automatic Stability Control) for dry or wet conditions. Our test bikes were equipped with the $1,455 Premium Package, which adds the full complement of electronic assistance: Ride Modes Pro (Dynamic and Dynamic Pro), Dynamic Traction Control, ABS Pro, Gear Shift Assist Pro and Dynamic ESA. If you have your eye on the S 1000 XR, don't pass up on the Premium Package. All of these electronic systems are designed to work together seamlessly, and they boost the XR's safety, versatility and comfort by a significant margin. In addition to two more riding modes, you get lean-angle sensitive traction control, cornering ABS (the XR is the first BMW to offer it), clutchless up- and downshifts, and suspension that adjusts damping automatically and preload at the touch of a button. Traction control and ABS tend to be out of sight, out of mind, but the ability to quickly change gears without using the clutch and the remarkable comfort and chassis stability of Dynamic ESA will absolutely spoil you.
Like other models in the S 1000 line, the XR has an aluminum bridge-type frame that uses the engine as a stressed member and a cast aluminum swingarm. Compared to the S 1000 R, the XR has a longer wheelbase (61 inches vs. 56.7), more rake (25.5 degrees vs. 24.6) and more trail (4.6 inches vs. 3.9), trading some sportbike nimbleness for touring-bike steadiness. More than half of the increase in wheelbase is due to a 2.5-inch longer swingarm that is said to improve rear-wheel traction and stability, especially with a passenger and luggage. Very few of the roads on our test route were straight, and they included mile after mile of dips, rises and frost heaves. The XR's light, precise steering turned the obstacle course into a playground. The standard steering damper quelled any twitchiness, DTC kept the front and rear wheels in check, and the dual radial-mount Brembos up front slowed things down with power and precision.
As with many adventure bikes, the XR's small fairing, compact windscreen and hand guards provide adequate wind protection. Raising or lowering the windscreen, which requires two hands and a firm pull, doesn't make a huge difference, and airflow is smooth but a tad noisy in both positions. Kudos to BMW for designing an easy-to-read instrument panel that's packed with lots of useful info. Like many models in BMW's lineup, the S 1000 XR's base price ($16,350) is for a fairly basic configuration. To get many of its most appealing features, you have to pay for higher-spec packages. The $945 Standard Package adds GPS preparation (for the optional $799 Navigator V, which can be operated through the Multi-Controller wheel on the left grip), heated grips, cruise control and saddlebag mounts (Touring Cases are $925.90 in gray or $961.90 in red). The $1,455 Premium Package adds the electronic features described above as well as a luggage rack and centerstand.
BMW says the S 1000 XR is designed for "those who want the dynamic performance of a sport machine, the versatility of an adventure bike and the comfort of a touring motorcycle." That's what street-oriented adventure bikes, or crossovers, are all about: a sportbike engine tuned for the street; an upright riding position, low-effort handling and extra suspension travel; and enough features and wind protection for extended travel. The Premium-equipped XR covers all of the bases, and should give the Ducati Multistrada 1200 DVT some serious competition. We'll have a full test of the S 1000 XR and a comparison with the Multistrada in the near future.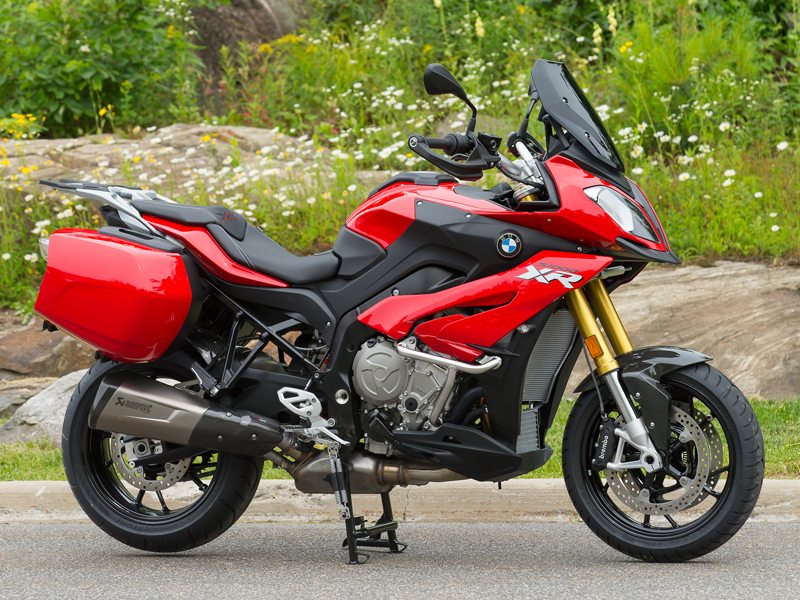 2016 BMW S 1000 XR Specifications
Base Price: $16,350
Price As Tested: $18,750 (Premium Package; for accessory prices, see below)
Website: bmwmotorcycles.com
Engine Type: Liquid-cooled, transverse in-line four, DOHC, 4 valves per cyl.
Displacement: 999cc
Bore x Stroke: 80.0 x 50.0mm
Transmission: 6-speed, cable-actuated wet clutch
Final Drive: O-ring chain
Wheelbase: 61.0 in.
Rake/Trail: 25.5 degrees/4.6 in.
Seat Height: 33.1 in.
Claimed Wet Weight: 502 lbs.
Fuel Capacity: 5.2 gals.
MPG: NA
Accessories on test bike shown:
Navigator V GPS – $799.00
HP clutch lever, milled – $271.21
HP brake lever, milled – $271.21
HP carbon cockpit fairing, left – $601.00
HP carbon cockpit fairing, right – $601.00
HP carbon wheel cover, front – $559.00
HP carbon wheel cover, rear – $518.00
HP carbon license plate carrier – $534.00
HP sport seat, 33.0 inches – $506.29
Touring case, left, Racing red – $480.95
Touring case, right, Racing red – $489.95
Lock barrel, coded for same-key – $59.12
LED flashing turn indicators (4) – Not available in the U.S.
Akrapovič sport silencer – $1,151.00
Windscreen, tinted – $328.77
Hand protectors – $155.95
Crash bar, left – $209.95
Crash bar, right – $209.95
Misc. fasteners – $40.78
TOTAL – $7,778.13