Living in Michigan in my youth, I once took a multi-day motorcycle camping tour on a Honda CB750, traveling into Canada and around the Great Lakes. My gear consisted of a basic Boy Scout pup tent, sleeping bag and a mess kit. Wearing a leather jacket and jeans and packing a yellow rain suit from the hardware store, it's a terrific memory.
After a long hiatus, I recently took up riding again, and it wasn't long before the camping bug bit once again, too. Now with several multi-month moto-camping expeditions under my belt, I'm able to share what I've learned along the way.
The same rules apply whether you ride strictly on pavement or venture off into the back woods on an adventure bike. You want to keep things light and efficient. Minimalist thinking is the mindset, but a few luxuries can make the camping sweeter.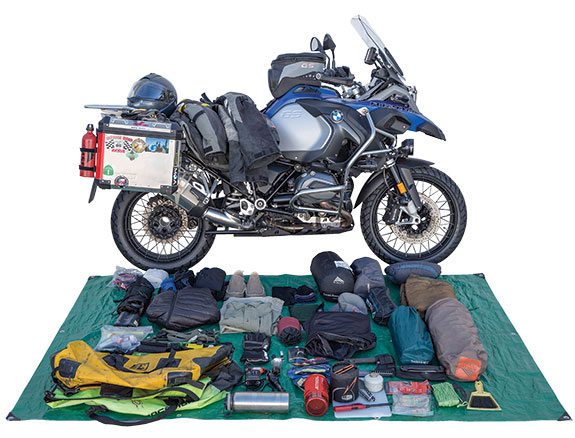 First I acquired the obvious stuff: tent, sleeping bag, camp stove, mess kit, food, a chair and a headlamp, but I decided more research was needed. I went online and found a batch of different lists, but actually came away more confused than before. Eventually I got enough together for my first outing (much to the delight of the local REI store) and began to find out what I missed and what I didn't need as my camping experience grew. I learned that there is no one perfect list; your needs will vary depending on the length of the trip, where you are going and the season.
Read Steven's "Motorcycle Camping Checklist"
Being a frugal guy, I thought I had scored a home run when I found a "2-person" tent in the local big box store for less than $30. With nice weather, it was OK, but cramped. On my third trip, when our group encountered freezing rain, I awakened at 4 a.m. in a cold, wet sleeping bag with no place to go. When I got home, I ordered a premium 3-person tent with a full-coverage rain fly. Lesson No. 1: Get the good stuff! It will last longer and has been designed to withstand more of what Mother Nature will throw at you. Also, I found that with a 3-person tent there is enough room inside to change clothes, hang out on a rainy day and keep my riding gear inside and dry.
My daughter gave me some good advice about sleeping bags based on her experience backpacking through Europe: spend the extra bucks to get a good down-filled bag. They pack smaller, are lighter and insulate better than the polyester versions. The temperature ratings on sleeping bags are seemingly the temps at which you will freeze solid—not be comfortable. So I got a 20-degree down bag, and when it drops below 40, I wear long underwear and use an inner liner or a blanket. The flip side of this compromise is that the bag is not too hot in warm weather.
Another down insulated item that I cherish is my quilted nylon jacket. It gets chilly at higher elevations, even in the middle of the summer. Don't forget a wool beanie for the noggin, too.
Be sure to test everything before starting out on a trip. That includes setting up a new tent and trying out a sleeping bag, and learning how to use all of your electronics, like that new satellite phone you rented to keep in touch with the dog sitter while you're in the middle of the Yukon.
For emergencies, I carry a small package of waterproof matches, a whistle, a pocketknife and a plastic mirror for signaling in my riding jacket. I also have a GPS locator with an SOS medical emergency beacon that stays close. That lesson was brought home when a buddy riding solo went off the road into a ditch and was pinned under his bike for about 18 hours. He now rides with the locator/SOS all the time.
Electronic stuff needs batteries and chargers. A worthwhile addition to your motorcycle is a fused "always hot" plug that can charge your cell phone or handheld GPS without having to turn on the ignition. Solar chargers are becoming plentiful and more affordable, but don't work at night!
If you plan on cooking, or even just heating up water for a morning coffee, a small stove is a must. Camping stoves are lightweight and fall into two general categories: those that use liquid fuel and those that use butane cylinders. (Yes, there is a Biolite for advanced campers that uses twigs, but that is another story.) I originally bought a liquid fuel stove that I could use anywhere with either camp stove fuel, gasoline or kerosene. Effective? Yes. A pain to set up and light? Yes. I finally got a JetBoil that uses small butane canisters. Easy to use, compact and heats water extremely fast; with the accessory arms, it can also be a regular burner for other pots and pans. The cylinders last a decent amount of time and are widely available in camping supply stores. A nesting mess kit will finish off your moto kitchen.
Once you've obtained the basics for camping and figured how to efficiently pack it into panniers or duffels, you'll learn that some 'luxury' items can make the camping experience more comfortable and not add too much to the overall weight you're carrying. First up would be a camp chair. Some folks prefer a Kermit Chair, made like a short director's chair, but collapsible and moto travel friendly. A less expensive and lighter alternative is one of the aluminum and nylon units that you'll find in most camping stores. Another must-have luxury item for me and my mature bones is a camping cot. The newer ones are about the size of a small sleeping bag and are made from nylon mesh and aluminum poles. My Thermarest cot is the large size and takes about 10 minutes to assemble. It also gives me the option to leave the air mattress behind.
So we're back to "What do I need to take?" I suggest making a master list with everything you've seen and talked to folks about. Spend some time in your local camping supply store and talk to the staff. Chances are they're camping enthusiasts and can help with information and suggestions. I put my master list on a spreadsheet and classified items by importance, season and where I'd pack them on the bike. Before any trip, I print out a copy of my list, cull out items not needed for this trip (such as a heated jacket for a summer jaunt) and check off items while packing so I don't miss anything. Your list will be changing as new items come along and you learn things from the road.
Aside from the money you save on hotel rooms by camping on your next motorcycle tour, you'll be more likely to meet people and make new friendships, enhancing your entire trip. Setting up camp is a rewarding end to a day in the saddle and once you do it a few times, it will become an enriching part of your motolife.
Read Steven's "Motorcycle Camping Checklist"