BMW's R 1200 GS is almost ideal for extended solo trips. For two-up riding, however, the factory's expanding Vario luggage option doesn't quite cut it, particularly if you're camping. Space is robbed from the left bag by the bike's upswept muffler so that, even fully expanded, the saddlebags hold just 29 and 39 liters, and the top case 35. Moreover, the side-opening saddlebags are tricky to load.
Aftermarket luggage options for the big GS abound, but most are still hindered by that upswept muffler. Any bracket on that side must clear it, so it sticks out farther and a smaller side case must be mounted there to keep the bike symmetrical and balanced. For example, Hepco & Becker recommends using its 30-liter Xplorer bag on the left and a 40-liter bag on the right with its Lock-It Luggage Carriers. Not a bad option for someone who doesn't have the Varios, but it really only adds the convenience of top loading, not capacity.
The only way to get both increased capacity and symmetry is to lower the muffler, a more-than satisfactory option when you're not going to be rock hopping or crossing deep rivers two-up. In conjunction with Hepco & Becker in Germany, Wunderlich has developed both a muffler-lowering kit and Symmetrical Lock-It Luggage Carriers that work together and allow you to mount any of H&B's bags on the R 1200 GS in equal sizes.
After removing the BMW's stock side-case mounts and the muffler, the four mounting points for the Symmetrical Lock-It Carriers ($299) are bolted onto the bike. The entire frame of the carrier assembly attaches to these with quick-release Dzus fasteners (hence the "Lock-It" designation), so that it can be easily removed along with the bags when you don't need them. Next, the Silencer Lowering Adapter ($79-159 depending on model year) is installed with clamps between the muffler and the collector box. For my 2007 GS, this roughly 8-inch-long assembly comprises two short stainless steel pipes, one fitted into a bellmouth on the other and held tightly together with heavy springs, so that the assembly and muffler can be pivoted downward without any exhaust leaks. Once it's on, the muffler is hung on its new lower mounting point on the left Symmetrical Carrier. A separate muffler hanger mounts to the bike's frame in the original higher position for use when the bags and carriers are removed.
Installation of all this is fairly straightforward if you have some basic mechanical skills and the required tools, including Torx bits, and study the instruction illustrations carefully before you start. All of the hardware needed is included and is of high quality, too. Although you can continue to use the BMW top case, I wanted a larger (and matching) top case to go with the 40-liter H&B Xplorer Bags ($409 each) that I eventually chose to use with the Symmetrical Carriers. So I also installed the H&B Topcase Carrier ($199). It mounts to the factory rack, which is plastic and can break in extreme use, so I added the H&B Rear Carrier Reinforcements ($69) as well. These require cutting away a little plastic from the BMW's stock luggage platform under the passenger seat, but it's purely cosmetic and not noticeable. All of the technical details are on Wunderlich's website.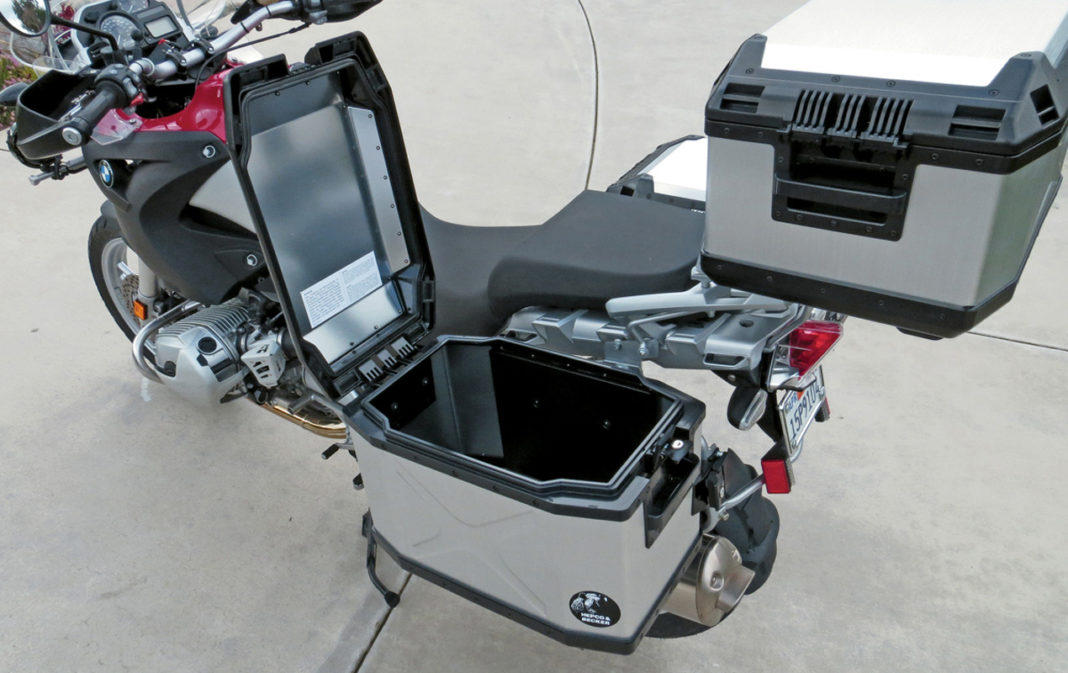 Installing everything took an entire afternoon, but it was a happy moment when I was able to lock on the H&B Xplorer Bags and admire the result. These attractive, tough-looking plastic-and-aluminum bags weigh no more than the Varios, mount much more securely and can be ordered with all locks keyed the same. Their lids can be popped off to use as trays for a variety of things, and a number of accessories like liners, top bags, racks and water bottles are available for them. Do note that I ended up needing to buy a footpeg relocating kit to make room for my wife's feet, as both the 30- and 40-liter Xplorer bags use up about four inches of the space behind the passenger footpegs. Despite the Symmetrical Carriers, they are wider than the expanded Varios, too—a total of 42 inches across vs. 36. If that's a problem, you can always get the narrower 30-liter Xplorers. Heavier two-up riders may find that with these large bags loaded up, the stock shock spring is no longer adequate, too. One thing leads to another, eh? But now I have a pair of 40-liter side bags and a 45-liter top case to pack in, 22 liters more than before. Let's go, honey!
For more information: Call (866) 830-9990 or visit wunderlichamerica.com