Take a look around your garage. Is there an old radio that's been tuned to a classic rock station for as long as you can remember? A bunch of Craftsman tools crowding a few precious Snap-On items in an old toolbox covered with fading stickers from Bell, Bates, NGK, Torco, and S&W or Mulholland Shocks? Most importantly, are the tire tracks from a half-dozen or more 1970s and '80s Japanese motorcycles still visible in the dust and grease on the garage floor, at least in your mind's eye? Do you wish you still had one or two of them?
We know the feeling. Those of us of a certain age remember all the good times we had on those bikes, warm and fuzzy recollections of road trips, first dates and drag races when we were masters of the universe and our motorcycles were our rocket ships. But time in its mercy has stripped away memories of leaden brakes, under-damped suspension and ruthless vibration, just as it has the unrequited loves and fumbled footballs. Going back, if you could, would almost certainly be a disappointment.
Or would it? What if—when it comes to the motorcycles anyway; never mind Lucie Lou or the big game—you could relive all of the good and none of the bad (or very little anyway)? Well, I'm here to tell you that you can, most likely for a short time only, for the low price of just $9,999.
Honda's new CB1100 is not an homage to a single motorcycle, but rather to the era that began when the company shocked all and sundry with the launch of its 1969 CB750 Four at the Tokyo Motor Show in 1968. It was the first mass-produced, transverse in-line 4-cylinder motorcycle and an OHC 750 no less, at a time when a 450 was a big bike. It had performance derived from Honda's racing success with four-stroke in-line fours, fives and even sixes in the 1960s, but the SOHC CB750K0 was also stone reliable and easy to service. It was so successful that it spawned a generation of air-cooled fours in a dozen different sizes, and set the stage for the leap from a single overhead cam and two valves per cylinder to the DOHC 16-valve powerplants still in use today.
Nostalgia is a powerful force, and the 2013 CB1100 uses it to great advantage. The apparent simplicity of the air-cooled, 1,140cc DOHC in-line four is actually the result of a complex design exercise that combines modern components and technology with powerful cues from the past. That classic tank shape, handlebar bend, round headlight (halogen, of course, not sealed beam!), taillight configuration and big amber turn signals are all evocative of early '70s Hondas. But none of it is from the parts bin—everything on this bike was made for it. Naturally, there's a round analog speedo and tach, but they're flanking a contemporary LCD display with fuel gauge and dual tripmeters. Chrome steel fenders hover over larger 18-inch cast wheels with spoke shapes reminiscent of Honda's good ol' Comstar wheels, without any messy brake disc carriers. For the U.S., the bike gets polished engine covers and a blacked-out engine vs. Europe's matte silver, and the customary dual shocks have silver-painted springs instead of black. The cam spacing and valve cover with its faux round end caps resembles that of later Honda DOHC models like the CB750F and CB900F Super Sports, and an extremely thin 2mm cylinder finning not only imparts the right look, it pings and ticks a little as the bike cools, like a classic air-cooled four.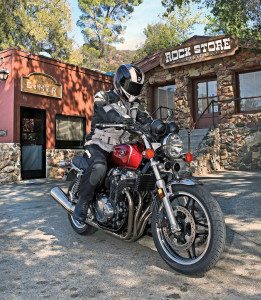 Perhaps the most obvious clues that the CB1100 is a tasty blend rather than a straight copy of the CB750K0 are first, its displacement—at 1,140cc nearer to bikes like the 1983 CB1100F—and second, the four-into-one exhaust that brings to mind the CB400F of 1975-77. Though not quite as sexy, the CB1100's four stainless pipes do bend seductively around the dual frame downtubes before collecting at the closed-loop catalytic converter and ending in that single big can. But the biggest giveaway is the bike's performance. While it's a purist's motorcycle and the main goal was not to produce gobs of power, the CB1100 easily outperforms its air-cooled ancestors while still being approachable and easy to ride. Honda PGM fuel injection, oil cooling, that stout frame and swingarm and surprisingly firm, controlled suspension and strong brakes make the CB1100 a great commuter and
traveling companion, as well as a looker.
Power delivery is incredibly smooth and linear from right off idle to the bike's 8,500 redline, with none of the abruptness from which fuel-injected bikes sometimes suffer. On the Jett Tuning dyno, the CB1100 made a healthy peak of about 85 horsepower at 7,300 rpm (the 1969 CB750 was good for about 67 at the crank), and roughly 67 lb-ft of torque at 6,700 rpm at the rear wheel, 90 percent of which is available from 3,300-7,000 rpm. Roll the throttle on and the bike accelerates briskly and smoothly with that familiar multi-cylinder zing, taking a while to reach redline thanks in part to a large flywheel, but never ceasing to pull. Intentionally staggered intake-valve timing gives it a slightly rougher feel reminiscent of the earlier fours, like the 1974 CB750K4 I rode to warm up for this test (see sidebar). In the canyons, you can stir the CB1100's smooth gearbox and keep the engine peaking, or just leave it in third and enjoy the way it squirts between corners. Some, er, tingly vibration does creep into the seat closer to redline, but it was never a bother in the grips or footpegs.
This is not an incredibly fast motorcycle, but thanks to its relatively low weight and large displacement it's a happy one, like a young dog playing in the surf. Bigger wheels and narrower tires (you know, the kind that cost less and used to be just fine) contribute to its quick handling, and the bike is very easy to steer because of its wide bar, so it literally dances around corners—you may even find yourself taking them wider than necessary just because it's so easy and fun. Suspension is blessedly firm and controls the bike well (too many naked standards in the recent past have had mushy shocks and forks) and spring preload is adjustable front and rear for heavier and/or aggressive riders. With a little work you can find the ends of the footpeg feelers in tight corners, but there's plenty of cornering clearance for this bike's level of sporting intent.
Like its predecessors, the CB1100's seating is comfortably upright and neutral, with a very manageable seat height of 31.3 inches that feels lower because of the narrow tank and seat. I could plant my feet easily at stops and still found the bike had plenty of legroom with feet on the footpegs. That wide handlebar puts little weight on the wrists, yet you don't have to fight to stay upright at freeway speed. The seat is definitely firm, but it's fine in the long run because the fuel tank only holds 3.9 gallons, so you're stopping to fill-up every 120-130 miles (with an estimated range to empty of 157 miles at our 40.3 average mpg). The CB1100 was originally designed for and introduced to the Japanese domestic market three years ago, where there are just as many retro motorcycle aficionados, but long-distance touring capability is less important.
A clever little manual wiper for the oil sight glass window and adjustable clutch and brake levers are nice modern touches on this time machine, as are strong triple disc brakes with 4-piston calipers up front squeezing floating rotors on the standard bike. Our test bike had the optional Combined Braking System/Anti-Lock Brakes (C-ABS), which uses 3-piston calipers up front and accounts for 9 of the bike's 542 pounds fully fueled, as well as $1,000 of the MSRP. The C-ABS actuates one piston in each front caliper when the rear brake pedal is pressed to insure you're always getting some front braking. Having it and the anti-lock feature is reassuring, and it all works quite well, though I am curious if shedding the option would give the front brake the extra bite it could use.
A bit of storage under the locking seat allows for carrying a U-lock and larger toolkit than the meager stock one, and the steel tank and bungee hooks that are nicely blended into the tail make securing luggage a breeze. The stubby sidestand takes a bit of getting used to, but it deploys quickly and easily, as does the handy centerstand. Passenger grab handles are lacking and the bike has a meager load capacity of just 351 pounds, so plans for bolting on a lot of touring accessories (like an old Vetter Windjammer fairing, anyone?) should be made with care.
Perhaps the nicest thing about the CB1100 is the fit and finish. From the deep gloss of the tank to the thick chrome and quality components, you can tell Honda felt strongly about creating a celebration of its heritage of which it could be proud. The only thing I've noticed possibly to the contrary is that the chrome, single-wall stainless-steel exhaust on our test bike is slowly turning a golden hue from the heat. It actually looks nice, except for mismatching its chrome heat shield under the right footpeg.
Honda is probably betting that, as in Japan, it has a lot of potential customers here in the U.S. who are enthusiastic about classic bikes, but just aren't interested in the hassle and reliability issues of riding a 40-year-old machine. If you're looking for a satisfying, exhilarating experience that has some retro style and doesn't break the bank, this is your bike. But I suggest you move quickly, because a lot of other riders like us are looking for the same thing.
2013 Honda CB1100 ABS
Base Price: $9,999
Price as Tested: $10,999 (C-ABS brakes)
Warranty: 12 mos., unltd. miles
Website: powersports.honda.com
Engine
Type: Air/oil-cooled, transverse in-line four
Displacement: 1,140cc
Bore x Stroke: 73.5 x 67.2mm
Compression Ratio: 9.5:1
Valve Train: DOHC, 4 valves per cyl.
Valve Insp. Interval: 8,000 miles, shim-under-bucket
Fuel Delivery: PGM-FI w/ 32mm throttle bodies x 4
Lubrication System: Wet sump, 4.1 qt. cap.
Transmission: 5-speed, hydraulically actuated wet clutch
Final Drive: O-ring chain
Electrical
Ignition: Digital transistorized w/ electronic advance
Charging Output: 336 watts @ 5,000 rpm
Battery: 12V 11.2AH
Chassis
Frame: Tubular-steel double cradle w/ box-section steel swingarm
Wheelbase: 58.7 in.
Rake/Trail: 27.0 degrees/4.5 in.
Seat Height: 31.3 in.
Suspension, Front: 41mm stanchions, adj. for spring preload, 4.7-in. travel
Rear: Dual shocks, adj. for spring preload, 3.5-in. travel
Brakes, Front: Dual discs w/ 3-piston pin-slide calipers & C-ABS (as tested)
Rear: Single disc w/ 1-piston pin-slide caliper & C-ABS (as tested)
Wheels, Front: Cast, 2.50 x 18 in.
Rear: Cast, 4.00 x 18.0 in.
Tires, Front: 110/80-18VR
Rear: 140/70-18VR
Wet Weight: 542 lbs. (as tested)
Load Capacity: 351 lbs. (per owner's manual)
GVWR: 899 lbs.
Performance
Fuel Capacity: 3.9 gals., last 0.9 gal. warning indicator on
MPG: 86 PON min. (low/avg/high) 38.6/40.3/42.7
Estimated Range: 157 miles
Indicated RPM at 60 MPH: 3,250
| | |
| --- | --- |
| Air-cooled, 1,140cc engine is painted black and covers are polished for the U.S. | Brake rotors bolt directly to Comstar-esque cast wheels; C-ABS is optional. |