Ride to Live, Live to Camp——THE 2012 RIDER STAFF MOTORCYCLE CAMPING CHALLENGE
In spite of our best efforts to provide for Murphy's Law around here, things can still turn out wrong, go sideways, and end up messier than a soup sandwich. Our plans for a camping comparison test of the new Suzuki V-Strom 650 and 1000 Adventures for this issue had been twice postponed because of delays bringing the larger bike over from Japan. Then just days before our promised test bikes were to arrive, American Suzuki decided not to part with its lone sample of the V-Strom 1000 Adventure just yet. Dang!
Feeling like members of Animal House's Delta Tau Chi fraternity after getting their charter revoked, there was only one sensible option: road trip! Still fond of the camping plan, we quickly organized a staff ride and campout. Closets were raided, Victory loaned us a test bike, Redverz sent us a tent. Things fell into place.
Well, sort of. A nasty weather forecast forced us to move our destination 170 miles southeast, to Anza-Borrego Desert State Park, which meant Arden "Day Job" Kysely couldn't join us. Two hours into the ride Bill "What, Me Snore?" Stermer got a flat tire. And what's with the gale-force winds kicking up just when we're trying to set up our tents? It's true—Murphy was an optimist.
We were determined not only to make the best of it, however, but to have a good time—after all, Rider hasn't had a chance to repeat our popular "Camping Challenge" since we froze our butts off for the June 2006 issue. Our cancelled comparison test turned out to be a great opportunity to get some of the gang together for a little roughing it. Those of you who have camped know what a great time it can be! To make it more interesting and useful to newbies, each of us would be self-sufficient, bringing our own camping gear and food (not to mention beverages, ahem)—the idea being that our individual preferences, needs and styles would play out well on the following pages. We're not so sure about Clem's smoked oysters, but otherwise the idea seemed to work.
Unlike the 2006 camping challenge, in which we were also doing a comparison test of the motorcycles, this time we varied the bikes to show that motorcycle camping can be fun and doable no matter what you ride. Each of us has been camping enough to have found a few essential items that we can't live without, or which make a campout more enjoyable. The journals that follow highlight our choice of bike and don't-leave-home-without-it gear.
If you're new to camping, especially on a motorcycle where space and weight are at a premium, various books and online resources can guide you on what to pack, what to prepare for and what to avoid. One great thing about camping is that it's usually cheap. Except for the ultra light, ultra compact stuff, camping gear (tent, sleeping bag, cooking equipment, etc.) is affordable and campsite fees are reasonable. And once you buy the basics, they'll serve you for years to come. Warm weather is upon us…let's camp!
Sweet and Light, Rich Cox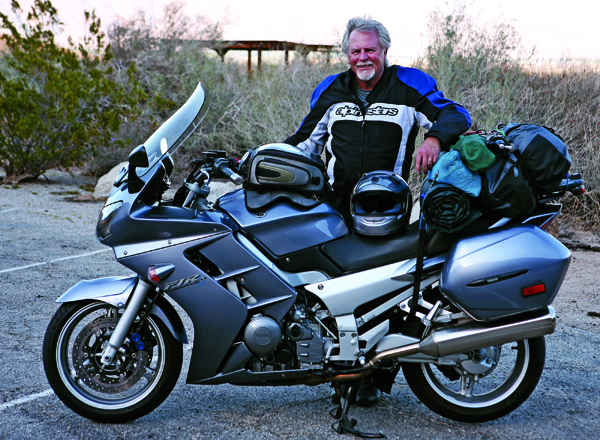 I learned a lot on this particular trip—about myself and camping in general. First, in a reaffirmation of my moderate anti-technology philosophy, I rekindled a fond appreciation for the Yamaha FJR1300. As one of the last breeds of low-tech sport-touring bikes, it still holds its own when it comes to brute power and sporty handling—and it constantly averages above 40 mpg on regular pump gas.
I discovered that I wasn't ashamed of hauling around low-tech (meaning old and bloated) camping gear, as I am quite adept at building a sturdy pyramid of stuff behind my back. Nor did it bother me that the cobweb of simple bungee cords securing it all was visual proof that there was an old-schooler working here.
Upon arriving at our campsite, there was a gusting 20-mph wind blowing and I learned the first rule in tent building in those conditions: secure the tent base first. It was both humorous and disheartening watching my tent hurtling through the desert with twenty pounds of rock ballast scrambling inside.
Come evening, Greg unknowingly taught me a lesson in simplified charcoal grilling; forget the messy hassle of building coals, just throw on an unopened bag of Match Light charcoal and light it off.
For morning, when the coffee wars commenced, I brought out the killer chemical concoction of all time: Starbucks Breakfast Blend instant coffee, French Vanilla Coffee-mate and Equal sweetener. "You like your sweets, don't you?" commented Clem, as he pulled out a very personal macchinetta del cafe pot for steaming espresso and shared a cup with me. Thanks Clem. Even more proof that it is not only the two-wheel journey, but the friendships made that turn motorcycle camping into an enjoyable outdoor adventure.
Taj Mahal of Tents, Greg Drevenstedt
My mount for this trip was the 2012 Suzuki V-Strom 650. Though not one of the Adventure models we planned on, it's still a great platform for motorcycle camping. Light, agile and fuel-efficient with comfortable ergos, the Wee Strom has enough adventure chops to get you to campsites at the end of long, dirty national forest roads. A set of Cortech soft saddlebags, Ventura's Pack-Rack and Mistral I bag and a tankbag carried smaller items while my tent, sleeping bag, inflatable mattress and camp chair were Rok-Strapped to the pillion seat.
In terms of essential gear, some things are obvious, like a tent (read our review of the Redverz Series II Expedition Tent), sleeping bag, as well as food and a way to cook it. But there are a few items that make life more enjoyable.
We intentionally chose a campground with a store nearby and, after setting up camp, I made a run for Match Light charcoal for the grill, wood for our campfire, bread for Clem's bratwurst, a cigar for Rich and a six-pack of IPA.
Other favorite items include a Coleman inflatable mattress, an Intex air pump with 12V power adapter and an Alps Mountaineering camp pillow–all in the name of a good night's sleep (plus earplugs to block out the snoring of fellow campers!).
My Princeton Tec headlight allowed me to see after the sun went down, the Pickapeppa Sauce added tangy heat to my ribeye steak and the antibacterial Wet Ones were perfect for cleaning my hands and face.
Unhappy Camper, Arden Kysely
(Editor's note: Arden wasn't too happy staying behind. He was last heard grumbling about some lousy day job he has to keep because we pay our freelancers with used tires and mismatched gloves.)
Hey, wait for me! Well, there they go, those professional moto-journalists, tootling off for some "camping" while I'm stuck slaving away in a cube because of a little local rain. They probably ditched me so I couldn't show off my cool lightweight gear and gourmet food. Never fear, readers. While the pros are sipping Pinot in a parking lot, I'll clue you in to real, back-of-beyond dirt camping made possible by a bike such as the BMW F 800 GS.
Too much weight can spoil a ride, so lighten your load with luggage that doesn't outweigh your gear. Giant Loop's Great Basin bag packs so low and narrow on the bike you hardly know it's there. Too radical? Check out the saddlebag selection from Wolfman Luggage. Next, get some gear that fits in your bags. Life is good with a 30-degree down bag, a small freestanding tent (the REI Quarter Dome is plenty—you're not living in it!), and a premium air mattress like the Therm-a-Rest NeoAir. For cooking, I fire up a tiny, butane-burning Brunton Raptor. Fluids ride in collapsible Platypus bottles and coffee brews in an MSR MugMate.
My classic Coleman cook pot is bulky, but holds my whole kitchen and I can sauté veggies in the lid. Bring a headlamp for cooking after dark so you can ride longer while it's light, and a Pak-Lite as backup. Set up the kitchen right and you can cook in Kermit chair comfort (my one weighty indulgence). There's more to tell, but these guys are tighter with pages than money. Man, I hope the tires they give me at least fit my bike this time….
Comfort Camping, Clement Salvadori
There is Spartan camping, and there is comfort camping—I gave up the former a few years ago. The primary need in comfort camping is having a motorcycle big enough to carry everything you need or merely want. For that a Gold Wing is superb, especially when traveling solo. The back seat is good for a tent, mattress and sleeping bag, with the bags, trunk and little compartments having about 40 gallons of packing space.
In my Spartan days I had a minimalist tent, but since going comfort I bought a slightly bigger one, which sleeps three people in a pinch, me alone in messy luxury. Especially on my Kelty Ridgeway self-inflating mattress, with a little help from me at the end to get precisely the right pressure. A Kermit chair provides for a comfortable evening sitting around the campfire retelling oft-told tales.
Food is the essence of a good camp-out. For supper I can bring along cheese, a tin of smoked oysters and crackers as starters. On the cutting board I can slice the zucchini, using my late father's Ka-Bar knife which he bought in 1942, grilling them along with the sausages over the fire. A Swiss Army knife corkscrew opens a bottle or two of California red.
Going light on breakfast, I begin with a can of fruit juice followed by several rounds of espresso coffee steamed in an Italian Moka pot on my tripod stove. The muffin that photographer Rich's wife made added greatly to my pleasure one morning.
The Wing also makes long highway travel very easy; we were camping down in California's Colorado Desert, and the morning we left it was about 11 o'clock with home over 400 miles away. Not a problem. I was greeted by the wife eight hours later.
Canned Soup, Bill Stermer
I love motorcycle camping! You're not only going riding, but on the bike you're self-contained and gear is pared down to the basics. Throw in a few riding buddies to share the experience, and life is both varied and good.
My ride for this adventure was the Victory Cross Roads LE, a big tourer with a windscreen and leather-covered bags powered by its 106-cubic-inch V-twin motor. It's been gussied up with a number of Victory accessories, the most useful of which include the large luggage rack, driving lamps and the removable, wind-blocking "close outs" on the highway bars—a very welcome accessory when it began raining on our return ride.
My favorite items include a camp chair, in this case one that was given away to participants at BMW's 80th Anniversary celebration at Lake Tahoe in 2003. It's not fancy, has no cup holder, but folds up small and is comfortable. While sitting in the chair I can utilize my Leatherman Micra multitool, which is so compact it attaches to my key ring and proves incredibly useful. The larger tool is by Gerber, fits in a belt pouch and offers a nice selection of blades, screwdrivers, openers and other implements.
That Roadgear microfleece blanket only costs $19.95 but you can sit on it, wrap it around yourself or layer it inside your sleeping bag for extra warmth. Finally, at night I crave my Therm-a-Rest (OK, I call it a "Stermer-rest") air mattress as it's rugged and provides remarkable comfort for a minimal amount of inflation.
To carry smaller items, I appreciate the Cortech 21-Liter Magnetic Tank Bag (also available in a strap-mount version) for its numerous pockets, large map pouch, expandability and mini office inside.
Another Fine Mess, Mark Tuttle
There's nothing like sitting around a crackling campfire under a sky full of stars, laughing with good friends until your eyelids get heavy. Your responsibilities are really just eating and making a nest for later, with life's complications (and hotels) all far away. Rather than getting "out" of my comfort zone, to me camping is simply trading one for another.
My camping excursions usually include my wife, Genie. All of our sig-nothers had to stay behind this time, though, greatly simplifying gear selection…because there was almost no limit to what I could pack on the BMW R 1200 GS. With a large Ortlieb waterproof duffel on the back seat in Genie's usual spot, Wolfman Rainier tankbag, Givi E55 trunk and the bike's expanding side cases, I was able to bring all the camping basics plus those things expected of the fretful leader, like a Cycle Pump, flat kit, large Cruz Tools toll roll and first aid kit. A cardboard box that just fits inside the right side case came along filled with camp kitchen stuff. Once the dishes were scoured under a 2-gallon collapsible water bag, I relaxed on my sturdy, compact and comfortable Kermit chair. Later a tiny Big Agnes REM sleeping pad snuggled me under a roomy 40-plus degree Wiggy's bag, inside a Eureka Backcountry 2-man tent, which packs small and is sensibly rectangular when raised.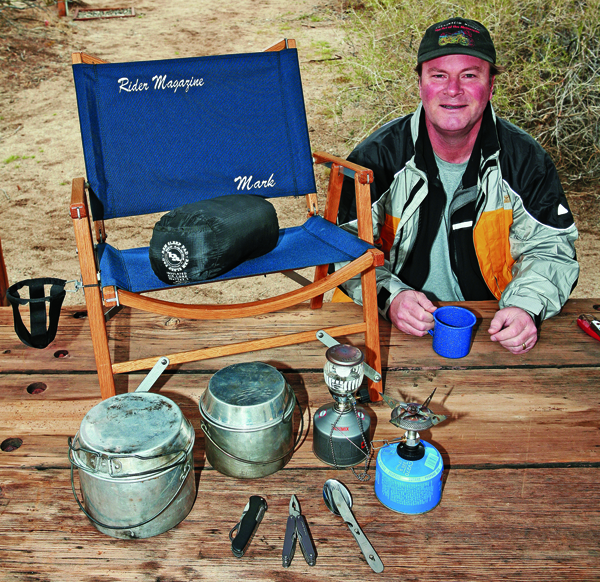 My nesting aluminum pots and cutlery have been with me for 40 years, the propane-butane MSR Superfly stove and small Primus Lantern for 25. A Swiss Army Fireman Lockblade makes short work of bottle caps, corks and cans, and its saw and basic tools come in handy, though my Kershaw Scallion and Laguiole picnic folding knives hold their edges better.
One week later my Aerostich suit still smells wonderfully like a campfire. Great time, guys, let's do it again soon.