What would you do with an extra $2,351? Even at today's high prices, you could fill your gas tank hundreds of times. You could buy new gear from head to toe, a wish list of accessories, or you could fund an open-road odyssey for months. If you're in the market for a new 650cc dual-sport single, would you use the money to buy a BMW G 650 GS Sertão ($8,650) instead of a Kawasaki KLR650 ($6,299)? Would it be money well spent?
To find out, my brother Paul joined me on a three-day exploratory ride in the southern Sierra Nevada. We've both owned dual-sport 650 singles, and we share a fondness for their long-travel suspension, upright seating and nimbleness on city streets and back roads. We also like that they're usually tough-as-nails fuel-sippers, cheap to buy and cheap to maintain. With standard hand guards and skid plates, spoked wheels (21-inch front, 17-inch rear) shod with dual-sport tires and beefy luggage racks, the Sertão and KLR are ready to tackle almost anything. Before setting off, I used the Southern California edition of Butler Maps to plan our route, and we outfitted both bikes with taller windscreens and soft luggage (see sidebar).
Continuing the legacy of the F 650 GS Dakar, which BMW built for a decade, the new-for-2012 G 650 GS Sertão is a rugged entry-level model in BMW's legendary GS line of adventure bikes. We ran a short evaluation of the Sertão in our April 2012 issue, praising its peppy motor, agile handling and good suspension compliance. Its counterbalanced, single-cylinder engine has a bore of 100mm, stroke of 83mm, and displaces 652cc. Dual overhead cams actuate four valves, and fuel is injected. The Sertão spun the drum on Jett Tuning's dyno to the tune of 44.5 horsepower at 6,800 rpm and 38.9 lb-ft of torque at 5,500 rpm, with redline at 7,000 rpm.
The Kawasaki KLR650's history extends back much further than the Sertão's, all the way to 1987. The original KLR650A chugged along in Kawasaki's lineup with few changes for 21 years, becoming America's best-selling dual-sport. Its very existence launched countless around-the-world journeys, obsessive online forums ("Did you replace your doohickey?") and innovative aftermarket suppliers. Debuting in 2008, the KLR650E addressed many of its predecessor's limitations, with improvements to the engine, brakes, suspension, wind protection and more. Look at the spec charts and you'll see many similarities between the BMW and Kawasaki. Their engines have the same oversquare bore and stroke (though Kawasaki says the KLR displaces 651cc; chalk it up to rounding), they have DOHC heads and four valves, and they have 5-speed transmissions, cable-actuated wet clutches and chain final drive. But the KLR has a much lower compression ratio (9.8:1 vs. 11.5:1) and it inhales fuel through a Keihin constant-velocity carburetor. On Jett Tuning's dyno, the Kawasaki's lower state of tune resulted in lower peak figures: 36.9 horsepower at 6,300 rpm and 33.8 lb-ft of torque at 4,800 rpm (redline is 7,500 rpm).
Paul and I slabbed it from coastal Ventura, California, to the small agricultural town of Arvin, in the southeast corner of the flat, dusty Central Valley. Both bikes cruised smoothly and steadily at 60-70 mph, with much less vibration than you'd normally expect from thumpers. Low temperatures over Tejon Pass made Paul glad he was on the Sertão, equipped with BMW's $300 Standard Package (heated grips and 12V socket). We appreciated both bikes' wind-blocking hand guards and taller accessory windscreens. After gassing up, we began our climb into the Sierra foothills via Caliente-Bodfish Road, one of Butler Maps' designated Paved Mountain Trails described as, "Narrow ribbons of asphalt [with] no center stripe, no shoulder, tight turns and steep grades." Add in rough pavement, dirty corners and an obstacle course of open-range cows and their chips, and you've got an ideal dual-sport road.
Riding two motorcycles back-to-back, swapping multiple times over multiple days, brings their differences into sharp relief. Stopping to digitally capture the commanding view, Paul noted, "From my first few minutes on the KLR, I felt confident and comfortable, like riding a bike I'd owned for years. Not so with the Sertão, which seemed quirky." The KLR is undoubtedly straightforward—easy to figure out, sensible, well sorted—qualities that have helped it remain a top-selling bike in Kawasaki's lineup for 25 years. The KLR's dual-counterbalanced engine is smoother than the Sertão's, especially at low revs, with a very linear, predictable powerband. Its carburetor, choke lever and fuel petcock (on/off/reserve) are old-school, but they work. Same goes for the easy-to-read analog gauges and the round, functional mirrors.
From Caliente-Bodfish Road we turned onto Breckenridge Road, another Paved Mountain Trail, though a sign warned it was closed eight miles ahead—the first of many winter road closures we would encounter over the next few days. Climbing higher, dodging rockslide debris, patches of snow began to appear in shaded corners. Riding the Sertão, I felt reassured by its stronger brakes and ABS (which can be turned off), and the bike felt narrower between my knees, more frisky in and out of tight corners. Both bikes have single discs front and rear, with two-piston front calipers and one-piston rear calipers. But the BMW's Brembo setup, which has a larger-diameter front disc (300mm vs. 280mm), has more initial bite and more stopping power. The KLR's Nissin brakes are by far its weakest feature, with limited power and a wooden feel front and rear.
Ice on Breckenridge Road turned us back before the gate did. North of Kernville, we took Kern River Highway to Johnsondale, turned around at another road closed sign and backtracked to Sherman Pass Road. We passed a sign warning of closure 12 miles ahead, but after climbing 3,000 feet in eight miles we were turned back by a thick blanket of snow covering the road. We ended the day exploring a maze of dirt roads on the west side of Lake Isabella.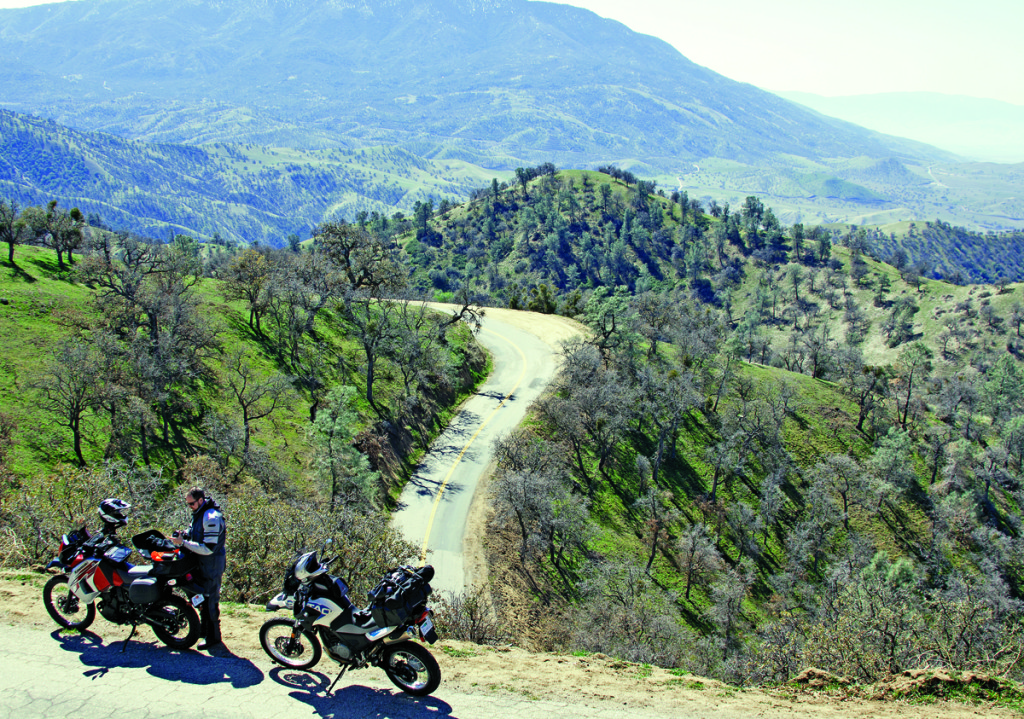 Logging 300 rough-n-tumble miles on our first day allowed us to draw some conclusions about comfort. As six-footers with long limbs, Paul and I both felt more cramped on the Sertão due to its higher pegs and lower seat (33.9 vs. 35 inches). The Sertão's deeply dished seat also locks you into position, whereas the KLR's long, narrow, flat saddle makes it easy to slide back and forth. More legroom is almost always better than less, but at the end of the first day it wasn't my knees that ached but my butt. Despite having more room to move around on the KLR, I never felt uncomfortable on the Sertão; in fact, I grew fond of the compact, cozy cockpit and well-padded seat. The KLR's hard saddle became more brick-like as the day wore on.
Another day, another dead end. After making our way up and over the Greenhorn Mountains at Alta Sierra, gingerly negotiating the steep, sand-covered up-and-down grades, we climbed back up into the Sierra Nevada on Sugarloaf Mountain Road. With snowmelt on the road and ice along the shoulder, we slowed our pace and soon came upon a sheet of ice covering the road. We turned around and blasted our way down Old Stage Road to the valley floor before heading back up into the mountains on CA 190 to Camp Nelson, where we encountered more skittish sand and eventually a gate. After backtracking to Kernville for a second night, we departed the Sierra Nevada on CA 178 through the deep, impressive Kern River canyon. We endured a long, flat ride across the Central Valley, past feedlots and crop fields, to the Traverse Ranges and a final run on our most familiar back roads toward home. After more than 800 miles of twists, climbs and descents, Paul and I had chosen our favorites.
Paul preferred the Kawasaki KLR650, which was "rock solid," had the "best riding position" and was "easy to flick through the twisties" thanks to its wide handlebar. There was very little he didn't like about the KLR. The Sertão, on the other hand, confused him. It didn't fit him properly, it vibrated too much and it had idiosyncrasies that he couldn't reconcile: the gearbox felt notchy ("Where's neutral?"), the vertical bar graph tachometer was too hard to read, and, due to reversely stacked button positions, he honked the horn every time he wanted to cancel turn signals ("[EXPLETIVE!]"). Paul praised the BMW for having a more responsive engine, particularly at higher speeds and revs, and for being more visually appealing than the KLR thanks to its modern, aggressive styling.
As brothers are wont to do, we agreed on some points but not on others. Our differences in opinion reflect, in part, different expectations. I ride offroad more than Paul does, and having ridden the KLR and Sertão extensively offroad, I appreciate the Sertão's better suspension compliance (and additional travel), quicker handling, higher ground clearance and less susceptibility to damage in a crash compared to the KLR's bulbous fairing panels. I prefer the Sertão's stronger, ABS-equipped brakes, snappier throttle response and higher-quality radial Metzeler Tourance EXP tires (the KLR's bias-ply Dunlop K750s don't handle as well on- or offroad, and the rear tire on our test bike showed significant wear after only 1,000 miles). I'm willing to give up some legroom and endure some vibration for a bike that feels more compact and maneuverable.
It's one thing to prefer one bike over another, but putting your money on the line is something altogether different. The $2,351 price difference between the Sertão and the KLR tells only part of the story. Unlike Kawasaki, BMW charges another $495 for destination. The recommended valve adjustment interval for the Sertão is 6,000 miles; the KLR's is 15,000 miles. That widens the gap even further, and other maintenance costs are likely to be higher with the BMW as well. The Sertão does have one fiscal trick up its sleeve: better fuel economy. Both bikes use regular unleaded fuel, and during this test the Sertão averaged 60.7 mpg to the KLR's 47.2 mpg. As impressive as that difference is, the number that often matters most to touring riders—range per tank—is higher for the Kawasaki (288 miles) because it has a 6.1-gallon tank and the BMW (222 miles) has a 3.7-gallon tank.
Is the Sertão's price premium worth it? Sure, if you want more power, fuel injection, stronger brakes with standard ABS, better suspension compliance with more travel, higher-quality tires, quicker handling and better fuel economy. Or, you could save a few grand with the KLR650 and also get a smoother engine, more legroom and more fuel capacity. Spend wisely, my friend.
2012 BMW G 650 GS Sertão Specs
Base Price: $8,650
Price as Tested: $8,950 (heated grips, accessory socket)
Warranty: 3 yrs., 36,000 miles
Website: bmwmotorcycles.com
Engine
Type: Liquid-cooled single
Displacement: 652cc
Bore x Stroke: 100.0 x 83.0mm
Compression Ratio: 11.5:1
Valve Train: DOHC, 4 valves
Valve Adj. Interval: 6,000 miles
Fuel Delivery: BMS-CII EFI w/ 3-way closed-loop catalytic converter
Lubrication System: Dry sump, 2.4-qt. cap.
Transmission: 5-speed, cable-actuated wet clutch
Final Drive: O-ring chain
Electrical
Ignition: BMS-CII Engine Management
Charging Output: 400 watts max.
Battery: 12V 12AH
Chassis
Frame: Box-section steel double cradle w/ bolt-on steel subframe & box-section steel swingarm
Wheelbase: 58.4 in.
Rake/Trail: 28.1 degrees/4.8 in.
Seat Height: 33.9 in.
Suspension, Front: 41mm stanchions, no adj., 8.3-in. travel
Rear: Single shock, adj. for spring preload (remote), 8.3-in. travel
Brakes, Front: Single floating 300mm disc w/ 2-piston floating caliper & ABS
Rear: Single 240mm disc w/ 1-piston floating caliper & ABS
Wheels, Front: Tube-type spoked aluminum, 1.60 x 21 in.
Rear: Tube-type spoked aluminum, 3.00 x 17 in.
Tires, Front: 90/90-R21
Rear: 130/80-R17
Wet Weight: 432 lbs. (as tested)
Load Capacity: 406 lbs. (as tested)
GVWR: 838 lbs.
Performance
Fuel Capacity: 3.7 gals., last 1.0 gal. warning light on
MPG: 87 PON min (high/avg/low) 66.2/60.1/54.4
Estimated Range: 222 miles
Indicated RPM at 60 MPH: 4,000
2012 Kawasaki KLR650
Base Price: $6,299
Warranty: 1 yr., unltd. miles
Website: kawasaki.com
Engine
Type: Liquid-cooled single
Displacement: 651cc
Bore x Stroke: 100.0 x 83.0mm
Compression Ratio: 9.8:1
Valve Train: DOHC, 4 valves
Valve Adj. Interval: 15,000 miles
Fuel Delivery: Keihin CVK40 carburetor
Lubrication System: Wet sump, 2.2-qt. cap.
Transmission: 5-speed, cable-actuated wet clutch
Final Drive: O-ring chain
Electrical
Ignition: Electric CDI
Charging Output: 245 watts max.
Battery: 12V 14AH
Chassis
Frame: Steel semi-double cradle, steel D-section swingarm
Wheelbase: 58.3 in.
Rake/Trail: 28.0 degrees/4.4 in.
Seat Height: 35.0 in.
Suspension, Front: 41mm stanchions, no adj., 7.9-in. travel
Rear: Single shock, adj. for spring preload & rebound damping, 7.3-in. travel
Brakes, Front: Single 280mm petal disc w/ 2-piston pin-slide caliper
Rear: Single 240mm disc w/ 1-piston pin-slide caliper
Wheels, Front: Tube-type spoked aluminum, 1.60 x 21 in.
Rear: Tube-type spoked aluminum, 2.50 x 17 in.
Tires, Front: 90/90-R21
Rear: 130/80-R17
Wet Weight: 433 lbs.
Load Capacity: 355 lbs.
GVWR: 788 lbs.
Performance
Fuel Capacity: 6.1 gals., incl. 1.5-gal. res.
MPG: 87 PON min (high/avg/low) 49.7/47.2/45.4
Estimated Range: 288 miles
Indicated RPM at 60 MPH: 4,100
Read about the accessories we put on these bikes
| | |
| --- | --- |
| Kawasaki: Analog instrumentation is basic but easy to read. Single tripmeter only. | BMW: Analog speedo is paired with an LCD display; vertical bar tach is hard to read. |
| Kawasaki: Single front disc with two-piston caliper has marginal power. ABS is not available. | BMW: Brembo brakes offer good power and feel. Standard ABS can be turned off. |
| Kawasaki: The KLR's carbureted engine has been chugging along reliably since 1987. | BMW: BMW's fuel-injected single is more powerful and gets better gas mileage. |
| Both bikes have very useful luggage racks. | |