Last year when Honda introduced the 2010 Fury as an early release model, it mollified riders who were "furious" about paying outrageous prices for unreliable—and often unrideable—custom choppers. Why shouldn't the average rider be able to buy a cool-looking rakish ride without having to take out a second mortgage? For 13 grand you can now have that "custom chopper" with a 71.2-inch wheelbase, a bare backbone frame that plunges down, down, down and a raked front end. All backed by Honda reliability and an army of dealers who can supply parts and accessories.
That's my theory, anyway, about how the Fury got its name—nobody at Honda has actually told me that there's any connection with the Fury name and mollifying furious riders. But the facts are that since the long and low design of the VT13VX Fury has been well embraced, as has the popular VTX1300 line from whence the Fury was born, three new VT1300 custom models have arrived on the scene. That scene was in Temecula, California, where we were invited to test ride the new VT1300 Sabre, Stateline and Interstate models.
The three new VTs are powered by the reliable 1,312cc, liquid-cooled, SOHC, three-valve-per-cylinder, 52-degree V-twin that's been hanging out in the VTX1300 since 2003. On the Fury, and now the VT1300 additions, the carburetor has been tossed in exchange for Honda's PGM fuel injection with a 38mm throttle body and an automatic enrichment circuit. Our test Interstate starts up easily every time, then needs about 30 seconds to warm up on 40-degree mornings before it can be ridden smoothly away.
While the three are based on the same platform, each sports its own personality. The Sabre has muscular styling with shorty fenders, a skinnier front tire and a flat, pullback handlebar that places your arms farther forward and closer to your body than the other two; Honda calls the styling "radical." The Stateline positions your arms spread-eagle with a big, wide handlebar, the engine is blacked out and the bike has a retro look with deep, flowing fenders. The Interstate is basically a Stateline model that's been outfitted with a windscreen, rider floorboards, leather-covered saddlebags, a larger brake pedal and a heel-toe shifter. Anti-lock brakes are available for the Sabre and Stateline, while Honda has chosen not to offer them for the Interstate to keep all of the bikes priced under $13,000.
Our initial ride in Temecula covered about 130 miles of meandering two-lane amongst a carpet of yellow wildflowers in full bloom and even a tribe of goats clustered on the side of the road. Our group rumbled along a variety-pack of straight-line and long, sweeping turns with some tight stuff mixed in, so we could get a good overall feel for the differences in the bikes. Then we added 520 miles on Rider's test Interstate. Clutch-lever pull and shifting through the five-speed transmission is easy and smooth, as is finding neutral. There's a decidedly pleasing thunk as you change gears, augmenting the big-bike feel with the VT series' single-pin crank and mechanical sounds.
As is the norm with cruisers, footpegs (and floorboards in the case of the Interstate) will be clattering along the pavement in the twisties if you're a spirited rider. The torquey engine pulls the bikes smoothly and strongly through slow turns. Fork rake has been reined in 5 degrees from the Fury's 38, so getting around a turn takes far less effort, yet you still have to put a little muscle into steering through tighter stuff. In turns, I preferred the Sabre's flat, pullback bar that required less effort to steer as it placed my arms in closer to my body. It also made me feel more connected to the bike, though the trade-off was that the Sabre's skinnier 90/90-21 front tire wandered when running over pavement seams, as opposed to the other two's front 140/80-17s that stayed the course. There's also more of a reach to the Sabre's bar, and after hopping off the Interstate with its floorboards where you can move your feet around, the far-out-there footpegs were a noticeable stretch. The Sabre placed my body in a "C" position with my limbs outstretched, while the other two placed me in a more upright stance.
The Stateline's and Interstate's handlebars offer a very relaxed, pleasant feel for those long of limb, and when cruising along on the highway there's no tension or pressure in my shoulders. With my hands placed low and wide, it is reminiscent of an umpire signaling "Safe!" There's a long span of 34 inches between the grips, measured straight across. The Interstate's grips are big as well, and I kept flipping on the bright switch when reaching for the turn signals with my small hands. As for seating on the Interstate, tester Bill Stermer (6 feet) and I (5 feet, 10 inches) found the ergonomics natural and the seat plush enough to make it conducive to long stays, while Road Test Editor Greg (6 feet, 1 inch) says it rolls his hips back so he sits on his tailbone, after a while creating a tingling in his butt. Greg also noted that the handlebar banged his knees during feet-up-on-the-floorboards full-lock U-turns. Even at full lock, all three have a wide turning radius.
Viewed from the rear you can see how long and lean the VT1300s are with their 4.4-gallon stretched tanks. Reach to the Sabre's handlebar over the long tank might not be the best setup for a long-distance rider who is 5 feet tall with arms to match his or her stature. The Sabre is the lightest of the three with a claimed 664 pounds wet. Our test Interstate weighed in at 716 pounds ready to ride; our fully fueled Fury (say that three times fast) weighed in at 663 pounds. The down-low weight and low seats (26.9 inches on the Sabre, 26.8 on the other two) help make the VTs manageable at parking-lot speeds.
The VT1300s have inherited Daddy Fury's looonnng wheelbase. They're slightly shorter, but not by much, like knocking about an inch off the Fury's 71.2 inches. No matter how you view it, that's a long distance from axle to axle. If it weren't for the VT's 5.1 inches ground clearance, a luge with rider could fit in between. Coincidentally, when we ran our test Fury on the Jett Tuning dyno for our October 2009 issue, torque was exactly the same as the wheelbase at 71.2. That would be at 3,600 rpm, and max horsepower was 56.0 at 4,300 rpm. Our Interstate did not get time on the dyno, though we'd expect power output to be similar.
Suspension duties are handled by a 41mm fork with 4.0 inches of travel and a single shock with 3.9 inches travel. While cruising down the highway and riding over small bumps, the suspension feels well composed. Larger bumps and potholes, however, are jarring, and speed bumps pop me out of the Interstate's seat. A slight vibration comes through the grips, and I can feel the pulsing of the motor on my right knee where it rests against the air-cleaner cover; none of this is bothersome since I like the way it reminds me that I'm riding a cruiser. To keep costs down, and weight as well, most of the VT's covers are chrome-colored plastic.
Single discs front and rear, with a twin-piston caliper in front and a single-piston in the rear, effectively stop the VT1300s. The Interstate is not available with ABS, and though the brakes lack much of a bite when first applied, when they kick in they have a firm, strong feel that halts the Interstate smartly.
The Interstate's tall windscreen is a mixed blessing. It blocks straight-on windblast well, keeping the rider's torso relatively still. Airflow comes up alongside the tank causing an updraft, which blows up through the base of my full-face helmet. On the chilly mornings I'm starting out on, this blast of cold air is unwelcome, though I'd suspect that on really hot days it would be a most excellent feature. Could be the windscreen also makes the bike wallow slightly at speed in long sweepers, because the Stateline held its line well through the corners. At this moment I very much like that windscreen because I rode through a swarm of bees yesterday on the way to work. They bounced off and stuck to the big windscreen, and when I pulled over up the road to inspect myself I pulled two bees out of my braid and one off my fleece neck gaiter—who knows how many would still be with me without that windscreen.
The Interstate's leather-covered saddlebags have a hidden release switch at the back that makes opening them easier with two hands. They're tiered on the inside, and large enough to stuff in a lightweight motorcycle jacket, though they do not lock. The bags have 4-inch flaps and are plastic lined, which kept the contents warm and dry—literally, since I picked up a rotisserie-cooked whole chicken and then rode 20 minutes home in the rain. The bike was also parked outside in an hour-long rain and the saddlebags stayed dry inside. To take off the Interstate's windscreen and saddlebags, you need some time and tools to remove a handful of bolts.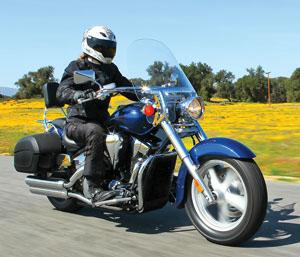 This trio of long, lean and mean cruisers aren't so mean after all. The VT1300s are comfortable, have good low-end torque and decent turn-in and handling for bikes with such longwheelbases. They also look good with their extended front ends and custom styling. Our Interstate averaged almost 40 mpg, which is pretty darn good mileage for a "custom." At the intro, Honda had out­fitted one of each model for us to sample with some of the optional 48 accessories available for the VT1300s. So you can customize your custom and the possibilities are endless. With so many choices, these bikes will make many furiously happy.
2010 Honda Interstate (Stateline, Sabre) Specifications:
Base Price: $12,749
($11,699 / $11,799)
Warranty: 1 yr., unltd. miles
Website: powersports.honda.com
Engine
Type: Liquid-cooled, transverse 52-degree V-twin
Displacement: 1,312cc
Bore x Stroke: 89.5 x 104.3mm
Compression Ratio: 9.2:1
Valve Train: SOHC, 3 valves per cyl.
Valve Adj. Interval: 8,000 miles
Fuel Delivery: PGM-FI w/ automatic enrichment circuit, one 38mm throttle body
Lubrication System: Wet sump, 3.9-qt. cap.
Transmission: 5-speed, cable-actuated wet clutch
Final Drive: Shaft
Electrical
Ignition: Digital w/ 3-D mapping, two spark plugs per cyl.
Charging Output: 381 watts max.
Battery: 12V 11.2AH
Chassis
Frame: Tubular-steel double cradle
Wheelbase: 70.3 in.
Rake/Trail: 33 degrees/4.6 in. (4.6 / 4.5)
Seat Height: 26.8 in. (26.8 / 26.9)
Suspension, Front: 41mm telescopic, no adj., 4.0-in. travel
Rear: Single shock, adj. for spring preload, 3.9-in. travel
Brakes, Front: Single disc w/ 2-piston pin-slide caliper
Rear: Single disc w/ 1-piston caliper
Wheels, Front: Cast, 3.00 x 17 in. (3.00 x 17 / 2.15 x 21)
Rear: Cast, 4.00 x 15 in.
Tires, Front: 140/80-17 (140/80-17 / 90/90-21)
Rear: 170/80-15
Wet Weight: 716 lbs. (claimed 672 lbs. / 664 lbs.)
Load Capacity: 384 lbs.
GVWR: 1,100 lbs.

Performance
Fuel Capacity: 4.4 gals., warning light on last 1.0 gal.
MPG: 86 PON required (high/avg/low) 40.6/39.7/38.8
Estimated Range: 174 miles
Indicated rpm at 60 mph: NA
[This 
2010 Honda VT1300 Interstate, Stateline and Sabre Comparison
 was originally published in the July 2010 issue of 
Rider
 magazine]