photography by Scott Hirko
[This 2009 KTM 990 Adventure Road Test was originally published in the December 2009 issue of Rider magazine]
For most of the 1990s, KTM's 640 Adventure single served as its sole adventure-touring bike, a capable but buzzy and uncomfortable mount ill-suited to long rides despite its huge fuel tank. Hints that a larger, more street-capable 900-series Adventure was in the works finally surfaced in the late '90s. I remember staring googly eyed at the prototype LC8 V-twin engine on the stand at the European Intermot show, miffed that KTM did not yet have an ETA for the big AT bike it was supposed to go into. The 950 Adventure finally showed up with wheels on each end for an introduction in Spain in 2003. As it shared 90 percent of its chassis and engine components with KTM's Paris-Dakar rally racer, while accomplished offroad riders and rock-eating desert racers sang its praises, us adventure-touring types were left feeling a bit inadequate. With its hot, snarling exposed mufflers, nose-bleed 35-inch-plus seat height and a peaky engine with light-switch throttle response, somehow hanging bags on it and planning an adventure trip seemed like trying to break a stallion. On my first long ride the mufflers melted my waterproof duffle.
No, as might be expected from a successful dirt-oriented company, the first 950 Adventure was really a big, high-performance dirt bike for going really fast offroad. Unless you had the nerve to stand up and steer its 490 pounds and 98 horsepower with the throttle and rear wheel like a P-D racer, it was best to keep it on the blacktop, where it was surely a lot of fun though only a little better for long rides than the 640.
To KTM's credit, it has since tamed the big Adventure for the stay-on-the-saddle crowd without removing all of its stand-on-the-pegs capability. The bike's chief competition is certainly the BMW R1200GS after all, which is more like a Jeep than a dirt bike. Without launching into a "virtual" comparison, the  KTM 990 probably still has the edge in the dirt over the R1200GS (F800GS, hmmm, not so sure…), yet finally has enough comfort and comparable features and accessories to be considered an alternative for long-distance street riding.
For 2005 KTM gave the 950 Adventure a scooped-out, less-dirt-bikelike seat and shortened suspension travel an inch to create a more reasonable 33.9-inch seat height. Then for 2007 the engine was bumped up to 999cc with a slight increase in bore and stroke, and got fuel injection and a new electronic motor management system to go with it. ABS was also offered for the first time. Hmmm…lower seat, more torque at lower revs, ABS… the beast was starting to feel ready for adventure.
Now Katoom has gone all-out with the 2009 KTM 990 Adventure. The liquid-cooled, 75-degree V-twin with balancer and dry-sump lubrication gets new cams, pistons, combustion chambers and an optimized crank drive that all contribute to a claimed 8 horsepower and 3.4 lb-ft torque increase at roughly the same engine speeds, up to 106 and 73.8 lb-ft at the crank. On the Jett Tuning Dynojet dyno it lived up to those claims, making about 92 horsepower and 62 lb-ft at the rear wheel. By comparison, our last R1200GS test bike was good for 96 horsepower and 73 lb-ft…but weighed 25-30 pounds more. As part of the 990 upgrade the initial valve adjustment in the LC8 engine has been eliminated, so there's just oil and filter to change at 600 miles, though you will still have to make regular final drive chain adjustments.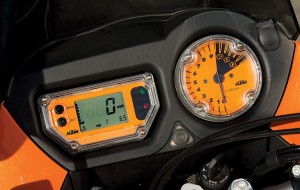 More 990 refinements are both functional and cosmetic. Numerous components are blacked-out and the taillight has a smoked lens. Hazard lights have been added with a switch in the cockpit, which features a new multifunctional digital speedo panel, standard 12V outlet and ignition immobilizer. The panel shape is ready to accept KTM's optional GPS mount, too. The Bosch ABS is improved with an easier-to-use off switch and two-channel, separate wheel modulation, and the storage compartment atop the gas tank is lockable now. One must still fill the tank from two locking openings on either side, high side first when on the sidestand to avoid overfilling (though the risk of getting gas in the charcoal EVAP canister if you accidentally overfill the tank has been eliminated by relocating and giving it a drain).
Like most KTMs, the 990 Adventure comes ready to go with top-notch components such as a Renthal tapered aluminum handlebar, fully adjustable WP suspension front and rear and high-quality Behr spoked aluminum 21- and 18-inch wheels shod with excellent Pirelli Scorpion A/T semi-knobby tires (tubeless with tubes). A centerstand is standard, and despite the generous ground clearance there's a beefy skid plate, too. KTM also has scads of cool accessories for the 990, like the optional 35-liter panniers made for KTM by Touratech we requested, which add about 30 pounds but hold bags o' stuff. My wife, Genie, and I easily loaded up the bike with a weekend's worth of gear for two in the panniers and a medium duffle bungeed on the small rear luggage rack (new mufflers provide more heat clearance, ahem).
Ridden solo the 990 is pretty much ready for anything. Though it still feels like a big dual-sport and its power tempts one to ride more briskly in the dirt than is probably prudent for most of us, a skilled rider can get it down just about any type of road really, really fast. Throttle response is still right there but is much more controllable and less abrupt now, and the six-speed gearbox is slick and noiseless. The refined engine delivers much smoother, torquier power now, tame enough for all-day highway cruising but still sparky enough for snap wheelies and big power slides (though not by me!). While it retains a must-go-fast urgency that made the 950 Adventure (and now defunct 950 Supermoto) real ticket-getters, it has gained an almost cruiserish V-twin side that allows you to roll off and enjoy more leisurely riding. You can have a lot of wicked fun on this thing, but personally I recommend slower, more Jeeplike speeds offroad, and getting panniers as they'll potentially save your leg in a tipover or lowside. Dumping in the dirt on a 250-pound dirt bike is one thing, having a 500-pounder land on you is quite another.
More than 8 inches of suspension travel at each end soak up almost anything you can run over short of big jumps, though the bike could use a bit more spring rate at each end for two-up loads approaching maximum, as then it wallowed a bit for us ridden briskly in the corners onroad, even with the preload all the way up. A convenient flip-out remote rear spring preload adjuster makes for easy changes, and you can fiddle away with preload up front as well as both rebound and compression damping front and rear, though tools are required. Handling is like you might expect of a lightweight literbike with big wheels, longish wheelbase and a wide handlebar—moderately quick, low effort, yet stable and stuck like glue at any lean angle. Brembo triple-disc brakes are up to all the stopping tasks, with great feel and power—the tendency for the back to lock too easily with the ABS turned off seems to be gone now, too.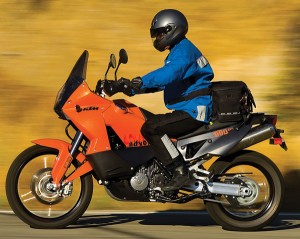 The 990's highway performance is kind of like riding a 650 dual-sport single given a massive steroid injection. There's more comfort, smoothness, range and, of course, power—lots more—yet if you don't look down, the wide handlebar, slim body and ripping-velvet power pulses seem strangely familiar. If it weren't for the straight-up windscreen, that is, which keeps the blast off your chest but creates a lot of buffeting and noise. Passengers reported excellent seat comfort and roominess rearward, and it's hard to beat the comfort and legroom of a dirt-bike-like seating position with a cushier seat for rider repose, even if it's still high enough that I have to put the bike on its sidestand to get on. Once on board my 210 pounds mash the suspension down enough that I can just touch the balls of my feet down with my 29-inch inseam. These aging eyes would appreciate some larger numbers on the instrument LCD display, but all of the other rider conveniences—switchgear, grips, hand guards, adjustable handlebar—are well thought-out. Under the locking seat you'll find the most extensive toolkit we've ever seen on a motorcycle, too.
Crazed P-D-type riders who miss the original 950 fire-breather, never fear—there's a 990 Adventure R available, too, with more power, suspension travel, ground clearance and, of course, a skyscraper of a seat. You ride it, we'll be over here watching…and getting the standard KTM 990 ready for a big Adventure.
2009 KTM 990 Adventure Specifications:
Base Price: $15,398
Price as Tested: $16,158 (35L Touratech panniers & mounts)
Warranty: 1 yr., 12,000 miles
Website: www.ktmusa.com
ENGINE
Type: Liquid-cooled, transverse 75-degree V-twin
Displacement: 999cc
Bore x Stroke: 101.0 x 62.4mm
Compression Ratio: 11.5:1
Valve Train: DOHC, 4 valves per cyl.
Valve Adj. Interval: 9,320 mi. (15,000 km)
Fuel Delivery: Keihin sequential port fuel injection w/ 48mm throttle bodies x 2
Lubrication System: Dry sump, 3.2-qt. cap.
Transmission: 6-speed, hydraulically actuated wet clutch
Final Drive: O-ring chain
ELECTRICAL
Ignition: Transistorized electronic
Charging Output: 450 watts max.
Battery: 12V 11AH
CHASSIS
Frame: Tubular-steel perimeter w/ box-section aluminum swingarm
Wheelbase: 61.8 in.
Rake/Trail: 26.6 degrees/4.7 in.
Seat Height: 34.7 in.
Suspension, Front: 48mm male-slider fork, fully adj. w/ 8.3-in. travel
Rear: WP single shock w/ remote reservoir, fully adj. w/ 8.3-in. travel
Brakes, Front: Dual floating discs w/ 2-piston pin-slide calipers and ABS
Rear: Single floating disc w/ 2-piston pin-slide caliper and ABS
Wheels, Front: Spoked, 2.15 x 21 in.
Rear: Spoked, 4.5 x 18 in.
Tires, Front: Tubeless w/ tube, 90/90-21
Rear: Tubeless w/ tube, 150/70-R18
Wet Weight: 534 lbs. (as tested)
Load Capacity: 414 lbs. (as tested)
GVWR: 948 lbs.
PERFORMANCE
Fuel Capacity: 5.2 gals., last 1.1-gal. warning light on
MPG: 91 octane required (high/avg/low) 41.9/35.8/28.2
Estimated Range: 186 miles
Indicated rpm at 60 mph: 3,300