photography by Kevin Wing
[This 2009 Kawasaki ER-6n Road Test was originally published in the September 2009 issue of Rider magazine]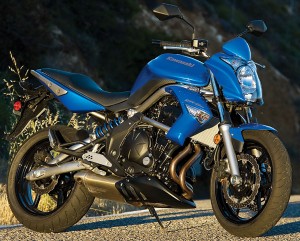 The first question that popped into my head when I heard the name of Kawasaki's newest Candy Plasma Blue sportbike is, "Who in the world came up with ER-6n?" Well, in a land faraway—Europe—a new parallel-twin 650 was born. Over there it was called ER-6f, and we wanted one so badly that dealers pestered Kawasaki Motors Corp. until it was brought stateside for 2006, where they gave it a new name: Ninja 650R. While we were rejoicing over our "new" Ninja, Kawasaki was introducing a stripped-of-fairing-and-windscreen version to the European market and gave it the name ER-6n ("n" for naked; currently its second-best-selling model). Again, by popular demand, Kawasaki has brought the ER-6n to the United States for 2009, and this time the name was left intact since Kawasaki already had equity in it.
By stripping the Ninja 650R of all its bodywork, the company was able to drop $400 off the bike's $6,799 price tag. Hmmm…this is sounding better and better, just like a fairy tale. The naked ER-6n retails for a buck under $6,400. And buck naked it is. There's nothing left to the imagination, you see it all: the transverse parallel-twin rubber-mounted engine, tubular steel trellis frame, the Candy Plasma Blue unique offset laydown single shock. The only bit of clothing this buck wears is the bikini fairing that sort of masks the radiator and in which the turn signals are integrated. Oh, and the teensy bit that encases the dual stacked headlight.
A torquey 649cc liquid-cooled, DOHC, four-valve-per-cylinder parallel twin engine powers this naked Ninja. The ER-6n started up instantly every time with automatic enrichment, and its two Keihin 38mm throttle bodies have excellent fuel delivery. We didn't experience any abruptness when twisting the throttle and power was always there when needed. On the Jett Tuning Dyno our test bike registered 64.4 horsepower at 8,900 rpm and 43.8 lb-ft of torque at 7,300 rpm. We noted that at 2 grand under redline that's all she wrote: The power signs off at 9,000 rpm, and the bike has no more to give.
There's good power in the midrange, which makes this a fun ride in the twisties. I take that back: It's great fun in the twisties. As stated previously, this is essentially a Ninja 650; if you compare the specs of both bikes side by side, one of the few changes Kawasaki made to the ER-6n is that rake at 24.5 degrees and trail at 4.0 inches is shorter than that on the 25-degree/4.2-inch clothed version, and the naked version does seem to turn-in more quickly. The ER-6n stays on course through turns, and with its nimble, lightweight feel it's a breeze to steer. Firm suspension handles bumpy corners well, and because the ER-6n is slender you feel like you're in constant control of it with your body.
Kawi claims that the key to the ER-6n's slender body is the compact engine, which is reputedly smaller externally than that in its own EX500. The ER-6n is narrow and with a seat height of 30.9 inches it is an ideal bike for inseam-challenged riders who want something sporty. That's just a smidgeon shorter than the Ninja 650's seat, and it tapers toward the tank. Helping to keep weight low is the under-engine midship muffler, though I'm guessing that muffler placement rules out the option for an aftermarket centerstand. I'm 5 feet, 10 inches, and at stoplights I can plant both feet on the ground, stand up and easily balance the bike with my legs only.
With each test bike, I try to run through at least one tank of gas without getting off the bike; on the ER-6n I was watching that last bar on the fuel gauge (while still keeping an eye on the road!) like a hawk watching its prey. When that last bar started flashing, signaling me to fuel the 4.1-gallon tank, I was in a gas station less than one mile later, wishing the bike didn't get such good fuel economy at 46.3 mpg, and thankful for the keister break. One-hundred-mile nonstop stints are all I was good for on this particular bike, and it wasn't the lack of wind protection that got to me first, but the seat, which felt like I was straddling a paper-covered 4×4 plank of wood after an hour.
Also, for my inseam, I'd like more space between the footpegs and seat as my legs were cramped. The top part of the ergonomic equation is fine: reach to the high, tubular well-positioned handlebar is good and the bike offers a comfortable, upright seating position. The handlebar places your arms and elbows in close to your body, perfect for good leverage in turns. The lopsided-hexagon-shaped stalk-mounted mirrors are steady and big, offering a great rear view. As for protection from the wind and elements, remember, you're looking at a naked bike here: There's very little to deflect bugs, road debris or anything else that could be bounding down the highway. Much of it got plastered onto my helmet's face shield, my lower legs and my jacket during my springtime test. But if you wanted a less-wind-in-your-face-and-bugs-on-your-helmet experience, you'd opt for the Ninja 650R instead with its windscreen and fairing.
The ER-6n feels stable at speed on the highway and there's plenty of get-up-and-go for novice as well as experienced riders. There are no damping adjustments front or rear, and the firm suspension, which is welcome in bumpy corners when you're on twisty roads, makes for a harsh ride when riding over potholes and extreme pavement irregularities on the highway. The 41mm nonadjustable telescopic fork has 4.7 inches of travel, and the single shock is spring preload adjustable only, with 4.9 inches of travel. Very little vibration reaches the rider when cruising along on the highway, and even when the bike was revved up in the twisties I didn't feel any annoying buzziness.
Braking power on this middleweight is superb with twin 300mm petal-shaped rotors up front with twin-piston calipers, and a single 220mm petal-shaped rotor astern with a single-piston caliper. I stopped so fast that my body lunged forward when a car pulled out in front of me while I was enjoying a section of Highway 33 and yellow wildflowers. The ER-6n stayed upright with not a peep or squeal from the brakes during the almost heart-stopping stop. The Dunlop Sportmax RoadSmart radials held fast to the pavement, and wrap around 17-inch black cast wheels.
The cable-actuated wet clutch feels light and easy to modulate, and shifting though the six-speed tranny is a smooth affair. Both the clutch and brake levers are adjustable. The button to cancel the turn signal on our test bike stuck sometimes, so I'd find myself riding along with the turn signal flashing… Hey, I could have sworn I cancelled that….
At first glance it appears that to get under the seat it needs to be unbolted, but after some searching around I found the keyhole under the left side of the seat. The key releases a hook and then you can slide the seat back and off. There you'll find a toolkit that includes a spanner wrench for adjusting the preload. Since the shock is offset, getting to it is a piece of cake. Also under the seat are two cables for attaching other cables to so you can leave some of your riding gear parked with the bike.
Passenger accommodations are cramped, and the stepped one-piece seat places your other half up high enough that if he or she is not considerably shorter than you, your passenger's head will get blown around from the wind. The passenger footpegs are mounted high and so close to the rider that if your passenger has the shoe size of Michael Jordan, he or she will be kicking your feet right off the rider's pegs. The good news is that the passenger has grab rails to hang onto, and these grab rails are also handy for wrapping bungee cords around, but they are open-ended so you have to be careful about how you attach a bungee cord so that it doesn't slide off. Brackets under the passenger seat accommodate bungee hooks for attaching your ride-alongs as well. I'd bought a new battery for my own Kawasaki from Howdy's Cycle Sales here in Ventura and carried the old one back to him for disposal in a beach bag bungeed to the passenger seat where it didn't budge.
The instrument cluster isn't much larger than one of the rear-view mirrors, but it contains a lot of info. When it's time to find a gas station, the last bar "E" will start flashing at about the 135-mile mark and "FUEL" comes up across the instrument panel. The ER-6n is available in all 50 states—more good news as sometimes deliveries of California models are delayed while manufacturers iron out carbon canister wrinkles because of the shed emissions requirements here.
For $6,399 this is a bargain emperor with new clothes—ah, no clothes—that proudly parades through town and races through the canyons with head held high. In this case, our fairy tale came true: We asked for this beauty and Kawasaki delivered. And we don't even notice the 1 pound the ER-6n has gained by shedding its clothing. All we see is a naked beauty that will keep a twisty-back-roads rider very happy.
2009 Kawasaki ER-6n Specifications
Base Price: $6,399
Warranty: 12 mos., unltd. miles
Website: Kawasaki
Engine
Type: Liquid-cooled, transverse parallel twin
Displacement: 649cc
Bore x Stroke: 83.0 x 60.0mm
Compression Ratio: 11.3:1
Valve Train: DOHC, 4 valves per cyl.
Valve Adj. Interval: 15,000 miles
Fuel Delivery: Digital EFI w/ 38mm throttle bodies x 2
Lubrication System: Forced lube/semi-dry sump, 2.5-qt. cap.
Transmission: 6-speed, cable-actuated wet clutch
Final Drive: O-ring chain
Electrical
Ignition: Digital CDI
Charging Output: 336 watts @ 5,000 rpm
Battery: 12V 10AH
Chassis
Frame: Tubular-steel semi-double cradle w/ steel swingarm
Wheelbase: 55.3 in.
Rake/Trail: 24.5 degrees/4.0 in.
Seat Height: 30.9 in.
Suspension, Front: 41mm stanchions, no adj., 4.7-in. travel
Rear: Single offset laydown shock, adj. for spring preload w/ 4.9-in. travel
Brakes, Front: Dual discs w/ 2-piston pin-slide calipers
Rear: Single disc w/ 1-piston pin-slide caliper
Wheels, Front: Cast, 3.50 x 17 in.
Rear: Cast, 4.50 x 17 in.
Tires, Front: 120/70-ZR17
Rear: 160/60-ZR17
Wet Weight: 438 lbs.
Load Capacity: 398 lbs.
GVWR: 836 lbs.
Performance
Fuel Capacity: 4.1 gals., last 1.0-gal. warning light on
MPG: 87 octane min. (low/avg/high) 42.7/46.3/47.4
Estimated Range: 189 miles
Indicated rpm at 60 mph: 4,200
Check out this link for a Video of the Kawasaki ER-6n