If you've ever had the pleasure of riding in Europe, you may have become familiar with the national traits of certain brands of vehicles. Think of Germany and what may come to mind are finely honed Teutonic machines scalding the autobahn at triple-digit speeds, hauling their riders along with comfort and finesse thanks to heavy dollops of technology. Head southover the Alps to the Dolomites of Italy, and the machines change to soulful and simpler, passionate as a wet kiss at midnight, biting into the tight curves with high style, verve and brio.
Now that we're on the same wavelength, allow me to introduce two motorcycles that incorporate the character of their native lands in two-wheel parlance as surely as Ferrari and Lamborghini, Mercedes and, well, BMW, represent it in four-wheel terms. What these bikes have in common is that each is fairly bare with a twin-cylinder engine, six-speed transmission, single-sided swingarm and stressed-member frame. And each is true to the character of its land and brand. In its own way, each native son works very well.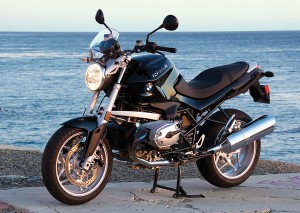 From Italy, Ducati's SR series consists of sportbikes with single-sided swingarms. The Monster S2R1000 was released last year with a more docile two-valve engine than the S4R1000 Monster's 996cc four-valver. The S2R's 992cc L-twin engine is air-cooled, with a compression ratio of 10.0:1, and offers chain final drive. For styling check the mini fairing and rear cowling with racing stripes; remove the latter to expose the vestigial passenger seat. Overall it's small, minimalist and there's nothing hidden about it.
From Germany, BMW's new-for-2007 R1200R naked roadster joins the other R-series model twins including the RT (touring), ST (sport touring), S (sport) and GS (adventure touring) machines. The R1200 "hex-head" series carries the now familiar air/oil-cooled 1,170cc flat opposed-twin engine with four valves per cylinder, a compression ratio of 12.0:1 and a balance shaft for smoothness. The rear section of the tubular space frame is all new for lightness and airiness, though the front half is borrowed from the RT touring model. Its steering head has been changed to provide a rake of 27.1 degrees, which we found to provide an excellent compromise of quick steering with stability.
Its technical features include the Telelever fork and Paralever driveshaft, which we've covered in detail in the past. In short form, the Telelever consists of an A-arm that pivots off the engine and connects to a fork brace above the front fender; it adds to chassis stability and limits fork dive under heavy braking. In the rear, the Paralever driveshaft has a universal joint at each end, they are linked, and the system cancels out the shaft's usual up/down motion under abrupt throttle changes. The result of these two standard technical innovations is a great deal of chassis stability under heavy braking and throttle use.
Other technical highlights include the latest edition of the optional Anti-lock Braking System (ABS) that weighs but 3.3 pounds and works superbly. Under development is Automatic Stability Control (ASC) that limits throttle-induced wheelspin under chancy traction conditions (also known as "traction control"); it should be hitting these shores about now. Likewise coming soon is Tire Pressure Control (TPC), a system that warns the rider of low air pressure.
Climb aboard, and the Ducati feels short and compact with its 31.5-inch seat height and 56.7-inch wheelbase. Turn the key, touch only the starter button and, warm or cold, the 45mm Marelli throttle-body injectors meter in the correct amount of fuel to light it off. Lever pull is moderate, and the dry clutch delivers the familiar jingle until it's chunked into gear.
Dole out the hydraulically actuated clutch and hang on; the friction zone is minimal and you're immediately whisked away by the S2R's solid torque, with 46.3 lb-ft already available at 2,400 rpm. It reaches 50.9 lb-ft at 3,700 rpm, and peaks at 60.1 at 6,200 rpm. Power is linear and strong, and at 8,100 rpm is showing its peak of 83.2 horsepower on the Borla Performance dynamometer. Shifting effort is high with the six-speed, but fuel management is spot-on at all times. The engine is very acceptably smooth unless you get on it too low in the rev range, at which point it shudders and protests.
Head out to the twisties and notice the benefits of its 43mm Showa male-slider fork and the rear Sachs single shock with adjustable linkage. Both units provide spring preload and rebound damping adjustments, and are held in place by the tube-steel trellis frame. The suspension is first-rate, providing good road feel and handling bumps uncommonly well. The crouching rider feels tucked into the bike, the feet placed behind. With its 24 degrees of rake the bike steers quickly, making it easy for the rider to drop a knee and, with its wide, tubular handlebar, hustle it through the curves on its Michelin Pilot Sport radial tires. Its paired four-piston-caliper front brakes are powerful, well modulated and offer great feedback. The bike is very stable, makes transitions rapidly enhanced by its lightness, and is easy to ride quickly and with precise control. Only when turning around in narrow places does its tight steering lock cause the Ducati to feel awkward.
BMW's R1200R naked roadster offers relatively upright seating, with the rider in a slight crouch on a narrow seat with the feet underneath, grasping a relatively flat tubular handlebar. Going from the S2R to the R1200R is like uncoiling from a sports car and spreading out in a larger, more luxurious vehicle. The Beemer comes with a seat that provides a 31.5-inch height. If that's not satisfactory, it may be exchanged for a lower or higher seat of 30.3 or 32.7 inches.
The BMW's BMS-K fuel-injection and engine management systems are also fiddle-free, and the bike starts immediately. Thanks to its balancer it's quite smooth for a big twin, with just a little sideways shudder at lower rpm and an occasional bit of shaking in the mirrors. Still, it does not meter as precisely as the Ducati, and fine throttle adjustments are frustrating. The BMW's suspension action is plush on the easy stuff, but reacts harshly to abrupt bumps. There's no adjustment on the Telelever's front shock, and the rear offers only preload and rebound damping. The hydraulically actuated clutch is low effort, and shifting is like warm butter, smooth and effortless.
The R12R's 1,170cc air/oil-cooled flat-twin engine generates 52.1 lb-ft of torque at 2,400 rpm, hits 65.2 at 3,700 rpm, and peaks at 74.3 lb-ft at 6,200 rpm, which tops the Ducati's figure by 19 percent. In horsepower, the BMW peaked at 95.9 at 7,800, topping the Ducati by 13.3 percent. Of course, when you consider that the BMW weighs 508 pounds wet and the Ducati just 432, the Beemer's power advantage is offset by its additional weight.
Braking with BMW's new-generation linked ABS is powerful and sure. This version is linked front-to-rear only, so when the rider pulls the front brake lever the two-piston-caliper rear brake is also applied. However, the rear brake pedal is not linked to the front. Braking is powerful, almost to the point that it's too easy to lock the rear wheel, at which point the ABS saves your bacon with just a little pulsing at the pedal. Clutch and brake levers are adjustable.
Set the Beemer chasing the Ducati through the canyons and with its rake of 27.1 degrees and 58.9-inch wheelbase the R1200R presents a wonderful balance between stability at speed and agility in the turns. While the Ducati provides excellent feedback and knowledge of what the road is doing through its suspension, when pushed the BMW's suspension becomes harsh and rubbery, allowing the bike to move around a bit and isolating the rider from the road; the narrow, mushy/soft seat doesn't help much, either.
The narrow seat allows the rider to shift weight easily by sliding off or slipping forward toward the tank, as the wide handlebar offers good leverage for abrupt turns. Once the rider becomes accustomed to the Beemer's suspension, the Michelin Pilot radial tires and abundant, controllable power make it a joy in the twisties. For carving the Alps and its hairpins, or for a track day, I'd select the Ducati S2R1000 Monster. For Germany's (or California's) more open back roads the Beemer's near-perfect seating position, more powerful engine and ABS would make it my weapon of choice.
The new R1200R offers a wide range of accessories that allow the rider to tailor it to some very specific needs. Our test bike included several options that raised its ticket well above its $13,025 base price, including the ABS system ($1,040), centerstand ($120), excellent heated grips ($235), saddlebag brackets ($135), sport windscreen ($210), chromed muffler ($135) and white turn-signal lenses ($50), for a total of $14,950. BMW's excellent hard, locking saddlebags are an additional $854.
My only complaints about the BMW are that the fuel-injection calibration was just a touch off, and the bike was slightly less crisp and smooth than ideal while making incremental throttle adjustments, which could cause its fork to dip slightly. Also, there's no grab handle with which to lift it onto the centerstand (it's so light that that shouldn't really be an issue), and the rear suspension needs improvement.
With its steel tank it's easy to utilize a magnetic tankbag on the R1200R, and it returned uncommonly good fuel mileage, averaging 43.7 mpg despite my hard usage. We were unable to use a magnetic bag on the Ducati's composite fuel tank, which held a disappointing 3.6 gallons. It was really disappointing when the bike ran out of gas once at just 110 miles on one section, about 20 miles after the fuel warning light had illuminated, leaving us with a long downhill coast, ending with doubling up. Overall, the Duc averaged 36.4 mpg.
These are two very different motorcycles, but we knew that going in. As an Alpine native son the Ducati's message is, "Let's go sport riding in the mountains." The Beemer, with its more spacious accommodations and technological edge, is more of an all-rounder that says, "We can go sport riding, we can go touring, we can run errands." While the BMW can be made more sporting with a set of quality aftermarket shocks, the Duc will always have the edge because of its tighter dimensions and lightness.
If your main focus is a bike you can curl yourself around and use for attacking the curves, the Ducati will do so more effectively and plaster a bigger grin on your silly gob. On the other hand, if your focus is broader and your wallet fatter, the BMW R1200R will offer a great deal more comfort and versatility. Of course, with the huge price difference between them the BMW should deliver a lot more, and it doesn't disappoint.
These native sons await your decision. Will it be pointed passion in the curves, or a less-demanding regimen that can take you anywhere for the weekend-with a passenger? Will it be vino rosa on a checkered tablecloth in a trattoria, or a Paulaner pils in a Gasthof? As for that wet kiss at midnight, well, for that you're on your own.