A lot of water has passed under the proverbial bridge in the half decade since Yamaha's first-generation FZ1 was introduced, and the world is a different place. When that groundbreaking 2001 model was launched, company officials later admitted, they were skeptical that customers would flock to it in sufficient quantity. Thankfully, history has shown once again (as it also did with the FJR1300) that if you build a quality, fun-to-ride bike at a fair price, buyers will come.
After living with it for a while, however, some current owners along with respondents in consumer clinics asked for upgrades such as an aluminum frame, higher horsepower, better brakes and more sophisticated suspension. Yamaha has answered the call with a slew of changes, taking the FZ1 a full step deeper into the sporty realm while still leaving enough of the old bike's charm that owners have come to love.
To remedy one of the most common gripes-that the FZ1's engine was detuned too much compared to the YZF-R1 powerplant upon which it's based-Yammie's engineers started with the newer and more-powerful R1 engine used for the last three years. The FZ1 now shares the same case and cylinder head castings as the 2005 R1, although compression has been lowered slightly to 11.5:1. Intake camshafts now have more lift than before to help it breathe, and they tossed out the smallish carburetors and brought in fuel injection.
With the new injection the engine lights off instantly cold or hot, and there's no idle-control lever to fiddle with anymore. On the first start in the morning, other than a faster idle, it's difficult to tell the engine is cold. Within a few blocks the idle speed comes down and as the coolant temperature comes up to normal, it's good to go. A second thermostatically controlled fan has been added to cope with the extra horsepower.
The Yamaha FZ1's engine is very flexible; you can idle along in first gear in traffic without bucking, and lug it down to 30 mph in sixth if the authorities are around. Yet the bike loves to rev and makes its best power just shy of the rev limiter. There is a tradeoff, however, and it is low-end torque. Launching the bike from a standstill requires a little more clutch work than before, and it helps to carry more revs, slipping the clutch longer to get going initially. Power starts to build more quickly above 4,000 rpm; by five grand it takes off screaming in pursuit of its 12,000-rpm redline. Passing performance is wonderful, just zing it down a cog or two and those slowpokes dawdling along become a dot in your mirrors instantly. At all sane speeds (and some that aren't), the engine remains smooth with little four-cylinder buzziness. Thick rubber footpeg pads and rubber isolators at the footpegs and handlebar risers ensure that very little vibration gets through to the rider.
We ran our 2006 model on a Dynojet dynamometer and compared the results to our previous runs with the last-generation FZ1. Rear-wheel horsepower is up by six ponies to 131. This can really be felt in the top-end rush-the bike was powerful before, and now it's truly a screamer. Peak horsepower now arrives at 11,500 rpm instead of the prior 9,750, but with a ferocity more akin to the R1. The torque graph line is quite smooth and flat; torque, however, has slid by 4 lb-ft, from a peak of 72.2 lb-ft at 7,500 rpm in last year's bike down to 68.0 at 9,250 revs.
For oh-six the same wet clutch is shared with the R1. Clutch-lever pull with the cable-actuated system is on the high end of moderate, yet modulation is excellent and it hooks up well with no unwanted slippage or chattering. A hydraulically actuated clutch would be nice for those traffic jams and winding mountain roads, though.
Gear ratios are well matched to the character of the engine. The close ratios allow the rider to short shift around town, and fifth and sixth gear are now slightly taller for more relaxed highway cruising. Neutral is easy to find, even when stopped, and gear changes are free of false neutrals. We noticed that when upshifting at low rpm the gearbox feels a little notchy and stiff, but then again it wasn't fully broken in yet.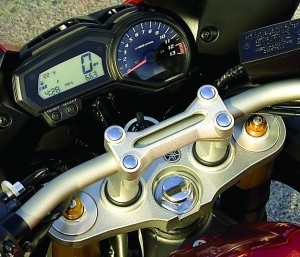 As is the trend lately, the new FZ1 has a lower, shorter muffler that ends amidships. This brings several benefits, including more centralized mass, moving the weight down and providing better clearance for saddlebags on the right side. An EXUP valve varies backpressure, and engine sound is healthy but not excessively loud, with good tonal quality. An oxygen sensor provides closed-loop feedback emission control and two catalysts (one in the pipe) scrub the exhaust clean.
Switching from a tubular-steel frame to an aluminum one not only lightens and improves the look of the bike, it also makes the chassis less flexible and adds a solid feel. According to Yamaha, the frame itself is 52 percent lighter, but with the rear subframe, the combined assembly is 37 percent lighter than the previous steel unit. A centerstand is still included, which you'll appreciate when it comes time to clean the bike, check tire pressure or adjust the chain.
Yamaha changed from a conventional SOQI-brand fork to a fully adjustable male-slider Kayaba unit with separate controls for preload, compression and rebound damping. Interestingly, the left leg handles compres-sion damping while the right controls rebound; read the owner's manual before fiddling with settings.
In back, you'll find a single shock with seven-step adjustable preload. The required tool is in the toolkit and access is reasonable. Rebound is also adjustable, but not compression damping. The swingarm has been upgraded, and this year the FZ1 gets the same cool-looking, five-spoke wheels as the R1. Ride quality is firmer and more controlled than before, and some of the plushness seems to have gone away. Some of this can be regained by adjusting the suspension if desired.
Brakes have been upgraded this year, with radial-mounted four-piston front calipers now grabbing the dual rotors. In back, one disc with a single-piston caliper does the job. Stopping is better than ever, with excellent feel and tremendous, fade-free stopping power and low lever effort in front. The rear brake adds a further measure of braking without being overly sensitive.
The FZ1 feels sure-footed and instills confidence in its rider-more so than its predecessor. It rails nicely through all sorts of turns, changes direction easily, and even has a tight turning radius. Standard fitment tires are Michelin Pilot Road or Dunlop D221; our test bike had the Michelins. These tires typically last longer than some of the more sticky sportbike rubber, yet they don't seem to warm up quickly. However, they worked well on dry roads or wet, don't chase pavement grooves, are stable at high speed and deliver good all-around grip and performance.
Coming at you, the FZ1 appears similar to most current sportbikes, except that the windscreen is narrow and slopes up more vertically. While wind protection is similar to a sportbike, with good coverage of the lower body, the abbreviated screen seems to create some helmet buffeting-much as it did before.
They may look awkward, but the long mirror stalks are steady and the mirrors provide a wide panorama behind the bike. Both headlights operate all the time on both low and high beams. This results in well-above-average lighting on the dipped beam, and the high beams are awesome, slashing a wide swath far into the night.
The instrument cluster has some interesting features. A large analog tachometer is combined with a digital speedometer in one multifunction unit. Besides the obligatory indicator lamps, you get twin tripmeters, a bar-graph fuel gauge, a fuel-reserve tripmeter (which shows distance traveled since the fuel-meter started flashing), a clock and a digital coolant temperature readout you can toggle over to an intake (ambient) air temperature indicator. There's also a brightness control mode.
Along with more horsepower and sportier suspension and chassis specs, the FZ1's rider accommodations have been changed accordingly. The revised flat-track-style handlebar is an inch lower and a half-inch back. Front footpegs are now moved about an inch farther back and 2?3-inch higher. Gone is the large one-piece saddle, replaced by individual seats for rider and pillion. We miss the old seat and the storage space underneath. Passenger accommodations are also not as plush as before, with a small pillion pad and rather high-mounted footpegs.
Fuel mileage varied between 31.8 and 38.8, with an average of 35.3 mpg. The fuel tank has been reduced in capacity to 4.76 gallons, although it seems wider than before. Crunch the numbers and you get a calculated range of about 168 miles. Expect the low-fuel indicator to start blinking at you between 115 to 130 miles, depending on riding conditions.
Luggage for a multiday jaunt is easy to mount. The main part of the gas tank is still made of steel so magnetic tankbags will stick. Seatbags sit well on the flat pillion seat and thanks to the shorty muffler there's more room for panniers than before.
Our FZ1 had an excellent finish, quality plating and powdercoating. It seemed well sorted and everything worked as it should with no problems. We particularly liked the styling of the new swingarm and midship exhaust. Notably the bike only requires valve adjustments every 26,600 miles-other maintenance chores are minor.
Like sportbikes, but tired of their extreme riding positions? Tried cruisers, but found they don't have enough zip? In the new FZ1, Yamaha has developed an exciting, fun-to-ride machine with stunning performance, without the torture-rack ergonomics, and at a price close to that of the 600cc sportbikes that should appeal to a wide audience of buyers.
If you're interested in the 2006 Yamaha FZ1, you might also be interested in Rider's Sport-Standard Comparo featuring the 2008 Yamaha FZ1, Kawasaki Z1000 and Triumph Speed Triple.