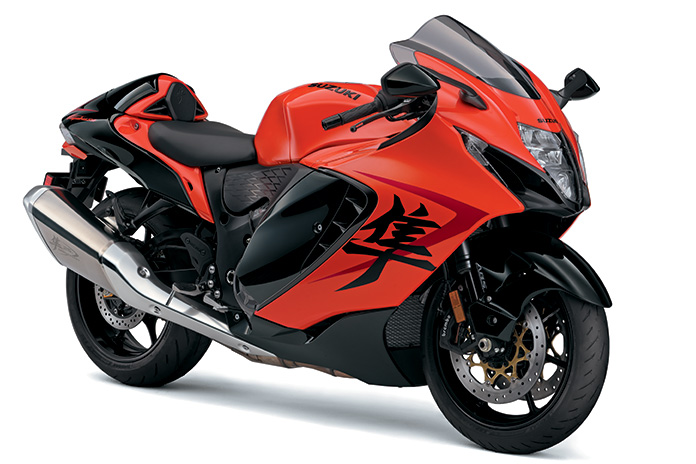 Following Suzuki Motor USA's recent announcement of its first bikes of the 2024 lineup, the company announced it would be releasing the 2024 Suzuki Hayabusa 25th Anniversary Model.
Related: Suzuki Announces First Motorcycles in 2024 Lineup
Since its introduction, the Hayabusa sportbike has sold nearly 300,000 units around the world. Suzuki says that the bikes "unique appeal to a range of motorcycle enthusiasts continues to set it apart."
"From drag racers and customizers to sportbike riders and sport tourers, the Hayabusa's performance, engineering, and styling stand above all competitors."
The 25th Anniversary Model will come in a new color scheme harkening back to a fan favorite from the bike's second generation and include a range of features unique to this model.
2024 Suzuki Hayabusa 25th Anniversary Model
Named after the Japanese term for peregrine falcon, which Suzuki says also inspired the bike's "wind-cheating body," the 2024 Suzuki Hayabusa returns with the liquid-cooled 1340cc transverse inline-Four with DOHC and four valves per cylinder. When we road tested the 2022 Hayabusa, it made 173 horsepower at 9,800 rpm and 106 lb-ft of torque at 6,900 rpm on Jett Tuning's rear-wheel dyno.
"While the Hayabusa's ergonomics are not ideal for long days in the saddle, its creamy smooth engine transmits very little vibration to the rider, and its enormous boxy mufflers keep noise to a dull roar," our reviewer wrote. "When hard on the gas, the four-piece band plays a lively tune, but otherwise the Suzuki sounds relaxed and understressed."
Related: 2022 Suzuki Hayabusa | Road Test Review
The 2024 Suzuki Hayabusa also has a 6-speed gearbox mated to a SCAS-style clutch system, Suzuki Ram Air Direct intakes for pressurized air induction, ride-by-wire, the Suzuki Intelligent Ride System with electronic rider aids, including cruise control and the three-mode bidirectional quickshifter system, and three preset and three customizable ride modes, among a host of other features. The bike has adjustable KYB suspension, Brembo Stylema radial-mount 4-piston calipers biting dual 320mm floating fronts discs, and a Nissin 1-piston caliper and 260mm disc in the rear. ABS is standard.
Unique to the 25th Anniversary Model from a badging and branding standpoint are a 25th-anniversary emblem and raised Suzuki logos on the fuel tank, 25th-anniversary logos etched on each muffler, and the Hayabusa kanji logo applied to the drive chain plates. The bike also has gloss black cowling trim, gold-anodized brake rotor carriers and drive chain adjusters, and the single-seat cowling.
The 25th Anniversary Model Hayabusa comes in the Glass Blaze Orange & Glass Sparkle Black color combination reminiscent of one of the most popular Gen II model's color palettes, also set off with special V-shaped red graphic.
The 25th Anniversary Hayabusa will be arriving at dealerships late summer. Pricing has not yet been announced.
For more information, visit the Suzuki website.
See all of Rider's Suzuki coverage here.