Joining the Streetfighter V4 and Streetfighter V4 S in Ducati's lineup are two new models for 2022. The 2022 Ducati Streetfighter V2, powered by a 153-horsepower 955cc L-Twin (MSRP $16,995), and the 2022 Ducati Streetfighter V4 SP, powered by a 208-horsepower 1,103cc V-4 (MSRP $35,500). Both will be available in February 2022.
2022 Ducati Streetfighter V2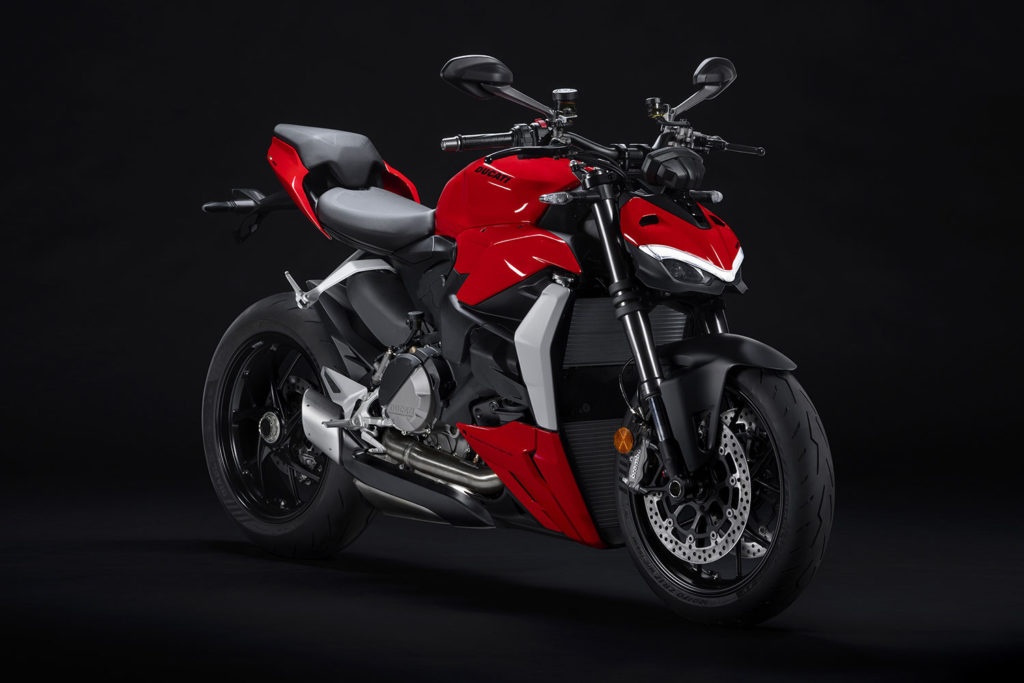 Take a Panigale V2, strip the fairings, swap the low clip-ons with a tall, wide handlebar and shorten the gearing with a larger rear sprocket, and you've got yourself a Panigale streetfighter. Or you could just walk into your local Ducati dealer and pick one up off the showroom floor, in the form of the new 2022 Streetfighter V2.
Ducati says it focused on ergonomics with the Streetfighter V2, giving it a wider, better cushioned saddle and repositioning the footpegs for a more street-friendly riding position. Not to say this new Streetfighter is a slouch; this First Look Review is blissfully free of the word "detuned." At the Streetfighter V2's heart is the Panigale V2's 955cc Superquadro twin, which Ducati says is good for 153 horsepower at 10,750 rpm and 75 lb-ft of torque at 9.000 rpm.
Brakes are nearly identical to the Panigale V2: Brembo M4-32 monoblock radial calipers with 320mm front discs. Only the brake pads are different; Ducati says they offer a less aggressive bite and are ideal for street use. Suspension is a 43mm Showa Big Piston Fork up front and a Sachs shock in the back, both of which are adjustable.
The Streetfighter V2 also inherits the Panigale V2's electronics, which includes a 6-axis IMU with ABS Cornering EVO with "slide by brake," Ducati Traction Control (DTC) EVO 2, Ducati Wheelie Control (DWC) EVO, Ducati Quick Shift up/down (DQS) EVO 2, and Engine Brake Control (EBC) EVO. There are three ride modes (Sport, Road, and Wet), and the Streetfighter V2 is compatible with the Ducati Data Analyzer (DDA + GPS) and Ducati Multimedia System.
The 2022 Ducati Streetfighter V2 will be available in Ducati Red starting in February 2022, for $16,995.
2022 Ducati Streetfighter V4 SP
If only the very best will do, for 2022 Ducati is also introducing the top-of-the-line, individually numbered Streetfighter V4 SP, which it calls "the most adrenaline-pumping sports-naked bike to ever roll…off the production line in Borno Panigale." The Streetfighter V4 SP, dressed in an understated "Winter Test" livery inspired by Ducati Corse pre-season MotoGP and SBK test bikes, features premium equipment derived from the even more superlative Superleggera V4.
Carbon rims are 3 pounds lighter than the forged aluminum rims on the Streetfighter V4 S, reducing inertia by a claimed 26% at the front and 46% at the rear and resulting in a quicker, more agile ride. Brakes are Brembo, with the exclusive Stylema R front calipers, and suspension is the Öhlins Smart EC 2.0 with event-based variable damping.
The beating heart of the Streetfighter V4 SP, of course, is the 208 (claimed) horsepower 1,103cc Desmosedici Stradale, fitted with the STM-EVO SBK dry clutch for the best performance when pushing to its limits on-track. In fact, Ducati makes it clear this Streetfighter belongs on the track, with features like an open carbon clutch cover and an easily removed and capped license plate holder.
The 2022 Streetfighter V4 SP will be available in single-seat configuration only in the "Winter Test" livery in February 2022, for a starting price of $35,500.
For more information or to find your nearest Ducati dealer, visit ducati.com.