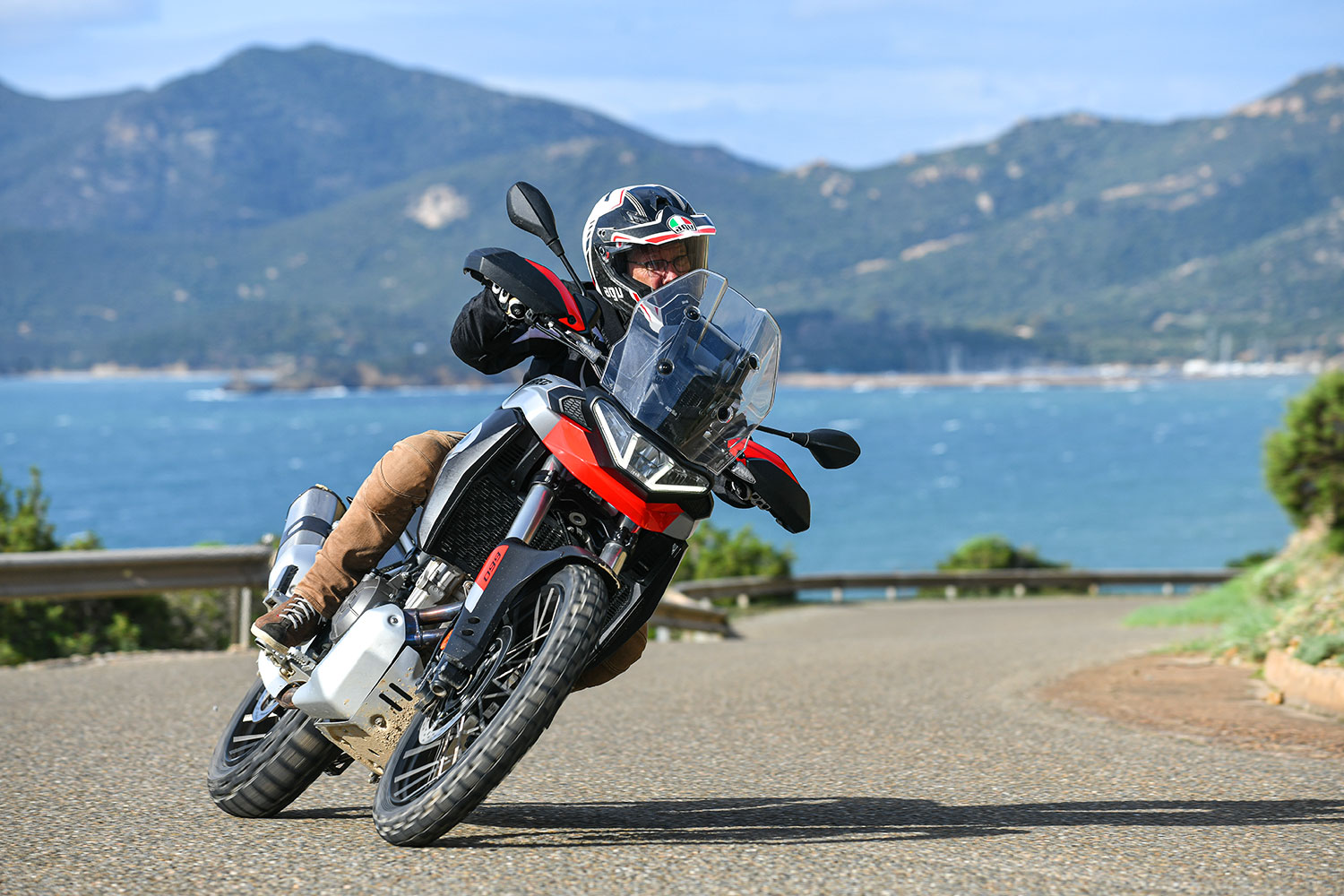 Having now ridden the 2022 Aprilia Tuareg 660, it's easy to see that this machine will be a serious contender in the middleweight adventure class. Slim, stripped, lightweight, and without nonsense, it is a bike of pure function.
The narrow 659cc engine of the Tuareg 660 defines its personality. Besides powering the Tuareg down routes of pavement or dirt, its narrow parallel-Twin provides svelte comfort and control while producing a respectable 80 horsepower, with as little motorcycle as possible between the rider and engine. While it's doubtful anyone will gaze longingly at the Tuareg 660 in admiration of its beauty, many may well gaze at it in admiration of its performance. It has a gracefully malicious personality.
The Tuareg's powerplant is a modified version of the engine in the RS 660 and Tuono 660 sportbikes, itself derived from the front cylinder bank of the 1,099cc RSV4. The Tuareg's twin-cam profiles are the main difference, tuned to supply a flatter, wider powerband. It's an engine that is without any midrange dips or glitches, and no stumbles or lurches throughout throttle positions. It shares the 81mm bore from the RSV4 as well as the heads and pistons from that proven World Superbike Championship engine, which should assuage concerns about reliability.
The Tuareg's redline is lower than its sister machines, kicking in around 9,500 rpm after reaching its claimed peak of 80 horsepower at 9,250 rpm. For comparison, the RS 660 makes 100 horsepower at 10,000 rpm. Torque hits its 51.6 lb-ft peak at 6,500 rpm, and the crank pins are at 270 degrees to give the rider a feel of piloting a V-Twin.
The Tuareg is Euro 5 compliant and capable of meeting Euro 5+ standards with its catalytic converter optimally located as close to the headers as possible. It is shrouded by a heat shield that nicely blends into the shape of the skid plate beneath the engine, making its presence barely noticeable. Though the cat is contained within a single-walled pipe its heat is well managed, and in the 70-degree weather of our test ride in Sardinia, Italy, engine heat was not noticeable.
The Tuareg 660's chassis is quite different from the aluminum twin-spar chassis of the RS 660 and Tuono 660. Its tubular-steel frame has cast swingarm plates, welded up as a single unit with the rear subframe. The engine is a stressed member of the frame with six mounting points, creating a rigid chassis to meet the demands of off-road riding. Additionally, the engine is rotated back by 10 degrees, for a claimed reduction of yaw movement to lighten steering. There's no way to verify this, but it's fun to consider.
The two-sided aluminum swingarm is longer than that of the other 660s, and it is captured between the cast aluminum plates and the engine. The Tuareg's wheelbase is 60 inches while the RS and Tuono are significantly shorter at 53.9 inches.
Fully adjustable suspension is by Kayaba, with 43mm inverted fork and a piggyback rear shock with a progressive linkage, and there's 9.5 inches of travel at both ends. The rear spring weight is for riders between 165-175 pounds, so heavier riders or those regularly carrying a passenger or gear may need to install a beefier spring.
As an adventure bike with serious off-road intentions, wheels are an expected 21 inches fore and 18 inches aft, and they're both spoked and tubeless. Tires are Pirelli Scorpion Rally STR, adventure rubber designed for 70% on-road and 30% off-road use.
The Tuareg 660 was created through the combined efforts of the Piaggio Advanced Design Center, in Pasadena, California, led by Miguel Galluzzi, and Italy's Piaggio Design Center, where project design leader Mirko Zocco is located. The combined efforts resulted in what is essentially the bobber of adventure bikes, birthed without a single unnecessary component. It doesn't even have any bodywork on the tail section, just a subframe, a seat, and a place to hang taillights and a license plate. A rear fender? Nope.
The Tuareg's front is dominated by a clear fairing above a three-piece headlight that's flanked by two air intakes captured within the same aluminum-colored shroud, which is the Tuareg's primary item of actual aesthetics. Notably, the Tuareg has no "beak" but instead sports a conventional streetbike fender, which shouldn't be a problem outside of Georgia's red clay on a rainy day. Combined, the windscreen and the handguards keep the rider well insulated from the elements.
The gas cap has a retro look, standing above the fuel-tank cover just like in the old-timey days. The real intent of it though is a weight savings due to eliminating the extra hardware needed for a flush fuel tank filler. Small side fairings direct air into the radiator while providing useful streamlining for an aerodynamic profile, keeping to the Tuareg's strict dictum of form follows function. The 4.8-gallon fuel tank sits vertically behind the engine, with over half of its volume contained below the top of the engine to keep the motorcycle's mass as centralized as possible.
Simply put, the Tuareg is a blast to ride. Its narrowness is instantly appreciated from the rider's seat, with the slim tank and seat profile providing easy legroom while seated or standing. Even while leaning forward, one's legs don't come into contact with the wider forward section of the bodywork, which some may find a positive or a negative depending on one's preference for knees pushing forward against the motorcycle or not.
Once you scale your way up onto it, the Tuareg is an ultra-easy ride with everything about it brilliantly dialed in, from the throttle-by-wire to the wealth of suspension travel to the slipper clutch. We were unable to get hard data for the sag numbers, but by feel alone – and logic – the static sag appears to be about 3 inches, approximately a third of the travel. While swinging a leg over the 33.9-inch seat you can feel the bike squat an inch or so to where your feet can touch the ground.
The Tuareg is fast enough to pass other vehicles at will, while sporting light steering and stability at every speed without needing a steering damper. On one stretch of road, a wandering tear in the pavement sent the bike into a bit of a shake, but as soon as the front tire hit smooth pavement again the nervousness immediately disappeared. There's no trade-off here, because the Tuareg feels planted at any speed.
If the Tuareg is ridden within proximity of riding the RS, the reduced horsepower and lower redline will be obvious. Still, the power of the Tuareg is most impressive from 6,500 rpm on up, and at full throttle the throaty intake sound is a delight. The reduction in peak power from the RS is a fair trade-off for the smooth, wide powerband of the Tuareg – a real plus when riding off-road where ease of power delivery, particularly at lower speeds, assists the rider. Riding into the redline is unrewarding, as the bike hits a hard wall of nothingness rather than a soft reduction of power.
The bikes we rode were equipped with the optional quickshifter (Aprilia Quick Shift, $249.95), which makes life on the bike even easier. It provides seamless shifting up and down through the gears while forgiving attempts to modulate the throttle or use the clutch. While upshifts can be clutchless at any throttle setting, for downshifts to be smooth riders need to unload the engine. That should be obvious for any experienced rider but for some reason at times I forgot. Unlike most first-ride introductions, over-revving, stalling, missed shifts, or false neutrals were absent from our group of 13 jaded journalists. The feel and feedback of the controls are spot-on.
Adding to the Tuareg's versatility is the Aprilia Performance Ride Control (APRC) suite of electronic rider aids, which includes cruise control as well as multiple modes for throttle response, engine braking, ABS, and traction control. There are presets in the four ride modes – Urban, Explore, Off-road, and Individual – and the switchgear next to the left grip allows easy scrolling between them. Our test ride included dry and wet pavement, mud, gravel, dirt, rocks, and a healthy stream, and the ease of cycling through the Tuareg's modes on the fly was appreciated.
Explore and Urban are street-focused ride modes, with ABS activated at both wheels. Explore offers more aggressive throttle response and less traction control intervention than Urban. Being the sportiest mode, I used Explore for dry pavement. Given its higher margin of safety, I used Urban as the rain mode.
Leaving the pavement, the choice of mode was obvious. Off Road provides the most manageable (softest) power delivery and ABS can be disabled at the rear wheel or switched off entirely. Individual gives the rider freedom to either craft the perfect recipe of preferences or muck things up incomprehensibly. Individual was a fun distraction and if I lived with this bike, I'd regularly experiment with it. The TFT dashboard where all of this is on display is nicely laid out, well angled, and wasn't susceptible to sun glare.
The adjustable traction control decides when to intervene by evaluating the difference between front and rear wheel speeds. This results in different angles of how far the rear of the motorcycle can come out of line with the front. Using any electronic TC to its fullest is a difficult task that requires complete trust in the machine. Due to years of muscle memory, it can be hard to resist correcting for the rear stepping out. Use as your own comfort level allows.
Peter's Gear:
Helmet: AGV AX-8
Jacket: IXS Evans-ST Tour
Gloves: Heroic ST-R Pro Shorty
Pants: Ugly Bros. USA Motorpool
Boots: TCX Mood Gore-Tex
Riding the Tuareg can make one wonder about the virtue of sportbikes. We rode Tuareg 660 at a hard pace on numerous snaking mountain roads, and its high clearance allowed for extreme lean angles. Its light steering and crisp feel, as well as its wide, usable powerband, make this a bike worthy of a day in any canyons or mountains alongside any roadracer replica. On top of that, bags are an option and so is a passenger who won't start slapping your helmet after 20 miles. And after one's streetbike pals start wondering how you stayed with the pack, you can take an off-road shortcut and beat them to the bottom of the mountain.
Riders accustomed to streetbikes might at first be surprised by how much the Tuareg 660 moves around under hard braking or acceleration. That's the key advantage of 9.5 inches of suspension travel – there's plenty to use. The motorcycle moves comfortably through the suspension stroke while the wheels remain on the ground – except for when the rider doesn't want them to – and the suspension does not top or bottom out. Dive is well controlled and never unsettled. On- or off-road, the Tuareg remains properly planted. Full disclosure: no MX jumps were attempted.
All in all, the Tuareg should be seriously considered by anyone desiring a middleweight adventure motorcycle that shines on both pavement and dirty stuff. It is reasonably comfortable, has seamless power, shifting, and mode selections, and provides confidence-inspiring agility. The brakes provide consistent feedback, the suspension, though fully tunable, should match most riders needs as is, and the electronics are dang smart. It's one of the easiest and friendliest motorcycles to ride while being more than up to the task of being ridden hard.
2022 Aprilia Tuareg 660 Specs
Base Price: $11,999 (Acid Gold, Martian Red); $12,599 (tri-color Indaco Tagelmust)
Price as Tested: $12,249 (Aprilia Quick Shift)
Website: aprilia.com
Engine Type: Liquid-cooled, transverse parallel-Twin, DOHC w/ 4 valves per cyl.
Displacement: 659cc
Bore x Stroke: 81.0 x 63.9mm
Horsepower: 80 hp @ 9,250 rpm (claimed)
Torque: 51.6 lb-ft @ 6,500 rpm (claimed)
Transmission: 6-speed, cable-actuated slip/assist wet clutch
Final Drive: O-ring chain
Wheelbase: 60.0 in.
Rake/Trail: 26.7 degrees/4.5 in.
Seat Height: 33.9 in.
Wet Weight: 449 lbs. (claimed)
Fuel Capacity: 4.8 gals.