If you go when the snowflakes storm
When the rivers freeze and summer ends
Please see if she's wearing a coat so warm
To keep her from the howlin' winds
— Bob Dylan, "Girl from the North Country"
I had forgotten about that feeling of violence that rises up through the ancient volcanic rock of Minnesota's North Shore, where Highway 61 carves a thin rivulet of asphalt against a dead mountain range that descends into deep, dangerous water.
REVER Route — MN North Shore: Duluth to Gunflint Trail via Highway 61
The sun had yet to rise. The air was cold but there was no frost. Cars with bright lights and loud trucks with loads of lumber cut through the darkness on their way to the Canadian border. My mind wandered, from Bob Dylan's youth to the geologic time scale to the warm, soft bed my wife and I had just left.
My wife was huddled, bundled tight, hiding from the wind in a wave-carved basalt pocket. Besides a flashlight and the burning ember of my Newport, it was completely dark. Slowly the sun rose, turning purple, red, orange, and finally yellow. The lake turned blue again, and behind the lodge, the forest that covered the mountain came alive with color. It had been over 10 years since I had looked clear to the horizon over Lake Superior.
"It's hard to believe this place is real," Sahlee said.
We were on the third day of a four-day motorcycle trip along Lake Superior to capture the peak autumnal colors before the heavy Minnesotan winter tightened its grip. And it was our first long ride together in many years. We started our journey at St. Paul Harley-Davidson, where we borrowed an Ultra Limited in Vivid Black — a beast of a machine in both weight and power, a 900-pound workhorse designed for regal riding. It turned heads, and with a 114ci Milwaukee-Eight V-twin, it chewed up miles without hesitation.
We had checked into the historic Cascade Lodge, located between Lutsen and Grand Marais — a ski resort and a bohemian art enclave, respectively — shortly before dark the night before, following a 100-mile brisk ride north from Duluth. The lodge was established in 1927 to serve affluent Duluthians and wealthy socialites. Profiting from fishing, forestry, mining, and trade along the Great Lakes, some had predicted that Duluth would rival Chicago. F. Scott Fitzgerald, a Minnesota native, would have fit in well there. Thom McAleer, who has run the Cascade Lodge with his wife since 2017, said business was good year-round, with plenty of motorcyclists in summer and snowmobilers in winter.
The geology of Lake Superior has always fascinated me. It is a history of violence that can still be felt today. Long before human barnacles — from the ghostly-white Scandinavians to the soiled French fur trappers on down to the spirits that guided the Ojibwe — clung to life on this rocky, inhospitable shore, billions of years of primeval and powerful forces created, shaped and sculpted what we see today: the world's largest freshwater lake that has claimed thousands of mariners' lives and at least 550 ships, including the Edmund Fitzgerald, which sank in 1975.
As we rode into Grand Marais (French for "big swamp"), we followed advice we received the day prior from Andy Goldfine, founder of the legendary riding apparel company Aerostich, and scanned the sky, hoping to see a congregation of seagulls darting at a skiff loaded with fresh herring.
"If you sneak behind the Angry Trout Cafe, you can find fishermen cutting up the day's catch, and freeze packing them to be sent to a rabbi in Chicago to make them kosher," Goldfine told us.
When we met Goldfine the day before at his factory in west Duluth, we were greeted by a short, thoughtful, balding, and bespectacled man. Andy and I commiserated over our time at the University of Duluth, albeit decades apart, him with his philosophy major and English minor, and me with the exact opposite. As our conversation moved from topic to topic, from technology and its effects on society (good and bad), to the absurdity of the global fashion industry as satirized in the movie "Zoolander," to the history of Duluth's post-WWII economy, to global trade and how America has become a consumerism-driven throw-away society and finally trends in motorcycling, it became clear that Goldfine was not just an inventor, but a sage.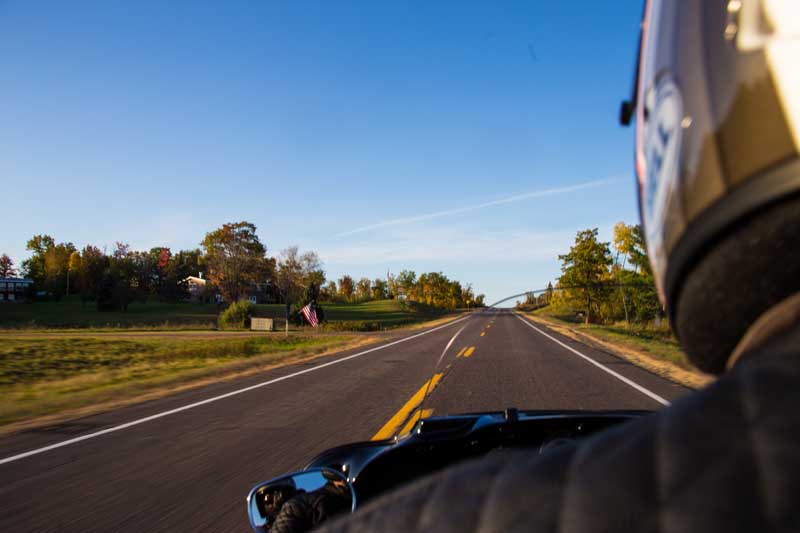 He started Aerostich in 1983, when Duluth was in an economic recession and on the verge of becoming another hollowed-out Rustbelt town. U.S. Steel closed its coke plant in 1979. A decade prior the Air Force shuttered the base that housed the 11th Fighter-Interceptor Squadron, a secretive Cold War defense outpost that housed 2,500 to 3,500 servicemen tasked with aircrafts that would be deployed in the event of a Soviet invasion.
When I was living in Duluth 16 years ago, the west side of town was rundown and largely abandoned. Tourism, college kids with bar money, and gentrification have revived the area, with craftspeople, brewers, and restaurateurs operating in clean, modern industrial spaces like you'd find in Brooklyn. Goldfine observed all of the changes to this historic part of town. What hasn't changed is his philosophy regarding Aerostich's Roadcrafter suits, which have been an integral part of the riding community for decades.
"Our customers are everyday riders because Aerostich makes equipment. Just like a farmer's overalls, a carpenter's pants, a lawyer's or banker's suit, it is the equipment that these professions invest in, not fashion," Goldfine said. "Our logic is that our products are sacrificial. [A Roadcrafter] keeps you safe from the elements, and say you crash going 60 and you are okay, it did its job."
We toured Goldfine's factory, met with his tailors, and checked out his waterproofing testing equipment and impact armor fabrication set-up. When we left, he wished us a happy marriage and I felt better knowing that guys like Andy Goldfine are so dedicated to their craft.
From Grand Marais, we rode north and then northwest, 15 or so miles up the beautiful Gunflint Trail Scenic Byway that, further north, terminates at the Boundary Waters Canoe Area Wilderness — a 150-mile stretch of hard-to-reach pristine lakes along the U.S./Canada border that skirts the Laurentian Divide, which separates water flow from either going down to the Gulf of Mexico or up to Hudson Bay. Starting in the 1600s, voyageurs would make a special stop here to collect flint from chert deposits for their rifles.
A loaded lumber truck with two blown-out wheels partially blocked our path up the Gunflint, so we turned around and returned to the lake, thundering down the road on the mighty Ultra Limited as a kaleidoscope of fall colors became a blur.
"The Lake Superior Basin … sits dead center over an ancient rift [that] was active 1.1 billion years ago when Minnesota was really the center of the North American continent," wrote geologist Ron Morton, in his 2011 book A Road Guide: The North Shore of Lake Superior on Highway 61. "Hot molten magma rose upward from deep within the earth, and as it approached the surface, it caused the crust to arch or bow upward, and then split like an overcooked sausage," he added. A heavy, miles-deep pancake of basalt lava spread across the region, with larger eruptions piling pyroclastic rocks around the edges of what today is the rugged Lake Superior shoreline. When the volcanic activity stopped, the weight of the lava started to sink the earth.
But long before that, a massive mountain range — larger than the Alps or Rockies today — had formed. As the mountain range eroded over eons, the sinking basin filled with sediment, creating a swampy plain. Then came what's known as the Last Glacial Period, starting a mere 115,000 years ago. Thick sheets of ice covered the land and pushed southward, violently scooping out the basin like excavators. The earth warmed, the glaciers melted and a lake was formed — the world's largest in terms of area, third-largest in terms of volume. Geologic instability causes the south and southwestern sides of Lake Superior to rise a few centimeters each year, raising the waterline on the Canadian side.
From Grand Marais, we drove up to the Lutsen Mountains Ski and Summer Resort, where we paid $24 each to take the gondola up to the summit for impressive and expansive views of the landscape. From a western outlook hundreds of feet above the valley floor, the trees were dead brown and red, a couple of days past peak, while to the east, yellows, oranges, and reds mingled with the green, winter-hardened conifers.
Our final sightseeing stop was Tettegouche State Park to see Palisade Head, a large rock formation with staggering 300-foot sheer cliffs that end in a jumble of jagged rocks along the shore. I remember coming here when I was in college. The wind would whip so hard it felt as if it would blow you right off the cliff edge, creating a mix of fear and excitement. Palisade Head and I have both aged. It looks and feels the same. Can't say the same about myself.
Biting cold wind meant that Old Man Winter would arrive soon. Time to get back down to St. Paul to return the Harley and hunker down.