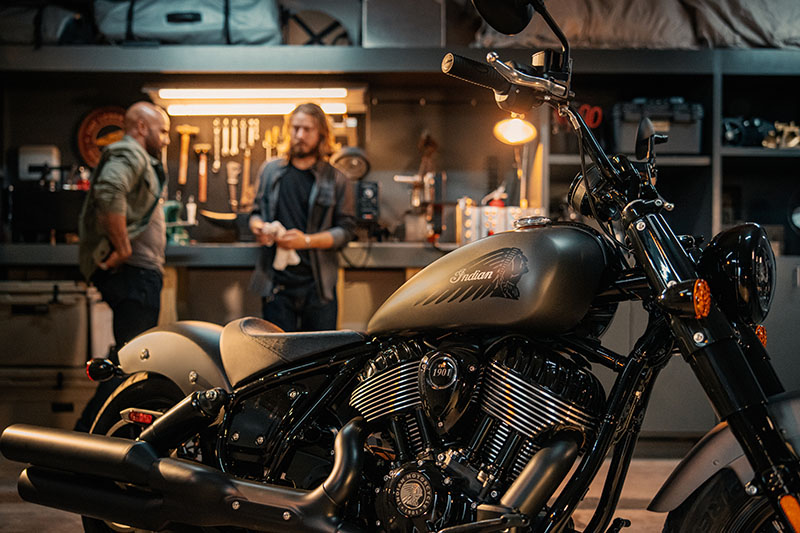 Indian Motorcycle has announced plans for three customization projects based on its recently unveiled 2022 Indian Chief platform, which includes the Chief, Chief Bobber and Super Chief. To showcase the range of possibilities inherent to the new Chief platform, three well-known V-twin customizers will create unique interpretations: the former Indian Larry team of Paul Cox and Keino Sasaki, freestyle motocross legend Carey Hart and the creator of Bratstyle, Go Takamine.
Read our 2022 Indian Super Chief Limited first ride review
Cox and Sasaki are teaming up for the first time in nearly 15 years, having parted ways in the early 2000s after the untimely passing of legendary customizer and friend, Indian Larry.
"Keino and I have stayed in touch over the years, continuing to work in our own individual styles, but when Indian Motorcycle approached us about this collaboration, the timing seemed right. We both bring unique skills to this project, and it will be interesting to collaborate again," said Cox. "Initially, I found the new Chief platform to be beautifully designed and thoughtfully engineered in its stock form. It's tough and clean but possesses a modern elegance at the same time. These are all qualities that I try to combine in my own work, for a well-balanced custom."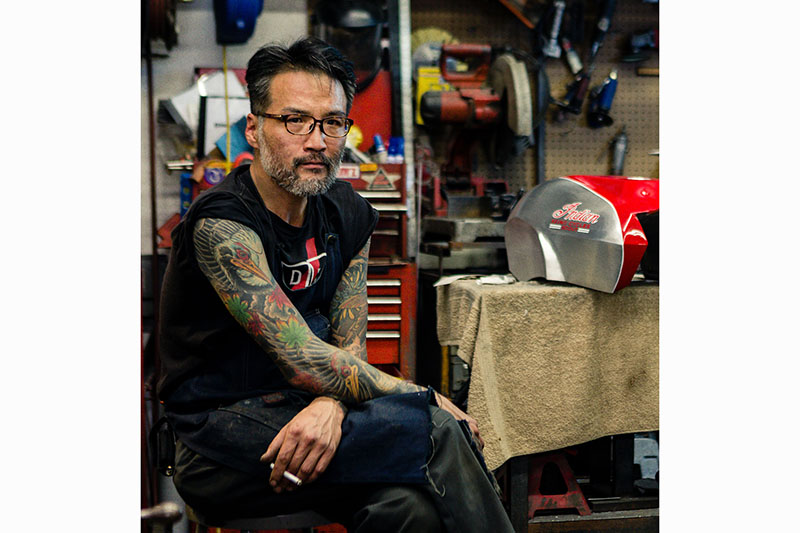 Completely overhauled for 2022, the new Chief platform has a tubular-steel frame wrapped tightly around Indian's air-cooled Thunderstroke V-twin motor and exposed dual rear shocks. It's more stripped down and elemental, the perfect canvas for customization.
"This bike is as much about history and heritage, as it is about modern design sophistication, and that's why we were intentional in choosing builders that represented both old and new styles," said Ola Stenegard, Director of Design for Indian Motorcycle. "With Go, we have a builder who honors and takes inspiration from the post-war bobber scene. On the other hand, Carey will push forward with modern, performance-oriented design elements, while Paul and Keino bridge the gap between past and future."
Over the past five years, Hart has customized various Indian models, and he unveiled the first-ever custom 2022 Indian Chief — a modern club-style take on the new bike — soon after the model's debut in early February.
"With the new Chief, Indian Motorcycle has done an incredible job of capturing the strength and timeless lines of what we all have come to expect from a true American V-twin, and in doing so, they've served up the ultimate platform for customization," said Hart. "I'm proud to be amongst this incredible group of builders, and I couldn't be more excited to see what each of us comes up with."
Well-known for his Bratstyle brand, a design aesthetic and lifestyle that has inspired followers and copycats across the globe, Takamine has focused much of his work on restoring and customizing vintage Chiefs and Scouts. This project will be the first time that Takamine will bring Bratstyle to a modern Indian.
"Indian Motorcycle has been at the heart of my work for many years, and I have great admiration for the company. It's an honor to be included in this elite group of builders," said Takamine. "The new Indian Chief is ideal for customization with its classic steel tube frame and air-cooled motor, and I'm excited by the possibilities of what I can do with it."
To inspire personalization, Indian Motorcycle has curated three Authentic Accessory collections that dramatically change style, enhance comfort and increase power and performance. Each piece within the collections are sold individually and can pair with any Chief model — allowing riders to mix and match parts to fit their style and riding preference. Riders can design and build their own Chief on Indian Motorcycle's accessory configurator.
Rogue Collection: Providing a stripped-down riding experience where power and minimalism lead the way, Indian Motorcycle curated the Rogue Collection to enhance performance and deliver aggressive attitude for the Indian Chief and Indian Chief Dark Horse. With the all-new Thunderstroke Forward Stage 1 Intake, Stage 1 Slip-On Exhaust and Thunderstroke Stage 2 Performance Kit, the Rogue Collection delivers 17% more horsepower than a stock Thunderstroke 116 engine. Indian Motorcycle's Slash Cut Exhaust Tips personalize style, while a passenger seat, backrest and pegs provide two-up riding capabilities.
Authentic Collection: With bulky tires wrapped around spoke wheels, a muscled-up front end and a solo bobber seat, the Chief Bobber and Chief Bobber Dark Horse pay stylistic homage to the classic post-war era V-twins. Riders looking to personalize their ride can outfit it with premium accessories from Indian Motorcycle's Authentic Collection. Featuring a floating solo seat, luggage rack, Mini Ape Handlebars, and various performance accessories, this collection pays tribute to the original 1922 Indian Chief.
Tour Collection: Featuring soft saddlebags and a windshield, the Super Chief and Super Chief Limited begs riders for longer miles and an even bolder escape. For those looking to take the capable day tripper to the next level, Indian Motorcycle assembled its Tour Collection. Heated grips, a passenger backrest, highway bar lower closeouts and highway pegs take the Super Chief's comfort to an entirely new level for both the rider and passenger going the extra mile.
Riders can learn more about the Chief Customs program on the Indian Motorcycle Custom Garage webpage.